Do you ever shop on eBay? I tend to shop on eBay in spurts. I may go months and not shop there at all, but occasionally if I'm looking for an item that's no longer being made or sold in stores, I'll search for it on eBay. I'm truly thankful eBay exists because I've purchased a number of things there over the years that I simply could not find anywhere else.
Do you sell on eBay? I very rarely ever sell on eBay. The last time I listed anything for sale was many, many years ago when I was finishing out my silver flatware collection. At that time, I would purchase silver flatware sets, pull out the pieces I needed (like iced teaspoons) then relist those pieces I didn't need. That was so long ago, I don't think I was even blogging back then, so it's probably been over 10 years since I last listed anything for sale on eBay.

This past spring I had gathered together a few items I was thinking about listing, but I just kept procrastinating, not wishing to take the time to take photos or sit down to fill out all the info for the listing.
While I was procrastinating, I tripped across a YouTube video where the YouTuber (let's call her YT for short) was describing how she was nearly scammed out of a very expensive handbag she attempted to sell on eBay. If you want to watch the video, just type, "I Got Scammed on eBay" into the search box at YouTube and it should pop up.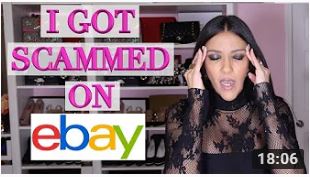 YT had listed a beautiful Valentino bag for sale on eBay. She said she was contacted by an eBay user/buyer who loved the bag and had a few questions. YT said she and the buyer had great conversations/messages via eBay's messaging system and came to an agreement on a price. The buyer then purchased the bag.
YT travels a good bit and she had an upcoming trip planned. She shipped the bag to the buyer before leaving. While away, as most of us would, she purchased a few new items for herself with the money she had received from the purchase of her bag.
Upon her return, she found an email from Paypal stating the buyer was disputing the purchase via Paypal claiming she had not made the purchase. Scammers know they are protected via Paypal, so when they dispute a charge PayPal pulls the funds back out of the seller's account. I guess if the funds have been withdrawn, maybe they charge the seller's credit card…not sure how that works.
After daily phone calls to PayPal over the space of a month (YT said she was often on hold for up to 50 minutes each time) she finally got her money back. During that time when everything was still up in the air, she was worried the buyer would mail the bag back. With the buyer having had the bag for over a month, she feared the condition the bag would be in, if it was returned.
If I'm remembering correctly (it has been a while since I watched the video) YT said the buyer ultimately paid PayPal back the money she had scammed them out of because she was at risk of being blacklisted and never allowed to purchase on eBay again.
YT went on to share several scams that are taking place on eBay these days. One of those scams is where an evil buyer will purchase an item on eBay, sign for it when it's delivered, then claim when they opened the box it was empty. In other words, they try to make the seller look like a scammer, basically accusing the seller of mailing out an empty box.
YT said in order to avoid that, a lot of sellers are now videotaping themselves boxing up the item and sealing it inside the post office or UPS, even going so far as to film themselves handing it over to a post office associate.
Another scam is where the evil buyer purchases an authentic bag from an unsuspecting seller. When the bag arrives, the evil buyer tells eBay they received a fake bag. Ebay instructs the buyer to return the bag, then they will be reimbursed. The evil buyer mails a fake bag back to the seller and keeps the real bag. Plus, they get their money back. The evil buyer ends up with an authentic bag that they can then turn around and sell to make a lot of money while the poor seller ends up with a fake bag.
My Story
After listening to YT's harrowing eBay tale, I've been very reluctant to list anything on eBay, especially anything of true value. eBay has been tempting me, though. Every few days I've been receiving emails from eBay saying I could list up to 5 items with zero selling fees.
There are also listing fees. I did a bit of research and learned you can list up to 50 items without any listing fees, so the zero selling fee offer was very tempting. With zero listing and selling fees, I would only have to pay Paypal's fees when an item sold.
I finally decided I would take a chance and list two items I had rarely ever worn and had been thinking of selling: a pair of designer earrings and a pair of designer shoes I'd only worn 2-3 times. Both were still in excellent condition but had just not worked out for me for various reasons.
I listed the two items and following the suggestions of YT who had almost been scammed out of her designer handbag, I planned to ship them insured with tracking and signature confirmation, filming myself at the UPS store during the shipping process.
There were a few other things I knew to watch for, like buyers with no feedback. Unfortunately, eBay will not let you block anyone with zero feedback from purchasing an item, even though the typical behavior for scammers is to open up a new account the same day they purchase an item they plan to steal from the buyer.
Note: A seller can cancel a bid from a zero feedback bidder if using the eBay auction format and the bid is caught before the item sells. But if a seller is using the "Buy Now" option, which is what I wanted to use, you have no control and can't block buyers who have zero feedback.
So What Happened? What Was My Experience Selling Two Designer Items on eBay?
So how did it go, what happened when I listed two high-end, designer items on eBay? One item–the earrings, sold quickly and with no drama. The buyer had a lot of good feedback and our communication was normal and congenial.
Things didn't go so well with the shoes. Here's what happened:
I listed the shoes and a few days later they sold. The buyer paid immediately. Yay! But then I noticed the buyer (let's call her Buyer A, which is a fictional name I just made up) had zero (0) feedback. None. In addition, I noticed her eBay username was written as Buyer A – 84.
At first glance, I thought Buyer A had 84 feedback/purchases, because of how the username appeared, but when I clicked through her name, I could see she actually had no purchases. Instead, she had created a username that looked very similar to the way feedback appears beside a buyer's name on eBay. Ummm, pretty sneaky. This was not a good sign.
I also noticed Buyer A had just created her eBay account the same day she purchased the shoes. I had a very uneasy feeling about this. To me, these were all RED flags! I wanted to cancel the sale but figured eBay would frown on me doing that without a good reason. I later asked an eBay representative about that and they verified that it's a big no-no in eBay's eyes for a seller to cancel a sale due to a seller having no feedback, even if the item you're selling is a high-end item.
As I was preparing the shoes for shipment, I noticed the buyer's address didn't look right. The street name was written in an odd way with no vowels. For example, say the buyer's address was Scammer Road. (Just made that up, hopefully, it isn't a real road.) Instead of being spelled out as Scammer Road, the address was written this way: Scmmr Rd, missing all its vowels.
By the way, the actual street name of Buyer A is a well-known street in Los Angeles, so most sellers would probably have assumed it was fine to ship to the address since it was pretty easy to figure out the name of the street even without the vowels. But I decided to confirm the address before shipping the shoes because of all the scams I had been hearing about. I wasn't taking any chances.
I messaged the buyer via eBay's messaging system asking for clarification on the address. Several hours passed and I heard nothing back from Buyer A. This struck me as very odd, yet another red flag. If I had just purchased a pair of nice, designer shoes, I know I would have been checking my email occasionally that day, eager to get the shipping/tracking info.
After hearing nothing back I checked on eBay and noticed a seller can make a request to cancel a sale due to not having a valid/good address for a buyer. I clicked that option on eBay, requesting to cancel the sale. Within minutes of me doing that, the buyer suddenly replied saying: Yes, the address is XXXX Scammer Rd, followed by a smiley face. 🙂
Umm. They hadn't replied to my other message for hours, but the minute I requested to cancel the sale, they replied immediately. I wondered if this person's scammy plan was to trick me into mailing the shoes to the misspelled street address so they could later claim the shoes had never arrived. Maybe they would have someone else, a friend, sign for them. Who knows, I had no idea what they were up to, but I smelled a rat.
A few minutes later I got an automated email from eBay saying my cancellation request had been approved. I clicked over to Paypal and refunded Buyer A's money back. Next, I messaged her via eBay to let her know I had canceled the sale and issued a refund since the address had been incorrect.
Within moments I got this email from the buyer:
I place my order again. 🙂
My address is:
Name
XXXX Scammer Road
Apt. XXX
LA, CA XXXXX
At the same time, I got a message from PayPal saying I had received an instant payment. I checked and there it was, the buyer had once again paid for the shoes. But then, something really unusual happened. I received this email from eBay. I clicked over to PayPal and refunded the buyer's money for the second time.
Yesterday I called eBay to ask a ton of questions, including how they knew the buyer was a scammer. The representative I talked to said their system attempts to detect when a previous scammer opens up a new eBay account to scam again, then it removes them.
I guess it was a good thing I didn't box up the shoes right that second and drive over to the post office to ship them. Something tells me I would never have seen the shoes again and would most likely have been fighting a big ole dispute with PayPal.
I asked again and the rep confirmed that there is no way to sell something as a "Buy Now" item and block buyers with zero (0) feedback from purchasing the item. So there's no way as a seller to protect yourself from a scammer who opens up an account that same day just to scam you out of your item.
eBay Authenticate
EBay has a selling service for designer/high-end items, but I would never, ever use it because they will not let you set the price on your item. Say you have a designer handbag and you give it to eBay to sell via their eBay Authenticate program. They can list your bag for any price they wish, and if it isn't selling, they can drop the price even lower.
I called and asked about that several months ago, so I knew that was how it worked, but recently I came across a YouTube video where the YouTuber had used eBay Authenticate and was not happy with the results. He sent them 2-3 designer items to sell and all had ended up selling for much less than he had expected. That was exactly what I had thought could/would happen, so I'm really glad I never tried that service.
Conclusion
In conclusion, if you are going to sell a high-end or designer item on eBay, know that as a seller you are somewhat powerless. If a scammer buys your item and then disputes the payment or claims the item never arrived, or that the box arrived empty, you may have to fight like h-e-double-hockey-sticks to get your money back–and it could take a long time and a lot of phone calls like it did for YT who was out over $1,700 for close to a month.
I will continue to buy regular, everyday items on eBay, like pretty David Carter Brown salad plates that are no longer available in stores. But I will not ever purchase a high-end item on eBay because of the many fake/fraudulent items I see on there every day. Tip: Think twice about ever buying a Hermes Clic H bracelet on eBay–I've seen and reported so many fakes on there, but they are never removed.
Also, I think I'm done selling anything of real value on eBay. From here out I will look at selling on eBay the way I look at packing for a trip. If an item is valuable or irreplaceable, it will only go in my carry-on bag where I know it's safe and secure. If it's an item I can afford to lose and wouldn't be too upset if it vanished forever, it can go in my checked luggage. Until eBay finds a way to rid itself of the evil scammers, eBay is my checked luggage.
Ever been scammed on eBay, either as a Seller or Buyer? I also had a bad experience buying a designer scarf once on eBay…read about that experience here: Burberry Scarf: Fake vs Real and How To Avoid Getting Scammed.
Please share your experiences in the comments below because the more we know, the better we can protect ourselves from scammers.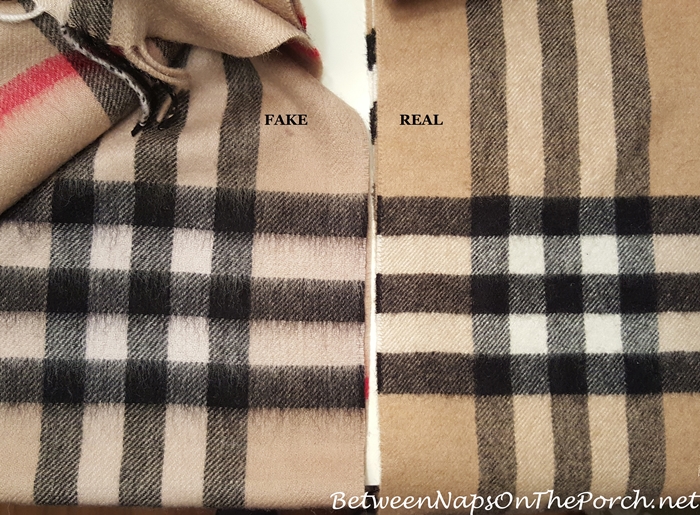 *If a post is sponsored or a product was provided at no charge, it will be stated in post. Some links may be affiliate links and as an Amazon Associate, I may earn from qualifying purchases. *