I'm busy working on a table for tomorrow's Tablescape Thursday, but I'm taking a quick break to share a little storage idea I recently came up with for storing small scarves like my Hermes Twillys and Dior Mitzah scarves.
In case you're not familiar with these little scarves, they are fun to collect because they can be used in a lot of different ways. One way that's quite popular is to use them to protect the handles of a handbag as shown in this photo below.
Here's one more example of how a Dior Mitzah can be used to protect the handles of a bag from oils/sweat/lotion from the hands. These little scarves can also be used as a hair tie/decoration or even worn around the wrist or the neck.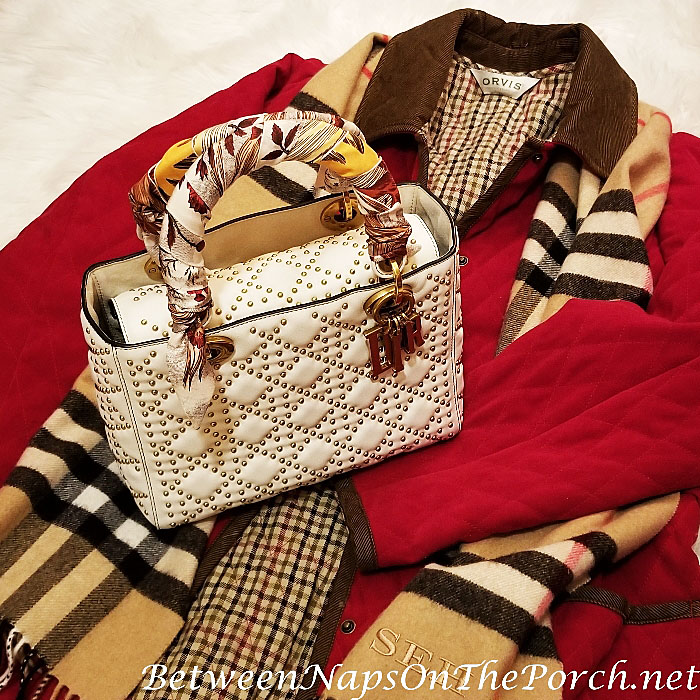 This wee scarf is a Hermes "Nano" scarf called the Zebra Pegasus Nano scarf. It's smaller than their Twilly and is perfect when you want to add a little punch of color to a bag. Hermes colors are always so rich and intense!
Whenever I purchase one of these small scarves, they always come rolled up inside a container like these below. Hermes sometimes produces the heart-shaped containers around Valentine's Day. The little boxes they come in are really cute but they aren't very practical for actually storing the scarves since you can't see which scarf is in which container. It can be time-consuming opening up each container when you're looking for a particular scarf, or you just can't remember what color scarves you have in your collection.
A while back, I attached a little label to the bottom of each of my containers that shows the name of the scarf inside, but that's still not super helpful when I'm dressing and want to choose a scarf to match/go with an outfit or bag that I'm wearing that day.
Ideally, I think I'd like to have them hanging inside the little cabinet where I store my bags, but that's just not practical since I don't have the space or system for that. So I came up with this idea below instead. After measuring the width of my twilly scarves, I purchased this 12-compartment, clear storage box.
This system is working out well because I can actually see the pattern/colors of each scarf. I have exactly 12 scarves right now, counting my tiny nano scarf. (Some are currently on bags, thus the empty spots below.) I don't have plans to buy any more scarves at the moment, so this box was the perfect size for my current collection. (Storage box below is available here: Clear Storage Box.)
I ordered this slightly larger box at the same time I ordered the one above, just in case the first one didn't work for my scarves. It has 15 compartments and actually cost a little less, though it's bigger. You'll find it available here: 15-Compartment Storage Box.
As mentioned, I ordered both at the same time but the 12-compartment one came first. I think I'll keep both since I like the smaller one for now. I'll find another use for the 15-compartment one when it arrives tomorrow.
Of course, these storage boxes could be used to store a lot of things like jewelry, crafts supplies, beads, sewing accessories, etc… I'm really pleased how it's working for my small Twilly/Mitzah collection–no more guessing what I have in my collection and which box it's in!
See you tomorrow for Tablescape Thursday!
*If a post is sponsored or a product was provided at no charge, it will be stated in post. Some links may be affiliate links and as an Amazon Associate, I may earn from qualifying purchases. *