After visiting the Hanging Church in Cairo, I was less than thrilled when our guide announced we were next headed to the souk, also known as the Khan Al-Khalili Bazaar. When I hear the word "souk," it brings back terrible memories of all the souks we visited during my trip to Morocco with Overseas Adventure Travel in March 2017.
In Morocco, the souks were always super crowded, smelled bad, and were overrun with sickly, sad-looking, neglected cats. Our guide later told us the cats were only kept around to keep the rat population down. In other words, they weren't pets–they were there to kill the rats. They always looked sick and underfed and I found the whole souk experience very depressing.
Our Morrocan guide had also cautioned us that the souks were a haven for pickpockets. As over-crowded as they were, I could see why. After that trip, I had hoped I would never have the occasion to visit another souk again.
I was relieved to see the Khan Al-Khalili Souk looked very different from those we visited in Morocco. It was much cleaner and there were a lot fewer half-dead-looking cats walking around. This souk seemed more upbeat, more modern, a much better version of the ancient souks I'd visited in Morocco. Also, the paths/avenues were wide open with hardly another shopper to be found, but I still had no interest in browsing the shops.
Browsing is never a fun or relaxing endeavor in the bazaars of Morrocco or Egypt. The shop owners will latch onto you if they notice you making even the slightest glance toward their shop. If you dare step into their shop, they bombard you with questions, trying to gather any info they can use to coerce you into buying their wares.
Frankly, I find shopping in places like Morocco and Egypt exhausting. I'd rather order something online that says "Made in Egypt" than deal with shopping the markets at all. My advice when visiting either Morocco or Egypt is to avoid the bazaars as much as possible.
I didn't take any photos while walking in the bazaar, I was mainly focused on getting that part of the trip over with and on to something more pleasant. I wish I had taken a few now just so I could give you a better idea of how it looks. Having been abandoned by our guide to wander the souk alone, Teresa and I were strolling along one of the many open paths inside the bazaar. I was wearing my favorite travel bag the way it's designed to be worn: in crossbody fashion. All the pockets on the bag were zipped and the bag was hanging across my chest and down my left side with my left arm/hand draped down over the bag. My cell phone was stuck deep down inside the front pocket (covered by my arm) because I had been using it periodically to take photos just prior to entering into the souk.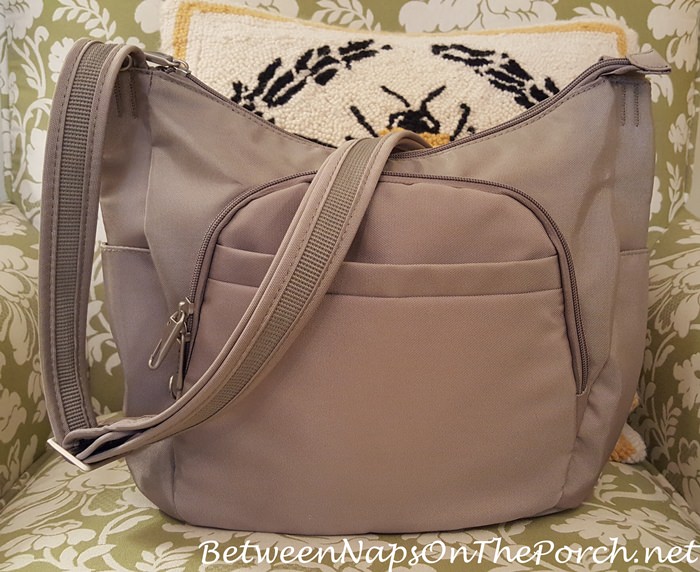 Teresa and I were walking at a pretty steady pace when I felt something amiss. It's very hard to describe exactly what I felt, the best way I can describe it is a subtle jostling at the back of my bag.
So, you know how when something scary or surprising happens, you react without even thinking? That's what happened to me that day. Instinctually, without even thinking or looking, I reached back with my left hand, the one that had been draped down over my bag, and I grabbed for whatever was moving my bag.
Guess what I found? As I partially turned, pulling forward whatever it was I had grabbed, I discovered I now had a strong grip on the wrist of a short woman dressed all in black. I didn't look at her face because all my focus was on her hand.
Her hand was turned upward and clinched inside the palm of her hand with fingers curled up over the edges, was a small, black device. It looked a lot like a cell phone but was too small to be a cell phone. It was about the size of a deck of cards, only skinnier. It appeared to have a screen like a cell phone, but the screen was completely black.
I processed all of this in a matter of seconds. As I stood there gripping her wrist, staring at the hand that had just seconds before been jostling my bag, a million thoughts raced through my mind. Was this item in her hand something from my bag? No, I didn't recognize it. Why was this woman, this thief, attempting to pickpocket me while holding something in her hand? This was obviously the hand she had been using because it was the one I found when I reached for the back of my bag.
All of this…from the seizing of her arm to assessing what she had in her hand, to deciding it wasn't something of mine, to the decision to release her arm…all of this took place in a matter of 4-5 seconds, if that long.
As I released her arm she lurched back and yelled something, then ran off as fast as she could. At this point, I was still a bit stunned by what had just happened. As my brain tried to process it all, I suddenly became aware that there were several men standing along the edge of the path in front of the shops on the right.
One of the men, apparently translating what the thief had just yelled out, said, "She just bumped into you." That made me mad and I angrily replied back, "No she didn't, she was trying to get into my bag!"
I don't remember this part, but Teresa said the men all began saying, "Sorry, Lady! Sorry, Lady! Sorry, Lady!" apparently, attempting to apologize for what had just happened. Though I don't remember the choruses of "Sorry, Lady," I do distinctly remember one of the men saying, "Welcome to Egypt!" It wasn't said in a sarcastic tone and sounded sincere, though at that very moment it was the last thing I expected to hear.
As we walked on, I looked down at my purse. It was still zipped up just as it had been before the incident, and my cell phone was still buried deep down in the front pocket. Nothing appeared to be missing.
Slightly dazed, Teresa and I walked on a bit more, navigating up and down some of the paths as if nothing had happened. After a few minutes, we decided to leave. The attempted pickpocketing had pretty much killed any enthusiasm either of us had felt for the souk excursion. Of course, it wouldn't have taken much to kill mine since I don't like shopping in the souks to start with. Have I mentioned that a time or two? lol
I've thought about the souk incident many times since my return and the one thing that has continued to stick in my brain was the black device I saw so tightly clenched in the thief's hand. Something just didn't add up and it kept needling at me. Why did she attempt to pickpocket my handbag while holding whatever that was in her hand?
Last night, as I crawled into bed, once again in my mind's eye I saw that hand clenching the small, black device. Then it hit me and suddenly I knew exactly what the thief had been attempting to do. I'm not sure why it took me so long to figure it out! I've even written about this scam here on the blog before, though I'd never seen the device.
I grabbed my cell phone from my bedside table and Googled the words, "devices thieves use to scan credit cards" and there it was, a device that looked exactly like the device I had seen clenched in the hand of the thief whose arm I gripped in the market that day. (The photo below is from this video and can be seen at 3:13 point of the video: How Crooks are Stealing Credit Card Information.)
Here's what I think happened that day in the Khan el-Khalili Souk: I think the thief who sneaked up behind me was attempting to scan my credit cards but was having zero success since my cards were securely tucked down inside the RFID protected credit card pockets inside my travel handbag. My bag was doing its job and foiling her attempts to steal my credit card info.
Not realizing my cards were protected and probably thinking she just wasn't close enough, she moved closer and closer and closer until she was right on top of my bag and accidentally bumped into it as I walked.
Since I don't like going into the souk anyway, I was pretty much on high alert for any shenanigans. I'm still surprised I felt her jostle my bag because it was so subtle. I'm sure she was quite surprised to find her wrist held in a death grip by the person she had just been trying to rip off. If I had known what the black device was in her hand that day, I would have been tempted to rip it from her hand and crush it underfoot.
Just to be safe, I called American Express today and asked if they had seen any suspicious charges on my card since my return home. I figured they had not since I had not received any e-mails or alerts. They confirmed that everything looked fine, no issues.
Have I mentioned lately how much I love my travel bag? I know my credit card company would have removed any charges if the thief had been successful in scanning my credit cards. In fact, they volunteered that reassurance today when I spoke with them on the phone. But how nice is it that I don't even have to deal with that! I don't have to spend hours on the phone talking with my credit card company or bank trying to undo the damage done by an evil person I had the misfortune to encounter while on vacation.
Also, imagine if she had been successful and had obtained my credit card info. Most likely my bank and credit card companies would have realized it pretty quickly and would have canceled all my cards. Then I would have been stuck in Egypt without a valid debit or credit card. That would certainly have thrown a wrench into the rest of my trip!
I highly encourage you to protect your credit cards when traveling by carrying them in a travel bag designed with built-in RFID-protective pockets/card slots, or at least keep your cards in protective RFID sleeves designed to block cards from being scanned.
I've also read thieves will scan passports since they have a chip inside them like credit cards. I guess that's one of the ways they attempt to steal a person's identity. My passport was also safe that day because I keep it tucked down inside the deep pocket located right behind the credit card slots.
This is the bag I've used on my last 4-5 trips: Travel Handbag. You can read a more detailed review in this previous post: What's Inside My Travel Handbag?
If you don't use a bag with RFID protective credit card slots when traveling, but instead carry your credit cards in a fanny pack or one of the neck wallets you wear around your neck, consider putting them inside the protective sleeves that can't be scanned. You'll find those here: RFID Sleeves for Credit Cards.
Hope this experience proves helpful for you as you travel. You have to protect yourself against the scammers and thieves. They've gone high-tech these days and we have to stay one step ahead of them!
*If a post is sponsored or a product was provided at no charge, it will be stated in post. Some links may be affiliate links and as an Amazon Associate, I may earn from qualifying purchases. *