Welcome to the 430th Metamorphosis Monday!
This is not a sponsored post, I just had to share Shout's amazing Color Catcher product because it literally saved me from having to throw away one of my favorite shirts. Hope this proves helpful if you ever find yourself in a similar situation.
A few months ago I purchased this adorable polka-dot shirt after seeing it online in this ad.
My favorite way to wear it is with the same sweater shown above and dark blue jeggings, also purchased this spring. I don't know if you do this, but sometimes when I have a favorite outfit, I tend to wear it a lot! It went with me on my recent trip to Morocco where I promptly got a big orange stain right on a white part of the button placket down the front. I don't remember now what I dripped on it, it was some kind of red sauce. When it happened, I wiped it off the best I could and decided I would just deal with the stain once I was back home.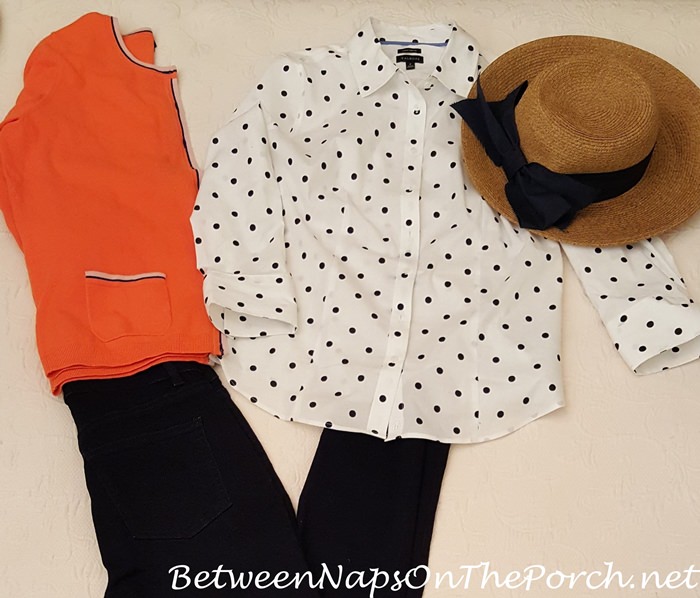 The night before the Tiffany event I blogged about recently (see that post here: Tiffany Breakfast) I decided to wear the shirt along with some dressy black slacks. That's when I remembered the stain. It was late at night and I didn't have any all-fabric-bleach on hand. I tried using some spray Shout on the spot and it did lighten it up a lot, but it didn't get rid of the orange stain completely. Argggh.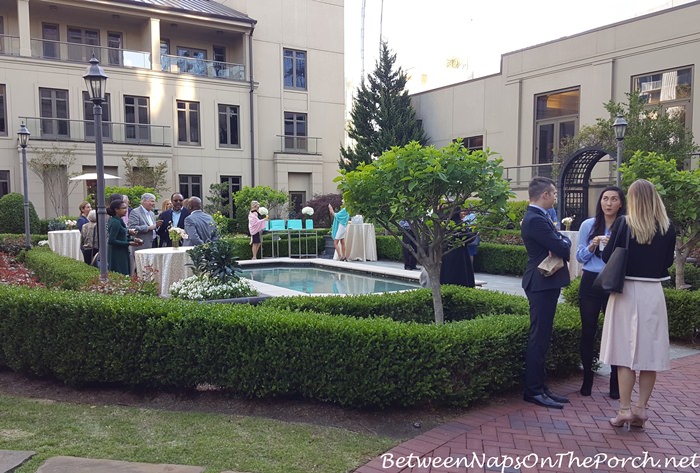 Then I got the not-so-brilliant idea to put a tiny drop of bleach from a Clorox Bleach Pen directly on the spot. I thought it might work since the orange stain was only on a white section of the placket and not on one of the colored dots.
That turned out to be a terrible idea! It got rid of the stain and all looked well until I rinsed out the shirt. As I hung it up to dry, I noticed that all the black dots down the left side of the shirt had turned into little comets with tails. Ohhh, noooo!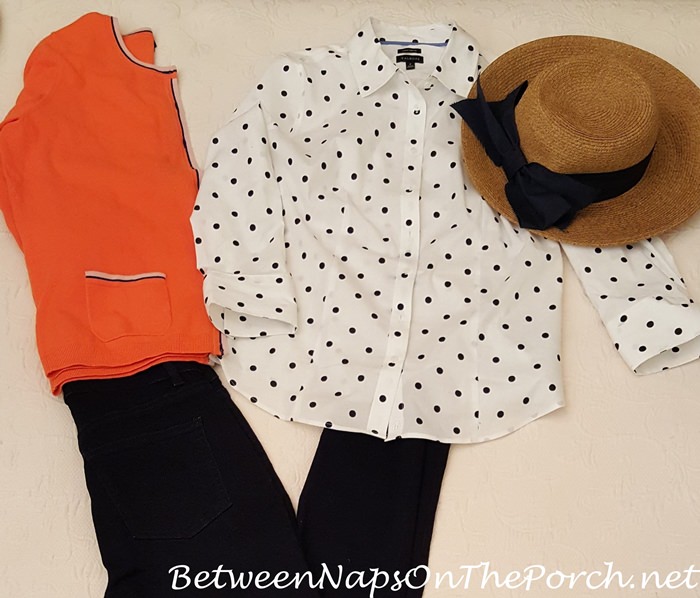 I don't have a picture of that little disaster because I was too busy freaking out to think of taking a picture, but the dots looked a bit like this comet photo from Nasa, except it was the reverse color scheme: black comets on a white sky/background. I remember wondering if the shirt was still available because I was broken-hearted I had ruined it. I also wondered what I was going to wear the next day to the Tiffany Breakfast.
As I stood there looking at all the comets down one side of my shirt (for some odd reason they were only on one side of the shirt) I remembered that I had purchased a box of Shout Color Catcher back in February after seeing a commercial for it. When I purchased it, I thought I'd never have an occasion to use it because I never wash white and colored clothes in the same load. Why take the risk of color transfer when you can just wash them separately.
I don't remember now why I bought it, but I'm so glad I did! As I looked at my ruined shirt that night, I remembered the color catcher and wondered if it would help. The shirt was still wet since I had just rinsed it out, so I thought why not try it. At that point, I had absolutely nothing to lose, the shirt was already ruined.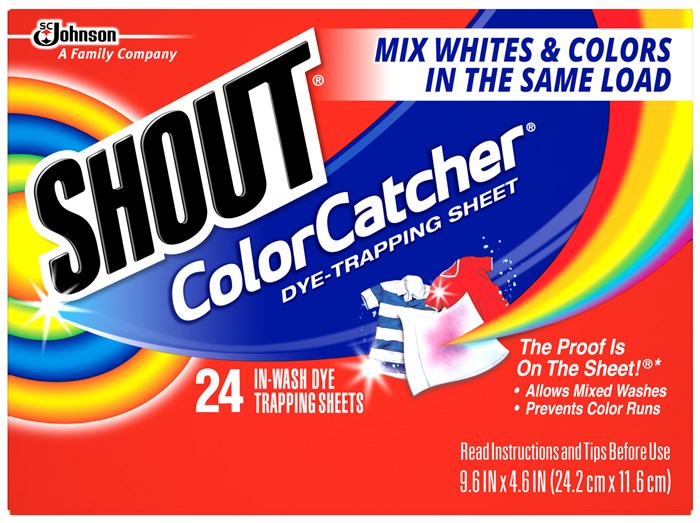 I tossed the shirt and one color catcher sheet into my little hand-wash basket shown in this picture below from THIS previous post. I ran the shirt through a rinse cycle with the color catcher inside the basket. I knew there was no way it was going to turn all those comets back into polka-dots but I figured it was worth a try.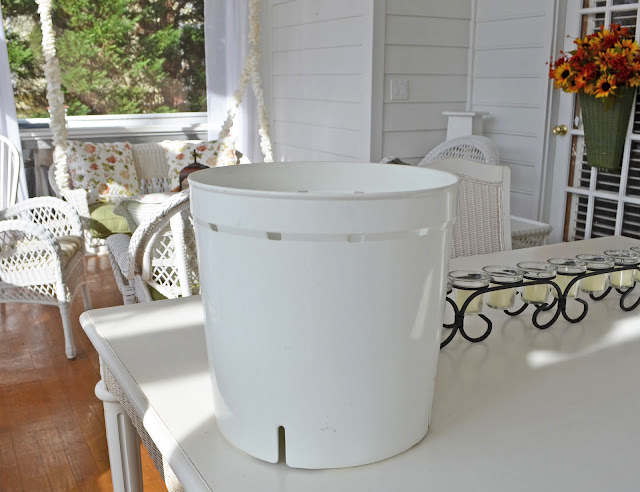 I was stunned when the rinse cycle ended and the comets were all gone. It was like a miracle! I could not believe my eyes. I wore the shirt the following morning to the Tiffany Breakfast and ended up telling the story of the saved shirt to a couple of the folks I met there. I was still in shock that it had worked!
Who would have thought that a little Color Catcher sheet could fix something that was already ruined! It may not have worked if the shirt had dried first, so keep that in mind. If you ever have something fade all over another item, right that moment while it's still wet, try running each item separately through a rinse cycle with a color catcher.
I can't promise you it will work, but it definitely worked on this shirt. This was the side where all the dots had turned into comets. Amazing! The dark comet tails are all gone!
If this shirt goes on sale again, I may buy another one because I do love it! It looks great under so many different sweaters so I find myself wearing it a lot. You'll find this shirt here: Polka-dot Shirt. You'll find Shout's Color Catcher here: Color Catcher.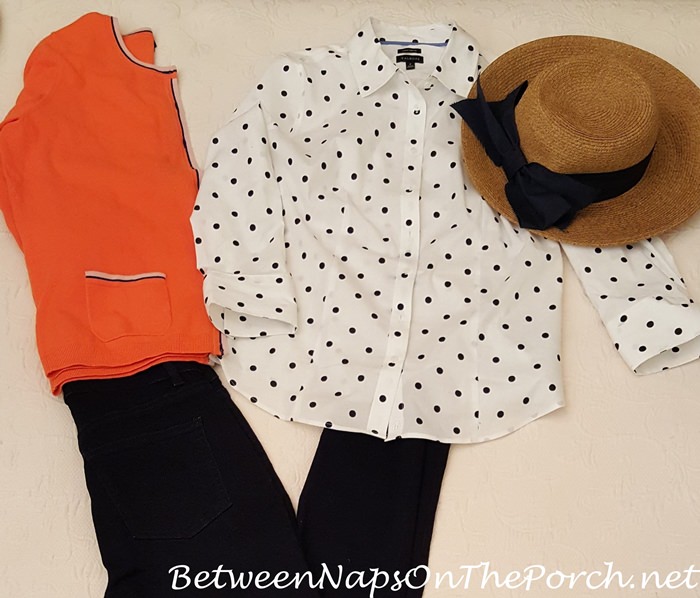 One More Use for Shout's Color Catcher
Recently, I found another use another use for Shout Color Catcher. I've never worn jegging until this past spring and the first time I washed a pair of my new dark-blue jeggings, they dyed the little raised augers inside my hand-wash basket a dark blue. I should have taken a photo of that to share…didn't think about it at the time. After a lot of scrubbing with a scrubbing sponge, I was able to get the blue dye off of the plastic augers.
The next time I needed to wash a new pair of jeggings, I tossed in three color catchers with the jeggings. That was probably more color catchers than I needed, but I still remembered how badly the jeggings had stained the basket the last time and I didn't want a repeat of that scene.
I don't know how they do it, but the color catchers caught all the dark blue color, and this time I didn't have to scrub out the plastic basket. You can see how the color catchers looked after the wash in the photo below, although I think some of the dark color has faded out of them since then…the color catchers, not the jeans. The jeans are still nice and dark. lol
So these work great for dark jeans that are probably going to fade in the wash. I still would not intentionally wash dark clothing with white clothes, to me that's just asking for trouble. But I think it's a great idea to use these when washing colored clothing that you think could fade in the wash.
Hope this helps if you ever find yourself in a similar predicament. And don't ever use even a speck of bleach on a shirt that has any color, even if it's just polka-dots! I will definitely not make that mistake again!
Metamorphosis Monday
Metamorphosis Monday is a party that's all about Before and Afters. If you are participating in Met Monday, please link up using the "permalink" to your MM post and not your general blog address.
To get your permalink, click on your post name, then just copy and paste the address that shows up in the address bar at the top of your blog, into the "url" box for InLinkz.
In order to link up, you'll need to include a link in your MM post back to the party so the other participants will have an opportunity to receive visits from your wonderful blog readers.
Please observe these few rules:
Please link up Before and After posts that are home, gardening, decorating, crafting, painting, sewing, cooking, fashion or DIY related.
Be sure to include a link back to the party in your post, so your readers will be able to find and visit the other bloggers who are participating.
Do not link up to the party if you're doing so to promote or sell a product.
To those who are linking up: If you notice a shop or store linking up to sell products (yes, unfortunately that does happen) please let me know so I can remove their link from the party. No one wants to click a link expecting a Before and After, only to find a spam link to an online business/store.

*If a post is sponsored or a product was provided at no charge, it will be stated in post. Some links may be affiliate links and as an Amazon Associate, I may earn from qualifying purchases. *