Welcome to the 633rd Tablescape Thursday, a blog party sharing beautiful table settings for all occasions!
I should probably be sharing a Thanksgiving table this week since Thanksgiving is just two weeks away, but I've been itching to play with some new "glasses" I purchased recently. The good thing about sharing this table now is if you love the glasses, they should still be available since I just bought them a week or two ago. If you're looking for inspiration for your Thanksgiving table, you'll find that here: Thanksgiving Table Settings.
I'm pretending this is the children's table, but truth be told, I would gladly be seated here for a Christmas dinner. lol
Hope you don't mind, but Mr. Grinch whose heart grew three times bigger recently (thus the big smile on his face) will be joining us for dinner this week. He brought along his slightly leaning Christmas tree to adorn our the center of our table. 😉
He's super excited because he heard we were going to be using his favorite Grinchy plates.
I fell in love with these plates when I saw them last year and had to have a set. I've always loved the movie, How the Grinch Stole Christmas…the original 1966 version. I don't think I've ever seen the Jim Carrey version. Should I watch it?
It appears the Grinch plates are available again this year. I'm tempted to buy another set so I'll have a few extras.
Update added later: Here's a closer view of the plates taken in natural light later in the day when the sun came out.
I love all the little Whos standing hand-in-hand in a circle around the edge of the plate. Soooo cute! If you need a set of these, you'll find them here: Grinch Salad/Dessert Plates.
The tartan dinner plates are available here: Tartan Dinner Plates.
In honor of Max (the Grinch's cute pooch) and his one antler, I'm using reindeer antlers for our napkin rings. Pretty sure I found those in Pier 1 a few years back.
These are the adorable "glasses" that inspired this table. I couldn't resist these cute ball ornament glasses when I spotted them recently while shopping. I think my grandsons will love them when they are here in a couple of weeks. They come in silver, green and red and are non-breakable so great for kids! I ended up buying two of each color.
If you need some of these for a Christmas gathering, you'll find them available in red, green, and silver here: Ornament Glasses.
I've had Mr. Grinch for many, many years, probably 10-15 years ago. I think I found him in a Hallmark store–it's been sooo many years, hard to remember. Can't remember where I found the sleigh, again have had it for many, many years.
One more update: This photo taken later in the day in natural lighting when the sun came out better shows the true colors of everything used for this table.
A view from above…
If the sun comes out today, I'll try to take a few photos in natural light and add them to this post. It's been so rainy here lately. Can you see all the green still on the trees in my backyard? It was so hot yesterday, I put on my summer tops! Fall is slowly coming to Georgia, a few of the trees are starting to change color now. Has fall arrived in your area, yet?
Looking forward to all the wonderful table settings linked for this week's Tablescape Thursday!
Did you know Between Naps On The Porch is on Instagram? You'll find me on Instagram here: Between Naps On The Porch.
Like to know when a new blog post is up and available to read? Subscribe for email updates, it's free and your email will never be shared. Subscribe for free post updates via email here: Subscribe for Post Updates.
Tablescape Thursday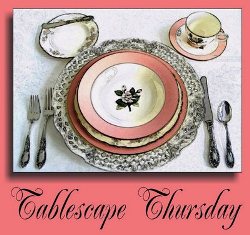 If you are participating in Tablescape Thursday, please be sure to add your permalink below, and not your general blog address. To get your permalink, click on your post name, then copy and paste the address showing in the address bar, into the "url" box when you link up. You'll need to include a link in your post back to the party to link up and participate.
That's so visitors to your blog will be able to find the party and the other Tablescape Thursday participants. Requiring a link back also prevents businesses and scammers from linking up to sell their products. (Yep, that really happens, unfortunately.) If you see a post that's not table setting related, let me know and I'll remove it.
Please, don't add your post name/blog name ALL IN CAPS…it tends to create big spaces between the rows of links.
Please link up table setting or table setting related posts only for Tablescape Thursday.
This party has ended, click button below for the links to all who participated.
*If a post is sponsored or a product was provided at no charge, it will be stated in post. Some links may be affiliate links and as an Amazon Associate, I may earn from qualifying purchases. *