Welcome to the 186th Metamorphosis Monday! Recently, I was chatting via e-mail with Nancy, a talented DIY reader of BNOTP. Nancy was inspired by a tutorial I posted a while back detailing how I made a wooden flag for Independence Day.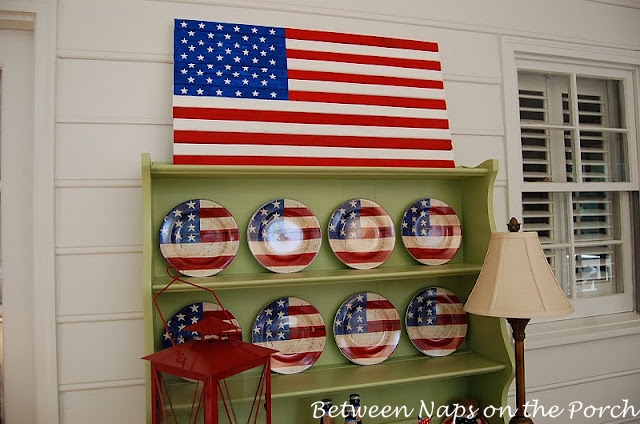 I had been inspired by this one in the Pottery Barn catalog.
Since I had a big cookout planned for the 4th, the flag was the finishing touch for my patriotic porch decor. I never got around to "antiquing" or aging my flag. I know there are lots of techniques and methods for aging furniture or wood pieces and I just couldn't make up my mind how I wanted to do it. I was worried I wouldn't like the result in the end. So, I just let it be.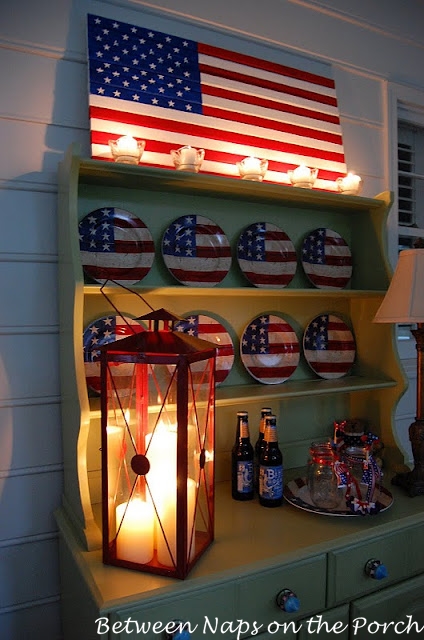 Since I mentioned in my post I wasn't sure how I wanted to age it, Nancy was kind of enough to share her technique for aging the flag she made. Nancy used a Crackle Medium to get the look she wanted. She purchased it at Hobby Lobby. I'm sure Michaels would have it, too.
Nancy applied it to the slats of the flag prior to assembling the flag.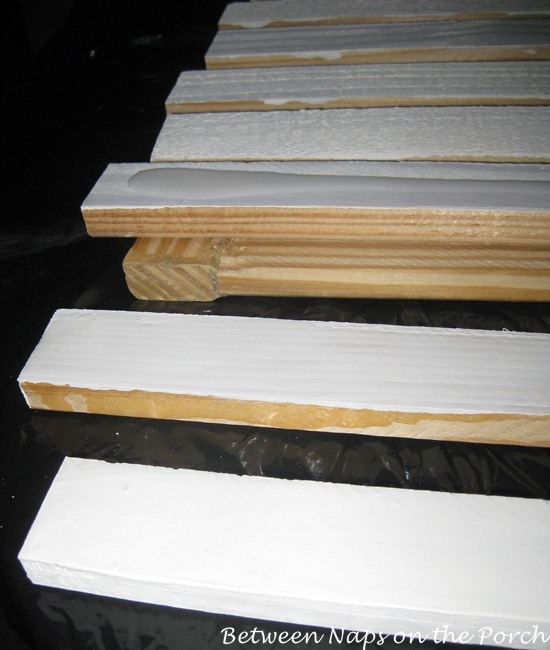 You can't really see it on the white strips/slats very well, but you can definitely see it on the red.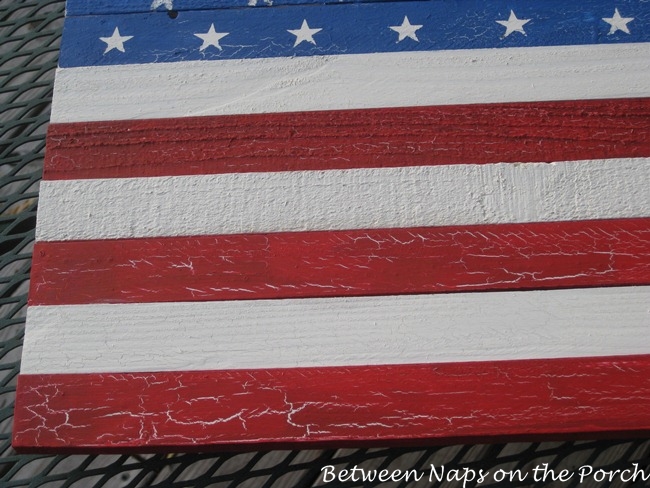 Here's a closer view…it really does look old, doesn't it?
Here's how it look on the canton area of the flag.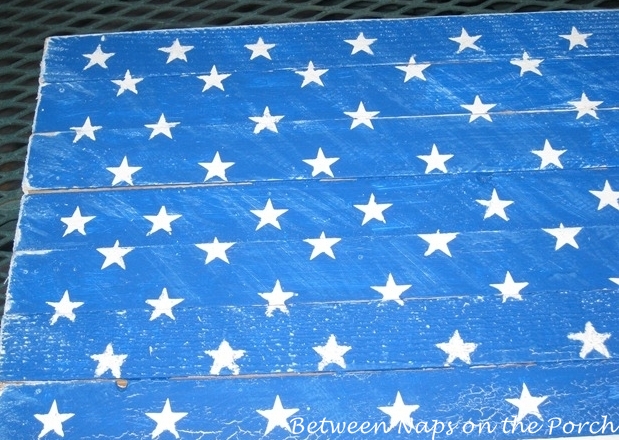 Nancy lightly sanded her flag in places to "age" it. Edges are good places to sand, where natural wear would occur.
Nancy also aged her flag by staining it a bit. What did she use?
Old English! Remember this stuff?
The areas where Nancy had sanded took the stain a bit better.
A closer view… amazing how crackling medium and a little old English can give instant character and age to wood.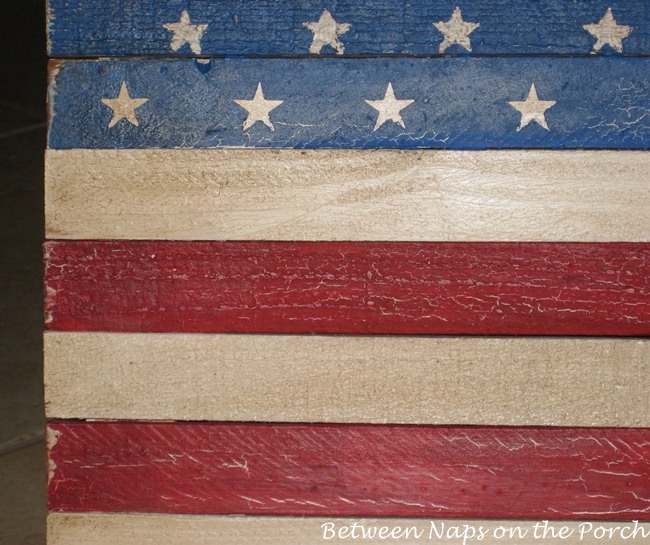 Here's how Nancy's flag looked hanging on her back porch. Beautiful!
Nancy, thanks so much for sharing how you antiqued your fabulous flag. It really turned out beautifully! You'll find a detailed tutorial for making your own Pottery Barn Inspired Wood Flag here: Make a Painted Wood Flag for Patriotic Holidays. To see the porch decorated for the 4th, click here: Patriotic Porch for the 4th of July.
Metamorphosis Monday: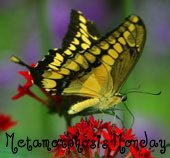 If you are participating in Metamorphosis Monday you will need to link up the "permalink" to your MM post and not your general blog address. To get your permalink, click on your post name, then just copy and paste the address that shows up in the address bar at the top of your blog, into the "url" box for InLinkz.
In order to link up, you'll need to include a link in your MM post back to the party.
If you'd like to include the MM button in your post, just copy and paste the Met Monday button to your computer and unload it as you do your other photos to your post. Or, click on the "Other" category at the top of the blog and on Metamorphosis Monday. You'll find the html code for the button there.
PLEASE DO NOT type in all caps…it spreads the links waaaay out.
PLEASE DO link up Before and After posts that are home, gardening, crafting, painting, sewing, cooking, DIY related. Do not link up if you're doing so to promote a website or product.
PLEASE DO be respectful of the BNOTP readers, visitors and those who participate in Met Monday by not linking posts inappropriate for the party.


*If a post is sponsored or a product was provided at no charge, it will be stated in post. Some links may be affiliate links and as an Amazon Associate, I may earn from qualifying purchases. *