Lately I've been a cleaning fiend around here. I understand now why you hear so much about "spring" cleaning. When winter begins to fall away and the days start getting longer and warmer, something inside just makes you want to clean and freshen up everything in sight.
It's kind of fun to put up away some of the things I've been using this winter, a sign that winter is pretty much a thing of the past. I know we are due for a little cold spell this weekend, but it's officially spring and I'm all in!
One of the first things I decided to store away this week were the two Vicks Warm-Mist Humidifiers I've been using all winter. They worked awesome all winter so if you need a humidifier, I can definitely recommend this one.
Before putting them away for the winter, I wanted to give them a good cleaning so they would be ready when I pull them back out next winter.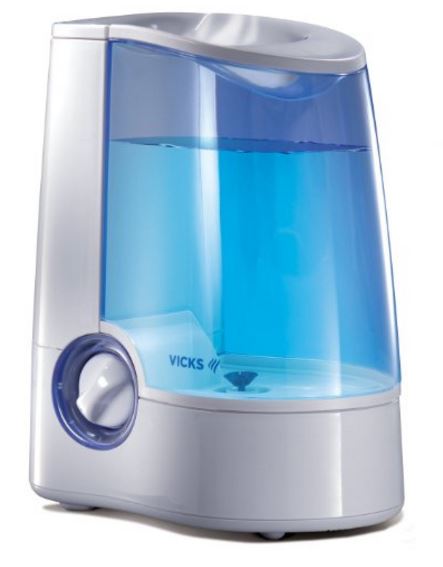 When I opened them up, I expected to find something down inside that would need cleaning, but I was pretty shocked when I saw this! Yuk!
When I purchased these humidifiers, I noticed in the questions/reviews on Amazon, folks were asking how to clean off the hard deposits that form on the heating element inside after using them a month or two. Sure enough, when I opened mine up, I found exactly what those folks had been talking about. Over the couple of months I ran them this past winter, a very, very hard crust had encased the thing that heats up inside to create that warm mist that keeps us so comfortable during the winter. This crust is so hard, you can't even cut it with a knife!
The humidifier on the left below is the one that ran in my bedroom each night. I noticed it was in a lot worse condition than the one I ran in the office. I guess that's because it ran all night long while the one in the office only ran as I felt I needed it each day.
I remembered in one of the answers someone had asked a question about how to clean them. A person who answered recommended soaking the element in a vinegar/water solution about once a month. I decided to give that a whirl. This was the vinegar I already had in my pantry so this is what I used.
Please note: This method worked for my humidifier, but check the manual that came with your humidifier for the manufacturer's recommendations. I can't be responsible if this method causes any damage or problems with your humidifier.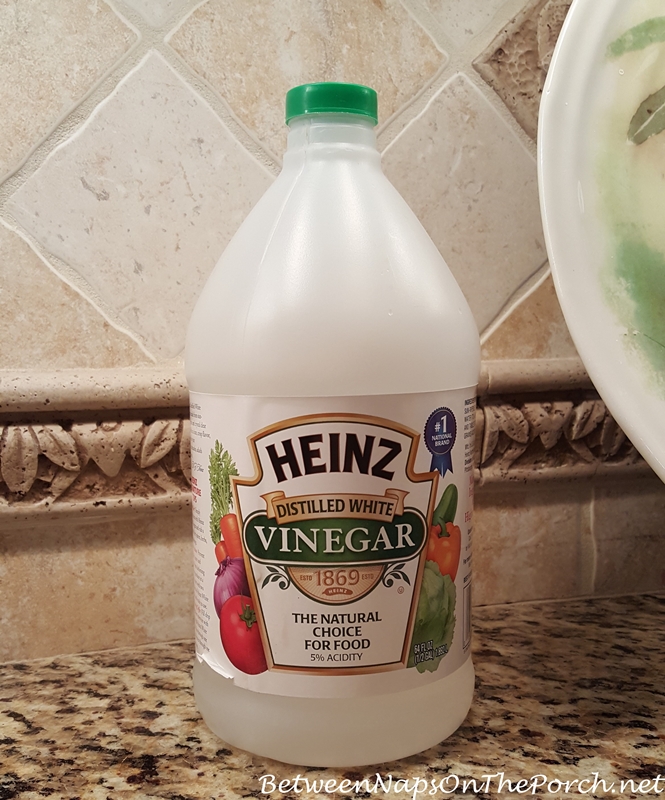 Update on 01-25-19: This is vinegar I now use to clean my humidifiers and it works great. I think it's a stronger version because it worked better and faster. I ordered it from here: Cleaning Vinegar. It has directions for diluting it when you're using it to clean, but I used it full strength and it worked great.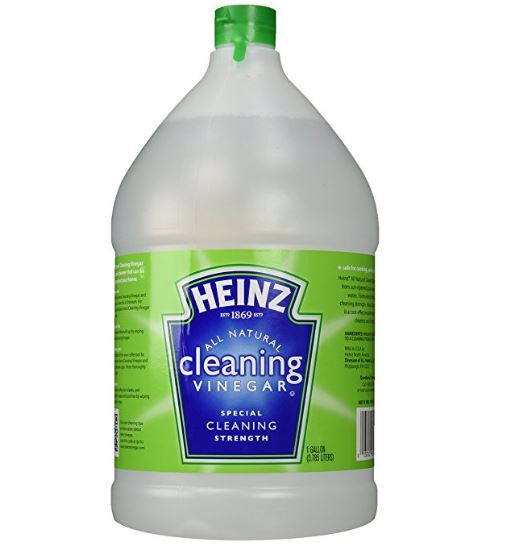 At first, I just poured it in until it was fully covering the heating element. As I stood staring down at this weird little science experiment, I could tell the vinegar was going to work because I could see teeny, tiny little bubbles coming up from the surface of the crusty stuff. Something was definitely happening!
I began to worry that the vinegar could possibly damage the little spring that's inside the blue slide thingy that helps hold parts of the humidifier in place when it's reassembled. I figured if vinegar could eat this impossibly hard, crusty stuff off a heating element, it could probably do some pretty significant damage to a metal spring.
So, I tilted the base of humidifier upward and put a soup bowl under the other end. That forced all the vinegar down to the end where it really needed to be anyway and left the spring and blue slide thingy clear of the vinegar.
In the photo below you can see how the crusty stuff was beginning to look on the bedroom humidifier after about 4-5 hours soaking time. I think the crusty stuff that forms is most likely caused by the minerals in our tap water. I guess when heated up, that's what they do.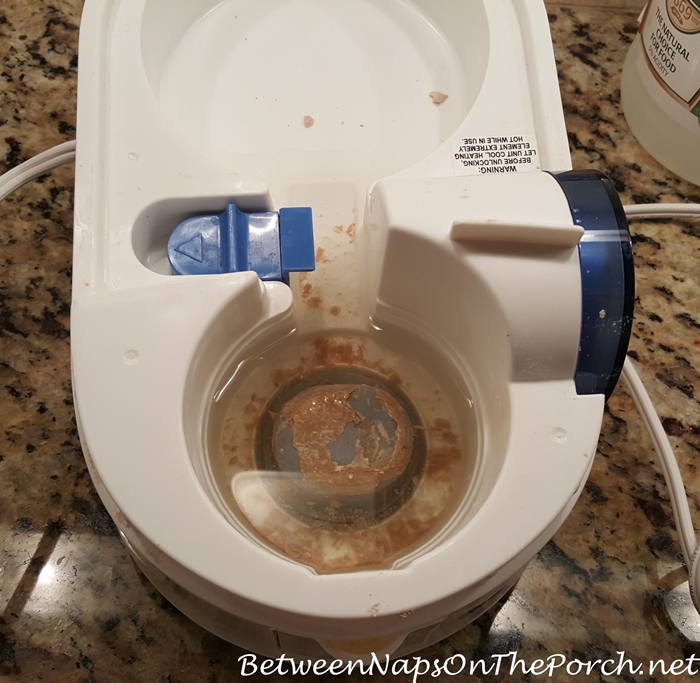 Here's how the office humidifier was looking after 4-5 hours. Someone in the reviews/questions section on Amazon said the stuff that forms is calcium. Whatever it is, I'm sure it reduces the performance of the humidifier and probably reduces the life of it, as well. It definitely doesn't need to be there.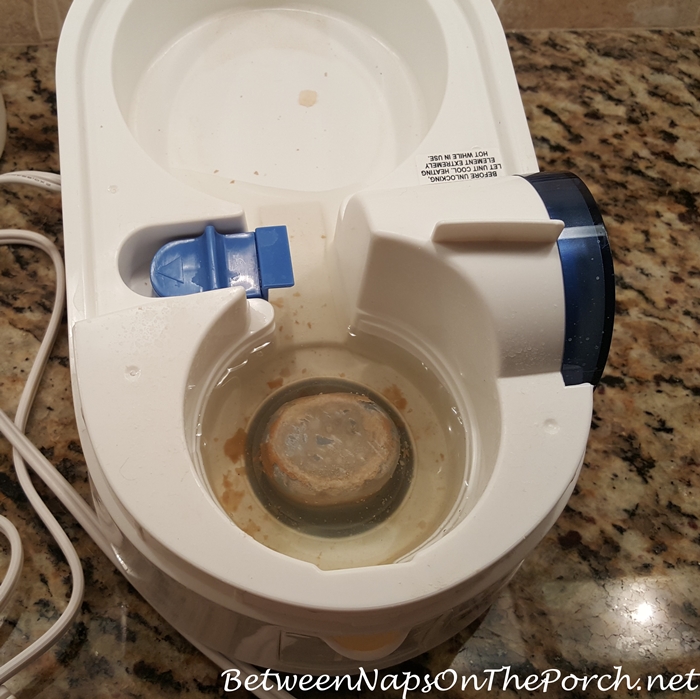 I left the humidifiers soaking overnight and this morning I noticed the bubbling action had stopped. So, I dumped out some of the vinegar and added some fresh vinegar back in. By this afternoon, most of the crusty stuff was gone and I was able to gently scrape off the small pieces that remained. Here's how the bedroom humidifier looked.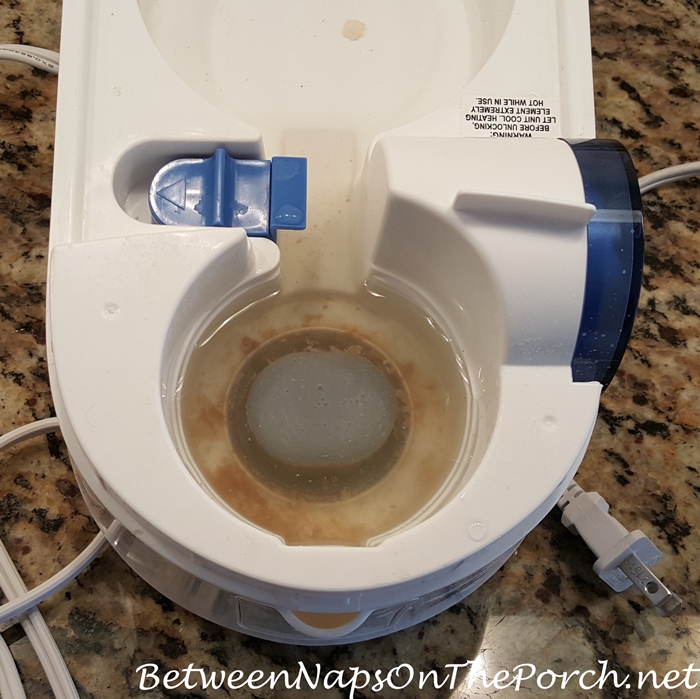 And here's how the office humidifier looked.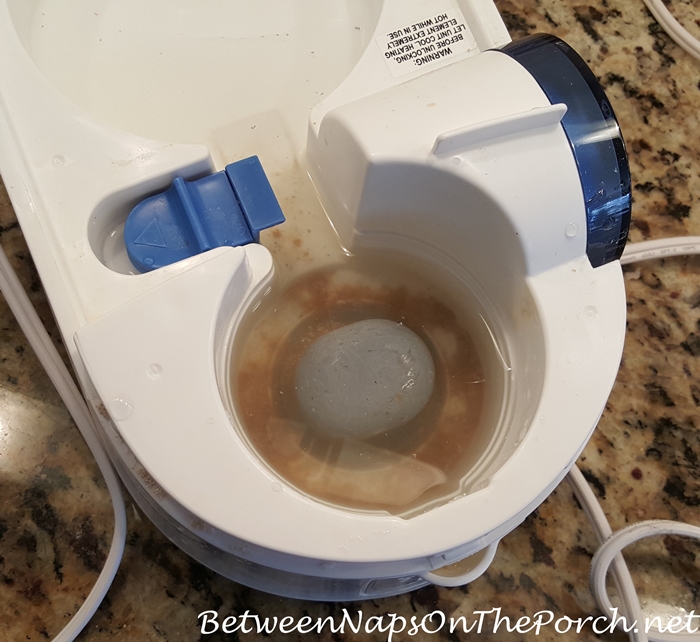 I dumped out the solution and rinsed out the humidifiers and here's how they looked…much better. If you have this type warm mist humidifier, you may not want to use the vinegar full strength. I decided to just go for it because I'm impatient. I think next year I'm going to do this about once a month instead of running them for 2-3 months and letting it build up so much.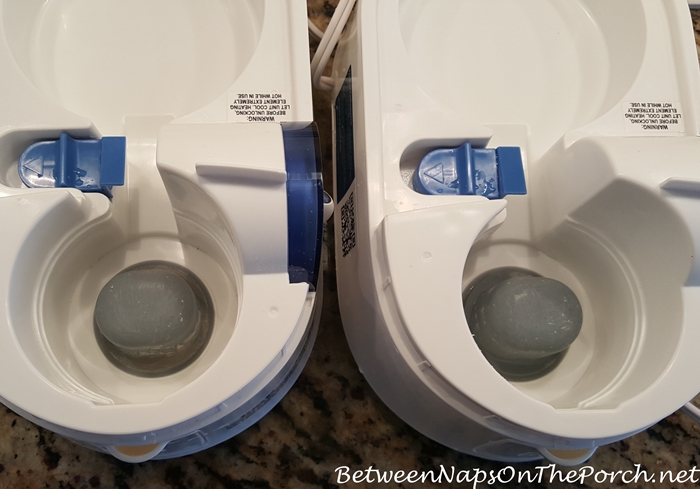 Just to make sure everything was still in working condition, I filled one of the humidifiers with water and turned it on. Do you see the steam coming out the top? It worked great, so all is well!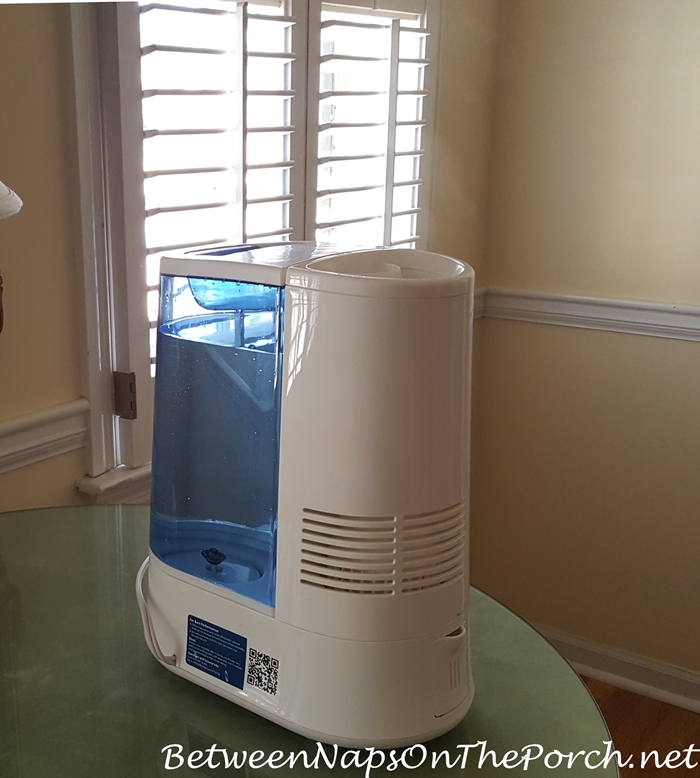 Please note: This method worked for my humidifier, but check the manual that came with your humidifier for the manufacturer's recommendations. I can't be responsible if this method causes any damage or problems with your humidifier.
Have you ever had to clean a heating element inside a warm-mist humidifier? If so, what method did you use?
*If a post is sponsored or a product was provided at no charge, it will be stated in post. Some links may be affiliate links and as an Amazon Associate, I may earn from qualifying purchases. *