Every so often I get an e-mail from someone who is in the process of putting together an office with the Pottery Barn Bedford furniture and they ask what pieces I used to achieve the layout I have in my home office. It's always hard to answer that question in an e-mail because I had to get creative and go off the grid a bit to make it work the way I wanted.
I've been meaning to write about this for ages. Recently, the question came up again and that was the push I needed to get busy and create this post. I hope it answers some questions and hopefully, it will prove helpful for a few folks who are working on a home office.
At the end of this post, I'm also sharing a printer I just purchased that is perfect if you need a printer/copier/scanner but have very little room for one. So if the office part doesn't really interest you, the "printer" part of this post may prove helpful.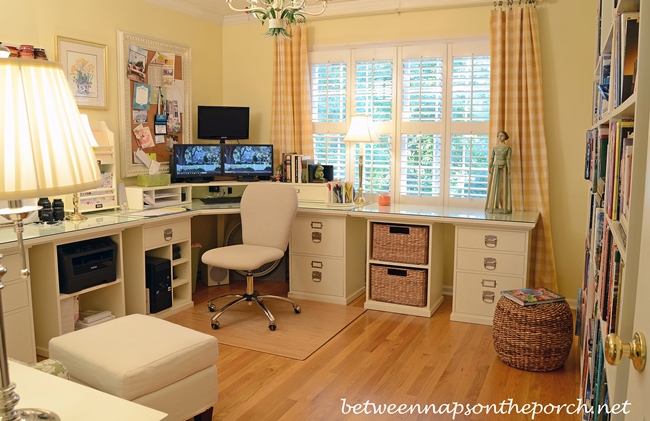 When I started working on creating a home office, I fell in love with the Bedford line of office furniture at Pottery Barn. I loved all the office spaces they showed at the PB website. The pictures you see in this post that are not of my office are all from PB online and they were my inspiration when I set to work building my home office.
Let's take a moment to just gawk at this picture! Wouldn't we all like to sit in an office with the windows thrown wide open, birds chirping just outside and the sun pouring in? I'm not sure I'd get any work done, though. 🙂 Days when you can throw open the windows are pretty infrequent here in the south, it's usually too buggy or too hot. But there are a few spring and fall days when you could pull this off. Is that not the biggest abacus you've ever seen in your life? Okay, gawking done–time to get down to business.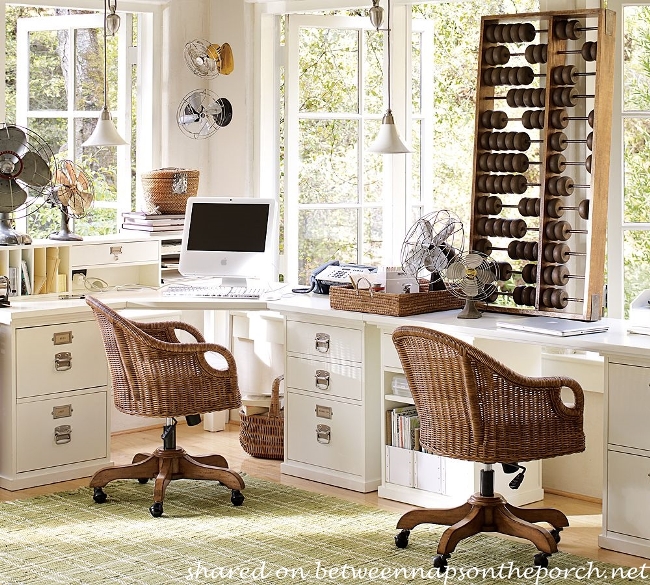 When it came time to order my office furniture, I stared and stared at these pictures, trying to figure exactly what combination of Bedford furniture pieces were used to create the look. So many of the pictures showed the corner desk and a side section that appeared to be the perfect length for two cabinets underneath as shown in the picture above and the one below.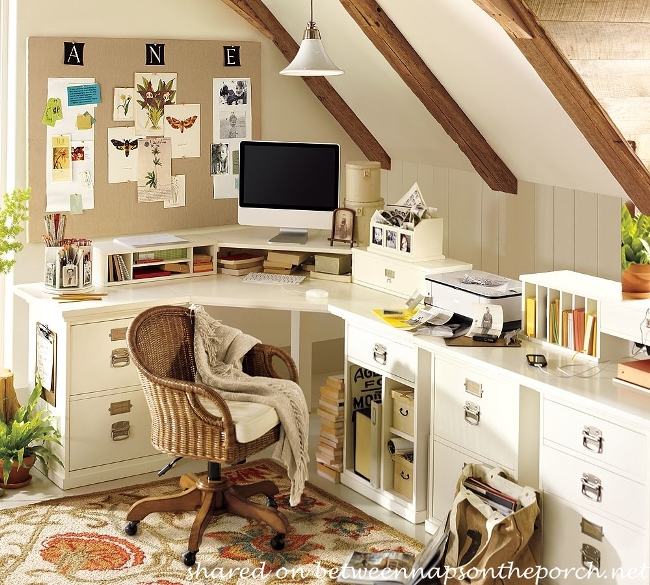 I knew the corner desk actually included three parts: Two cabinet units and a large center section that spanned over the top of the two cabinets for a unified even desk surface. This entire set up below is what's known as the "Bedford Corner Desk Set."
This is the big top that fits over the two cabinets to create the Corner Desk Set.
Where I kept running into problems was in order to create the layout I wanted, I needed a desktop that would fit over two cabinets as you see on the left side in the picture below. I could not find one anywhere on the PB website. To fit over two cabinets, a top would need to be around 42-55 inches long, depending on how much space you wanted between the cabinets.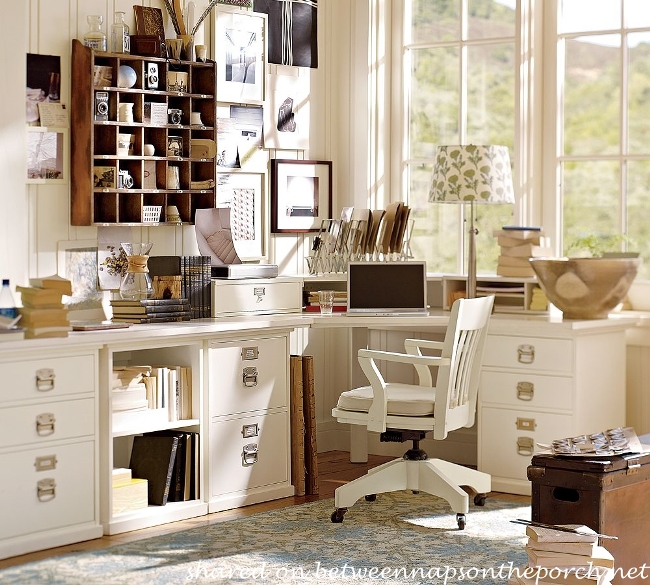 This long rectangular desktop was the only "desktop" shown on the PB website. It measures 70 inches long. That's way too long to work as the top for two cabinet units. It's better designed to go over the top of three cabinets unless of course, you're trying to create a big gap for a chair/sitting.
I called a few of the PB stores and asked the associates at each one how Pottery Barn created the look I was seeing in the pictures above when it didn't appear they sold a top the right length to fit over two cabinets. The associates I talked to looked at the pictures online and they were stumped, too. One associate said he thought the section of desk off to the side was actually three cabinets with the long 70 inch top, but maybe the photographer had cropped out part of the desk in the ad. Ahhh, that made sense, those sneaky photographers!
So, it really wasn't a desktop with two cabinets underneath but actually, the long rectangular desktop with three cabinets underneath and the photo was just cropped so the third cabinet wasn't visible. Unfortunately, that would mean my inspiration rooms/pictures were a myth and couldn't be duplicated. Waaaaa!
So, how did I ultimately get this look anyway? How did I manage to find a desktop that would fit over two cabinets?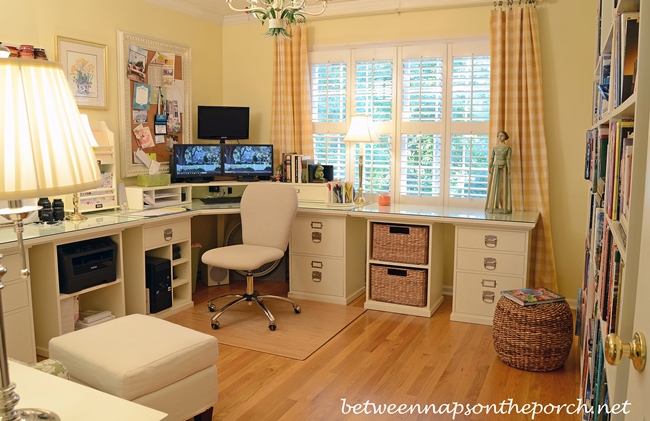 After pouring over the measurements of the various Bedford office pieces online, I came up with an idea I hoped would work. I had no idea if it would but based on my measurements, I thought it was worth a shot. So, here's what I did: I purchased the corner desk set (shown below) as planned.
AND, I purchased two of the "Bedford Small Desk Sets" pictured below. The desktop for this small desk set is 52 inches long so I was pretty sure it would work as the top for two cabinets on either side of my corner desk set.
This small desk comes with three parts: 1. A 52-inch desktop, 2. A cabinet unit (which can be either an open unit or a three-drawer cabinet) and 3. Legs. I didn't need the legs but they do come with the desk.
I ordered one additional cabinet so I'd have two cabinets to go under the small desktop.
When I ordered these two small desk sets to go on either side of the corner desk set, I had no idea if it was going to work. I didn't even know if the Bedford small desktop would fit properly over two cabinets since all the pictures on the Pottery Barn site showed it with just one cabinet underneath on one end and legs on the other. I figured the worse thing that could happen is it wouldn't work and I'd just return them both to my local Pottery Barn that's only about two miles from my home.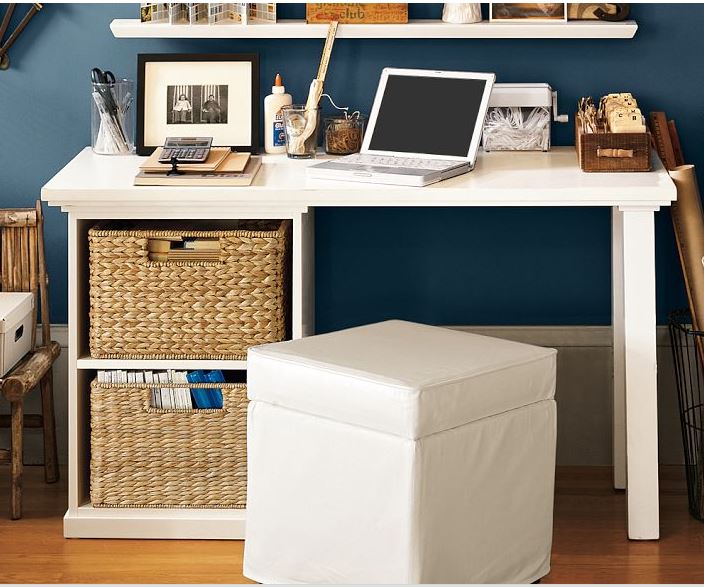 Fortunately, it worked! Below you can see the top of the Bedford Small Desk with two cabinets underneath. The legs are not being used and are stored away in a closet. This section is on the left side of the corner desk set. My measuring had paid off and it just fit without blocking the closet door visible on the far left.
The second Bedford Small Desk Set is positioned off the right side of the corner desk. Again, I didn't use the legs, just stored them away in a closet.
I considered using one of the small Bedford desks as an actual second desk in the room since it would have come in handy for crafts and sewing, but I do those activities right on top of my corner desk and I like having the extra storage space another cabinet provides.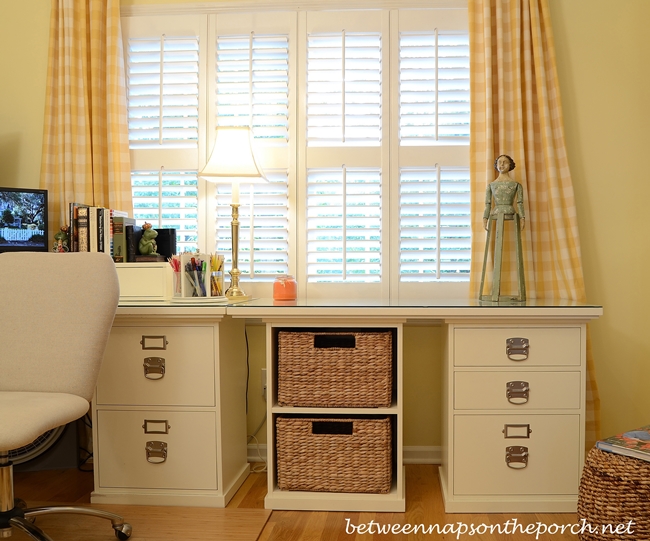 The small desktop fit perfectly in front of the office windows. Another question I'm often asked in e-mails is the size of this room. It is 11 feet wide and 13 feet deep, meaning 11 feet from the left wall to the wall the bookshelves are on in this picture below. It's 13 feet from the door (where I stood to take the photo) to the windows.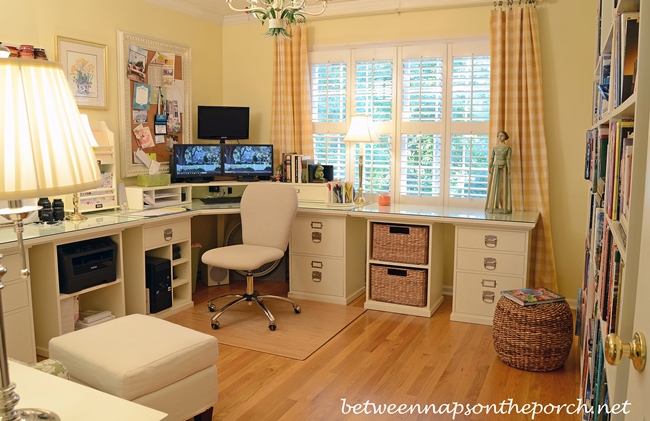 Out of curiosity, I measured to see if I could have used the 70 inch rectangular top off the right side. The answer was, no. The room isn't quite wide enough–almost but not quite. Plus, using a long piece on the right side would have killed the symmetry and balance of the whole layout, which I do like for this room.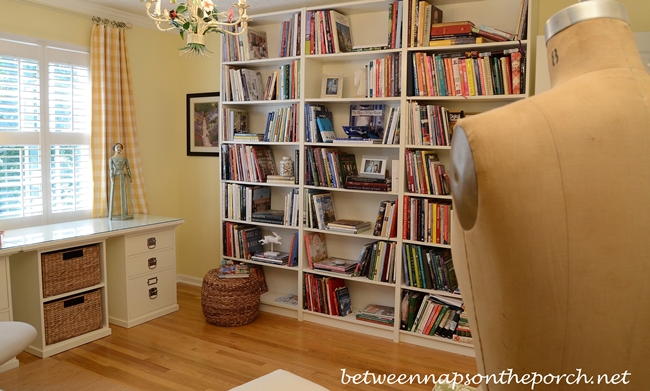 So that's it, that's how I managed to get as close as I could to the look I loved in the inspiration photos, using the corner desk set along with two small Bedford desks sets on either side-minus the legs and with the addition of another cabinet in place of the legs. I wish PB would consider having a desktop made that will fit over two cabinets, then it wouldn't be necessary to order the "Small Desk Set" and have legs left over that serve no purpose. Probably save a little money that way, too. Maybe they'll read this and get on that! 🙂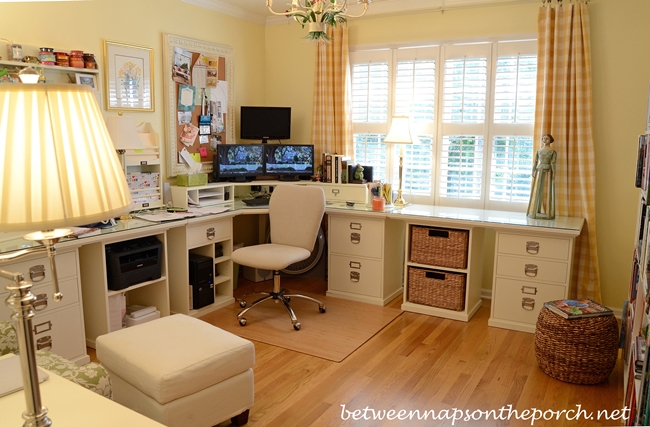 Let's Talk Printers!
Back when I put the office together, I purchased two of the "open" units. I wanted one to hold baskets as shown below.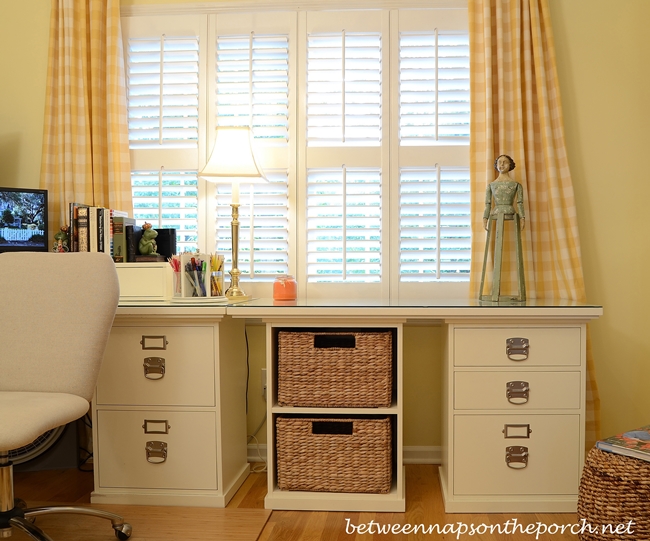 And I wanted the other one for my printer. I was very much trying to avoid having my printer setting on top of the desk, taking up space. For the last couple of years, I've used a small, all-in-one inkjet printer (visible in the pic below) and it was awful. It took forever to warm up when you turned it on, made all kinds of crazy gyrating noises as it repeatedly tried to position the ink cartridges (or whatever it was doing in there) and it used ink like there was no tomorrow. It drove me slightly crazy and I dreaded it each time I had to use it.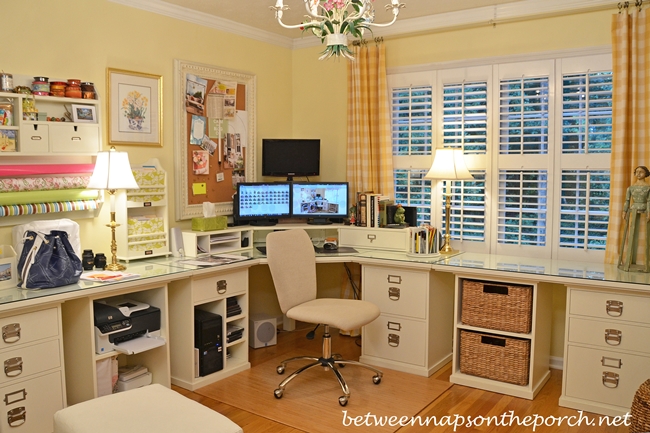 A few days ago I started to print something and it wouldn't work. It kept saying it was jammed, though it definitely was not. It did this once before and I finally got it to print, but not this time. I had visions of that scene from the movie "Office Space" dancing in my head…do you know the one? 🙂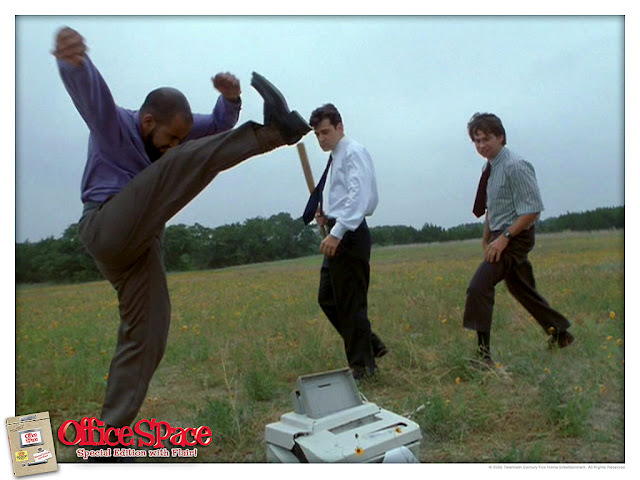 I've been wanting to replace it for a while since it was so clunky and slow. Now I had an excuse. It costs so much to have a printer repaired and printers are so inexpensive, it isn't worth taking them in for repairs. While I was shopping online for another all-in-one printer, I noticed my existing printer was ranked poorly with just 2 stars out of 5. No surprise there! Other folks were complaining about the same issues I had experienced.
I decided to go with a laser printer this time. I've always preferred those plus the prices have come way down over the years. My criteria were it had to be wireless and it had to be an all-in-one" printer like my last printer, meaning it would print, copy and scan.
That's all very doable but here's where it got tricky. It needed to fit inside this space that's only 11 1/2 inches tall. Laser printers are normally taller than ink-jet printers so the width was fine but the height was proving to be a big problem.
There was a solution though and its name is Brother HL-2280DW. I lucked out with my timing because it is currently on sale for $144.99!
It's about a half-inch longer in length than my cabinet (see bottom of picture) but it looks fine in person. There's just enough room to raise the top to copy or scan. And, since it's wireless, if I need to do a bunch of copying or scanning (which I almost never do) I can just pull it out and set it on top of the desk. In the past, I mainly used my all-in-one printer for printing, but every so often I do need to copy something or scan in some photos to use in a post. So a copier and scanner are a must for me. I did a test scan of a photo just to see how it worked and it did a great job! Way faster too than my old printer.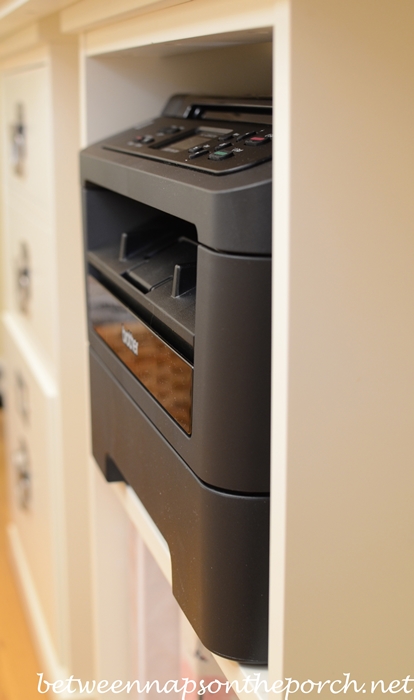 So far this printer is working out great, plus, it's as quiet as a mouse and goes to sleep when not in use. No more turning on a clunky, loud printer and waiting for it to warm up only to have it not work. Don't miss that at all! Just wanted to share this purchase in case you need a printer/copier/scanner that's compact and can fit in a small space.
Update: Forgot to mention, when I first added this wireless printer to my system, I had trouble getting my router and the printer talking to each other. I was following the directions that came with the printer but it just wasn't working. I went to the Linksys website since that's the kind of router I have and started reading their troubleshooting info about connecting to wireless printers. Nothing was working but all of a sudden I got a pop up saying that there was a software update for my router.
I did the update which took several minutes and restarted the computer. After that, the printer and router communicated fine and I had no trouble going through the setup process for the printer. Just wanted to mention this in case you buy a wireless printer sometime and have trouble getting it to communicate with your router. Check to see if there's been a software update for your router. You can do that by going to the website for the brand router you have.
I'm shocked you can buy a laser printer these days for $145. They were so much more, back in the day. Anyone remember that? Even the toner cartridges are fairly inexpensive now, especially compared to the inkjet cartridges. I purchased a toner cartridge for this printer to have on hand for when the original one runs out. The one I purchased yields 2,600 pages for just $45. Hopefully, this printer will last and work without any issues. It has pretty decent reviews on Amazon so that gives me hope.
The only thing I would change is I wish it were an off-white color. Wouldn't it be great if the companies started making printers, computer towers and monitors in off-white or white? I know a few companies do, but it never seems to be the one I need/want.
So hope that helps answer a few questions I've been getting about the office layout. This post will be filed under the "My Nest" category at the top of BNOTP in case you ever need to refer back to it. Just click on "My Nest" then "Office & Craft Room" to read it in the future.
*If a post is sponsored or a product was provided at no charge, it will be stated in post. Some links may be affiliate links and as an Amazon Associate, I may earn from qualifying purchases. *