Welcome to the 187th Metamorphosis Monday!
One of my favorite books is Roses for the Scented Room by Barbara Milo Ohrbach. In fact, I love all her books including Antiques at Home, The Scented Room and Tabletops. I just ordered A Passion for Antiques this evening. All her books are very affordable at Amazon, especially if you buy them used in "Good" or "Like New" condition, which is what I almost always do. I've never bought one of her books and been less than thrilled when it arrived. They are filled with wonderful ideas for entertaining and the illustrations and photographs are always beautiful.
In Roses for the Scented Room, there's a recipe for making scented sugar. This weekend I decided to give it a try. In the book, the author recommends using scented rose sugar on cookies, pound cakes or as a sweetener in desserts or beverages, especially iced tea.
Here's the "Before" for this tasty metamorphosis. You'll need sugar, fragrant rose petals from pesticide-free roses and a couple of mason jars.
Again, please be sure to use petals from pesticide-free roses.
I had some old Ball Mason jars down in the basement and they worked well for making the scented sugar.
The more fragrant your roses, the better!
The recipe in Roses for the Scented Room did not say to snip off the white part of the petal, but I did it anyway. I've read other recipes where rose petals were used in salads and such, and those recipes indicated the white part can sometimes taste bitter. Though I won't be eating the petals, I decided to pinch off the white part just to be on the safe side.
Once I had snipped or pinched off the white area, I layered the sugar and petals all throughout the mason jars.
I used a generous amount of petals when I made my scented sugar. Per the book, you can also use scented geranium leaves, orange peel, lemon slices or vanilla beans to scent your sugar. I'd love to try all of these!
Once your sugar has time to "marinate" for a couple of weeks, it should be ready to use for sweetening whatever your heart desires.
When you're ready to use your scented sugar, just pick out the petals or strain the sugar through a colander.
My sugar has some time to go, but I'm looking forward to trying it in some iced tea real soon. I think I may try the vanilla beans next. Doesn't that sound yummy…vanilla scented sugar! This would be so much fun to serve with coffee or tea after a dinner party.
It would be fun to use the scented sugars to make heart-shaped sugar cubes. You'll find directions for making those in this post: Make Heart-Shaped Sugar Cubes
Looking forward to the Before and Afters posted for this Met Monday!
Metamorphosis Monday: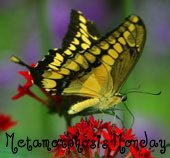 If you are participating in Metamorphosis Monday you will need to link up the "permalink" to your MM post and not your general blog address. To get your permalink, click on your post name, then just copy and paste the address that shows up in the address bar at the top of your blog, into the "url" box for InLinkz.
In order to link up, you'll need to include a link in your MM post back to the party.
If you'd like to include the MM button in your post, just copy and paste the Met Monday button to your computer and unload it as you do your other photos to your post. Or, click on the "Other" category at the top of the blog and on Metamorphosis Monday. You'll find the html code for the button there.
PLEASE DO NOT type in all caps…it spreads the links waaaay out.
PLEASE DO link up Before and After posts that are home, gardening, crafting, painting, sewing, cooking, DIY related. Do not link up if you're doing so to promote a website or product.
PLEASE DO be respectful of the BNOTP readers, visitors and those who participate in Met Monday by not linking posts inappropriate for the party.
Let's try something fun today! Please visit the person who linked before you and after you…that way everyone will get some visits. Hope you'll visit more, of course.


*If a post is sponsored or a product was provided at no charge, it will be stated in post. Some links may be affiliate links and as an Amazon Associate, I may earn from qualifying purchases. *