Yesterday morning I took photos for the post I planned to publish, then I headed off to an eye-appointment. It's been a while since I've been to the eye doctor and I had totally forgotten that they dilate your eyes. Unfortunately, there was to be no picture sorting or post writing after that.
Vaccines…My Experience
Before getting into today's post, several folks have asked about the vaccines I had to get before my upcoming trip to Africa and how those went. When traveling to that continent, at least to the area where I'm going-Kenya, it's not required that you get a Yellow Fever vaccine if you're coming from the United States. But the CDC and all the travel clinics highly recommended you get Yellow Fever, Typhoid, Hepatitis A and take pills to prevent Malaria. There are a few other vaccines they suggest but those are the main ones that the travel clinic I visited really insisted were necessary.
The travel clinics here will not give you any of these vaccines (without written consent from your doctor) if you are 59 years old, or older. I'm not sure why they have that rule, but I'm pretty sure I read it at the CDC site, too. I didn't have to get consent since I'm not 59 yet, but I'm sure my doctor would have approved it.
Yellow Fever and Malaria are transmitted to humans via a mosquito bite and is a very common disease in certain parts of Africa.
Typhoid can be gotten when eating food or water contaminated with Salmonella Typhi. Even though I'm staying in very nice places during my visit, I read that the only way the water is totally safe is if the place you're staying uses reverse osmosis, and apparently that's not very common.
Update: The water was safe to drink at Mahali Mzuri Safari Camp because they do use reverse osmosis there.
The travel clinic said Hepatitis A is good vaccine to have anyway, especially if you plan on traveling to other countries, not just for travel to Africa. I will need to go back in 6+ months for the second part of that vaccine, then I'll be immune for life. Yellow Fever vaccine is good for 10 years. I'm not sure about the Typhoid vaccine..how long it lasts.
There isn't a vaccine for Malaria, just preventative pills that are taken two days before you leave, once a day while there and for several more days after returning. I've heard they make some folks nauseated so it's recommended they be taken with food. I've had issues in the past with medicines making me nauseated so I will definitely follow that advice.
Each vaccine was given as a separate injection into my arms and within a few hours, my arms were hurting so badly, I could barely move them. That makes me think they are probably injected into the muscle.
As evening approached, I began to ache all over like I had a good case of the flu. I also experienced a lot of bloating. I felt like an over-inflated balloon. I almost found that more disturbing than the aches and pains.
The next day I still felt terrible and was overcome with the need to sleep. I guess that's how our body copes when it's fighting off a bug, we feel tired because all our resources are going to battle the intruder. I slept for 4-5 hours that afternoon and had no trouble sleeping again all night.
Before going to bed, I was beginning to feel a little better. The achiness wasn't quite as bad and the bloating had gone down a little. When I awoke the next morning, the bloating and achiness were pretty much gone. My arms were a lot better, too. They weren't totally back to normal (that took a couple of more days) but they were enough better that I could raise them to desk level to type out a post.
So, for me, the effects of the vaccines came on quickly, were pretty intense for a 24-36 hour period, then ended very quickly, pretty much overnight. I was shocked how fast I went from feeling awful to completely back to normal!
I'm sure everyone reacts differently but I wanted to share my experience just in case you ever decide to visit a country where Yellow Fever, Typhoid and Hep A are suggested or required.
The other super important thing to do when traveling to Africa is to put on plenty of a really good insect repellent when outdoors. The travel clinic I visited gave me a thick folder with information about all the dos and don'ts while traveling in Africa. Inside, it stated the level of DEET that needs to be in the insect repellent you wear while there.
I purchased this one since it was the one recommended in a lot of places online. It has 34.34% DEET and apparently is used by the military. This insect repellent can be found here: Insect Repellent
Update: I didn't find that I needed to wear this insect repellent very much at all. I think I put it on once during my entire trip. The reason for that is because whenever we were out on safari, I wore light-weight, long pants, a light, long sleeve shirt and a hat. So the only part of my body that wasn't covered up was my face and my hands.
When back at Mahali Mzuri, I never saw any bugs. I have a feeling they must treat all around the camp for that because I never saw any bugs or mosquitoes at all. So, it's a good idea to take a really good insect repellent in case you do need it, but depending on where you go and what type clothing you're wearing, you may find you don't need to apply it all over. Just use your own judgement, rather to be safe than sorry.
I was also warned about something called Traveler's Diarrhea, TD for short. Have you ever heard of it? Basically, the entire time I'm in Africa, I need to make sure I do not drink the water. I was told to only drink bottled water.
That sounds easy enough but the sneaky way you end up ingesting the water is when you forget and drink a beverage that has ice in it…or you forget and rinse off your toothbrush after brushing your teeth…or you eat fruit that's already been peeled and possibly rinsed…same for a salad. Further down in this post I'll share how I've tried to set myself up for success in avoiding the dreaded TD!
Update: I didn't have to worry about not drinking the water. The two places I stayed (Mahali Mzuri and Giraffe Manor) both use reverse osmosis so the water was safe to drink.
All the vaccines that are recommended are pretty pricey and they are not covered under most insurance plans, except maybe the Hep A. The office visit and vaccines were going to be $525 at the travel clinic that's connected to the hospital where my primary care doctor practices.
I made an appointment with my county health department and paid $373, still a good chunk of change but better than $525. I have filed the Hepatitis A part with my insurance company so hopefully they will help with that since it's a recommended vaccine these days, anyway. The malaria pills were inexpensive, I think around $8.
So, that's the low-down on the vaccines and how I fared. It was intense for the first 24 to 36 hours, but thankfully, the symptoms didn't last very long at all. Of course, it can be different for everyone. Be sure and check with your physician before ever getting any vaccines!
Packing Light for Safari
After a lot of thought, I think I have finally come up with a plan on what to pack for my trip to Africa. I've run the gamut from thinking I was going to have to spend the entire week in khaki clothing (ugh) to deciding that was really unnecessary. In the photos I've seen at the Mahali Mzuri site, the folks on safari aren't dressed in all khaki and neither are the guides.
Since I'll be flying in small planes a few times during my trip, I'm only allowed to bring a soft sided bag. It can't have wheels or a pull handle. I'm going to use this Pendleton Weekender bag because it has a long shoulder strap which will allow me to wear it in a crossbody fashion.
Filled, it doesn't weigh 33lbs, but I really don't want to be burdened by a larger or heavier bag, so I'm determined to get everything I'm taking (other than my laptop and camera equipment) into this one bag. It's gonna be a challenge!
Clothing for a Safari
Packing for a trip to Africa, particularly one that involves going out on safari 7-8 times while there, requires some intense planning, especially when you're limited by the kind of luggage you can take. In all the reading I've done (and I've done a lot!) the articles of clothing that kept being mentioned over and over were: light-weight, long-sleeve shirts, long pants-preferably the kind that can be turned into shorts, a light rain jacket, a fleece for chilly evenings or nighttime safaris, two pairs of shoes (like tennis shoes and sandals) and a hat.
Here's what I'm taking, a dry run for the packing I'll be doing. Some of the clothes below I'll be wearing on the trip over, so thankfully not all of these will have to fit inside the weekender bag.
Starting on the left, the pajamas and vest may not make the trip at all, there just may not be enough room in my bag. The sandals will go, they are very light weight. Update: Okay, you guys have talked me into reconsidering on the vest. It was made for this kind of trip so I guess it's foolish to leave it behind. 🙂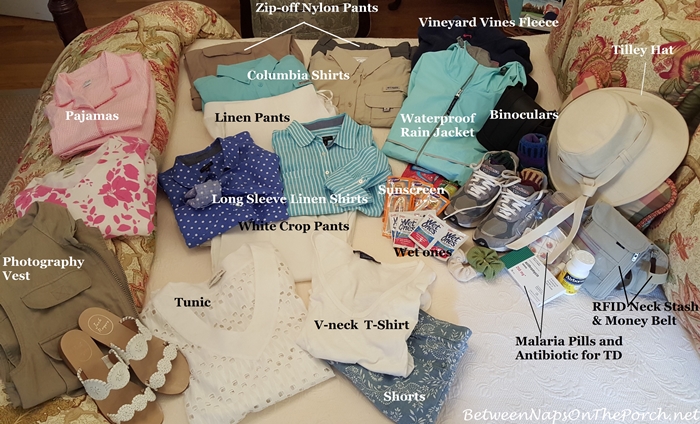 I may take my ECCO sandals (not pictured above) along, too. They are perfect for any trip. Do you have a pair of these? They are the most comfortable sandal, ever! I purchased mine in Dillards a few years ago, but they are also available here: ECCO Sandals
From the top left and moving across, I'm taking two pairs of Zip-Off Nylon pants (khaki colored and a dark gray) that can be converted into shorts, and two light-weight, long-sleeve Columbia sports shirts with sleeves that can be rolled up and buttoned to become shorter sleeves when needed.
I'm taking a navy Vineyard Vines fleece pullover. Navy is not a recommended color to wear because it can attract the biting tsetse fly, but I only have two fleeces and they are both navy. Plus, I'll only be wearing my fleece at night (I think) and I'm hoping tsetse flies don't fly at night. lol
After thinking this over a lot, I decided that linen would be a great fabric to wear while in Africa because it's light-weight and very cool, making it perfect for hot weather. I have a fair amount of linen pieces because, along with cotton, it's one of my favorite fabrics for summer.
So starting again on the left, I'm taking a pair of casual white linen pants (originally purchased for a beach trip) and two long sleeve linen shirts. The pants are super casual, tying at the waist. Both shirts function exactly like the Columbia sports shirts do…meaning the sleeves roll up and can be buttoned into place to become a shorter sleeve.
They don't recommend you wear white while on safari, it's too dusty and dirty, so the white linen pants are for camp time, especially for dinner time when I want to dress up a little nicer. I thought I'd wear them with the white, open weave tunic and my white t-shirt.
Below the linen pants and shirts, you'll see a pair of white crop pants. As long as I have bug repellent on my legs, I think crop pants will be okay when I'm at camp and not on safari.
I'm taking one pair of shorts to lounge around the pool, in case it's warm enough for that. It may be too chilly, I think the temps only reach the middle to upper 70's this time of year so it may be too chilly for any swimming.
For the hat requirement (every packing list insists you need a hat while in Africa) I found an adorable Tilley Hat. Have you heard of the infamous Tilley hats? They are made in Canada and are extremely well-made. Apparently folks get very attached to their Tilley hats and they are often passed down through the family. I guess they are a little like Barbour coats, in that respect. 🙂
Most of the hats I saw that were "safari" style hats, looked really masculine. I knew I'd never wear it again once I returned home. I wanted to find a hat that would be cute enough I'd feel comfortable wearing it while gardening, at the beach or wherever. You'll see the Tilley hat I chose there on the right.
Here's a close up of it hanging on my old dress form here in the office. I love the little band going around the hat and how it hangs down in the back…so pretty and feminine.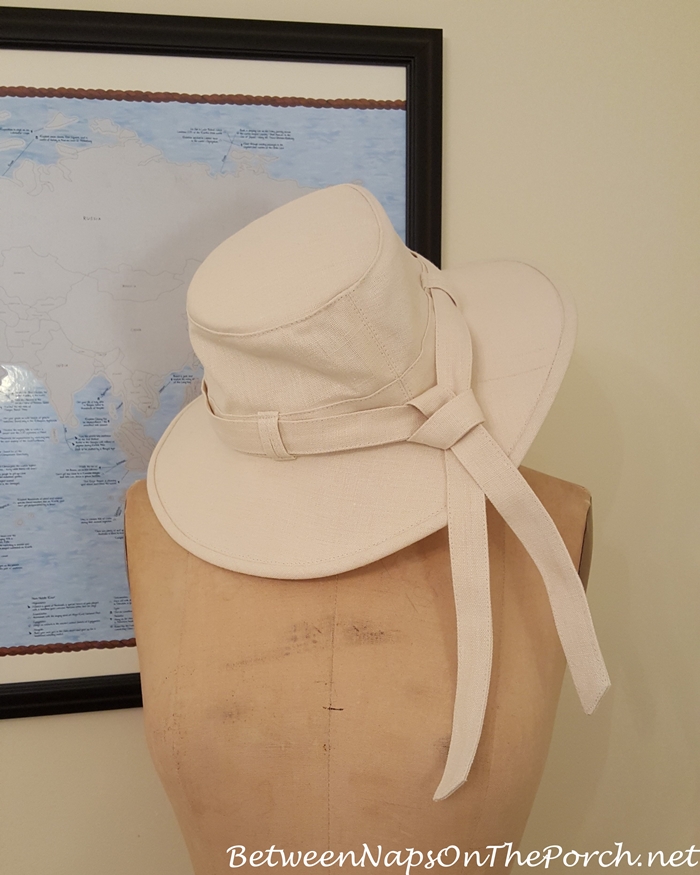 I also love how the band can be swapped out for a scarf or another color band. I found my Tilley hat here: Tilley Hat. You can read a really cute story involving a lion and a Tilley hat here: From the Lion's Mouth
The other items you'll see below are tennis shoes to wear on safari, 3 pairs of socks (stuffed inside the shoes) binoculars, hair scrunchies, Wet Ones, Airborne, sunscreen in individual packets, insect repellent, disposable tooth brushes, antibiotic in case I'm struck with TD (the travel clinic recommend taking this and my doctor called it in) malaria pills, my RFID neck stash for the important stuff like my passport, Visa, airline tickets, proof of Yellow Fever vaccine, credit cards, cash, etc…
The disposable toothbrushes are a genius idea. They come with the toothpaste already on them and you toss them after you use them. I'm hoping this will keep me from forgetting and absent-mindedly rinsing my toothbrush under the faucet. I plan to place a towel over the faucet handles of the sink to remind myself to not drink the water in the room. Even if they use reverse osmosis where I'm staying, I don't think I want to risk it. You'll find these disposable toothbrushes here: Disposable Toothbrush
Update: I may not have to worry about the water after all. Apparently, Mahali Mzuri has a very sophisticated filtering system. You can hear more about it in this video: Mahali Mzuri
Just for fun, I paired up some of the outfits I'll be wearing on safari. Below you'll see my 30-year-old Banana Republic vest, a Columbia shirt in a gorgeous aqua color (so glad they make one in that color) and one of the two pairs of zip-off pants I purchased for the trip. The Columbia shirt can be found in aqua here: Columbia Shirt in Aqua and in khaki (the other color I'm taking) here: Columbia Shirt in Khaki The zip-off pants fit perfectly. I'm 5'4″ and they are the perfect length. They can be found here: Zip-Off Nylon Pants for Hiking
When we head out on safari in the early morning, it will be pretty chilly. That's when I'll leave the sleeves down and perhaps wear a jacket or fleece. From what I've read, things warm up very quickly once the sun comes up, so then it will be time to roll up the sleeves and button them. I may even zip off the legs of the pants if it gets really hot, although, I'm not sure the world is ready for the blinding reflection of my blazing white legs. 😉
This is the rain jacket I'll be taking along on the trip. I absolutely LOVE this jacket! I like it so much, I'm seriously considering buying a second one in another one of the many colors it comes in.
It was only $40 and I've been needing a rain jacket for a long time. This will get tons of use when I return home. It's going to be my go-to jacket when a spring/summer rain hits and I have to run errands. It's so warm, I may end up wearing it into the fall. You'll find it here: New Englander Waterproof Rain Jacket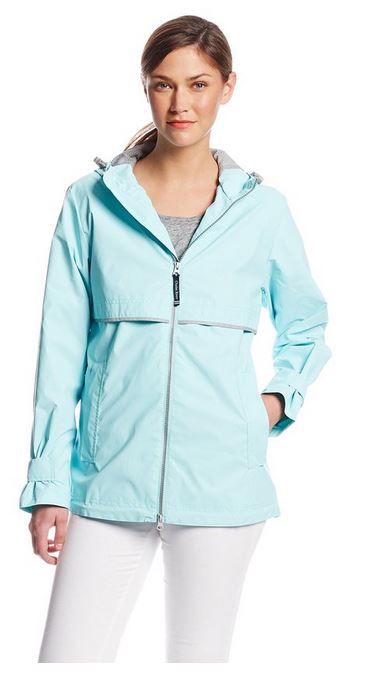 I found the sunscreen in packets, which mean no bottles of sunscreen spilling out into my luggage. It can be found here: Banana Boat Sunscreen
So, this is the plan at the moment. I'm still trying to decide what I'll wear on the long plane flight over…I'm thinking of going with the crop pants below, one of the linen tops and either the fleece or the rain jacket. The fleece is so bulky, I may wear it to make more space in my bag. I welcome any suggestions or ideas.
To see the other bag I'll be taking along on this trip, check out this previous post: Packing for an African Safari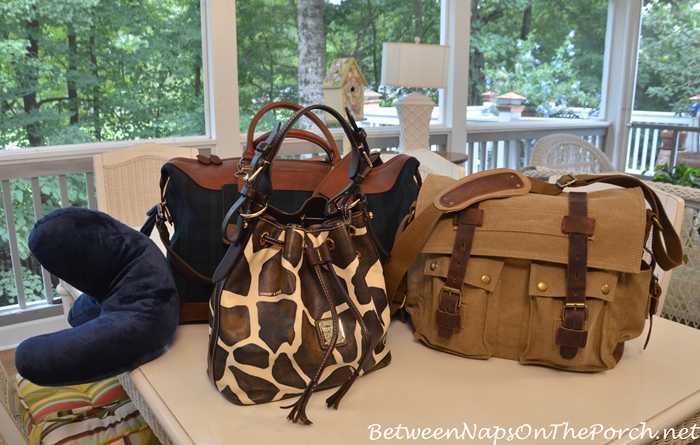 *If a post is sponsored or a product was provided at no charge, it will be stated in post. Some links may be affiliate links and as an Amazon Associate, I may earn from qualifying purchases. *