A while back I shared this photo below on one of my two Instagram accounts. I have two accounts at Instagram: one where I share home/travel/garden related posts and one where I share fashion loves. I'll link to both of those at the bottom of this post in case you would enjoy following me there.
This was a winter outfit I had put together with a recently purchased scarf. If you look closely, you'll notice the handles of my handbag are covered. They are covered with little scarves that are often referred to as twillies. Several brands make little "twilly" scarves to wear around the neck, on the wrist or to protect handbag handles from discoloration due to lotion, sweat or skin oils.
Initially, I was completely resistant to putting twillies on the handles of my bag. That all changed the day I came across a thread at the PurseForum. The poster had shared a photo of a golden-brown Hermes bag and the handles were discolored so badly, they were almost black. In the thread, the poster said she had sent the bag off to Hermes to see if they could restore the handles and the answer she got back was that there was nothing they could do short of replacing the handles entirely.
After reading that thread and seeing the photos, I decided I'd rather protect my bag's handles than deal with that issue down the road, especially since I wear a lot of hand lotion throughout the year. I also live in a very humid area which can lead to sweaty hands, although that's not normally an issue for me. Even just normal skin oils, over time, can darken the handles of a bag.
You may remember a few months back I shared an update I made for my handbag storage. In that post, I mentioned that I was pretty content with my current handbag collection and that the only handbag still on my wishlist was a Lady Dior. That bag has been on my wishlist for many years.
About a year or so ago I stopped by Dior and they had this bag in, a Lady Dior in a navy, supple-leather, studded design. This photo below was later texted to me via my Dior sales associate. It really doesn't do the bag justice. It was stunning in person, a rich navy color in a buttery-soft leather.
I loved the studded design but couldn't decide if I loved it enough to buy it. I left that day without purchasing it but could never get it out of mind. The memory of it haunted me, have you ever had that happen with a bag? By the time I decided I really did like it enough to buy it, it was no longer available—sold out everywhere! Arggg! Story of my life!
A few weeks back, I visited my favorite online site for pre-loved bags and did a search for Lady Dior bags. (You'll find that site here: New and Pre-loved Bags.)
With Christmas just a few days away, followed by my birthday a few weeks later, I was thinking of finally treating myself to a Lady Dior if I could find one in great shape and a color I liked. I still had hopes of finding one in the studded design I had missed out on the previous year. I was in luck and found this one below. Though not navy, I loved it! It also didn't hurt that it was 1/2 the cost of the navy one I had seen in the boutique.
When it arrived it was in even better condition than the ad had stated. That's normal for that site, they always underestimate the condition which I appreciate. Per the authenticity card, it was purchased by its original owner at the Dior on Rodeo Drive in Beverly Hills in 2017. They must have carried it very little because there's absolutely no corner wear and it still looks new.
Those white handles have me a bit worried though, so I've decided to cover them with a Dior Twilly. I purchased two in this design below for fall/winter. The design depicts a phoenix rising from the ashes. Love the colors for fall and winter. Once it's wrapped around the handles, you'll only see the floral/phoenix/sun design side.
With spring just 3 months away, I went ahead and purchased this one for spring/summer. It's a new style that just came out and of course, they sold out immediately on the Dior website. My Dior sales associate was able to track two down in another Dior store. I'm sure they'll be restocked online eventually since it's a new style for spring.
Have you ever experienced wear or discoloration on the handles of a handbag? If you live in a hot, humid area or wear lotion a lot as I do, you may want to consider purchasing a twilly (or two) to cover the handles of your bag. They can be fun to coordinate with the color of your bag and offer great protection against sweat, dirt and lotion.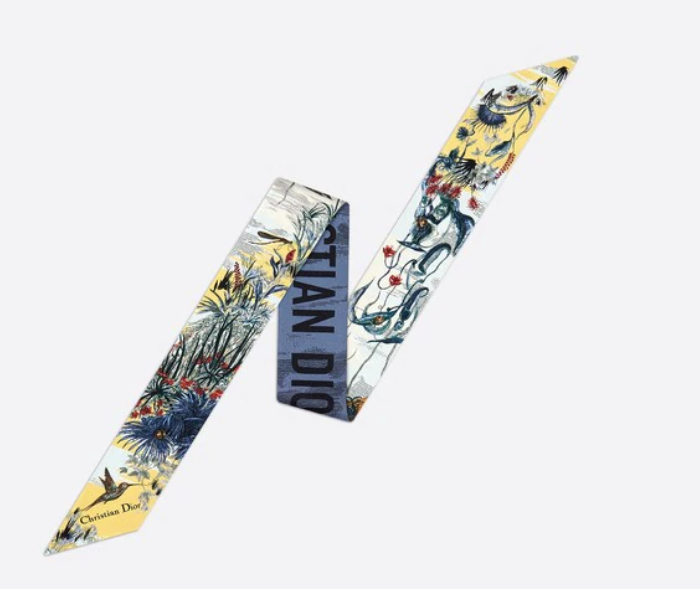 Places I Shop for Twillies:
When I can't find a twilly in the color I need in the boutique, one of my favorite places to shop for them is on eBay. You'll often find them in pairs there which is really helpful for handbags with two handles. (See their current selection here: eBay)
Vestiaire Collective also sells twillies although I've never purchased them from there. You'll find their selection here: Vestiaire Collective.
Follow on Instagram
If you would like to follow at Instagram, you'll find me at these two places below:
BetweenNapsOnThePorch on Instagram (Home, Travel, Garden Posts)
AND
UnderMoonlightAndMagnolias (Fashion Related Posts)
Where I shop for pre-loved (and sometimes new) bags: New and Pre-loved Bags
*If a post is sponsored or a product was provided at no charge, it will be stated in post. Some links may be affiliate links. *