Ever since I first heard about DNA testing, I've wanted to give it a whirl. How cool would it be to learn if you really are a combination of all the places recorded in your baby book, or if there's more to your life's story than you know.
When DNA testing was first made available, I waited for two reasons: 1. The cost and 2. Reliability. It used to be very pricey and I was a bit suspicious of the accuracy since it was kind of a new thing. Well, the genetic/DNA testing kits have been out a while now so I'm feeling better about the reliability end of things, and the cost has come way down. So, I decided to go for it.
There are a number of companies you can use for your test. The most popular ones seem to be AncestryDNA, Family Tree DNA and 23and Me DNA. I've read several articles comparing the three and most of the articles suggest starting with AncestryDNA since it's the most well known, has had the most folks test with them and has the biggest database for comparison.
If you're really curious and want to delve even deeper, I've read you can have your results transferred over to Family Tree DNA for around $39 and learn even more. Apparently, the various testing companies provide different types of information. I really haven't gotten that deep into all the differences, but just learned enough to know that I wanted to go with AncestryDNA for my first test.
I purchased my kit on Amazon because they offer free 1 day shipping to their prime members. The cost for the kit and testing was $99 and you'll find it available here: AncestryDNA Test Kit. I bought the kit on Saturday and on Sunday a box was waiting for me on my front porch. This is what I found inside.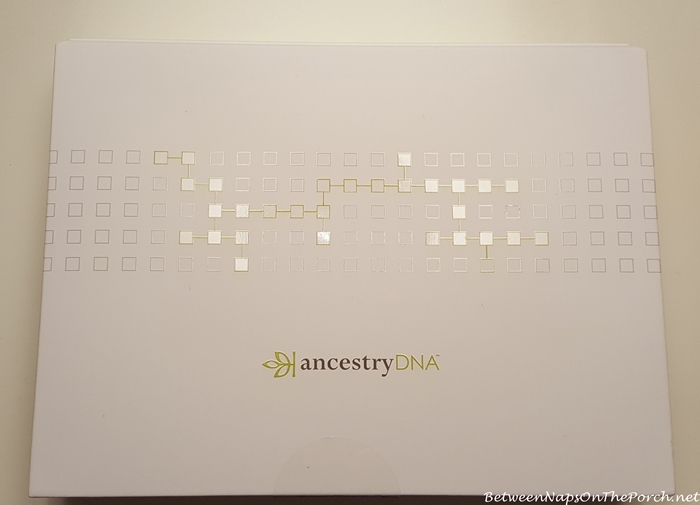 This is how AncestryDNA describes this process on Amazon:
AncestryDNA is a new DNA testing service that utilizes some of the latest autosomal testing technology to revolutionize the way you discover your family history. This service combines advanced DNA science with the world's largest online family history resource to predict your genetic ethnicity and help you find new family connections. It maps ethnicity going back multiple generations and provides insight into such possibilities as: what region of Europe are my ancestors from, or am I likely to have East Asian heritage? AncestryDNA can also help identify relationships with unknown relatives through a dynamic list of possible DNA member matches.
I opened the box and the first thing I found was a small booklet with easy-to-follow instructions inside.
Under the booklet I found three things: 1. The kit (on the left) 2. A collection bag (top) and 3. A little box for mailing everything back.
Contents of the kit:
The directions were very straightforward and easy to follow. To start with, you go to the dna.ancestry dot com website and activate your kit. It's easy to activate because there's a large "ACTIVATE A TEST" button you can't miss in the top right corner of the website. You click on that button, type in the registration number that's on your kit and you're done.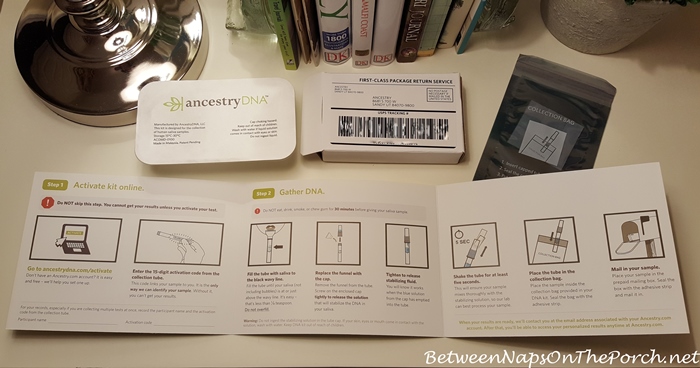 The next part is just as easy. You remove the little tube thing you see below on the bottom, spit in a few times until your saliva is up to the black squiggly line, remove the little funnel thing on the top of the tube and screw on the lid. The lid is the little thing with the blue liquid inside.
When the lid is screwed on, it allows the blue liquid to mix with your saliva. The blue liquid is some type of "stabilizing fluid" that helps preserve your DNA until it can be tested. You give the tube a few shakes to mix it all together and that's it.
The one thing to remember is that you shouldn't eat, drink, smoke or chew gum for at least 30 minutes before doing the test.
The only thing left to do after that is stick the vial into the plastic bag you see below on the right, tuck it into the little white box and drop it off at the nearest post office. I mailed mine last night so I should be hearing something in about 6-8 weeks.
Someone (my Mom?) wrote in my old baby book that I'm English, Irish, Scottish and Dutch. It will be interesting to see what the test shows. Since my Mom was sick all my life and my Dad never, ever discussed family or the past, I know absolutely nothing about my heritage. For all I know, my ancestors may hail from the planet, Jupiter. That would explain a lot! 😉
Have you ever done this–mailed off a bit of your DNA to learn about your ancestry? I'm pretty excited to see what it shows! I have a feeling it will probably confirm the info I found in my baby book, but who knows! If you would like to find out about your ancestry, you'll find the AncestryDNA kit available here: Ancestry DNA Test Kit
If you've done this, I would love to know what you thought. Were there any surprises? Did you learn anything new or did it confirm what you mostly already knew? Can't wait to hear your experiences! Please share!
*If a post is sponsored or a product was provided at no charge, it will be stated in post. Some links may be affiliate links and as an Amazon Associate, I may earn from qualifying purchases. *