Welcome to the 607th Metamorphosis Monday, a blog party sharing fabulous Before and Afters!
If I lived in Atlanta–inside the perimeter, I would definitely be a member of the Atlanta Botanical Garden. I love visiting the garden so much! Unfortunately, driving into Atlanta through the always horrendous traffic, especially never knowing how long it will take, makes the idea of visiting the garden a lot less appealing. The last time I visited the Atlanta Botanical Garden was when a friend came for a visit several years ago. She was here for the week and we made the whole week a big, fun Staycation. If you would like to visit Atlanta in the future and would love some ideas for places to visit and sites to see while here, check out that previous post here: The Week I Took a Staycation.
During our Staycation week, we visited the Atlanta Botanical Garden. During that visit, I fell in love with the beautiful Earth Goddess.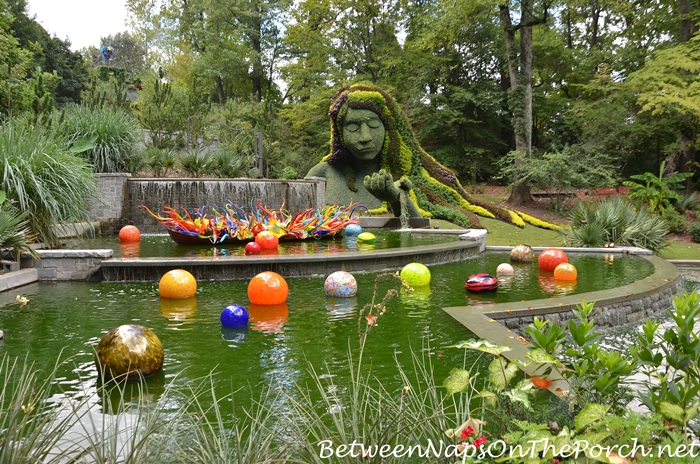 The Earth Goddess is a permanent living sculpture in the garden and is just magnificent! She's 25 feet tall and made from live plants. She even has a beautiful waterfall cascading from her hand.
You can see the waterfall a bit better in this photo below.
I just learned recently that the Atlanta Botanical Garden has a wonderful exhibition going on–an amazing display of live plant, topiary sculptures featuring characters from Alice in Wonderland. From what I've been able to gather, this exhibition was on display last year and was called Alice's Wonderland. This year it's titled Alice's Wonderland Reimagined because several new sculptures have been added. The garden describes the display this year as "bigger and better than ever."
I was so happy to discover that the exhibition will be available to see through November 1st. I am definitely going to visit sometime soon before it's gone for another year. I hope they continue bringing it back each year! Maybe it will grow with new characters each year–would love that!
I watched a video promoting this exhibition last night and captured a few screenshots of some of the displays to share. I'm not sure if the White Rabbit is new this year or not, but I was amazed to read that he's even taller than the Earth Goddess! He's actually 5 feet taller which means he's 30 feet tall! From the ABG site, they describe the exhibit this way:
Alice's Wonderland Reimagined, presented through November 1, features many of the enormous topiary-like sculptures from last year's Imaginary Worlds: Alice's Wonderland but also joined by several new sculptures. In addition to the towering White Rabbit, sprawling chess board and heart "trees," and Cheshire Cat perched nearby, look for a 16-foot Red Queen and an all-new 14-foot Alice rotating in the Howell Fountain pool as she plummets down the "rabbit hole."
Sounds so amazing, doesn't it?! I can't wait to see it in person!
It took 4 tractor-trailers to get all the sculpture forms from Montreal, Canada to the Atlanta Garden and over 350 man-hours to build just the White Rabbit from its empty metal frame to the beautiful sculpture you see above and below. Unfortunately, you can't see the top of the sculpture in the photo above, but there's a hat on the top of his cane with a playing card stuck in the band of the hat.
Here's a closeup of the pocket watch the White Rabbit is carrying. I can't wait to get real photos of these beautiful topiary displays to share with you!
I love the door!
Here are a few of the chessboard pieces from the video.
Love this so much!
This must be the Jabberwocky, a huge dragon that is under the control of the Red Queen in the original book and movie.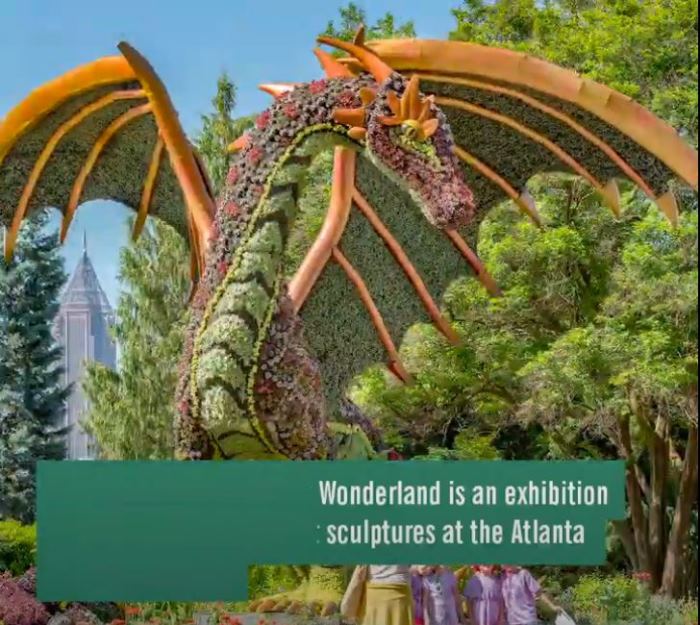 An article I read in the Atlanta Journal said that the figures returning from last summer include the Dragon, Pegasus, the Goddess, the Mermaid, the Woolly Mammoth and the Camels. This must be Pegasus below. I'm amazed by how perfect these sculptures look!
Here's the Woolly Mammoth!
My favorite character in Alice in Wonderland is the Cheshire Cat. I can't wait to see this sculpture in person! To give you an idea of how the sculptures look before they are filled with living plants, here's a screen capture of the Cheshire Cat in his "before" state. In this photo below, we are viewing him from the "tail" end. His cute little ears are visible at the other end.
Here's how he looked after being filled in with living plants! Magical!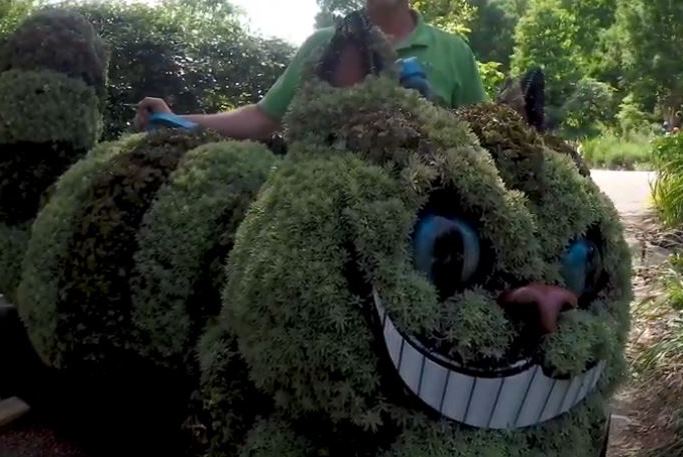 Is there a Phoenix in Alice in Wonderland? Atlanta is often portrayed as the "Phoenix rising from the ashes" so this may be a permanent sculpture in the garden. Update: Just watched a quick video from the Atlanta Journal and Constitution and I think the Phoenix is a permanent exhibit for the garden. I'm in awe of the artists who create the forms and the talented gardeners who bring the sculptures to life! So much work and dedication goes into each beautiful mosaic topiary!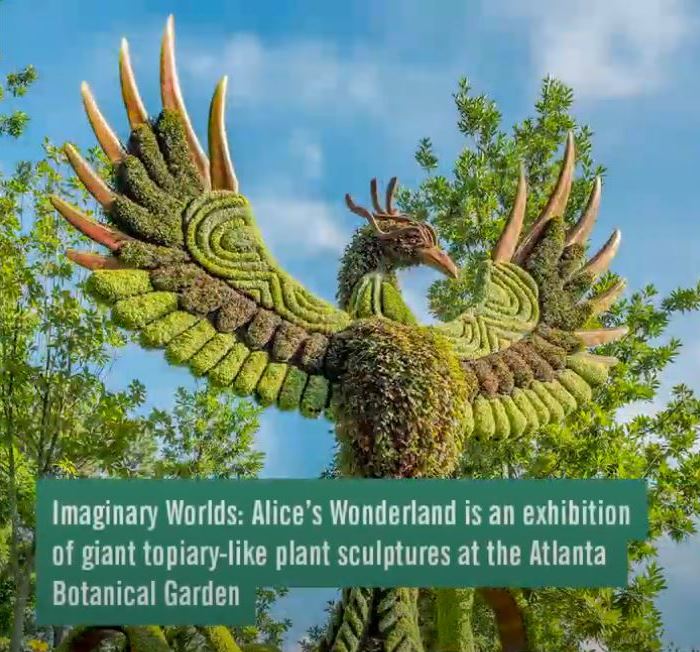 I hope to see the garden before the end of September–can't wait to share more of it with you in a future post!
Looking forward to all the wonderful Before and Afters linked for this week's Met Monday!
Pssst: Did you know Between Naps On The Porch is on Instagram? You'll find me on Instagram here: Between Naps On The Porch.
Like to know when a new blog post is up and available to read? Subscribe for email updates, it's free and your email will never be shared.
Subscribe for free post updates via email here: Subscribe.
Metamorphosis Monday
Metamorphosis Monday is a party that's all about Before and Afters. Please link up your Before and After projects like DIY projects, room makeovers, craft projects even recipes. Any Before and After is great! Please do not link up Table Settings, save those for our Tablescape Thursday party on Thursday.
If you are participating in Met Monday, please link up using the "permalink" to your MM post and not your general blog address. To get your permalink, click on your post name, then just copy and paste the address that shows up in the address bar at the top of your blog, into the "url" box for InLinkz when prompted.
In order to link up, you'll need to include a link in your MM post back to the party so the other participants will have an opportunity to receive visits from your wonderful blog readers.
Update: Please do not link up table settings/tablescapes for Metamorphosis Monday. Please save those for our Tablescape Thursday party on Thursdays. Recipes are fine because that's definitely a "Before and After" but please save your beautiful table settings for Tablescape Thursday. Pretty vignettes (transformations) you've created on atop a chest or somewhere in your home are great for our Before and After party, but let's save the actual table settings for Tablescape Thursday.

This party has ended, click button below for the links to all who participated.
*If a post is sponsored or a product was provided at no charge, it will be stated in post. Some links may be affiliate links and as an Amazon Associate, I may earn from qualifying purchases. *