Welcome to the 365th Tablescape Thursday!
I'm typing this from the hotel I'm staying in overnight here in Nairobi: Ole-Sereni. Initially, I thought I'd be sharing a table from camp, but due to my flying schedule and the time difference, Thursday got here super fast. It's 5:47 PM on Wednesday back home right now, but here in Nairobi, it's already Thursday and 12:48 AM. Yikes! I'm off to bed soon because a driver is arriving to collect me at 8:30 AM sharp!
So, for this TT, I thought I'd share what my tablescapes have been like the last two days while traveling. They weren't horrible but I'm definitely tired of "plane" food. lol
This was my dinner last night on Air France en route to Paris: some kind of chicken in a spicy barbecue-like sauce, mashed potatoes, greens and salad. It was pretty good! The butter was tasteless, it must not have had any salt in it at all or maybe that's just the way whipped butter taste.
Dessert was a brownie and surprisingly, it was good. Usually brownies that come in packages are disgusting. I only ate a couple of bites since sugar is not my friend.
I was still asleep when breakfast was served on Air France this morning and they didn't wake me. I have no idea what it was. I awoke just as everything was being cleared away.
After we landed in Paris, I grabbed a quick bite in the McDonalds that was near my departing gate for Nairobi. It was in the new section of the Charles de Gaulle airport and if I hadn't been loaded down with two VERY heavy bags, I would have been tempted to do a little shopping.
The new section has a big shopping area with some of the most prestigious stores you can name. It would be fun to lay over there for a few hours and shop, when your bags are on wheels! Mine weren't so I didn't walk any further than I had to. I have sore shoulders this morning from lugging them through two airports.
Note how my Coke has zero ice. 🙁 I'm an ice freak and always order extra ice in any restaurant but I knew better than to ask for that in France. lol
The lunch on Kenya Airways was better: Talipia with a side vegetable and pasta, plus some kind of mixed vegetables and a yummy dessert. The talipia was pretty good, as were the veggies and the dessert.
I had a yummy pizza in the Ole-Sereni hotel restaurant this evening and tomorrow morning, after breakfast, I'll be flying via small plane on to Mahali Mazuri. The food and the tablescapes should be better from here out. 🙂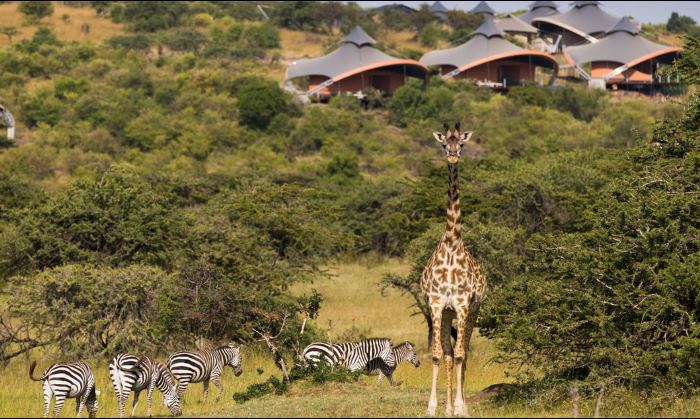 I have to tell you about my arrival here soon, what an experience! Not bad…just different. But then that's what I'm looking for in travel, not the same old, same old. I crave a little adventure and I got it last night. 🙂 More soon! Miss you!
XX
Looking forward to the wonderful tables posted for this Tablescape Thursday!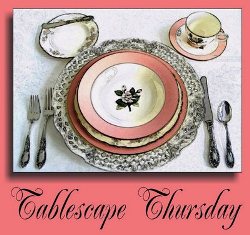 If you are participating in Tablescape Thursday, please be sure to add your permalink below, and not your general blog address.
To get your permalink, click on your post name, then copy and paste the address showing in the address bar, into the "url" box when you link up. You'll need to include a link in your post back to the party to link up and participate.
That's so visitors to your blog will be able to find the party and the other Tablescape Thursday participants. Requiring a link back also prevents businesses from linking up to sell their products. (Yep, that really happens, unfortunately.)
Please, don't add your post name/blog name ALL IN CAPS…it tends to create big spaces between the rows of links.
Please do not link up table settings that were just recently shared in the last few weeks for Tablescape Thursday.
*If a post is sponsored or a product was provided at no charge, it will be stated in post. Some links may be affiliate links and as an Amazon Associate, I may earn from qualifying purchases. *