Welcome to the 271st Metamorphosis Monday!
How was your weekend? Hope it was a nice one! It's been raining here so it was a good weekend to stay inside and gets some things done around here. I just spent it cleaning and clearing out some drawers. Exciting stuff! Ha!
For this Met Monday, I thought I'd share how the bulbs are looking now. Remember this picture from a post a while back?
These daffodil bulbs sat in the garage a bit longer than they should have but I was hoping they would still come up for me once planted.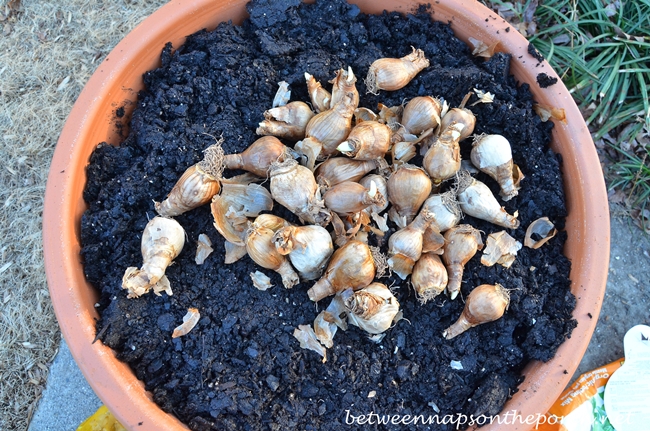 I decided to plant them in a pot so I could pull them out easily and plant them somewhere in the yard later on. In the photo below, I had just placed them around the pot to gauge how many would fit.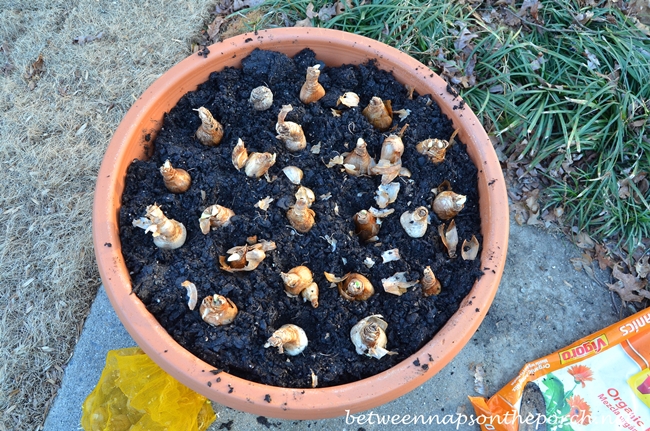 Fast-forward to today, they are just starting to bloom now. I don't see any white ones with orange centers yet. Ummm, hope the bag wasn't lying and there are some in there.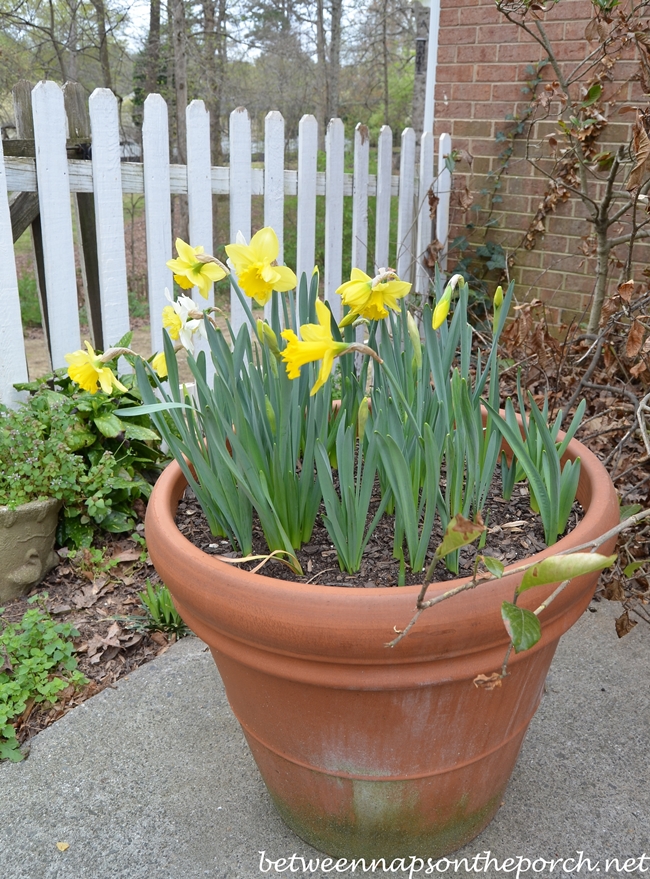 The other pot of daffodils is coming up in a strange way. Some are way ahead of others and some haven't made their appearance at all, yet. Keeping my fingers crossed they do come up.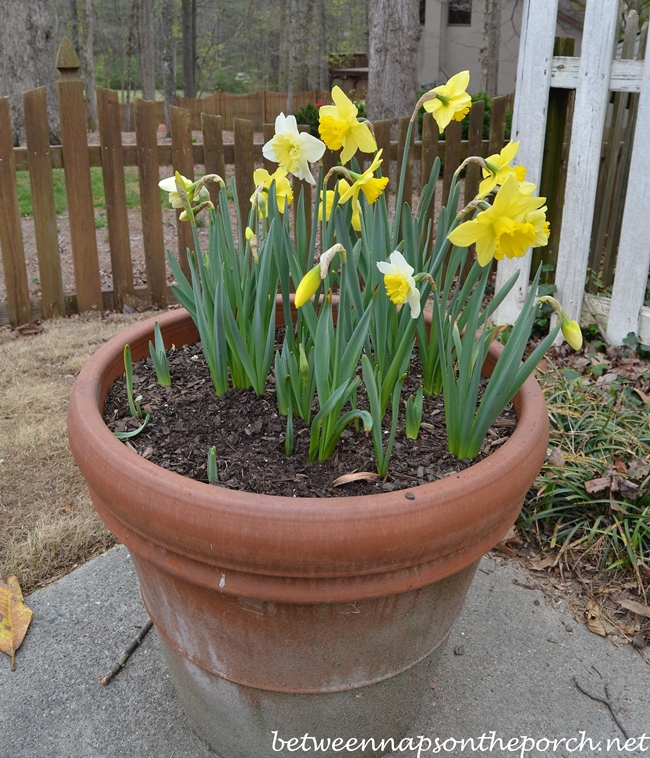 The pansies I placed in the bed in front of the house survived the ice storm we had, you know, the one that paralyzed Atlanta for several days. Pansies are so hardy.
Remember this area around the gas lantern from this past summer? Right after the yard was sodded last summer, I added some Lantana to dress it up a bit.
I hadn't planned on putting anything around it for winter but I had some pansies left over so I placed them here. I also planted a few daffodils around the lantern. Wish I had planted them all at the same time, because I would have placed the daffodils on the inside closer to the pole and the pansies around the outer area. The pansies will have to come out once the heat of summer arrives anyway since they don't tend to do well with our summer temps.
As you can see, my grass is still very dormant. I'm starting to get a little worried since the zoysia yards around me are turning really green. I think my neighbors all have Emerald Zoysia. Mine is Zeon Zoysia. I Googled trying to find info about when Zeon greens up and if it's just slower to get going than the other Zoysias, but I couldn't really find anything comparing green-up times. I hope the ice we had this past winter didn't damage it. Even though the lawn went in kind of late in the summer, it did get well established before winter, so hopefully it will green up soon.
I'll give you an update on the lawn and if it does come back. I'm planning on getting back out there and getting some shrubs in soon. Fall would have been the better time for that but I was pretty burned out with landscaping after all the sodding and tree removal that took place this past summer. If you missed all those posts, you'll find them here: In The Garden. Just scroll down on that page and you'll see all the post links for the sodding preparation and the sodding itself.
Looking forward to all the Before and Afters linked for this Met Monday!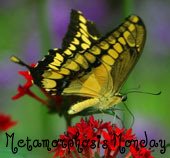 If you are participating in Metamorphosis Monday, you will need to link up the "permalink" to your MM post and not your general blog address. To get your permalink, click on your post name, then just copy and paste the address that shows up in the address bar at the top of your blog, into the "url" box for InLinkz.
In order to link up, you'll need to include a link in your MM post back to the party so the other participants will have an opportunity to receive visits from your wonderful blog readers.
Please observe these few rules:
Only link up Before and After posts that are home, gardening, crafting, painting, sewing, cooking, DIY related.
Do not link up if you're doing so to promote a website or product.
Do not link up a post that was just linked last week since a lot of readers will have already seen that post.
will have already seen that post.
*If a post is sponsored or a product was provided at no charge, it will be stated in post. Some links may be affiliate links and as an Amazon Associate, I may earn from qualifying purchases. *