Welcome to the 276th Metamorphosis Monday!
How was your weekend? Was it busy with spring chores are spring fun? Sometimes they are the same thing, aren't they?
I have some fun "Before & After" gardening ideas to share today, pulled from a wonderful garden tour I attended locally on Saturday thanks to my friend, Carra who generously shared her tickets when it turned out she wouldn't be able to attend.
Before we start our garden tour, I want to take a moment to thank all the dearhearts who shared a guest post last week while I was out of town on vacation. Mary & Dave shared a fabulous porch makeover that included a hand-designed/painted rug. Christy wrote a wonderful tutorial for making a spring hydrangea wreath. Shirley gave us a tour of her beautiful sunroom after its recent makeover. Pinky invited us over for a sunny, spring dinner for Tablescape Thursday. And Barb inspired us with sweet honeysuckle, one of my favorite climbing flowers.
The vacation I took last week was my first real vacation in many years. If you follow BNOTP on Instagram, you probably "had a feeling we weren't in Kansas anymore" when I shared this photo.
And this one…
I spent the week playing along the Mississippi River and in New Orleans, touring beautiful plantation homes and gardens with my friend, Linda. We even ventured into some small towns like St. Francisville. It was a fun trip interspersed with lots of good eating from Cajun food to wonderful beignets. You can't visit New Orleans without a trip to Cafe du Monde!
We toured 13 homes and lots of beautiful gardens. Fortunately, most of the homes did allow photography and I'm looking forward to sharing some of them with you over the next few weeks. I wish you could have been there with us!
My vaca got a little extension. I arrived home late Friday evening and was up and out touring beautiful gardens back here in Georgia the very next day. That was followed by another garden tour on Sunday in Atlanta, Whew! It's been a whirlwind 9 days! I think I need a vacation now to rest from my vacation. 😉
Have you taken any garden tours this spring? Love this time of year!
Garden of Whimsy
I came across some delightful "before & afters" in one of the gardens I toured on Saturday. They gave both me and my friend, Jan, lots of ideas for our own gardens.
The tour began just outside the backyard area with this sweet garden the homeowner/gardener created for her daughter when she left to head off to college. What a bittersweet time that always is…I remember it well.
As we walked through the gate to enter the backyard, we looked up and saw a little bird's nest in the center of the arbor. Even the birds are helping to decorate the garden this spring.
I love a white picket fence covered in roses! A silly, upside-down frog gave us a giggle. 🙂
Each gardener whose lovely garden is featured on this tour, receives a little memento for their garden. What a wonderful idea!
Here's a fun way to use those pretty chipped or broken plates or bowls, add a decorative collar to your flowers.
Bowls with a botanical design, spilled flowers out into the garden. This is a "Before/After" we can all use in the garden…save those chipped or cracked bowls!
Jan really loved this idea, you may remember she creates beautiful mosaics like this lovely mosaic planter she gave me for my birthday one year.
There were lots of pretty roses on this tour.
A beautiful waterfall spilled down from above.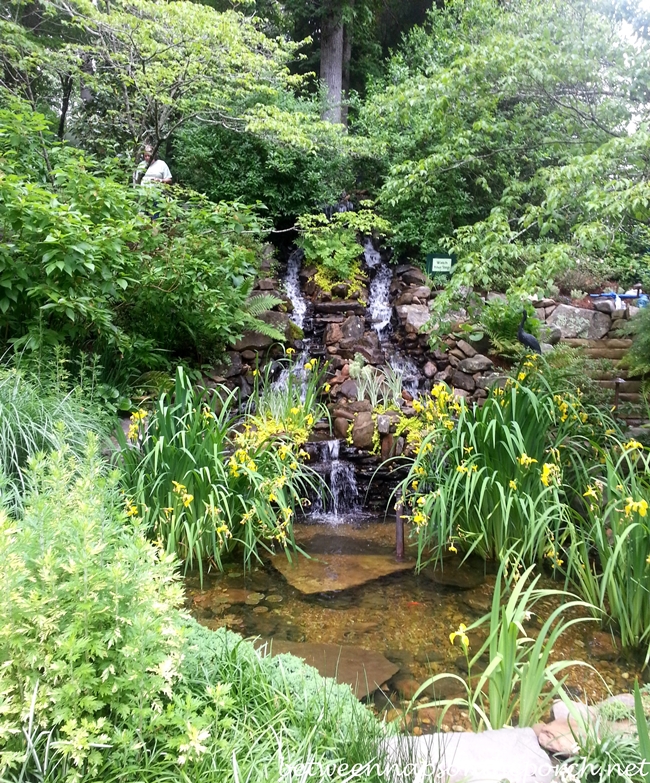 See that flat rock in the picture? It's right there behind the bill of the Blue Heron.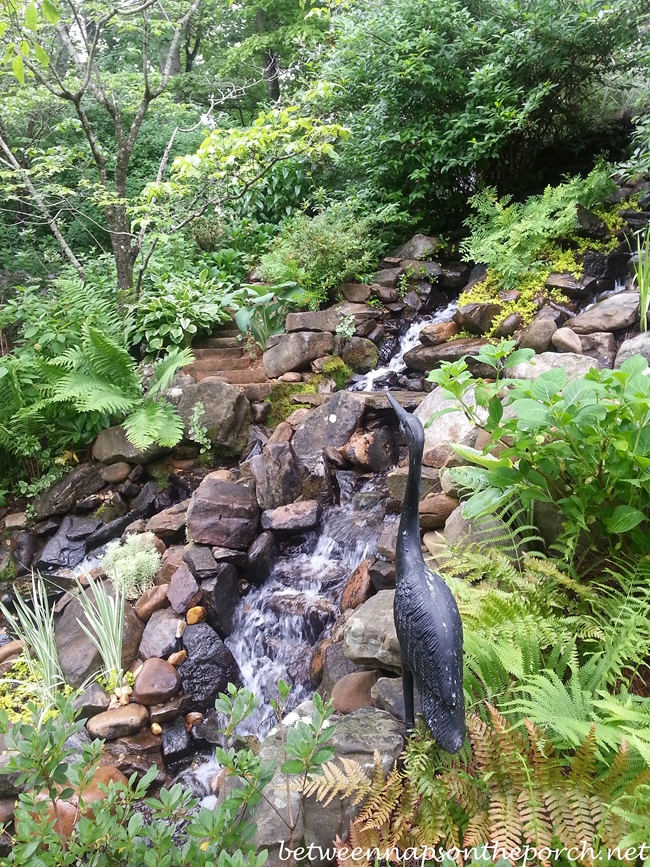 When you're standing on it, here's the view looking down.
Here's the view looking straight down toward your feet. Don't get dizzy! 🙂
Above the waterfall and pond, high up along a woodland path, I came across some charming places to sit and enjoy the garden and the sound of the waterfall. Have some old windows lying around? They will make a fun feature in the garden. Ummm, wonder how those would look draped with climbing hydrangea.
When the kids outgrow the swings, create a spot to read or nap on a sunny afternoon. Imagine curling up here with a good book, the sound of rushing water below.
One more cozy spot to while away the afternoon. Love the addition of the lantern!
A beautiful fountain in garden…
Back down below, we encountered another great spot for lounging. This garden truly had lots of little "rooms" to enjoy. Loved that!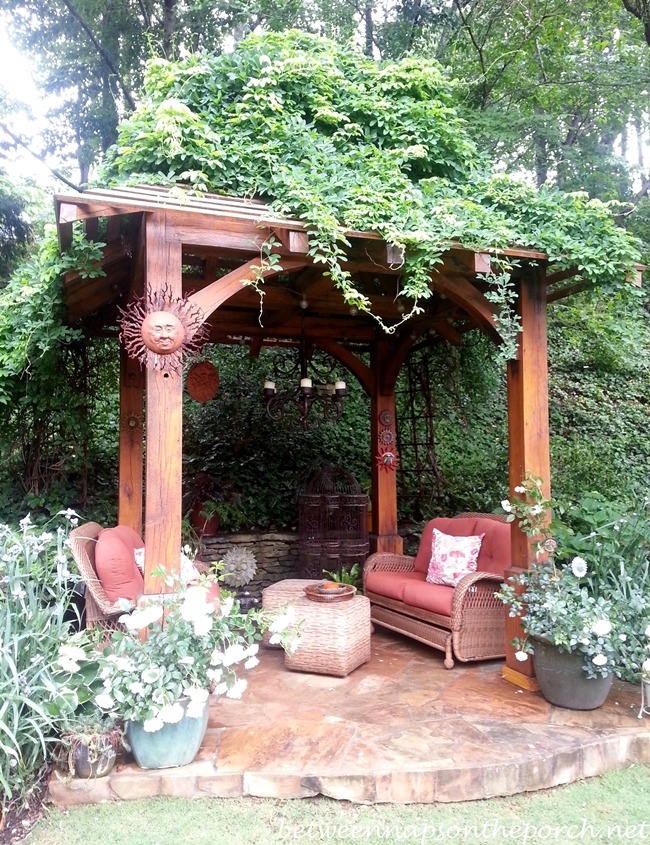 I have spiderwort in my garden and I love it. It was blooming beautifully in this garden.
I saved one of my favorite "rooms" for last…is this not completely charming?! There's even a faux fireplace, such a cute idea for a large blank wall. Love how the lamp shade matches the fabric on the sette…feels like a real room, doesn't it? 🙂
I'm totally copying this idea…will be on the look-out for a rustic, garden candelabra this summer.
Geesh, okay…I won't copy it! I'll just use it as inspiration and find something similar. 😉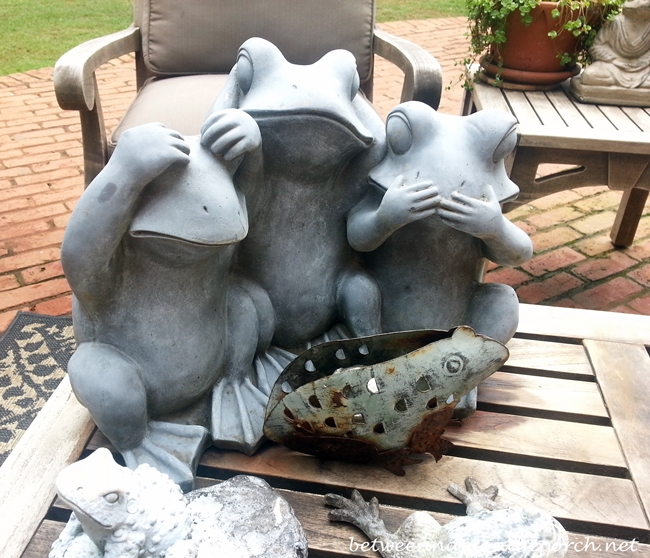 Hope you enjoyed this garden tour, dear friends! Happy gardening!
Looking forward to all the Before and Afters linked for this Met Monday!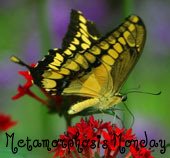 If you are participating in Metamorphosis Monday, you will need to link up the "permalink" to your MM post and not your general blog address. To get your permalink, click on your post name, then just copy and paste the address that shows up in the address bar at the top of your blog, into the "url" box for InLinkz.
In order to link up, you'll need to include a link in your MM post back to the party so the other participants will have an opportunity to receive visits from your wonderful blog readers.
Please observe these few rules:
Only link up Before and After posts that are home, gardening, crafting, painting, sewing, cooking, DIY related.
Do not link up if you're doing so to promote a website or product.
Do not link up a post that was just linked last week since a lot of readers will have already seen that post.


*If a post is sponsored or a product was provided at no charge, it will be stated in post. Some links may be affiliate links and as an Amazon Associate, I may earn from qualifying purchases. *