Happy Friday! Yesterday it hit the mid 70's here! I so love this early taste of spring we've been getting. Is it warming up in your area, too? I'm hoping we don't get a last minute freeze because so many of our trees are already in bloom.
Have you heard of Iris Apfel? I saw her in something on TV recently and her unique style caught my eye. Later I learned she is an Interior Designer who opened a textile firm in 1950 and ran it with her husband, Carl, until 1992. Unfortunately, he just passed last year.
Over the years she was active in many design restorations in the White House and worked under nine presidents including Truman, Eisenhower Kennedy, Johnson, Nixon, Ford Carter, Reagan and Clinton. She's now 94 years old and from all I've read, still as stylish and as sharp as ever!
Architectural Digest featured her apartment in New York a while back and it has just as much style, sass and personality as she does.
So beautiful!
I love the coziness of this room in lower lighting. This must be how it feels come nightfall.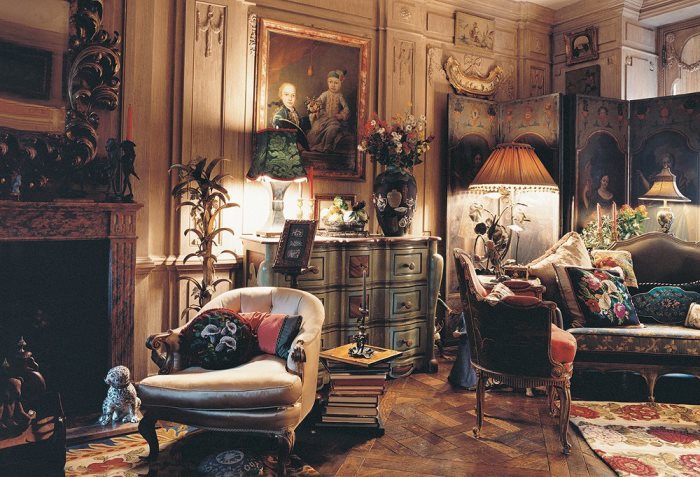 You can see her love for textiles throughout her home.
I think this room was referred to in the article as the library, although there are books all throughout the apartment.
I love this hallway with art-covered walls and those gorgeous bookcases! You can read more about Iris's New York apartment in Architectural Digest here: Iris Apfel
Spring Fever Shopping
A couple of days ago I opened up my mailbox and this is what I found inside: a ton of spring clothes shopping inspiration. I'm so ready for this, I'm totally ready to chuck the sweaters and boots for light cotton dresses, pretty floral fabrics and summer sandals.
Recently I've fallen hard for needlepoint and velvet slippers/loafers, particularly those with unique designs. Over the last few months I've purchased three pairs of Stubbs and Wootton shoes, as I've caught them on sale.  Thanks so much to Susan who reads BNOTP, for letting me know the blue plaid/tweed shoes I so badly wanted, were back again in my size! That was a miracle! I plan on wearing the leopard print shoes year around, but I'm saving the other two styles for fall and winter.
Another favorite store of mine has started carrying needlepoint shoes and the prices are excellent. Their prices are closer to what Stubbs and Wootton shoes are when they are on sale.
Their spring styles are really cute, I love these floral ones! Do those look like bluebells? Soo perfect for spring! You'll find these spring floral shoes here: Floral Spring Shoes
I'm also taken with these adorable bee shoes although they are out of my size right now. They are available here: Sage Bee.
If you don't see your size, check back in a day or two. I called and asked and they said they are going to be restocking them very soon, probably in the next few days.
Wouldn't these blue and white check shoes be cute with jeans! They are available here: Navy/ White Check  
Susan introduced me to a new love, these beautiful hand-painted bags. This one would be so pretty for spring, it's available here: Anuschka Hainted Painted Bags
But this is the one I think I would really like to get. After my trip to Africa last year, I'm still crushing on anything with an African motif. All the bags are hand-made and hand-painted. You'll find this bag here:  Anuschka African Adventure Bag.
You can see all their other styles of hand-crafted/hand-painted leather bags and wallets here: Anuschka
I just learned that Talbots is having a sale right now on all their pants. I'm thinking of trying their ankle length pants. In past summers I've worn their crop pants and I love how comfy they are, but I've come to realize that crop pants aren't the best look on me since I'm only 5'4″.
So, I think I'm going to give their ankle length pants a try. Anyone tried those and how did you like them?
I love this adorable green cardigan they have in for spring! It would be so cute with white pants. It's available here: Embroidered Dot Cardigan
Have you done any spring clothes shopping yet?
*If a post is sponsored or a product was provided at no charge, it will be stated in post. Some links may be affiliate links. *