You know when you're driving down a street and you see a beautiful entrance, do you ever wonder what's on the other side? With an entrance this romantic and lovely, could the house be just as enchanting? The answer is, yes! Absolutely, yes!
Today we have the rare treat of entering through the gates for a tour of this  historic 1910, island home, a home surrounded by beautiful trees draped in romantic Spanish moss.
If we were visiting waterside, this would be our view.
Porches! Look at all those wonderful porches! I'm in love already and we haven't even gotten inside!
Have you ever seen one of these? It's called a joggling or jostling board. They date all the way back to 1804 and are great for additional seating on porches, especially for parties. If you google, you'll find a lot of history and info about joggling boards.
Notice anything about the swing at the end of the porch?
I like how it's facing outward to take advantage of the view…such a great idea!
Let's go inside, can't wait to share the inside of this wonderful home!
I adore the entry…love the warm mix of the wood floors and furnishings, especially how they look against the white color of the walls. The home has seen some restoration/renovation over the years and I'm wondering if once upon a time, this was an exterior wall? Love the texture/interest it adds to the entry.
An elegant living room…
Love an old fireplace with an overmantel.
The living room and dining room are elegant and more formal than the other rooms in the home.
This home has so much personality, nothing cookie-cutter about it. Love that!
A pretty white kitchen…
I like how the kitchen is centrally located and easily accessed from almost any room. It truly feels like the heart of the home, doesn't it?
I'm guessing this is a den or TV room. I love the grass cloth on the walls. If I had a small cozy den or study in my home, I'd love to use grass cloth on the walls to make it that much cozier. The texture of grass cloth really works well for an island home, doesn't it?
So glad they did not paint over the beautiful walls in the library. This shows that you can leave paneled walls unpainted in a room, but by painting or incorporating painted cabinetry and trim, the room will still feel bright and cheerful. Because the paneling isn't too dark, I think it makes a wonderful contrast. If the walls were a dark stain, I don't think I'd like painted cabinetry. This totally works! This is what I really love about home tours, you get so many ideas and learn so much!
Another view of this room…I love the fireplace tucked into the angled corner. Did you notice the one in the den was in a similar location? I wonder if the den and library are on opposite sides of the home since they appear to mirror each other in shape/size.
I'm not sure where this room is in the home, perhaps a hearth room or keeping room off the kitchen. I love how it's furnished and I love that the TV is hidden away. I'm still one of those folks who prefers to have TV completely hidden when not in use, if possible.
Beautiful bedroom! I see a porch!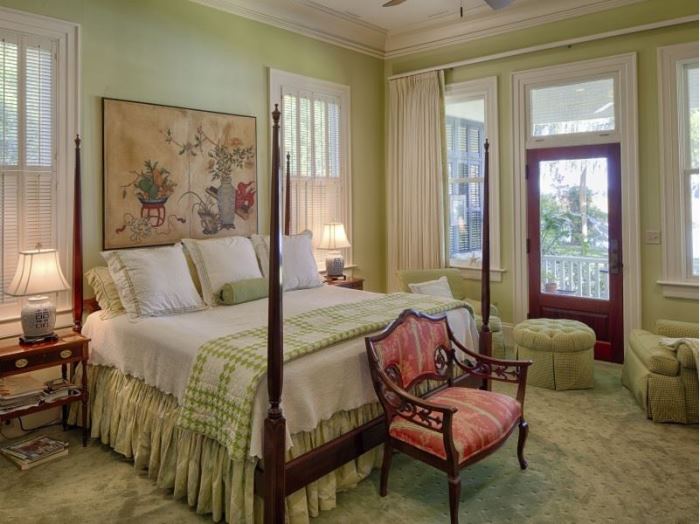 Imagine waking up and walking out of your bedroom onto this porch in the morning, starting your day with this view. I bet the sounds of the birds waking up in the morning must just be amazing here!
I'm thinking this may be the bath for this bedroom.
Beautiful view looking up into the trees, while you relax in a nice hot bath.
Notice how all the bedrooms have porches…love that!
Back downstairs, we head outside via the screened-in porch.
This view would work, don't cha think? 🙂
I couldn't include all the photos I found of this wonderful home because the post would be way too long, but there's another whole lower level that includes several more rooms, including a billiard room. You'll find many more pictures of this beautiful home here: Beautiful Savannah Island Home Available For Purchase
Little Reminder: If you enjoy receiving e-mail updates from BNOTP, please add the BNOTP e-mail address to your address book. It will keep it from being rejected or going to your spam file. The address to add is: [email protected]
If you are not currently subscribed for updates, you can do that in the box below. As always, e-mail updates are completely free and private, meaning your e-mail address will never be shared with anyone.
*If a post is sponsored or a product was provided at no charge, it will be stated in post. Some links may be affiliate links. *