Do you have a few favorite places online you love to visit when you are craving beauty? Barbara Eberlein's website, Eberlein Design Consultants is definitely one of those places for me. I always know I'll leave inspired and just a little in awe of the gorgeous interiors she creates.
This home, named "Naturalists' Sanctuary" is under the "Residential Preservation" area at her site. What an amazing home, both inside and out! From the views, I think it may be situated overlooking a natural wetland area. (You can see more of those views at her website, linked at the end of this post.)
Once you step through the front door, you find yourself in this wonderful entry!
I love that so many of Barbara's designs incorporate wallpaper. I still love it and may one day be brave enough to incorporate some back into my home.
Beautiful dining room! Wonder if she used wallpaper here or if the stripes were painted. Love how she designed the draperies where they don't interfere with access to the French doors and the back veranda. We get a glimpse of those amazing views though the windows.
I love this room with its paneled walls and built-in bookcases, guessing it may be the library. There's a window seat for reading while taking in the beauty of the land and views outside.
Adore a toile bedroom, especially when it has a quirky, slanted ceiling.
Such attention to detail! So beautiful! Wonder if this doorknob is a reproduction or an antique. Even the strike plate on the inside is gorgeous! Wouldn't it be fun to use this door on a day-to-day basis. As much as we use the doors in our home, they really should all be this beautiful, shouldn't they? Just love this!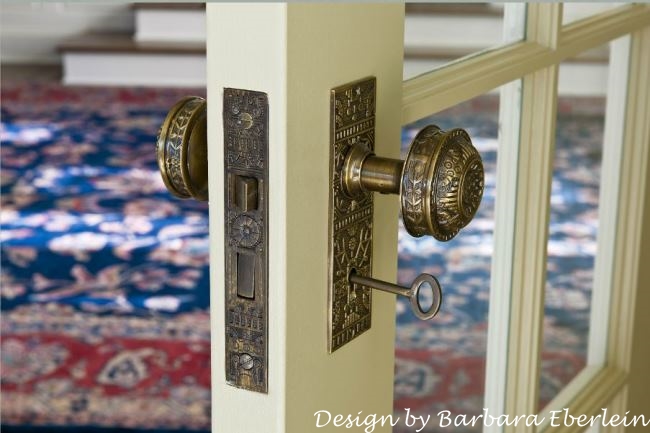 Leaving the "Naturalists' Sanctuary, I had to share a few more of the rooms that had me seriously drooling while visiting Barbara Eberlein's site.
Another beautiful entry…I love seeing a staircase from the side this way, turning and continuing up. Doesn't it make you want to go up and see the upstairs. Love how wide it is, too.
Notice the wall color…it reminds me so much of my fave Duron, Sugar Cookie that has somehow found its way into so many of the rooms of my home.
A wonderful blue and white kitchen designed by Eberlein Consultants. I really like how she used both marble and a wood for the counter tops, two of favorite surfaces for kitchens.
This bedroom caught my eye with its beautiful cabinetry creating a little seating nook for the small sofa. Such a a great idea for adding storage and a seating area to a bedroom. The colors and fabrics are soft and perfect here.
A wonderful sunroom…perfect place to spend summer days.
Check out Barbara Eberlein's website (where these pics were found) to see many more of her gorgeous designs: Eberlein Design Consultants She has so many more beautiful homes there…I especially loved the "second homes" section with the mountain retreat!
Pssst: I shared a book earlier this morning from the BNOTP library, another one of my faves.
*If a post is sponsored or a product was provided at no charge, it will be stated in post. Some links may be affiliate links. *