Welcome to the 281st Metamorphosis Monday!
Guess where we are?
We're in the attic. Hot up here, isn't it? Well, it is June, ya know.
See that brown thing over there? Know what it is?
Yup! It's a bat.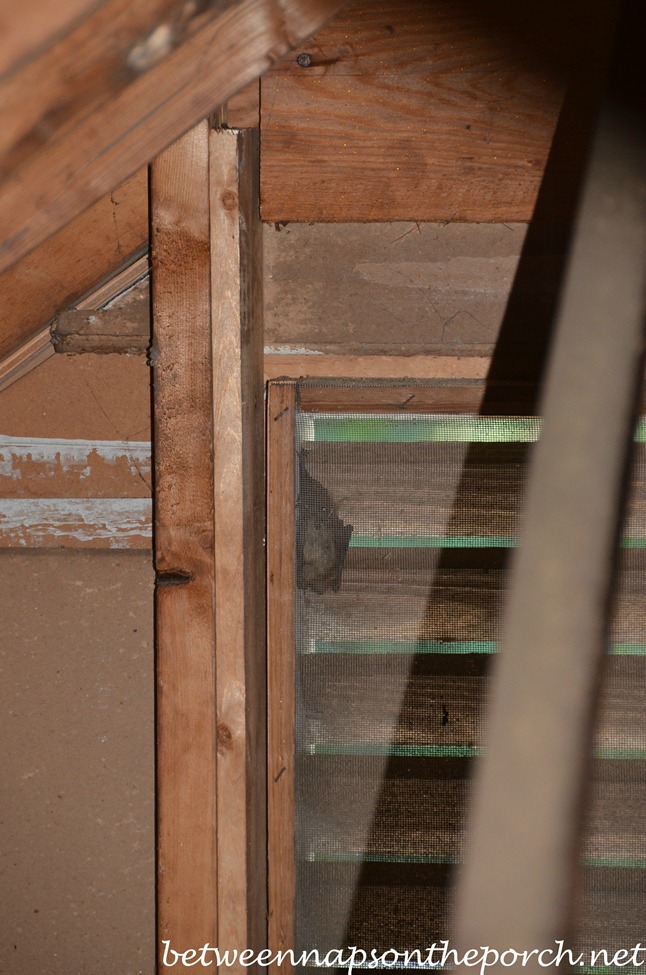 About a week ago I went up to the attic to check on something and that's when I spied Mr. Bat. When I first saw him hanging there under the small gable window in my attic, I thought he was actually inside the attic. I was too far away to see there was a screen covering the window.
I called a few companies who specialize in wildlife removal and they came out to give me an estimate. That's when I learned there was actually a screen over the window and Mr. Bat was making himself at home on the outside of the house. Of course, once I took some photos with my zoom lens, I could see the screen covering the window.
All I can say is, thank goodness for screening! Apparently, builders put it over attic gable windows when a home is being built to keep bugs out. It works pretty well for bats, too. I'm surprised it's still in place after 31 years.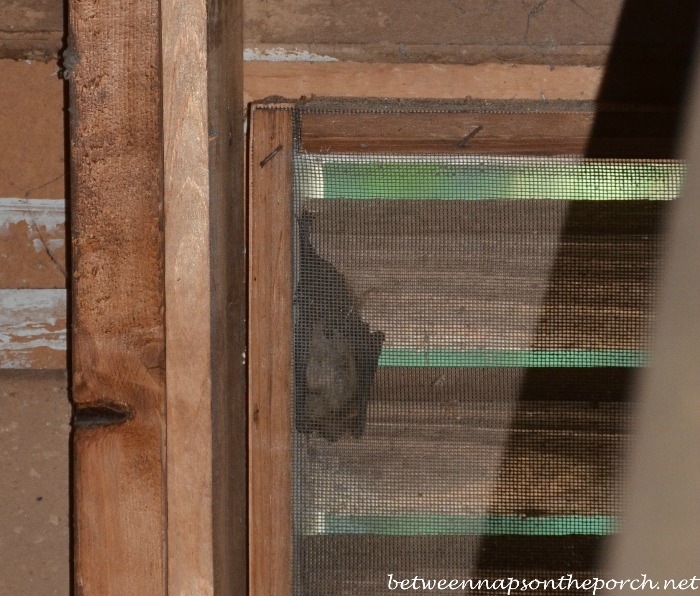 See the gable vent in the top right corner of this picture? That's where Mr. Bat was hanging out. Literally.
I never even knew that little attic gable window was there. It's just above the deck that has a pergola, the deck that's to the right of the screened porch.
So, what do you do when a bat or fifty decide to try to make your home a bat cave?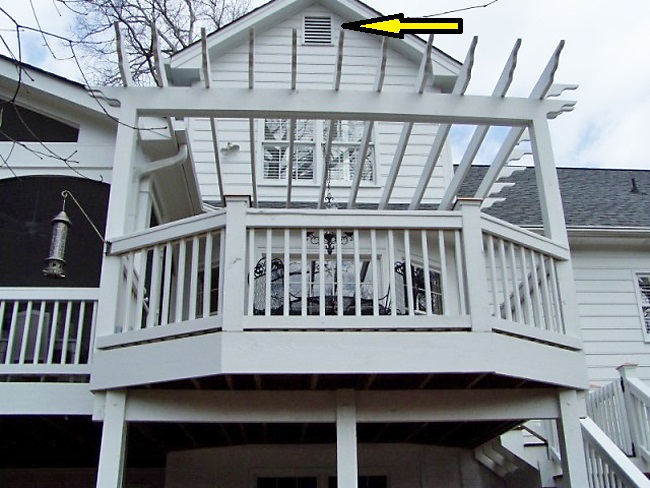 You hire a company that specializes in wildlife removal and they get on a very tall ladder and cover the gable vents with screening. The company I hired used 1/4 inch wire screening. That's pretty much what all the companies I talked to told me they would use.
In the picture below, the screening is already in place, so this gives you an idea of how it looks up close. Of course, before the screening took place, Mr. Bat was politely asked to leave. There are all kinds of laws and regulations concerning what you can and can't do if it's a female bat with babies. They are protected during certain months of the year and can't be disturbed.
My bat was alone, no babies, and wasn't actually roosting inside the attic. A mist of water from a water bottle and he was on his way. It was several days before the company came back out with the materials needed to cover the gable. Fortunately, Mr. Bat didn't return in the meantime.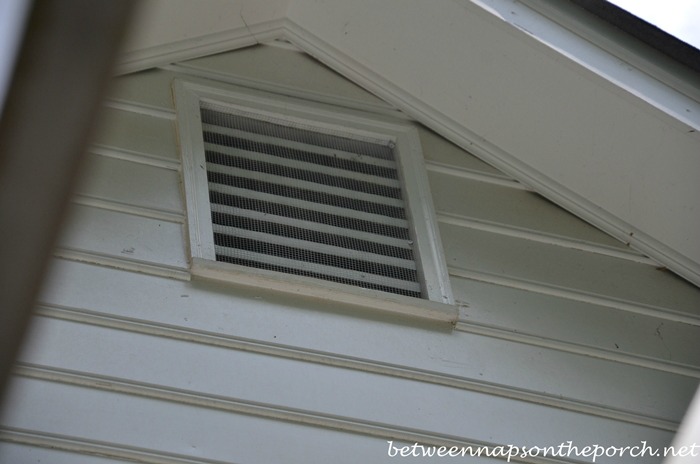 I actually have four gable vents in my attic: the small one where Mr. Bat was hanging out and three large ones. I've lived in this home for over 22 years and this is the first time I've had a bat hanging out in a gable. Since the guys were already here and they highly recommended it, I went ahead and had them screen over two of the other three attic gables. The one you see here was one of the gables they screened. It is so high up, you can't see the screening from below.
I had the one at the other end of the attic screened over, too. Again, it had screening inside already. I didn't mind having it screened because it's not visible at all from the ground. It's pretty much completely hidden due to the garage. I had to use my zoom lens just to get this photo…normally you can't see it at all.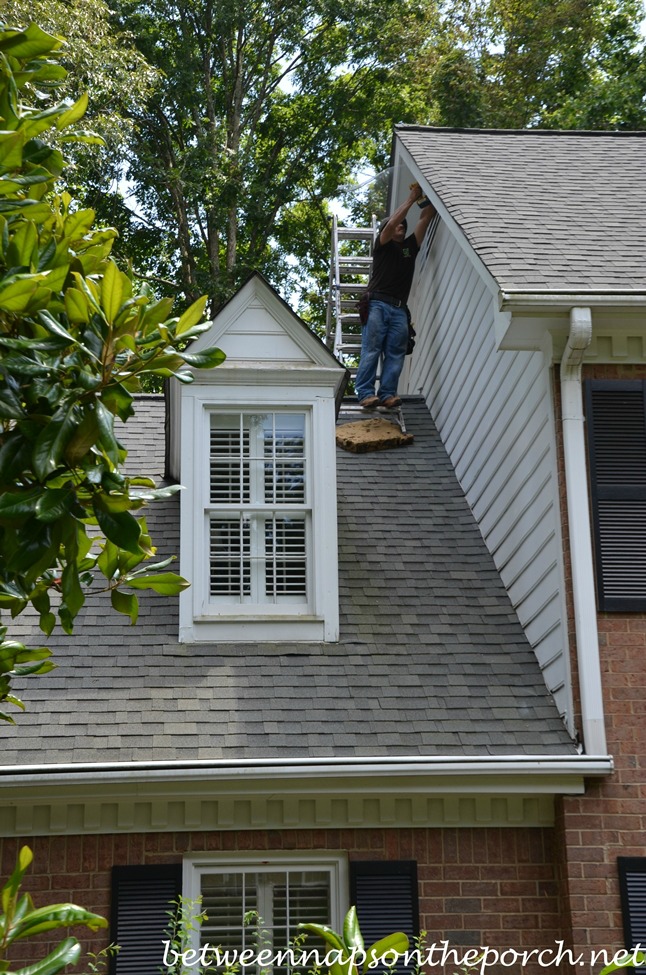 The only attic gable vent I didn't have screened on the outside was the one over the garage. I just knew it would bug me seeing the screening over this gable since it's so low and visible over the garage. As mentioned, all the gable vents have screening on the inside, so it's unlikely anything would try to get into the attic anyway. The exterior screening is mainly to discourage another bat from roosting up under the gable on the outside.
Personally, I like bats. They eat pesky bugs. But you can't have them roosting up under your gable because they go to the bathroom and the next thing you know, you have a guano problem. The company that did the screening cleaned up the small amount of guano that was on the lower louver of my attic gable window. Fortunately, there was no guano inside the attic itself.
Could you do this job? I wonder if they ever get used to these heights or if they need a stiff drink at the end of the day.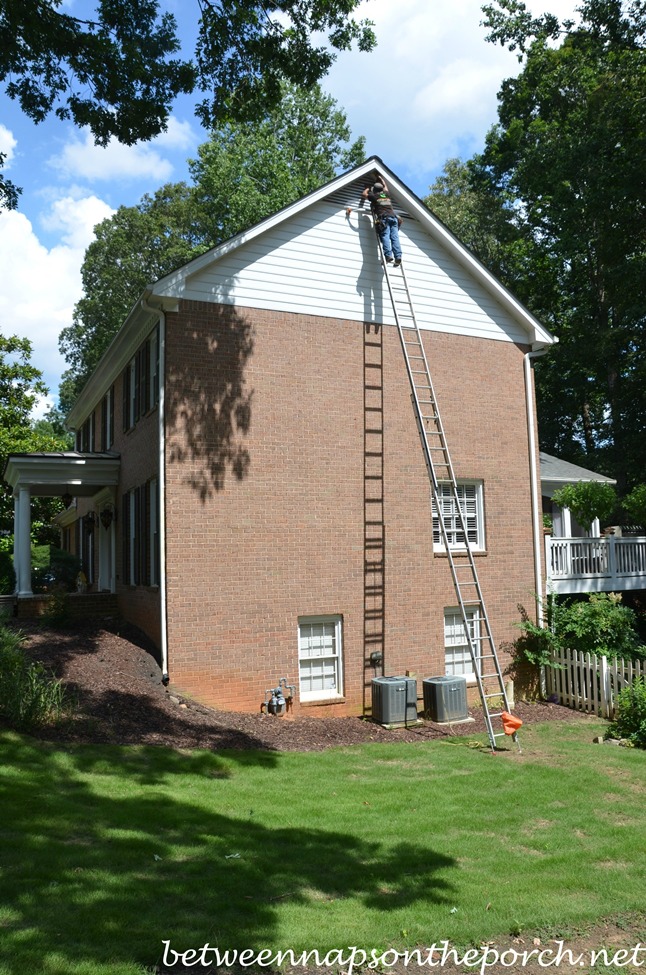 Before the screening is installed, they paint it to match your trim so it will be as invisible as possible. They used flat head screws and those get painted as well. If you ever need this done, make sure the company you choose uses screws (not staples) to attach the mesh. Staples can be hard to get out if the mesh ever needs to be removed for painting, although they would likely just spray the mesh if the house is being sprayed.
I took this picture below with my zoom lens once the installation of the screening was complete. This is the gable vent that's the highest up, around 4 stories high.
In addition to screening, you can go whole-hog and have what's known as a "total exclusion" done. It's pretty costly, the quotes I got were around $1,500-1,600. Apparently, most homes have a small gap right around the soffit area. If you go up into your attic and see daylight around the outer edge of your attic, that's the gap.
They can install metal all the way around the entire perimeter of the house to cover that small gap. It fits across the top, slightly up under the roof singles, so it isn't really visible. If it does happen to show a tiny bit in some places, they can paint it to match your trim.
Usually folks do that if they have had an issue with squirrels or something that has actually gotten into their attic. Since I've lived here over 22 years and have never had an animal get into my attic, I opted to not do the total exclusion.
Also, I work from home. So if something like that ever did happen, I'd hear it and know it right away. If this were a second home or a home I only lived in a few months of the year, I would have seriously considered the total exclusion, but it seemed like overkill for one measly bat hanging on an exterior gable window. Several of the companies I got estimates from said they didn't think it was necessary in my case, either.
I was lucky the builder had put screens on the attic gable vents. If he hadn't, I could have had a bat living in the attic instead of just outside it. Again, I like bats and I like that they eat insects. It's just not recommended to let them roost in your gables due to the mess they can make.
So that's my very batty "Before and After" for this week!
Ever had any unwanted house guests in your attic?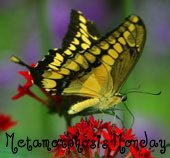 If you are participating in Metamorphosis Monday, you will need to link up the "permalink" to your MM post and not your general blog address. To get your permalink, click on your post name, then just copy and paste the address that shows up in the address bar at the top of your blog, into the "url" box for InLinkz.
In order to link up, you'll need to include a link in your MM post back to the party so the other participants will have an opportunity to receive visits from your wonderful blog readers.
Please observe these few rules:
Only link up Before and After posts that are home, gardening, crafting, painting, sewing, cooking, DIY related.
Do not link up if you're doing so to promote a website or product.
Do not link up a post that was just linked last week since a lot of readers will have already seen that post.


*If a post is sponsored or a product was provided at no charge, it will be stated in post. Some links may be affiliate links and as an Amazon Associate, I may earn from qualifying purchases. *