Welcome to the 247th Metamorphosis Monday!
I love the way Candy described her kitchen renovation to me in a recent email. She said, "The entire renovation took 5 weeks, it was like having a baby, uncomfortable while it's happening but the end result was worth it."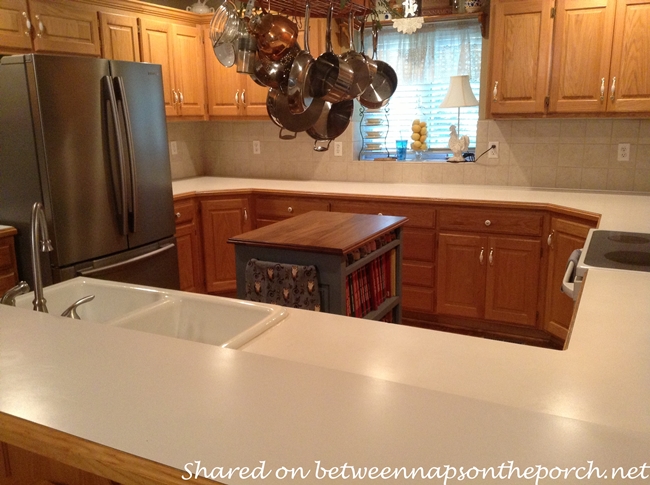 Haven't we ALL felt like that during a renovation? Even a small redo makes me anxious and uncomfortable, especially when it's mid renovation and everything is torn apart and chaotic. But oh, it's so worth it when it all comes together!
As you can see Candy's kitchen cabinets were originally a light stained color.
Describing her kitchen before the renovation, Candy said, "The only natural light is a northern exposure window and a bay and back door that is now enclosed in the porch, so light from there is limited. I hate to work in a dungeon."
She knew lightening up the cabinets would help brighten her kitchen. Regarding the paint color she chose for her cabinets, Candy said, "I have always been a fan of gray and thought it would be a good neutral, staying away from colors I thought would be nice now but dated in a few years." The cabinets were painted a light gray and glazed.
Ready for the reveal?
Beautiful! What a dramatic change and the whole kitchen looks so professionally done! I would never have guessed they weren't installed originally in this color.
Candy went with Bolga blue granite for her bar top and Caledonia for the rest of the counters since it was less expensive. That sounds like such a great way to squeeze in some of the more expensive granite choices without breaking the budget.
She decided on a Fisher & Pykel dishwasher. It has 2 separate drawers. I didn't know there was such a thing but I love this idea. No more having to wait until the dishwasher is full to run it. I'm guessing you could even run them on separate settings, maybe using a cooler temp for more fragile dishes. Such a great idea!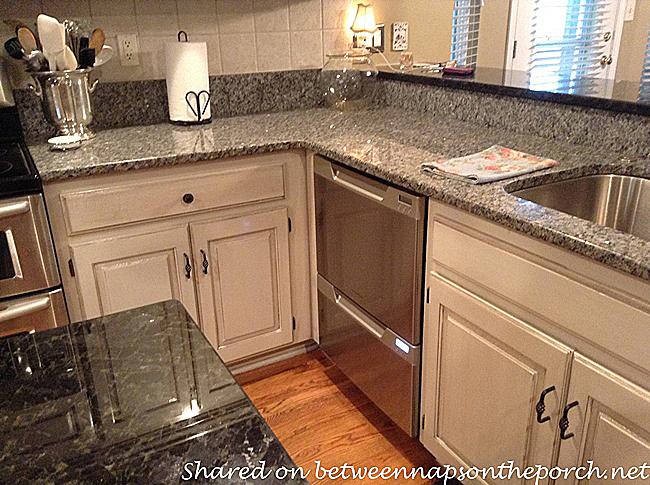 The pantry got a slightly different treatment from the rest of the kitchen.
Candy said, "The center island and my pantry (pictured above) were done in a slightly darker grey and glazed. The colors picked were just 2 that I thought would work well together."
So much to love about Candy's new kitchen from the lighting to the beautiful granite and the painted cabinetry. I love the corner cabinet there on the end. Wish they had done that on the end of my cabinets in my kitchen. Such a nice way to finish the end.
Thanks to Candy for sharing her wonderful kitchen renovation!
Do you have a kitchen renovation to share? If you have large, clear Before and After photos of your renovation, I'd love to see them and possibly share them here at BNOTP.
Just send one "Before" and one "After" pic to [email protected] and if I can share your renovation, I'll ask for additional photos to possibly share.
Looking forward to the Before and Afters linked for this Met Monday!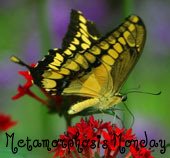 If you are participating in Metamorphosis Monday, you will need to link up the "permalink" to your MM post and not your general blog address. To get your permalink, click on your post name, then just copy and paste the address that shows up in the address bar at the top of your blog, into the "url" box for InLinkz.
In order to link up, you'll need to include a link in your MM post back to the party so the other participants will have an opportunity to receive visits from your wonderful blog readers.
Please observe these few rules:
Only link up Before and After posts that are home, gardening, crafting, painting, sewing, cooking, DIY related.
Do not link up if you're doing so to promote a website or product.
Do not link up a post that was just linked last week since a lot of readers will have already seen that post.
*If a post is sponsored or a product was provided at no charge, it will be stated in post. Some links may be affiliate links and as an Amazon Associate, I may earn from qualifying purchases. *