Welcome to the 248th Metamorphosis Monday!
This week I have another fabulous kitchen renovation to share. Toni took her relatively small kitchen and accomplished two amazing feats: 1. She made it feel and look much larger 2. She converted every square inch in her kitchen into usable, hard-working space.
If you have a small to medium size kitchen and you've been wanting to update it and make it much more functional without gutting it and starting over, you'll find this kitchen renovation hugely inspiring!
Toni beautifully describes her renovation and the thoughts/plans behind it below. Enjoy!
~~~~~~~
I feel honored that Susan would see my kitchen update as worthy of a post! You see, I love looking at blogs, especially Susan's and when she recently posted a couple kitchen makeovers, I thought I would share a before and after of mine! I was stunned when she asked if she could feature my kitchen in a post on her blog…..but excited too! So here's how it all came about…..all because a dishwasher went out!
When my dishwasher gave up the ghost, I went 3 months without it (not a huge deal to me) while I was trying to formulate what to do. I knew my kitchen was in real need of an update, but I felt stuck as to how to improve it other than the counters which had been the same for 23 years since we moved into the house!
About 15 years ago, we changed out the style of the cupboard doors, moved from a whitewashed oak look to this painted finish. I couldn't afford to completely redo the cabinetry but I KNEW it was time for the counters as I'd had cream, solid surface counters with cream cabinets for too long….how boring is that! I was still in love with my toile/cream red wallpaper (see before pic below) but my decorator friend was insisting it had to go. So thus my journey began.
Before: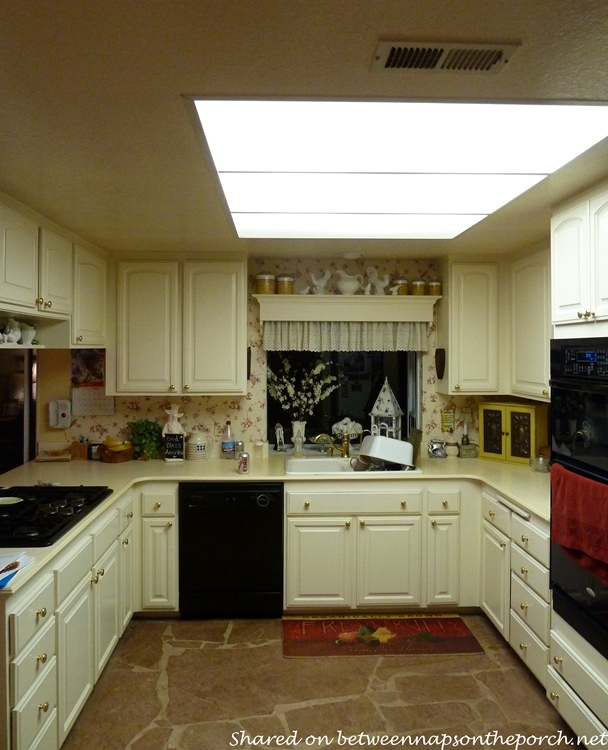 Our contractor suggested the biggest improvement would be to raise the ceiling and I wanted to add the beadboard.
I did all the shopping, gopher work, and purchasing and my husband and I did all the priming and painting but we only repainted the new areas and didn't have to repaint the existing cabinets. We were blessed with an amazing contractor who is so reputable in our area, there is a waiting line to have him…..a master of space usage!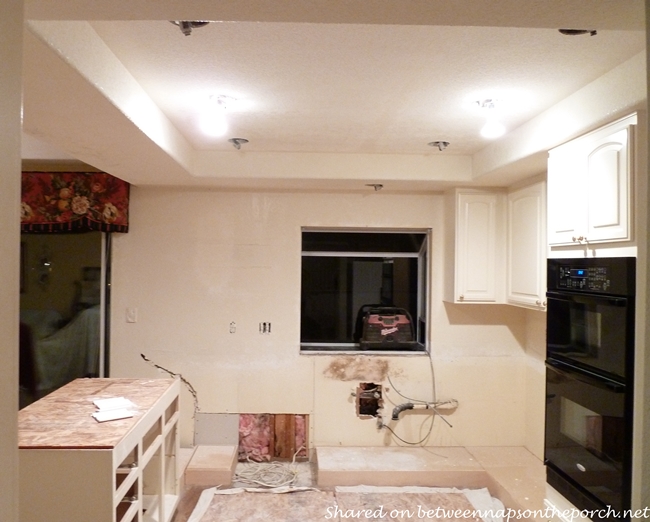 I have Arizona flagstone flooring in my outside entry, and then it continues from the front door all the way into my kitchen. It was out of the question cost wise to be able to change that so I wanted a counter that had an organic look, but with tones of color that would work with that floor and yet be neutral. Tromping through more bone yards than I can count, I kept coming back to this granite…..though some might think it dated, I felt it really worked with my floor…..hints of the color but yet still neutral with not too much "movement" so as to compete with the floor. So my choice was made.
I had the granite extended into the garden window area which was originally a very ugly surface that I kept covered always! Love that. I found my Kohler sink on an end cap at Lowes….are you ready for the price……brand new, last seasons model for $42.00 SCORE! I went with brushed nickle hardware and a brushed satin Chrome faucet set.
I changed the shape of the back side on the family room side to create a true eat-in bar. Before I only had 7″ behind the stove top and the shape was straight. I'm proud of the fact that with the help of my friend guiding me over the phone, I free handed the shape it was to be! THAT WAS A HUGE STRESSOR!
My friend suggested removing the bank of cabinets above the counter and it took me 3 days to get up the courage to give the go ahead.
Before: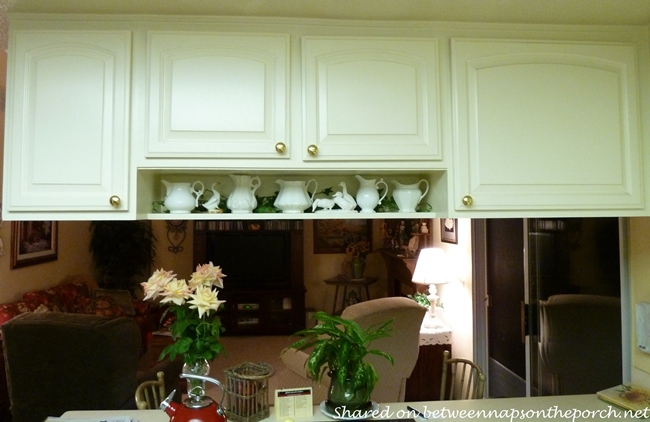 With cabinets removed from above eat-in bar.
After: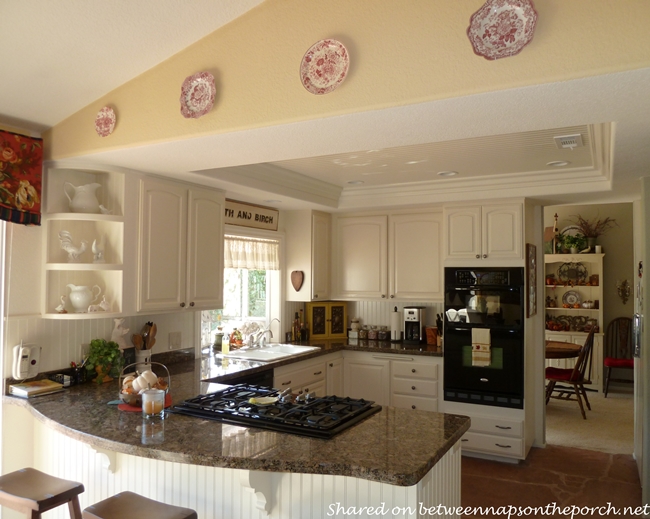 The contractor also raised the cabinets by creating a whole new footprint for them as they were installed after the 3″ rock floor which made them lower than most peoples, plus it made it impossible to get the dishwasher out, which I guess I should be grateful for now! :o)
We added Lazy Susan 3/4 tiered rounds to each corner which previously was just so much wasted space due to small cabinet door access.
We added roll-out shelves to our pantry and double roll-outs to the area adjacent to the eating counter where I store candles, vases, etc. Previously I had to get and my hands and knees and dig to find things. I LOVE THIS CHANGE!
We added under cabinet lighting, and all the lighting have dimmers on them and we are enjoying the soft mood they create at night. The last upgrade was to have a black fridge to match the other appliances because my personal taste doesn't gravitate to the stainless look.
After:
Molding was added around the window and my best friend pointed out the "4th AND BIRCH" sign while shopping. It was meant to be because we are the 4th house on Birch Lane! The valance I made from a vintage tablecloth from my mother-in-law.
The yellow corner cabinet was a garage sale find for $10 and holds our vitamins.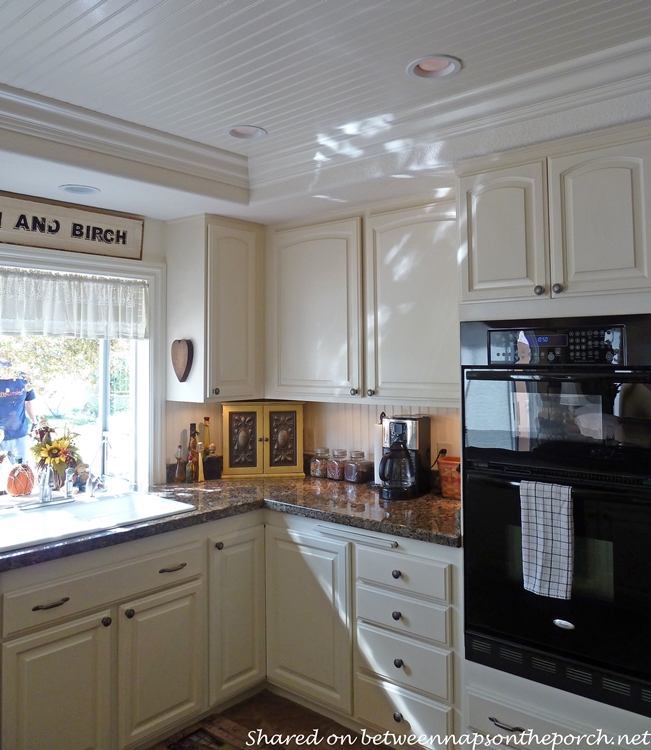 It's a small kitchen, but I'm so happy with the changes we made.
Before: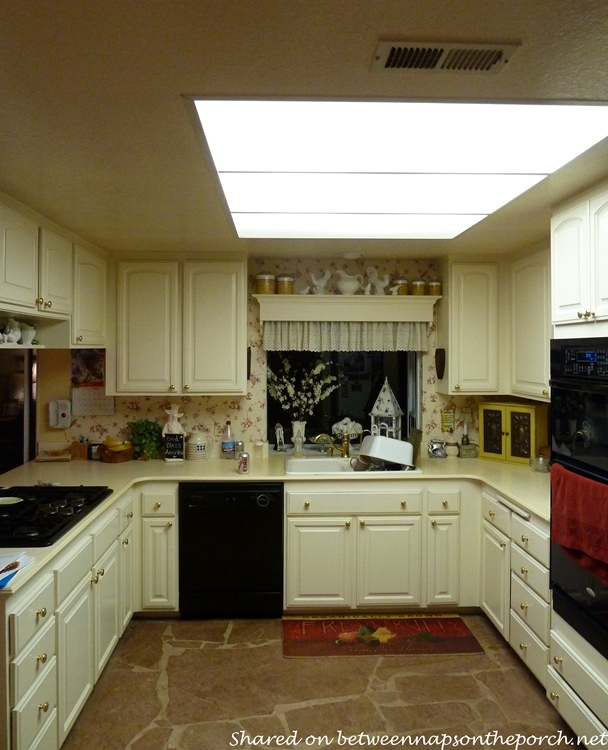 After:
It now feels so much bigger and open. I love that people can be in the family room and I no longer have to bend under the cabinets to be able to see them! The project took around 2 months to finish as we had a vacation in the middle of it! But it was worth it!
Toni, thanks for sharing this wonderful renovation. It turned out beautifully and I love your finished kitchen!
Looking forward to the Before and Afters linked for this Met Monday!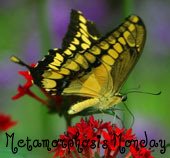 If you are participating in Metamorphosis Monday, you will need to link up the "permalink" to your MM post and not your general blog address. To get your permalink, click on your post name, then just copy and paste the address that shows up in the address bar at the top of your blog, into the "url" box for InLinkz.
In order to link up, you'll need to include a link in your MM post back to the party so the other participants will have an opportunity to receive visits from your wonderful blog readers.
Please observe these few rules:
Only link up Before and After posts that are home, gardening, crafting, painting, sewing, cooking, DIY related.
Do not link up if you're doing so to promote a website or product.
Do not link up a post that was just linked last week since a lot of readers will have already seen that post.
Do not type in ALL CAPS. It spreads the links waaaay out.




Welcome! Thanks for coming to the party!
*If a post is sponsored or a product was provided at no charge, it will be stated in post. Some links may be affiliate links and as an Amazon Associate, I may earn from qualifying purchases. *