Welcome to the 198th Metamorphosis Monday!
Recently, I made a trip to a lighting store in search of some items to "upgrade" a chandelier in my home. I'll be posting about that soon and can't wait to share it! Ballard Designs outlet is just a few blocks away from the lighting store. Since I'm rarely in that area, I decided to stop in.
The parking lot was packed which is unusual even for a Saturday. I got one of the last parking spaces. Once inside I asked if something special was going on. There was, they were having a sale: 15% off the retail side and 20% off the outlet side.
I walked through both sides of the store, the right side is a regular store (non-outlet pricing) while the left side is considered an outlet with reduced pricing. While shopping on the non-outlet side, I came across these bronze metal hanging tags.
(Picture above and below from Ballard online site)
I've been looking for something along these lines for some labeling I've been wanting to do. The tags were bundled 12 to a package and were priced at $18 but since the retail side was having a 15% off sale, they came to $15.30. They have an industrial feel and are super heavy. In fact, I was getting pretty tired of carrying them around by the time I was finished shopping. They were the only thing I bought, so I managed to get out fairly unscathed that day.
Once home I set to work in the office closet . I use the baskets in this "miracle" closet Expedit a lot, so I pretty much always remember what's in each basket. But who can resist labeling them with neat little hanging tags. Pssst: You can see why it's a "miracle" Expedit in this post: IKEA Expedit Hack: How I Made it Work
I used a little jute yarn to attach each of the hanging tags. I love these woven PJÄS baskets from IKEA. They are made from banana fibers and were a little on the "fragrant" side when I first brought them home. They have simmered down now, though and the smell is all gone.
I just free-handed the labels, writing them vertically since the tags are easier to read that way. The basket on the left says "Printer" and it's where I store my printer paper. The basket to the right says "Lenses" and it's where I store camera lenses when I'm not using them.
A little further down are Craft Supplies and discs for various software programs I have. You can take a little peek inside all the baskets to see how they are being used in this post: IKEA Expedit for the Office Closet: Sneaking a Peek Inside
Can't wait to see all the awesome Before and Afters for this Met Monday!
Metamorphosis Monday: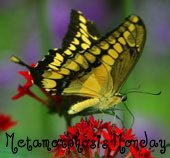 If you are participating in Metamorphosis Monday you will need to link up the "permalink" to your MM post and not your general blog address. To get your permalink, click on your post name, then just copy and paste the address that shows up in the address bar at the top of your blog, into the "url" box for InLinkz.
In order to link up, you'll need to include a link in your MM post back to the party so the other party participants will have an opportunity to receive visits from YOUR readers.
Please only link up Before and After posts that are home, gardening, crafting, painting, sewing, cooking, DIY related.
Do not link up if you're doing so to promote a website or product.
Do not link up a post that was just linked last week since a lot of readers will have already seen that post.
Do not type in ALL CAPS. It spreads the links waaaay out.
Let's try something fun today! Please visit the person who linked before you and after you…that way everyone will get some visits. Hope you'll visit more, of course.


*If a post is sponsored or a product was provided at no charge, it will be stated in post. Some links may be affiliate links and as an Amazon Associate, I may earn from qualifying purchases. *