Pssst: Posted a video of a very sweet and very long-neck visitor on Instagram. You'll find it here: BNOTP on Instagram  🙂
With summer just a few months out, my mind has been on vacation spots, especially beachy vacation spots. When I travel I find it so much fun to stay in unique places like cozy inns. Recently, I came across Lands End Inn, an enchanting Inn located in Provincetown on Cape Cod. I was so intrigued by all the picturesque rooms, one more cozy and quaint than the last! As I toured each of the 18 rooms in this wonderful historical home, I couldn't believe it was an Inn because it truly feels like a beautifully furnished home. It's easy to see why it has often been a favorite vacation spot for some well-known celebs like Kathleen Turner.
Here's a look at the Inn as you approach it from the road. I had to crop this image to post it so I couldn't squeeze in a ll the beautiful flowers, but the gardens are stunning!
The majority of the guest rooms have a great view of the water due to the home's elevated location. It has easy access to the beach, as well.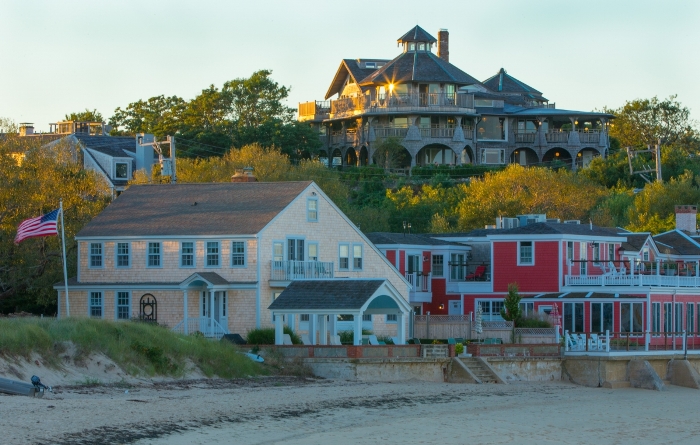 I think this may be the living room of the Inn. Such a gorgeous rock fireplace! The home is decorated throughout with antiques, fine art and beautiful Tiffany lamps. I could live right here in this room!
No expense was spared when this home was decorated. The guest rooms and suites are furnished and decorated with fabric and wallpaper from the design houses of Schumacher, Cowtan & Tout, Scalamander, Frette and Bruschwig & Fils.
This room is known as The Moroccan Tower room. Can you just imagine the view from those windows!
This is the Wisteria Room…such a cozy, sweet room!
Love the Cape Cod Room furnished in one of my fave color combinations: blue and white.
Love the Library Room! Have you been noticing the wonderful ceilings? I want to be out there on that deck overlooking the ocean!
This is the Victorian Room.
This is the Bay Tower Room with unbelievable views!
This room is called the Sunrise Room, so I'm guessing it get a lovely view of the sunrise each day. There's also a room called the Sunset Room.
This is the Gull Hill Room…love the wallpaper!
This is the English Garden Room…looks like it has French doors leading to the beautiful gardens.
This cute attic room is part of a suite called the Schoolman's Suite. Wonder what the story is behind that name?
I love this cute space. I'm not sure if it's part of one of the bedroom suites or if it's part of the kitchen in the house. It may be part of a suite because I think I see a small refrigerator.
The home has extensive porches and verandas for sitting and sipping a cool drink in the heat of the day.
The property the Inn is on has a fascinating history, dating all the way back to 1871 when it belonged to Captain Jonathan Nickerson. Read more about the history of the Inn and see additional photos of the guest rooms at the Lands End Inn's website (where these photos were found) here: Lands End Inn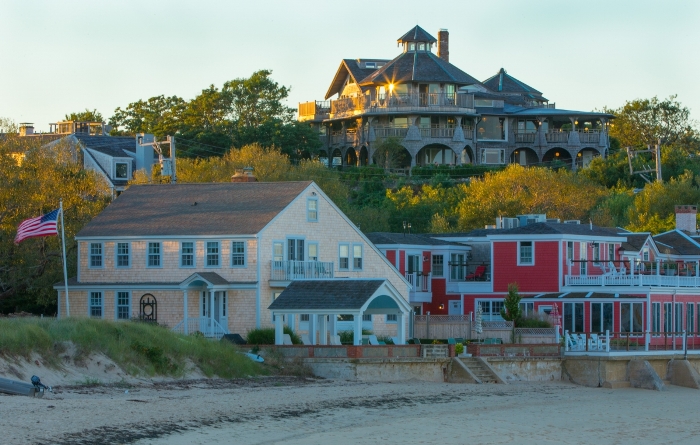 Exciting News! Some very rarely ever seen endangered whales have been spotted over the last few day in the Cape Cod Bay. Oh, I would love to be there right now and see that! You can read more about it here: Rare Whales in Cape Cod Bay
Speaking of travel and vacations, if you're big Barbour fan like I am, you're going to love this! I just came across a fabulous Barbour travel bag that's currently on sale! If I didn't already have my Pendleton Weekender bag, I would so go for this bag. I love the style of it with the fabulous Barbour tartan/plaid! I may still have to get it, one can never have too many weekender bags, right? 🙂 You'll find it here: Barbour Tartan Weekender Bag Oh, and when you sign up for their emails, you can get 10% off your purchase with the code: TNUCKNEW. That code may even work without signing up. That's the code they sent me when I signed up.
Update: Unfortunately, the bag has sold out now.
*If a post is sponsored or a product was provided at no charge, it will be stated in post. Some links may be affiliate links. *