Welcome to the 384th Metamorphosis Monday!
A while back I started a big makeover for my front yard landscape. Bushes were removed and transplanted to the back yard and a Japanese Waterfall Maple was transplanted to another area of the yard.
The tree is doing well in its new home, as are the shrubs that were transplanted to the backyard.
It's taken me a while to add shrubs back. I had a local nursery create a landscape plan for this area, but I delayed in implementing it. I'm not exactly sure why, for some reason I just couldn't get excited about the plan. So I did nothing and waited until something felt right, until there was a plan or idea I could get excited about.
Recently I realized the look I really most love isn't a mix of shrubs but really just a simple landscape filled with beautiful boxwood shrubs. I love the simplicity and classic look of boxwood.
The one thing I did buy for this area that was in the original plan, was a tree-form, Limelight Hydrangea, also known as a Standard.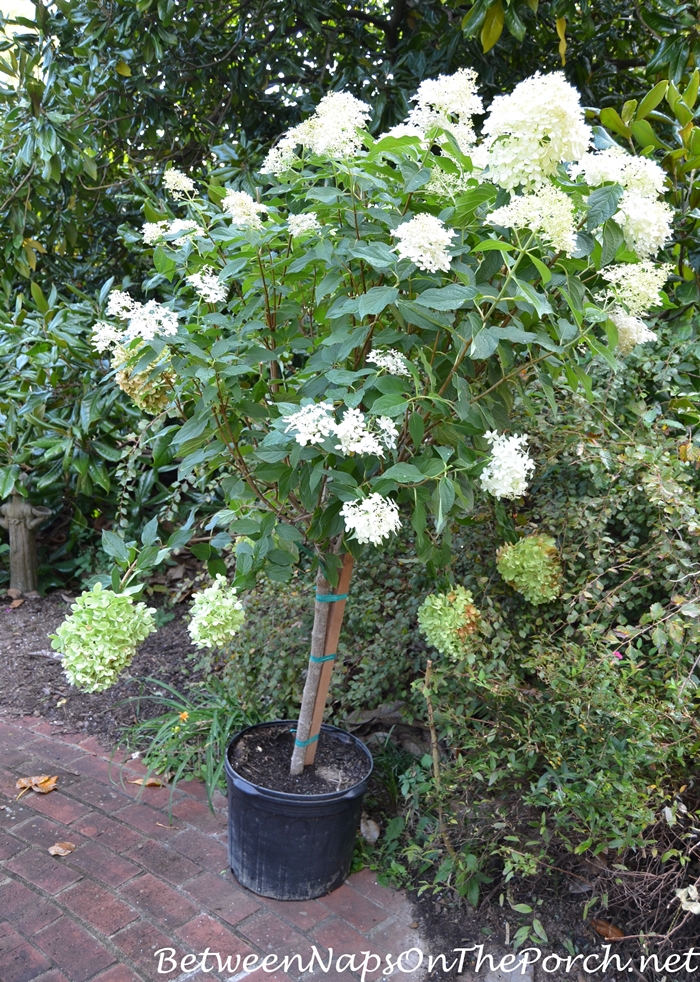 The plan called for planting the hydrangea just on the other side of this large magnolia tree here in the front yard.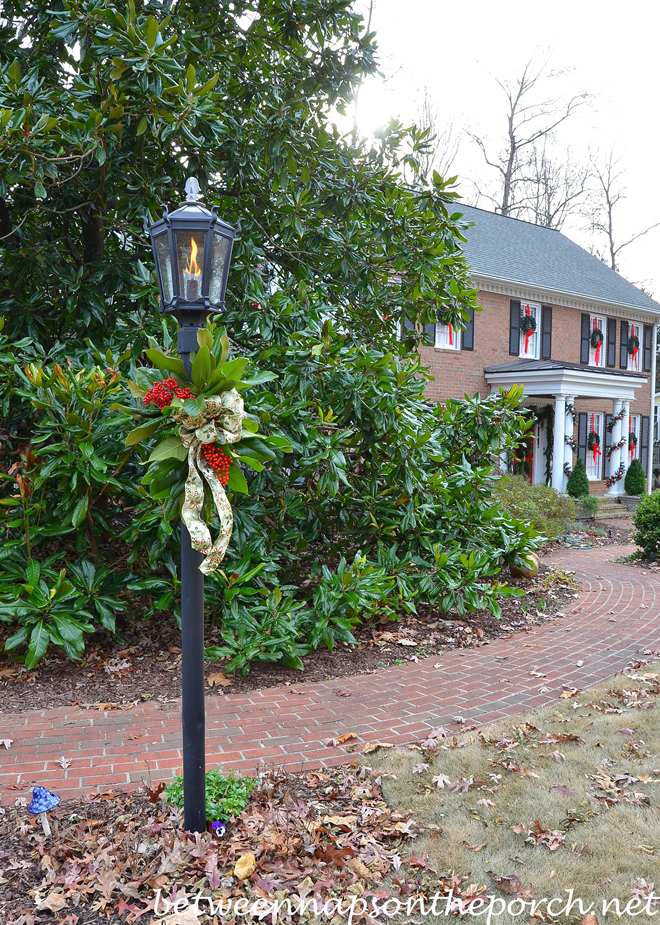 I wasn't really sure I wanted it there, so last fall I placed the hydrangea in a large planter and just kept it watered. It grew a lot over the winter and was a bit bigger this spring.
This spring I purchased 10 Green Beauty Boxwood shrubs, 4 Baby Gem Boxwood shrubs and 2 Green Tower Boxwood shrubs. Ideally you want to plant shrubs, trees, etc… in the fall, but sometimes you have to buy them when you find them.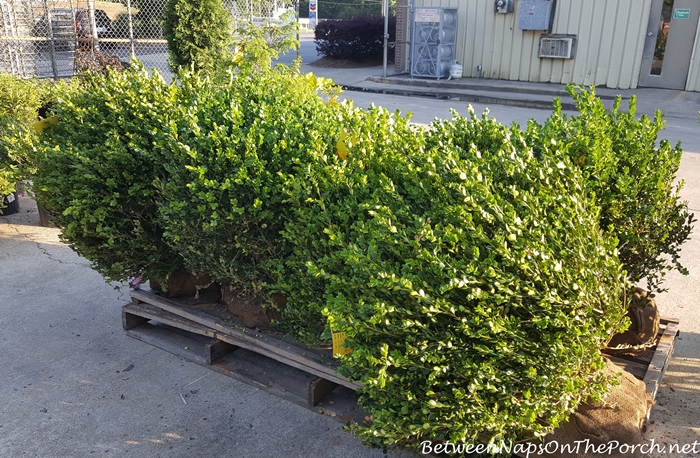 Before beginning, here's how the left side of the porch looked–a blank slate.
Here's how the right side looked, more blank slate.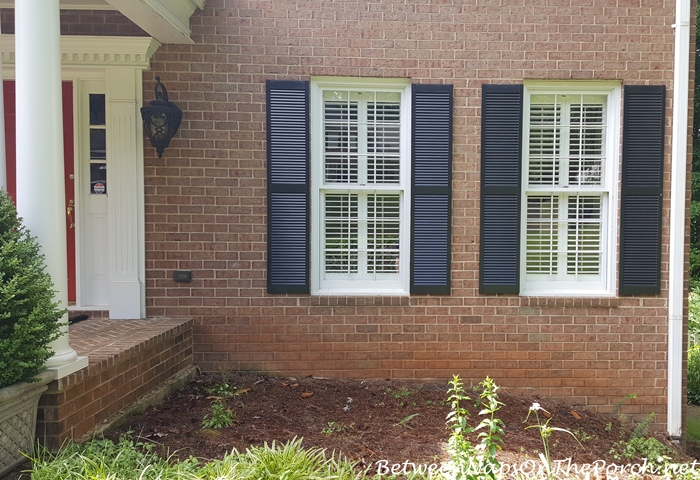 I also purchased two benches for the front porch. (Read more about the benches here: Benches for the Front Porch)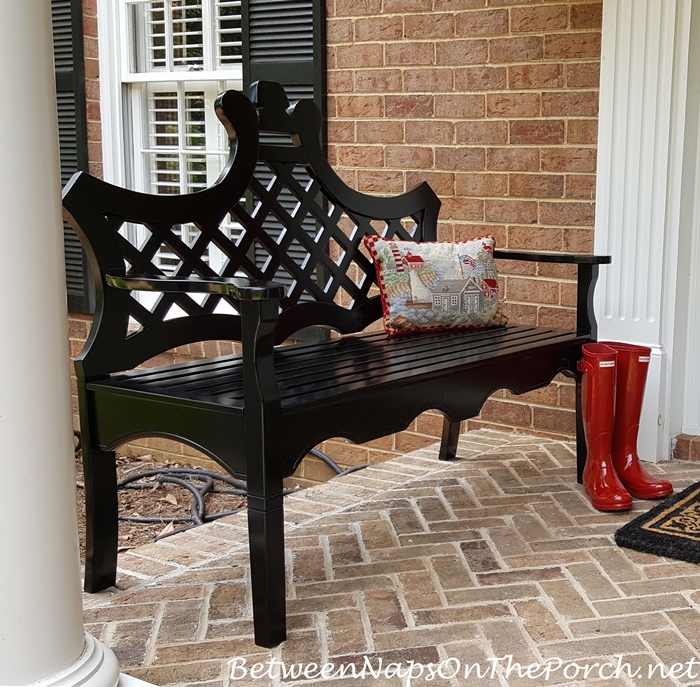 After getting quotes for planting the boxwood shrubs from the nursery where I purchased them, I decided to plant them myself. The nursery wanted $1,000 to plant just the 10 Green Beauty Boxwood. Can't imagine what it would have been for all 16 shrubs! I decided I'd much rather spend that money on future travel than shrub planting. Besides, I sit way too much. It was time to get some exercise!
AFTER:
Though not completely finished, the front landscape is looking much better.
The four Savannah Holly trees I planted last fall are all doing great. You can see one of them on the right in the photo below. I moved the Limelight Hydrangea I purchased last year to a much larger planter as seen on the right in front of the windows.
You'll notice the Limelight Hydrangea I just purchased this year on the left, is already blooming.
The hydrangeas should be on the same blooming schedule next year since I think they'll get a similar amount of light here in front of the house.
A couple of years ago I added two Green Mountain Boxwood topiaries to the planters here in front of the porch.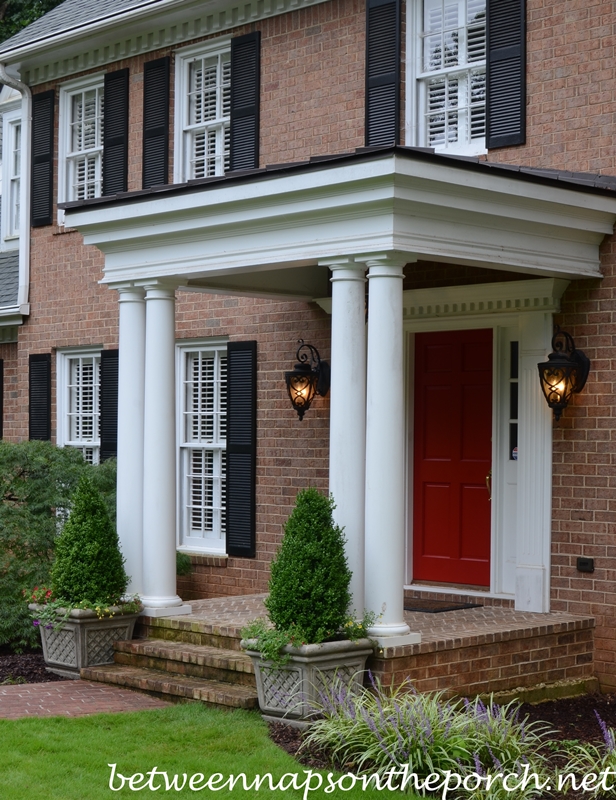 Look how much they've grown since the photo above was taken! They'll need to get trimmed back a bit in late winter next year. I want to keep them in a topiary "Christmas tree" shape.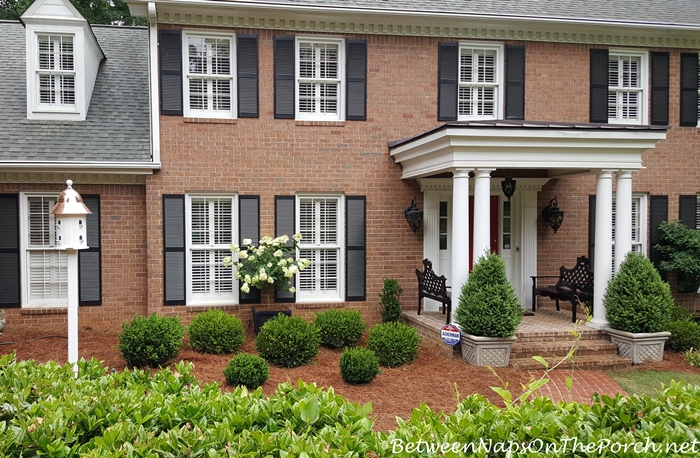 Remember the Dovecote I purchased a few months ago? When I purchased it, I had planned to put it in another area of the front yard where I once had a birdhouse that wasn't well-made and fell apart. I changed my mind this past weekend and decided to place it here near the porch, instead.
I got out my old post-hole diggers and got to work digging a hole. The diggers worked great and I had the hole dug in about 15 minutes time.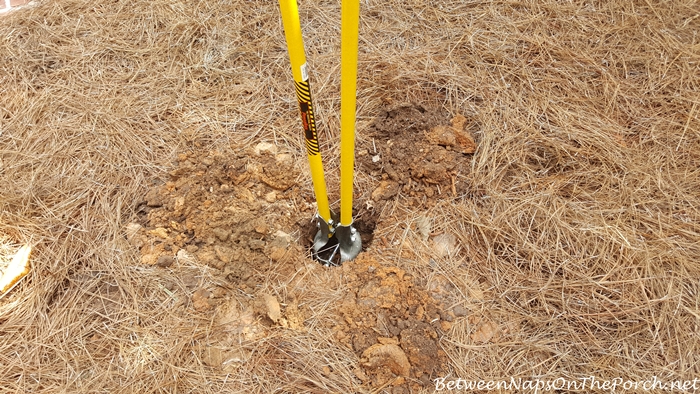 A few weeks ago I purchased an 8 ft, pressure-treated 4 x 4 post in anticipation of putting up the birdhouse.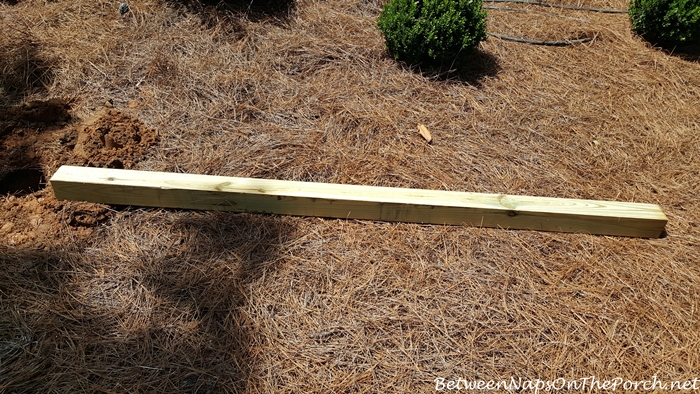 I have another dovecote in my perennial garden and I really like how it looks, so I decided to place the new dovecote at around the same height.
Using my circular saw, I cut approximately a foot off the post. If I had thought about it when I first purchased the post, I could have asked the hardware store to do that. They are happy to do that when needed.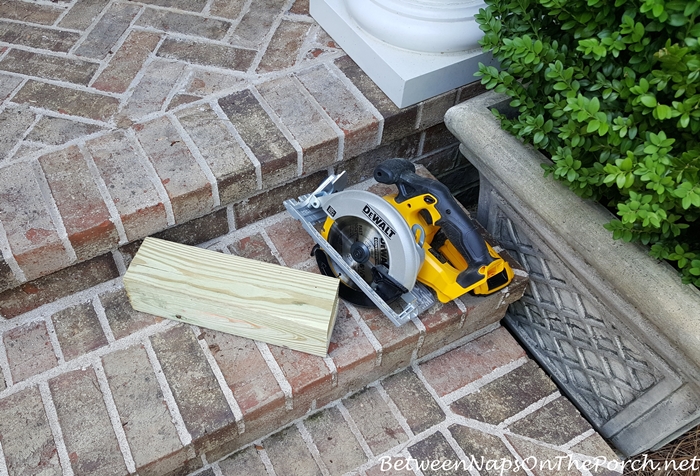 The directions that came with the birdhouse explained how to mount the house to a post. It was super easy to do.
Still hadn't painted the post at this point.
And here's how the post looked primed and painted. (Dovecote is available for purchase here: Copper Roof Dovecote)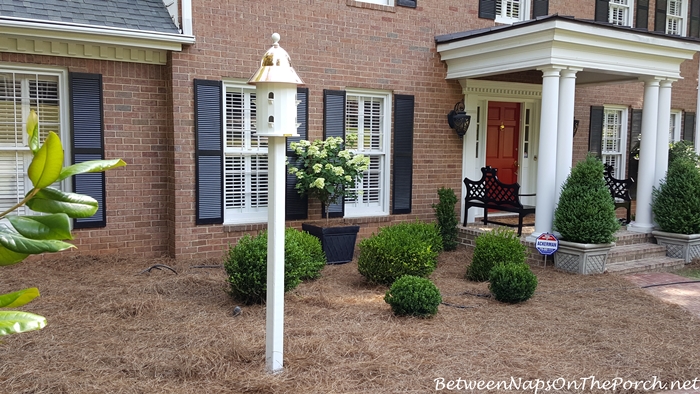 I really like how the new bird house looks in the garden. Initially, I had a hard time figuring out exactly where I wanted it since I may add some additional plants in the fall. I finally decided on this spot because it's far enough away from the magnolia that it should be safe for nesting birds, yet close enough to the brick walkway to be a pretty focal point for those passing by.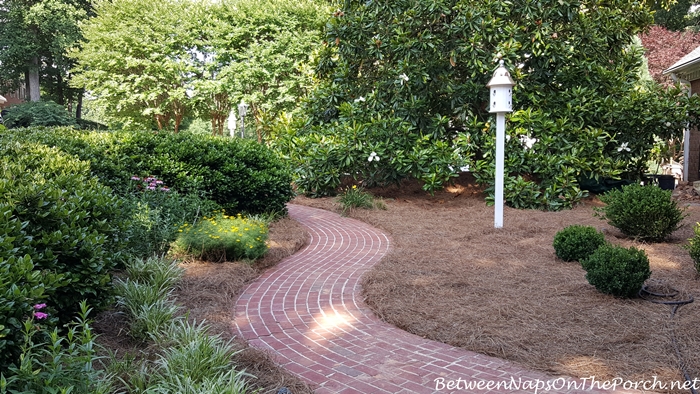 I've really enjoyed sitting on the benches whenever I've needed a little rest from all the planting. I'm not sure how I ever lived without them now that they are here. They got rained on for the first time and I was happy to see they dried without any spots left over from the rain.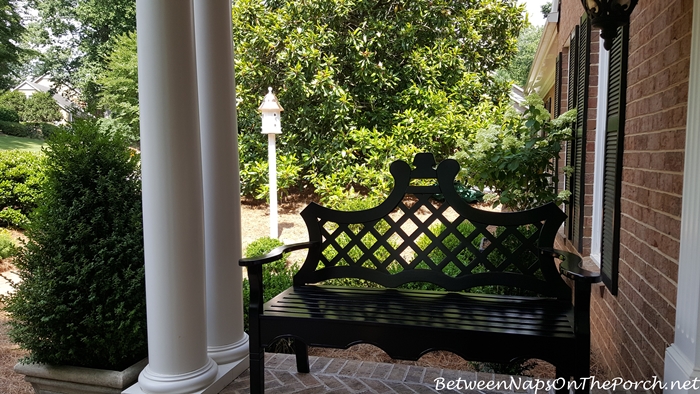 It seems there are always lovely surprises to be discovered in any DIY project. One surprise in this project has been the new view I now have from inside. I had forgotten that new landscaping doesn't just improve the view on the outside, it also gives you a much better view from inside, too. Love that!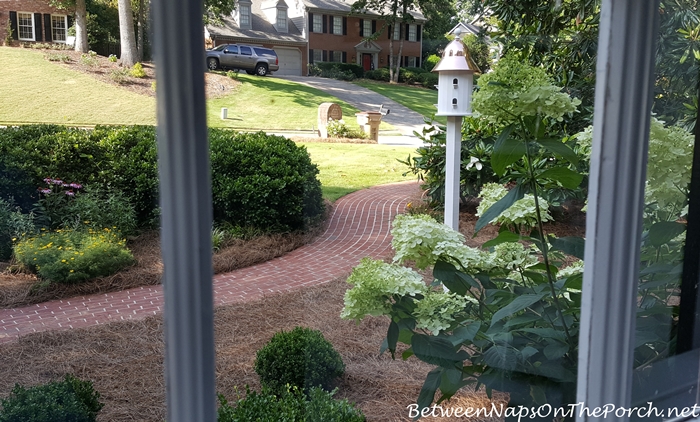 This area isn't quite finished, but I think this is a nice start. Looking forward to watching everything grow in and fill out.
If you are participating in Metamorphosis Monday, please link up using the "permalink" to your MM post and not your general blog address. To get your permalink, click on your post name, then just copy and paste the address that shows up in the address bar at the top of your blog, into the "url" box for InLinkz.
In order to link up, you'll need to include a link in your MM post back to the party so the other participants will have an opportunity to receive visits from your wonderful blog readers.
Please observe these few rules:
Only link up Before and After posts that are home, gardening, crafting, painting, sewing, cooking or DIY related.
Do not link up to the party if you're doing so to promote a website or sell a product.
Do not link up a post that was just linked up last week since readers would have already seen that post.
Please do not link up more than 3 posts per week.
*If a post is sponsored or a product was provided at no charge, it will be stated in post. Some links may be affiliate links and as an Amazon Associate, I may earn from qualifying purchases. *