I think it's official, I have just a few too many irons in the fire. lol If I write something completely nonsensical in the next few days, just know it's because there's a lot of stuff going on here and my brain may be on overload. It's good stuff, but it's going to get crazier before it gets better, I'm afraid.
Today I went to visit my bushes. If I go to Pike Nursery one more time, they will probably call the authorities to come take me away. I purchased 10 large ball and burlap, Green Beauty boxwood shrubs on Saturday, then drove back over on Sunday to measure the two they actually had in stock to make sure they would work okay in front of my foundation.
On Monday I drove back over again to take a photo of the bushes because the landscaping company I just enlisted to help with the regular monthly maintenance of my yard, asked to see a photo of one of the shrubs in order to give me a quote for planting them.
Yesterday, the other 8 bushes arrived from another one of the store's locations, so I made another trip back to look them all over before they are delivered tomorrow. When you're paying $151 a bush (and that was on sale 20% off from $189) you feel the need to see what you're getting before it's actually delivered.
If that price gives you sticker shock, I understand. It does the same thing to me! Apparently, boxwood shrubs are pricey and the bigger they are, the more expensive they are. I've been told it's because they take so long to grow.
They are almost impossible to find this big, at least they have been for me. I've called a gazillion nurseries over the last few years asking for big boxwood shrubs and the largest they ever had were 5 and 7 gallon sizes. So, I jumped on these as soon as I found them. They told me they had more in earlier in the spring but a landscaper came in and bought up a bunch.
These Green Beauty boxwoods measure around 27-32 inches tall, depending on which plant you measure, That's not counting the ball/burlap part, so they are good size. Now you know why I'm getting an estimate from my landscaping company for help planting them. I have a feeling I will be doing all the planting myself because I've pretty much blown my landscaping budget on the bushes themselves. Hello Advil, my old friend. I'll be seeing you again real soon!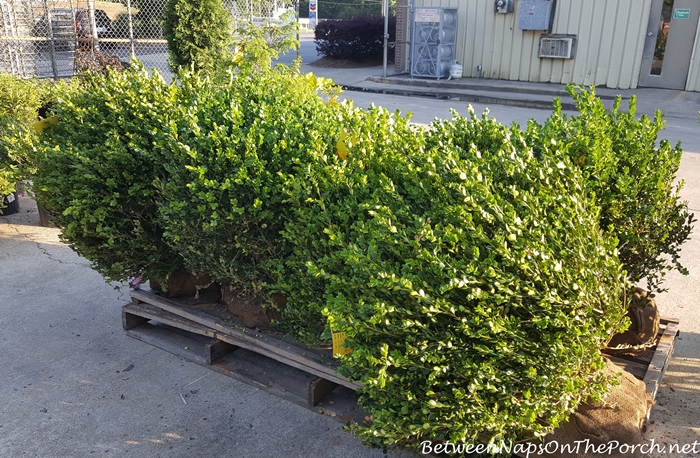 Today I'll be buying bags of soil amendment. Even though the area where I'll be planting them has been amended in the past, it never hurts to add more to this Georgia red clay. Georgia's clay soil with suffocate the life out of a plant's roots if you don't break it up with some good, rich, soil conditioner.
Update: Discovered in the middle of planting that all the shrubs they delivered are not Green Beauty, some are Wintergreen. 🙁 Not sure what I'll do since the Wintergreen are really beautiful and big and help to fill in the side of my house that needs the bigger bushes.
Hardwood Flooring
On the hardwood flooring front, this is how my living room currently looks. The porch table and hutch (which is in two parts) is currently in the living room. Do you see the top of the hutch there in the center of the room? lol
This is how the breakfast room looks right now. It's been this way for two weeks because the porch flooring was scheduled for a new coat of varnish two weeks ago, but everything got delayed when the weather wouldn't cooperate.
The porch settee is out on the deck…
…and two of the porch chairs are on the front porch where I placed them to get an idea how a white bench would look on the porch. You may remember I've ordered two benches in black for the front porch (see that post here: A Whimsical Garden Bench for the Front Porch) but I'm wondering if white would have been a better choice. The benches are being delivered today, so I guess I'll have an answer to that question real soon.
So, things are topsy-turvy here right now, utter chaos everywhere you look. When I feel stressed, I visit Lang Elliott's delightful blog and listen to his beautiful recordings. If you're not currently signed up for his e-mails, I highly recommend subscribing. It's like a daily dose of peaceful bliss and his e-mail seems to always arrive when I need it the most!
Tuesday the guys finished lightly screening and applying a coat of marine varnish to the screened porch floor. Yesterday, when I opened the door to check it out, I noticed this. I thought maybe their sanding disc had dug down into the floor and caused the scratches, or maybe something sharp got caught underneath the spinning disc. I don't remember those being there before.
My flooring company thinks they were already there and the amber color of the marine varnish just highlighted them, making them more visible. In either case, it doesn't make me happy, especially since it's just outside the kitchen door to the porch.
There are a couple of spots that need a touch up but here's how the floor looks now. Initially I thought the screened porch was going to get three coats of varnish, but that's only if they had sanded it down to bare wood.
I'm trying to decide now if I should pay to have it sanded down and refinished to get rid of the scratch near the door, but the cost difference is another $500. Instead of spending that on the porch to get rid of the scratches, I'm thinking of adding hardwood flooring to one more room of my home. Which room?
This one. My guest room and bonus room are the only two rooms left in my home that don't have hardwood flooring. The carpet doesn't look that bad in here but it is 25 years old and starting to show some wear just inside the doorway. So, this seems like a good time to do it. I sure don't look forward to emptying out the secretary and the closet in this room! Ugh!
So, there's a lot going on here this week! Today I need to unload everything I can from the guest room and guest room closet in preparation for the hardwood flooring installation. The benches will arrive today, so I'll need to get busy assembling those for the front porch, that is if I don't change my mind and decide to go with the Chippendale white ones I found after I had ordered the black ones. I'm still wavering back and forth on that. Either way, I'll take pics so you can see how things are looking.
Tomorrow, my new landscaping company is coming out for their first visit and the 10 boxwood shrubs should be delivered.
The hardwood flooring guys will also come out tomorrow and move the larger pieces of furniture back to the porch. Then I'll need to get busy putting all the small things back where they go, including the porch dishes back into the hutch on the porch.
I think they will start on the flooring installation for the guest room tomorrow, too. If that happens, the flooring will also get its first coat of poly. I have a feeling I'll be sleeping on the sofa tomorrow night because the fumes were unbelievable when I had hardwood flooring installed in the office a few years ago. (See all office posts here: Home Office)
To me, it's always worth the hassle to go with raw, unfinished flooring. I love how it feels so smooth underfoot when it's all finished. At least the weather is nice now so I should be able to have the windows open a good bit.
While the guest room floor is being installed tomorrow, I'll probably be digging big holes for the new shrubs. I may only average planting one or two a day, but I'll get those babies in the ground eventually.
So this week will be crazy but I should have some new landscaping, some new flooring and a front porch makeover to share real soon–if all goes as planned.
I found this photo online a while back and saved it to my computer. It's from Atlanta Homes & Lifestyles magazine. Notice how they've used a mixture of large and small boxwood shrubs instead of planting them all the same size. I was thinking of doing something similar, adding in some smaller Globe Baby Gem boxwoods I saw while at the nursery. What do you think about that? Don't you love this house below…a dream cottage for sure!
Okay, I'm off to clean out a closet and secretary in the guest room, and pretend I have everything completely under control. (cough, cough) Did I just make you feel a lot better about your day? 😉
*If a post is sponsored or a product was provided at no charge, it will be stated in post. Some links may be affiliate links and as an Amazon Associate, I may earn from qualifying purchases. *