Welcome to the 451st Metamorphosis Monday!
Martha had always dreamed of a new laundry room. Her existing laundry was cramped and tiny. Space was super tight so her cookbooks had to go across the very top of the cabinets where they were difficult to reach when needed.
Martha said, "Our washer and dryer used to be in a tiny little spot with two double cabinets and one single cabinet. I couldn't even stand in front of my dryer to put things in and take them out." You can see what Martha was talking about in the photo below–not much room in front of the washer and dryer in this tiny laundry space.
Martha came up with the perfect solution to her too-small laundry room…turning a little-used workshop into a fabulous laundry space.
Martha said,"This room was a 10 x 8 foot workshop that was accessed from our garage. It was rough-looking and the only light was a light bulb in the ceiling with a string to turn it off and on. I got the idea to close up that workshop from the garage and cut a door from the house into it."
Work got under way on Martha's new laundry room. Martha said, "We were lucky it was on the same level as the house. I was even so fortunate to find the same tile we had put down seven years earlier in the kitchen! Whew!
I had a board stretched across all the cabinets on the wall and put baskets up there that hold flameless candles, seasonal votive holders, straws and picks, kitchen manuals, and much more."
The husband of a friend of Martha's is a master woodworker and he built all the cabinets and shelving.
Look at all that space!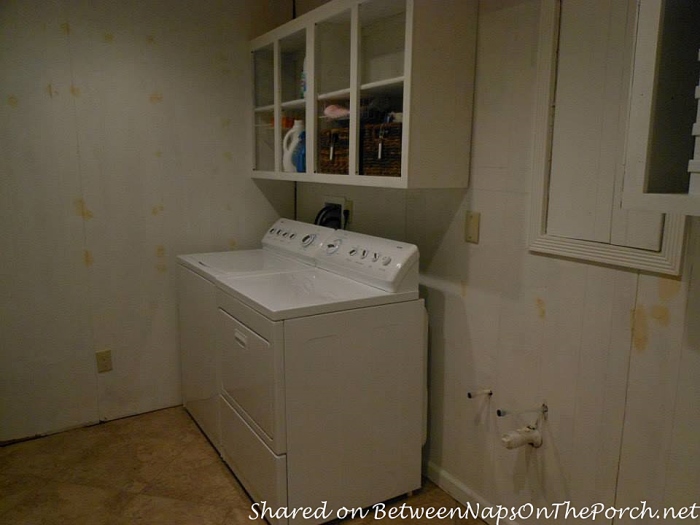 Martha chose a beautiful granite countertop for her new laundry room. Martha said, "We used the cabinets that had been in the old laundry nook and our cabinet-maker made two more double base cabinets. We were able to put in a sink and have a small counter beside it."
Let's check out the "After" photos for this laundry room update!
AFTER
Martha said, "I dreamed of this laundry room for 3 years. I drew it off to scale on paper and had it all planned out to the last detail of what I was going to put on each shelf. It was so thrilling to see my drawing come to life! "
Wow! What a beautiful space!
Love the soft green color Martha chose for the walls. Let's check out all the great storage that's been added!
Martha added floor to ceiling cabinets down one whole wall of her new laundry room!
In the cabinets above the washer and dryer, there's plenty of space for the essentials.
Those hard-to-reach cookbooks are now easily accessible!
Martha said, "I wanted four, 30″ wide floor to ceiling cabinets to hold all our household items like batteries, hooks, flashlights, light bulbs, small tools, iron, ironing board, 2 vacuum cleaners, all cleaning supplies, candles and candle holders, and some dishes." Love all this organization!
Martha came up with an ingenious idea for storing all the recipes she had accumulated over the years. Everything is sorted by the food type/category so now she can go right to the recipe she needs.
The renovation created space for a great food pantry, too. Love the pull out drawers!
There's even room for storing candles, candle holders and centerpieces for entertaining.
Martha also included a place for storing appliances in her new laundry room. Before they had been stored down under a cabinet where they were hard to reach and back-breaking to lift out.
There's lots of space for trays and cleaning supplies!
And of course dish storage…we must have dish storage! 🙂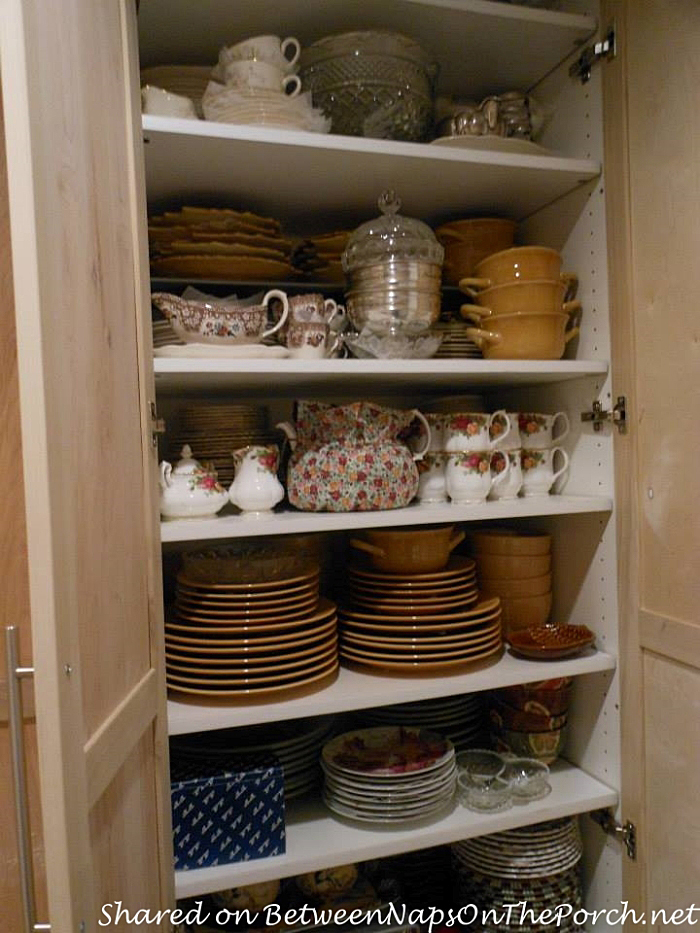 What a beautiful Laundry Room transformation! I so badly need to do this in my laundry room…so much inspiration! Thanks so much to Martha for allowing me to share this wonderful laundry room transformation with you! This really makes me want to completely renovate my laundry room!
Looking forward to all the great Before and Afters linked for this week's Metamorphosis Monday!
Pssst: I post almost daily to Instagram. Follow Between Naps on the Porch on Instagram here: Between Naps On The Porch.
Metamorphosis Monday
Metamorphosis Monday is a party that's all about Before and Afters. If you are participating in Met Monday, please link up using the "permalink" to your MM post and not your general blog address.
To get your permalink, click on your post name, then just copy and paste the address that shows up in the address bar at the top of your blog, into the "url" box for InLinkz.
In order to link up, you'll need to include a link in your MM post back to the party so the other participants will have an opportunity to receive visits from your wonderful blog readers.
Please observe these few rules:
Please link up Before and After posts that are home, gardening, decorating, crafting, painting, sewing, cooking, fashion or DIY related.
Be sure to include a link back to the party in your post, so your readers will be able to find and visit the other bloggers who are participating.
Do not link up to the party if you're doing so to promote or sell a product.
To those who are linking up: If you notice a shop or store linking up to sell products (yes, unfortunately that does happen) please let me know so I can remove their link from the party. No one wants to click a link expecting a Before and After, only to find a spam link to an online business/store.
*If a post is sponsored or a product was provided at no charge, it will be stated in post. Some links may be affiliate links and as an Amazon Associate, I may earn from qualifying purchases. *