It's snowing a teensy bit in Georgia today, nothing too serious although I do see the cars crawling very slowly on the road back behind my home. Think I'll stay home and not get out in it.
I wanted to give you a little update on the dovecote in the garden. I'm afraid things have gone from bad to worse.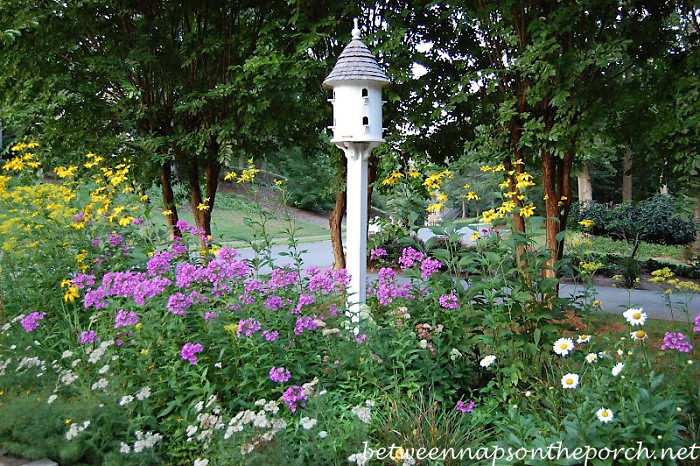 Remember this?
I'm pretty sure it was caused by a woodpecker because the folks where I buy my birdseed said this is how the holes they create typically look. I called the company that is currently making Lazy Hill birdhouses and feeders and unfortunately, they now make the roof out of redwood, not cedar. I didn't order any shingles since I'm hoping I can find some thin cedar that can be cut into tiny shingles. Know anyone who does that kind of work? I don't want to use redwood to repair the roof since I'm worried it won't look or age the same as the cedar.
So, while I was stewing about that and trying to figure out what to do…
Whatever made the hole, came back!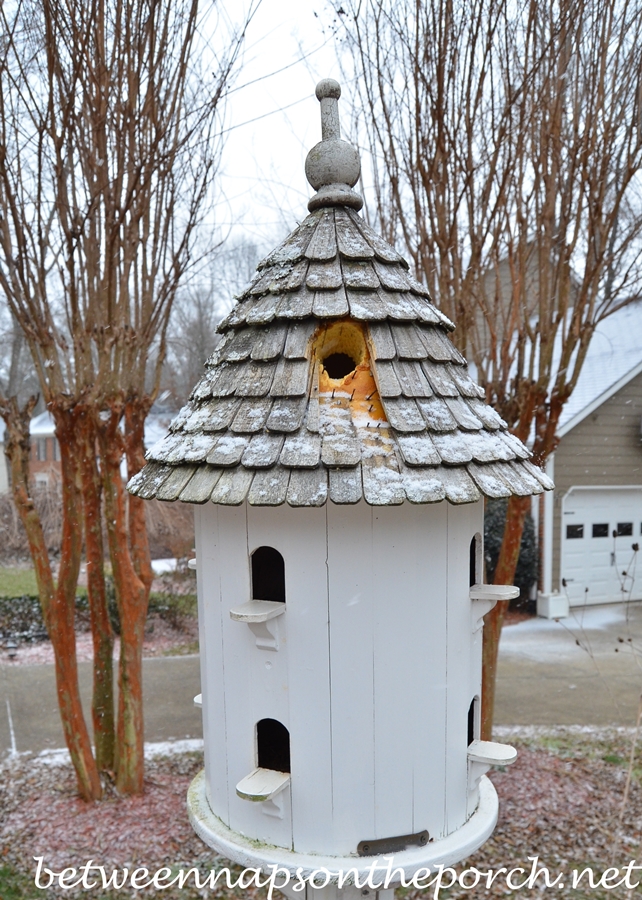 Now the hole goes alllll the way through. 🙁 Before something made the hole bigger, I had spent about 30 minutes one day trying to unscrew the screws that hold it to the post. I had planned to remove it to see if I could repair it before spring nesting gets going.
It required an Allen wrench and it was killing my hand because the screws were sooo long. I had them about halfway out and decided to stop for the day to give my hand a rest.
A couple of days later when I went back out to work on it, that's when I noticed the hole now goes all the way through. The pole was leaning a little that day so I gently pushed on it and out flew a bluebird. He didn't come out of the hole, he came out of one of the little nesting doorways. Apparently, the bluebirds that nest in the dovecote several times each spring are also using it as a roosting spot for this cold, cold winter we're having.
So I'm not sure what to do now. I don't want to remove it and take away their roosting spot. They are roosting in a different area of the dovecote, not directly under the hole. I'm afraid they will go straight from roosting to nesting this spring, so not sure how I'll be able to repair it now…unless I can repair it in place on the pole. Any ideas?
Maybe I can just spray some foam insulation into the hole, for now, to prevent it from raining inside and rotting the inside out until the upcoming nesting season is over, then I can do something about it then.
In the meantime, I decided to do something with these daffodil bulbs I purchased in early fall and never got into the ground. I was a little shocked when I took this photo and noticed I paid $24.98 for them!!! I remember just tossing them into my buggy at the store when I was purchasing mulch and a bunch of other yard stuff. I'm not sure I would have bought them if I had noticed the price.
I just Googled and the pricing online for bulbs is even worse…around $50 for 100, so I guess I didn't too badly. Makes me feel a little better about that price.
I have two large planters I purchased this past summer.
Ever since I added boxwood topiaries in large containers outside my front door, I've become slightly obsessed with the look of a simple boxwood in a planter. So simple yet so pretty and elegant.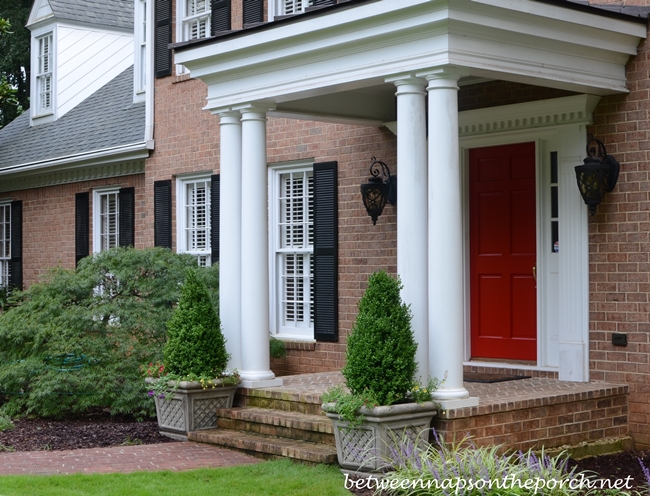 I was planning on doing something like this with the two large clay planters I purchased.
Since I never got around to filling them with boxwoods, I decided to save my poor daffodil bulbs from going to waste and plant them in the large planters.
You can see the bulbs are just starting to sprout. Sprout is probably not the correct word, but you know what I mean.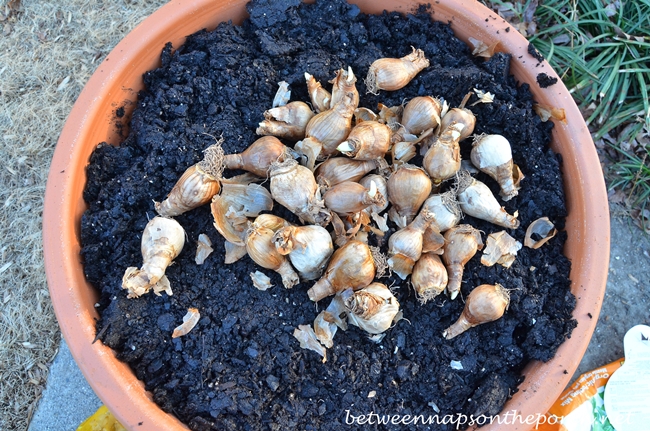 I positioned them where I thought I wanted them and then dug a hole for each. After I planted them, I sprinkled a little bulb fertilizer over them. Afterwards, I actually took a moment to read the bulb-fertilizer package and realized I was supposed to mix the bulb fertilizer down into the dirt. Uh, oh. That's me…dive right in, read instructions later. This gave me an idea for a better way to plant the second container. I'm slow but I do catch on. 😉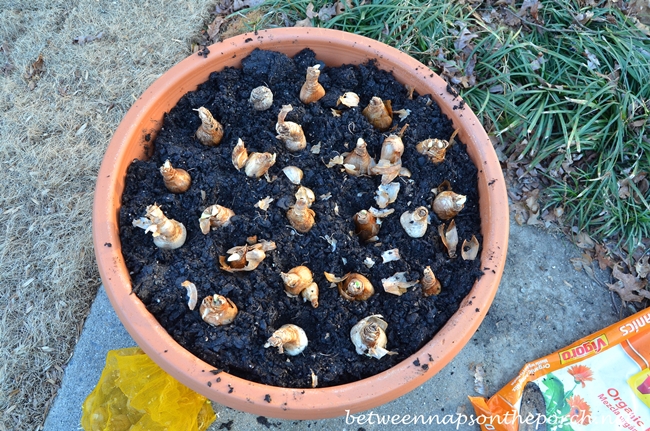 This time I put the dirt in and sprinkled in a little bulb food. Actually, after I took this photo, I decided the dirt was a bit low and added more in along with more bulb food.
I placed the bulbs in and covered them with dirt. I'll let you know later if one pot of daffodils does better than the other. Will be interesting to see.
Well, since I've been creating this post, it now looks like this outside. There's a walkway under there somewhere.
Not used to seeing the front porch like this. Snow is so pretty…if it just wasn't so cold!
Have you seen this…someone posted it on Instagram the other day and it made me laugh because it's sooooo true! 🙂 You say snow around here and everyone runs to the grocery store for milk and bread like we'll be snowed in for years.
The birds are loving the heated bird bath.
I change the water in it every other day because they hang out there so much. They almost like it more than the food!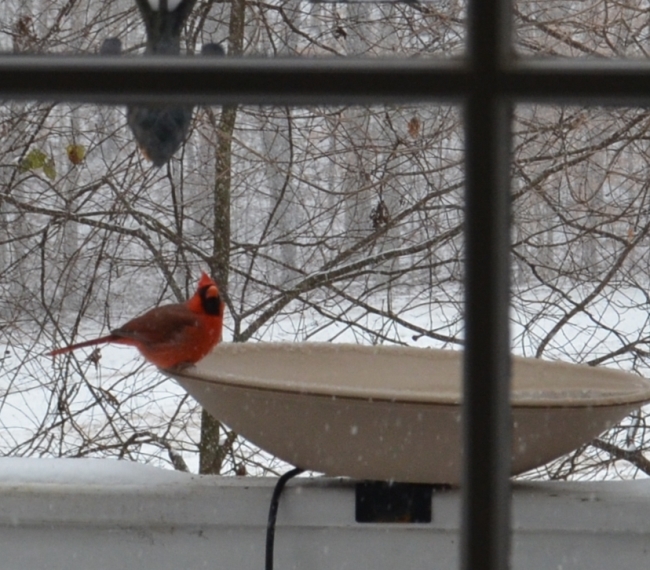 Hope you are as happy today as a Cardinal on a heated bird bath in the snow! 🙂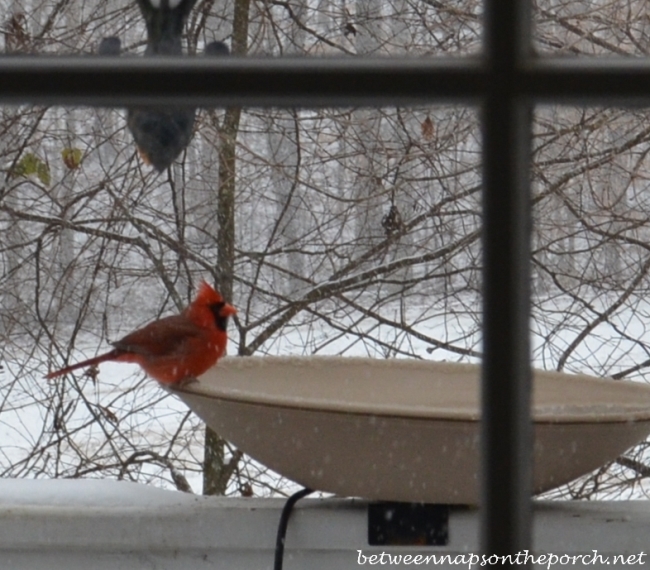 *If a post is sponsored or a product was provided at no charge, it will be stated in post. Some links may be affiliate links and as an Amazon Associate, I may earn from qualifying purchases. *