Welcome to the 442nd Metamorphosis Monday!
When I had cute Eastern Phoebe birds nesting in the corner of my front porch…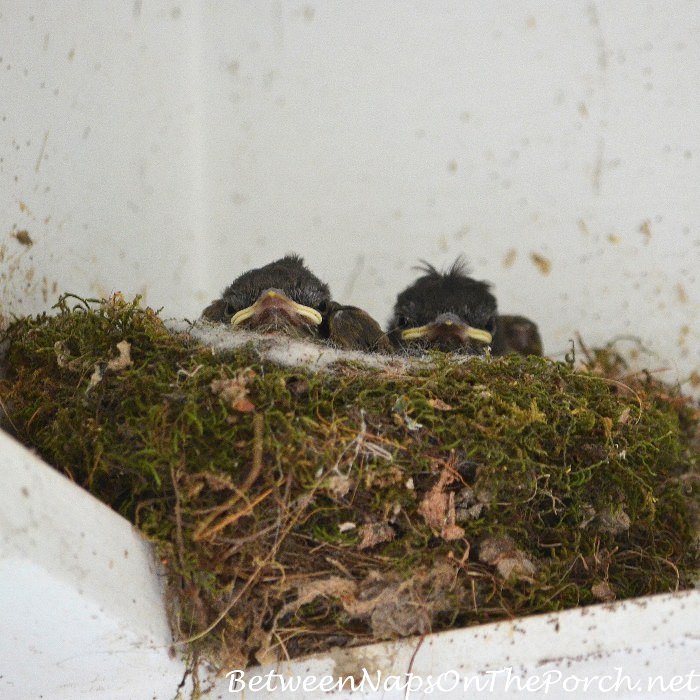 …I was offering fresh mealworms a couple of times a day via this pitiful setup. lol The mom and dad Phoebe would get super excited each time I brought out mealworms and placed them in the bowl. Occasionally, I would look out the window and see them perched on the top handle of the ladder, checking the bowl to see if the mealworm fairy had been by.
At the same time the Eastern Phoebes were nesting in one corner of the front porch, I also had a wren nesting in the copper-roof dovecote. She was also enjoying the mealworms I was putting out, feeding them to her babies in the dovecote. This photo is from last year right after I had planted all the boxwood shrubs. They have grown so much this past year!
Though the wrens and phoebes have all flown the nests now, I noticed this week that I have a family of bluebirds nesting in another dovecote in my front yard. Sadly my garden no longer looks like this, I need to totally replant this area this fall. This dovecote is available here: Dovecote.
With all the nesting activity that's going on in the front yard each year, you may remember I recently ordered this Lazy Hill Farm bird feeder from Good Directions, via Amazon. It's not the kind of feeder I would typically order since it's definitely not squirrel proof, but it looked perfect for offering mealworms to nesting birds. When birds become aware that you're putting out mealworms, they will start to watch for you and the worms go very quickly each time you put them out. So a feeder like this is great for those type treats, the ones that go quickly.
(Pssst: If you're in need of a squirrel proof feeder, THIS ONE is my absolute favorite. I have three and absolutely love them–and they work!)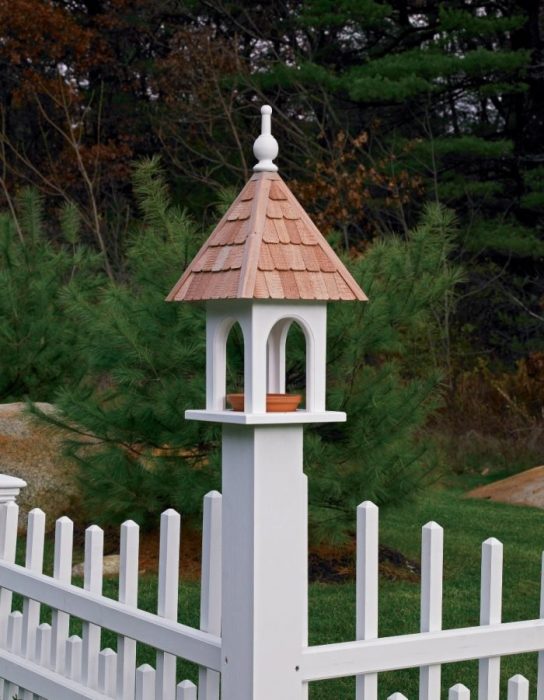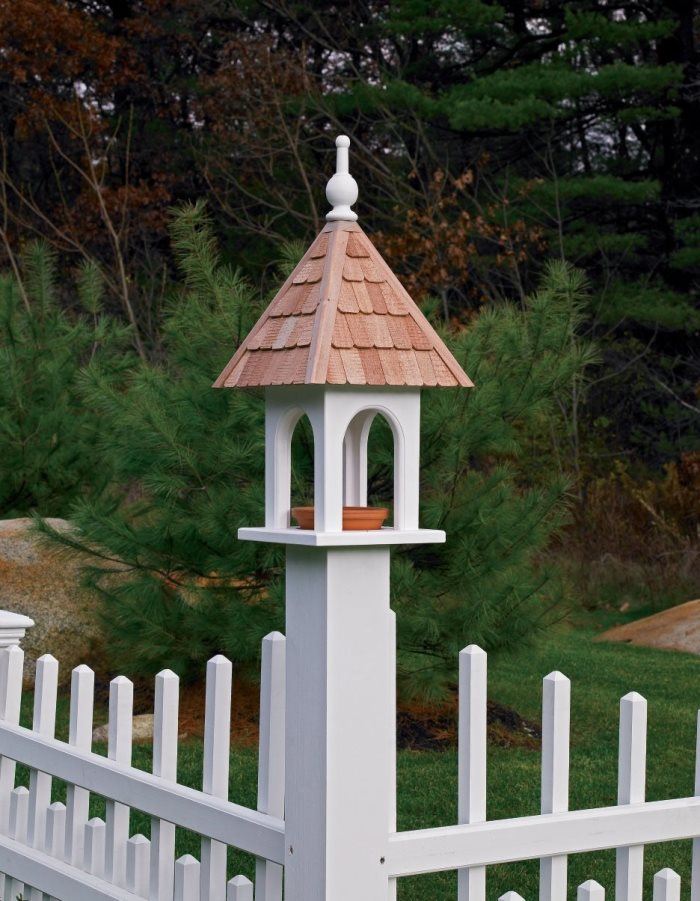 Unfortunately, Amazon sent this instead–not helpful for feeding mealworms to phoebes and wrens! Since I didn't see another feeder online, I contacted Good Directions and ordered directly from them.
I had gotten to know them quite well back when I purchased shingles to repair a hole in the roof of my older dovecote…
…a hole I'm pretty sure was made by one of the two Pileated woodpeckers that frequents my yard for the suet I put out. (Read all about that repair here: How to Repair Woodpecker Damaged Roof of Lazy Hill Dovecote.)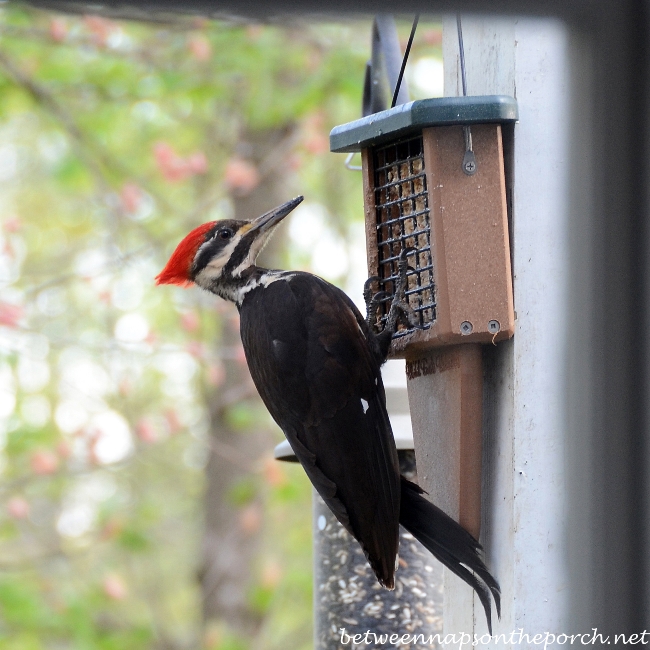 I had a hard time deciding where exactly to place the new feeder in the front yard. Birding websites all say to not place feeders too close to the nests because it can draw predators or other birds to the nest. I had placed the ladder just on the other side of the long curvy line of shrubs. That was probably a little too close to the dove cote where the wrens were nesting and the porch where the phoebes were nesting.
I got out the post hole diggers on Saturday and decided to install the new feeder in another island further up and away from the house. You can see where I placed it in relation to the house in this photo below. It's close to the spot where I used to have an inexpensive bird house that rotted and fell completely apart after only 2-3 years. Do you see the new feeder there on the right in the photo below?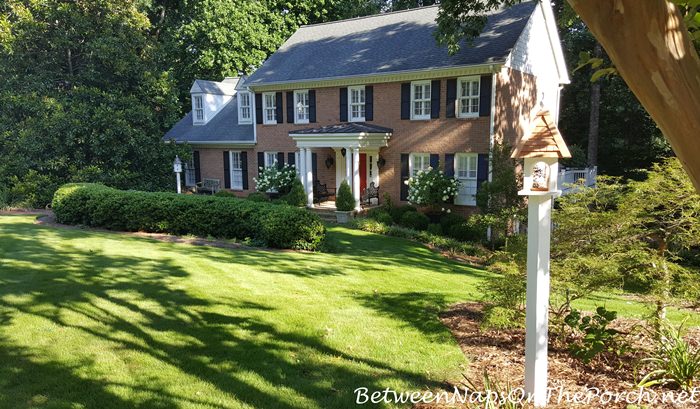 I should have taken a photo with all three houses/feeders in the picture. The other dovecote bird house, the one where the bluebirds are currently nesting, is on the opposite side of the yard. It's almost directly across from the new feeder, just across the yard on the other side of the driveway.
This feeder came with a tiny, little clay saucer, but I learned long ago that clay saucers do not work for feeding live mealworms. I'm sure they are fine for regular treats, but mealworms can crawl right up the sides and escape a clay saucer. So yesterday afternoon I drove over to Home Depot to see if they had a glazed saucer in the size I needed.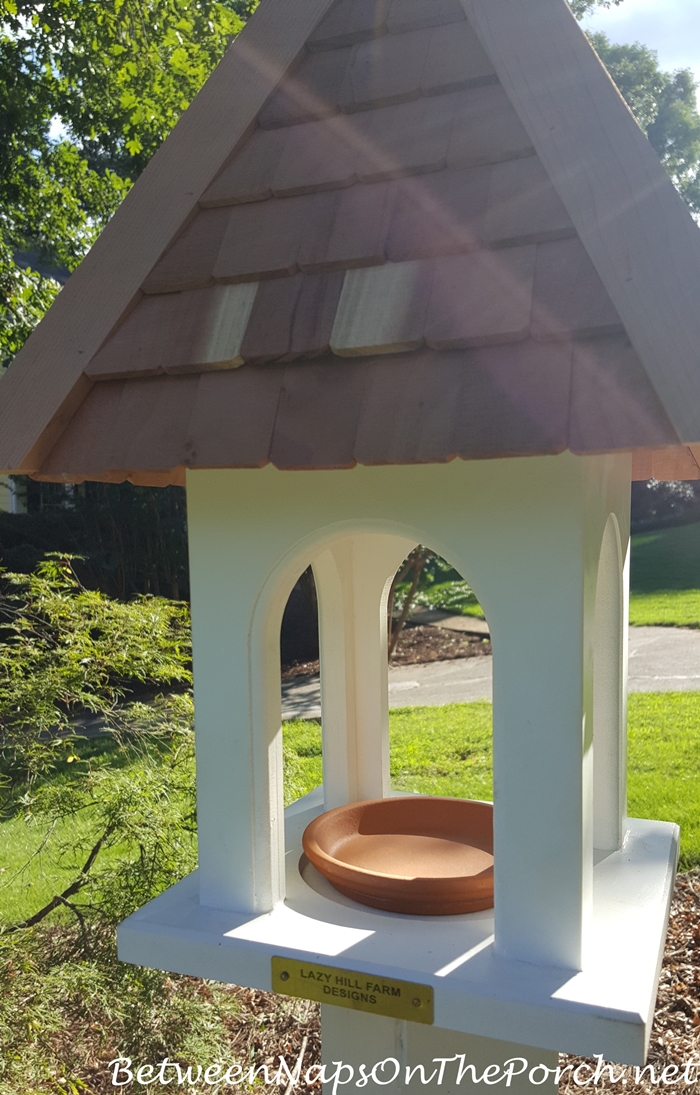 They did! I actually bought it in two sizes: a little saucer that was closer to the size of the clay saucer that came with the house, and this larger one that you see below. I'm so happy the larger one fits through the openings because a bigger saucer gives more space for birds to perch. Usually when I put out mealworms, several birds will come to feed, so more perching space is a good thing!
This saucer fits so perfectly, I think I'll buy a couple more today so I'll have a few spares in case one gets broken. It came in four different colors, I really love the green.
Remember the two standard Limelight Hydrangeas that I shared recently, the ones I have in planters in front of my house?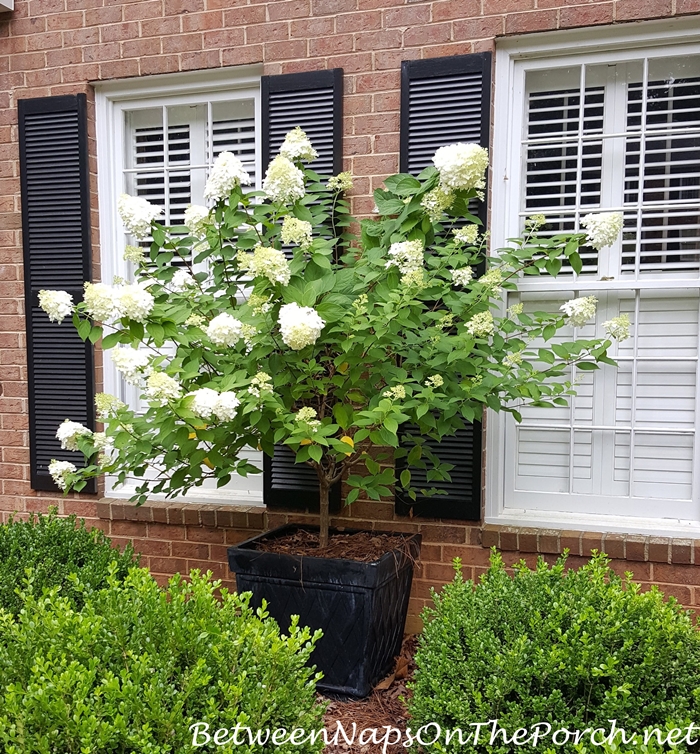 They are outdoing themselves! They are even more amazing now as more blossoms have opened up. Love, love, love these Limelight Hydrangeas, definitely a long blooming plant that will reward you with gorgeous blossoms!
So, that's my metamorphosis for this week, went from this…
…to this. It wouldn't have taken much for an improvement, right?! lol I need to find a way to let the bluebirds know it's there. I put worms out in a regular bowl the day I installed it and they were gone an hour later, so someone has found the feeder, just not sure who.
Lazy Hill Farm houses/feeders do not come with a post, however they do sell them. I always just buy a pressure-treated 4 x 4 post, then prime and paint it with exterior paint. That works great and the post will last forever, just needs a new coat of paint every 5 years or so to stay looking fresh.
I recommend buying an 8 foot post because you need to sink the post pretty deep into the ground. I purchased an 8 ft post for the dovecote in the garden and the one that's down near the house. I ended up cutting a few inches off to get it to the height I wanted.
The new feeder is on a post that I already had. It's a 6 foot post and that's a bit shorter than I would have preferred, but it should work fine as a feeder for the mealworms. Also, I can easily reach the bowl to fill it on this size post. I definitely wouldn't want to put a house on it, though…probably a little too low for that.
If you're looking for an accent piece for your garden, think about adding a bird house or bird feeder. They add so much ambience to the garden, and even better, they bring beautiful bird song to your yard. I live for that in my garden! It can lift your whole mood, such a gift!
What birds are you seeing in your yard this summer? Do you have any of the Lazy Hill Farm feeders or houses in your yard? I will never forget the garden tour I went on a few summers ago when I saw so many beautiful houses and feeders in one yard! There must have been 6 or 7 in that one backyard. It was a big yard!
Hey, I just now realized that one of the houses they had in their garden, the one on the far right, is the same bird house I was sent accidentally. lol Maybe I should order one for my backyard, it really is a pretty house! You'll find all these birdhouses/feeders below available here: Birdhouse and Feeders, Beautiful Accents for the Garden. You'll also find their dovecotes at that link, too. The dovecotes are my favorite, and so many birds love to nest in them!
Happy summer to you!
Pssst: I post almost daily to Instagram. Follow Between Naps on the Porch on Instagram here: Between Naps On The Porch.
Looking forward to all the great Before and Afters linked for this week's Metamorphosis Monday!
Metamorphosis Monday
Metamorphosis Monday is a party that's all about Before and Afters. If you are participating in Met Monday, please link up using the "permalink" to your MM post and not your general blog address.
To get your permalink, click on your post name, then just copy and paste the address that shows up in the address bar at the top of your blog, into the "url" box for InLinkz.
In order to link up, you'll need to include a link in your MM post back to the party so the other participants will have an opportunity to receive visits from your wonderful blog readers.
Please observe these few rules:
Please link up Before and After posts that are home, gardening, decorating, crafting, painting, sewing, cooking, fashion or DIY related.
Be sure to include a link back to the party in your post, so your readers will be able to find and visit the other bloggers who are participating.
Do not link up to the party if you're doing so to promote or sell a product.
To those who are linking up: If you notice a shop or store linking up to sell products (yes, unfortunately that does happen) please let me know so I can remove their link from the party. No one wants to click a link expecting a Before and After, only to find a spam link to an online business/store.
*If a post is sponsored or a product was provided at no charge, it will be stated in post. Some links may be affiliate links and as an Amazon Associate, I may earn from qualifying purchases. *