Welcome to the 460th Tablescape Thursday!
Good Morning! Hope your day is going grand!
Yesterday I put together the second dish cabinet with drawers, can't wait to share it with you! If you read yesterday's post, you know it may be a while before I'll be able to find the other cabinets I need since they seem to be sold out everywhere. I promise to share the storage I have so far, real soon.
Thanks for all your suggestions yesterday for other cabinet options. I truly do appreciate the time you took to share those. I like the style/design of these cabinets and would like all the cabinets to match, so I do need to stay with the brand/style I've purchased so far. I just need to find a company that has them in stock and uses someone other than UPS and FedEx to ship them since they are so heavy.
I've been communicating with a couple of people at Amazon including a manager, so hopefully when they have them in stock again, they can ship the four cabinets I still need at once via the same carrier that delivered the ones that didn't arrive damaged. Will keep you posted on that, as well.
Okay, enough about cabinets! lol I have something way more lovely to share today! Last week I shared Martha's whimsical table setting featuring the most adorable chicken dishes. If you missed that table setting, you'll find it here: A Breakfast Brunch with Friends.
Martha recently had a dinner for her Pastor and his wife. They had all been to Sorrento the year before so Martha went with a beautiful "lemon" theme for her table, a remembrance of that special trip to Italy.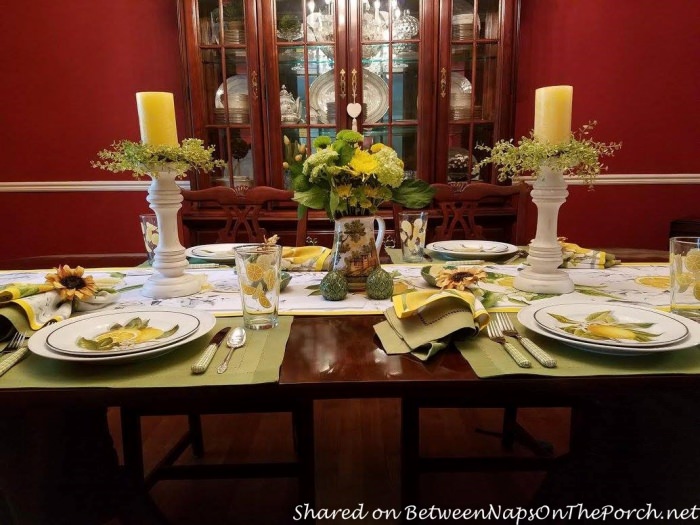 How gorgeous is this table! Oh my goodness, I love it!
Martha set her table with beautiful lemon plates from Williams-Sonoma. The pattern is Meyer Lemon. Unfortunately, they are no longer available, I think Meyer Lemon was a pattern WS carried last year. The beautiful table runner and napkins were also from Williams-Sonoma and you'll find it available here: Lemon Table Runner. I love the bees on the runner!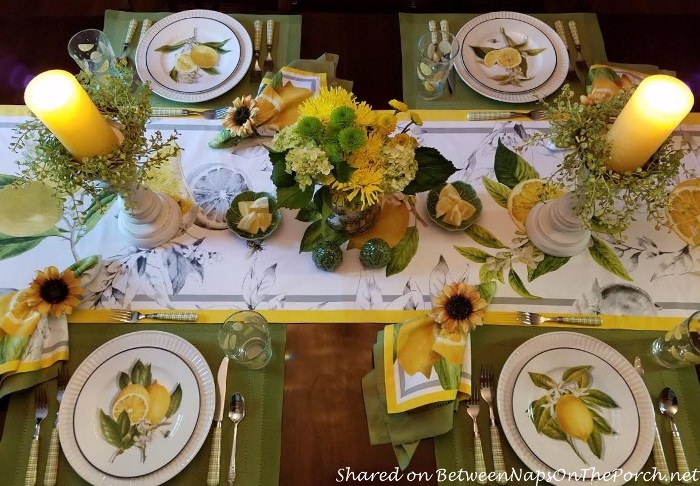 Such a pretty pattern! I'm kicking myself for not buying some of these last year!
I love the green plaid flatware Martha used in this setting. It's perfect with the lemon salad plates, the placemats and the and the napkins! You'll find the flatware available here: Green Plaid Flatware.
Martha placed a special, custom-made spoon at her Pastor's place setting. She had the spoon made here: Hand-Stamped Vintage Silverware. The spoon said, "You're my favorite" because that's what her pastor always tells each of his parishioners. I would love to have seen his face when he read that spoon. Such a thoughtful gift!
Each salad plate has a different lemony pattern/design.
So pretty and soo Sorrento!
Love the lemon napkins, those were from Williams-Sonoma, also. Oh, it's looks like those are still available! You'll find them here: Lemon Napkins. The green napkins and sunflower napkin rings were both from Pier 1. Not sure if these napkin rings are still available, but I found similar ones here: Sunflower Napkin Rings.
Martha paired the perfect glasses with her lemon-themed table setting. She found these cute lemon glasses at Dollar Tree. I have a set of these and absolutely love them!
For her centerpiece, Martha created a lovely floral arrangement in a beautiful pitcher she brought back from her trip to Sorrento. I love the scene on the pitcher…so pretty!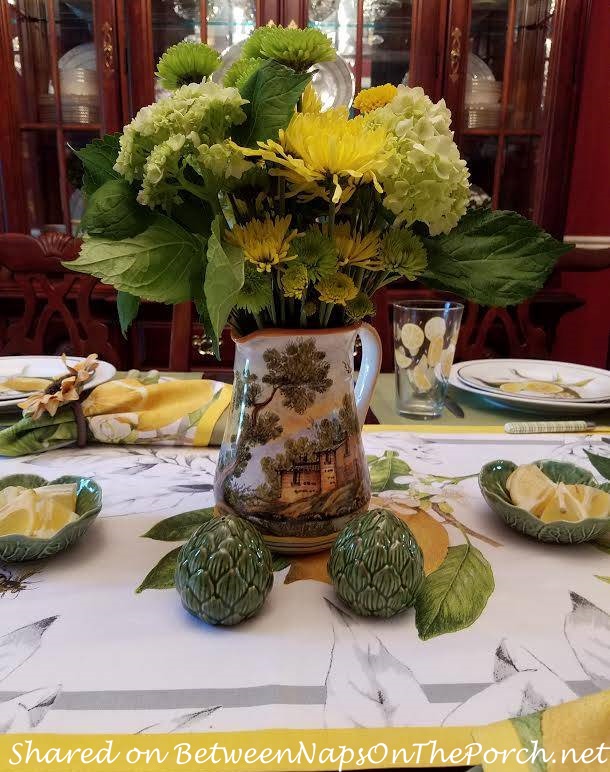 I love Martha's tall pillar candle holders! I used to use mine in tablescapes a lot but they've been tucked away in the bottom of a closet, so I tend to forget I even have them. Maybe with my revamped storage, I'll actually see and use some of those again. Tall candle holders add so much romance and drama to a table setting, I just love them! If you don't have any, check your nearest Hobby Lobby. HomeGoods also carries them sometimes.
Thanks so much to Martha for sharing this special "Supper in Sorrento" table setting. I know all her guests felt so special and so appreciated to dine at such a beautiful table!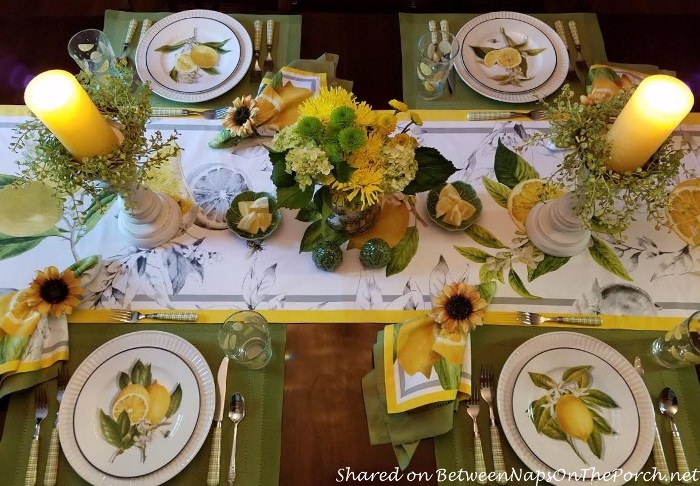 Pssst: I post almost daily to Instagram. Follow Between Naps on the Porch on Instagram here: Between Naps On The Porch.
Looking forward to all the tables linked for this week's Tablescape Thursday!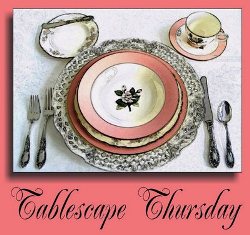 If you are participating in Tablescape Thursday, please be sure to add your permalink below, and not your general blog address.To get your permalink, click on your post name, then copy and paste the address showing in the address bar, into the "url" box when you link up.
You'll need to include a link in your post back to the party to link up and participate. That's so visitors to your blog will be able to find the party and the other Tablescape Thursday participants. Requiring a link back also prevents businesses and scammers from linking up to sell their products. (Yup, that really happens, unfortunately.)
Please Note: After 1 week, party links are still available to view by clicking on the blue button below.
*If a post is sponsored or a product was provided at no charge, it will be stated in post. Some links may be affiliate links and as an Amazon Associate, I may earn from qualifying purchases. *