I stopped by A Classy Flea today, hadn't been there in ages. Ready to do a little antiquing?
This would be great for a bit of 4th of July decorating? $42.95
If you would like to make your own flag, check out this tutorial I posted a while back: Make a Wood Flag for 4th of July.
A pretty set of dishes, I had never seen this pattern before. It was labeled, "American Atelier Porcelain, Rose Toile" and was $59 for the set.
I was tempted by these cherub vases. I think they would be adorable in a Valentine's Day table filled with roses. $14.95 each
Adorable Milk Glass Bunny, $16.95
Two Silverplate Candelabras, $78 for the pair
Painted chest, I didn't see a price on the chest, or else I just missed it.
Antique Oak Dresser, the label called it a "side by side." $299.95
This chest on chest was already sold so not sure of the price. A piece like this works great in a bedroom for clothing or in a dining room for table linens, napkin rings, etc… Really, it would be beautiful anywhere.
A new, settee with a pretty pagoda design fabric. $358. I could see this piece at the foot of a high, 4-poster bed. It feels perfect for a dressing area or bedroom to me.
They had two of these tall stands. I wonder what they were originally used for, perhaps to hold flowers? One was marked "sold," not sure if that included both or not. You just never know what you're going to find in A Classy Flea.
Today I even stumbled across a foosball table. It would be fun for a rec room or basement entertainment space. $225
I've listened to several of Peter Mayle's book on Audible. I like his dry wit, he can be very funny.
I was super tempted by this tall, deer, pillar candle holder. He was reduced down to $12. The little gold spots are actually small jewels/stones. He would make a great table centerpiece or would be pretty on a mantel at Christmastime.
They had a couple of these wonderful, handmade kitchen islands. Each was slightly different in design. I think they would be fabulous in any kitchen. $249
Know someone who loves to fish? These would be great for a lake or beach house.
1960's Maddock Fish Dishes, 6 plates, 1 platter, $68
I looked at these for a very long time. It was really, really hard to peel myself away from them. I already have Herend, Rothschild Bird plates, so I passed them up. They were just gorgeous, though!
They were labeled, Porcelain Bird Plates from West Germany, $26 for set of six." Such a great deal!
Remember those hilarious moose mugs I bought before Christmas, the ones that are replicas of those in the movie, A Christmas Vacation? (Moose Mugs are available here: Moose Mugs.)
Clark and Eddie are seen drinking from them in this funny scene in the movie. Tour the house in the movie here: Christmas Vacation House Tour.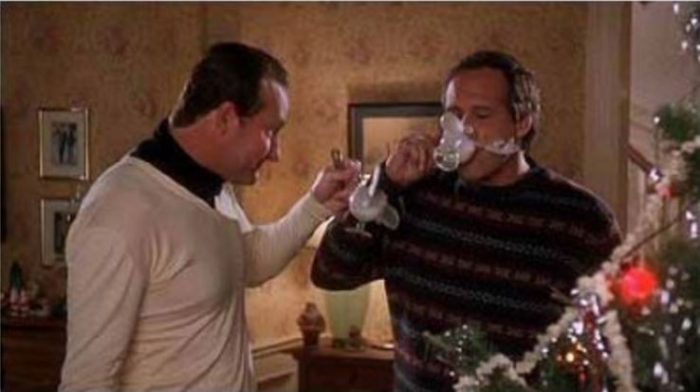 Well, I fully intended to set a "Christmas Vacation" table during the month of December, but it never happened. I ended up posting several other tables.
During the time I was thinking about the table setting and what I would use as a centerpiece, I was eyeing the Department 56 "Christmas Vacation House." I didn't buy it, but I did buy a Christmas Vacation Lit Cookie Jar that was really cute. I thought I'd use it in the table setting, along with the moose mugs. (Christmas Vacation House Lit Cookie Jar is available here: Christmas Vacation Cookie Jar.)
Then I started eyeing Margo and Todd's house. 🙂 At one Christmas Vacation Collectible's website, their house was $109.99. It's currently sold out. When I was looking around Christmas, it was sold out in most places then, too.
At the actual Department 56 website, the company who makes this house, it was listed at $110.00. I noticed it's out of stock there, too. I don't think they had them very long at Christmastime. These houses tend to go quickly around that time of year.
My favorite part about Todd and Margo's house is the Griswold Christmas tree crashing through the side window on their home. Remember in the movie when Clark goes outside and cuts a tree down in the front yard after their original Christmas tree goes up in flames?
My eyeballs practically fell out of my head in A Classy Flea, today! There it was and for only $10!
It was missing the light that fits in the back, but I have tons of those from all my other Dept. 56 houses. It also had a very small chip in the snow along the base at the front of the house. Do you see it there on the left? I can easily hide that with faux snow when it's in a centerpiece or on display. For $100 savings, I can deal with a small chip, so I did purchase this cute house.
I guess it will be next Christmas before I can create a Christmas Vacation table setting, something to look forward, too. lol
So, what would have come home with you today?
*If a post is sponsored or a product was provided at no charge, it will be stated in post. Some links may be affiliate links and as an Amazon Associate, I may earn from qualifying purchases. *