It's been ages since you and I went antiquing. Remember when we used to go on antiquing trips to A Classy Flea? It's a gorgeous sunny day here so let's go!
I'm going to be sharing a pretty bedroom makeover for Metamorphosis Monday and it features two beautiful cathedral mirrors, so this one caught my eye. It was $97.
Here's a unique way to make an Adirondack chair, using vintage skis for the back. $95
Vintage scale, love the green color. $49.95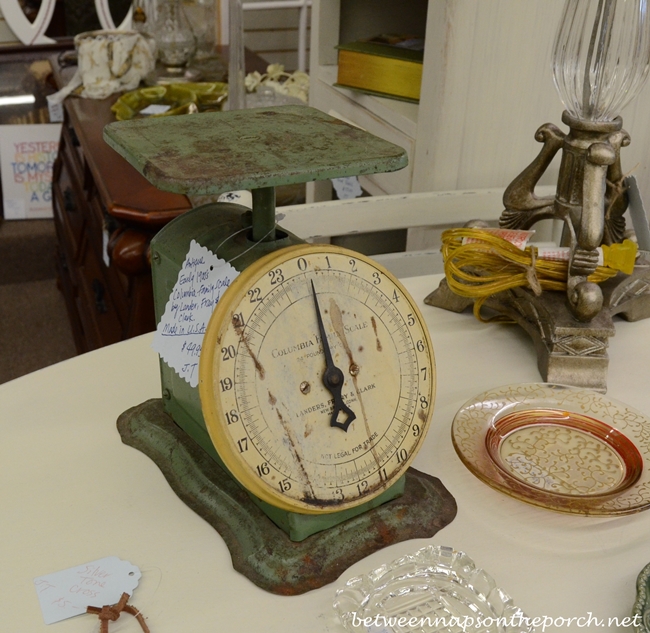 Small kitchen island, be great for a smaller kitchen or even a laundry room. $148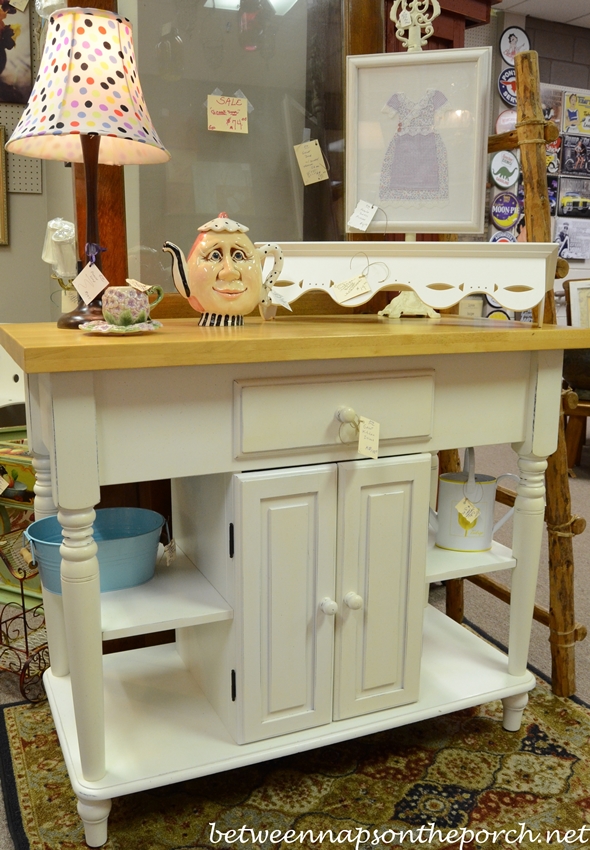 This teapot cracked me up. Doesn't he look like something out of Alice in Wonderland? He was priced at $8.50.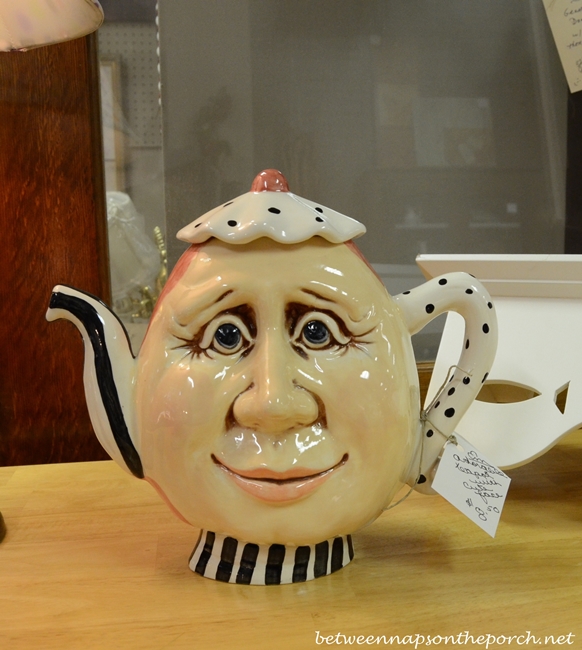 Lot of mirrors…
There were also a lot of painted pieces. Forgot to note the price on the sideboard.
Painted dresser: $269
Didn't see a price on the bed but the paint design was really pretty.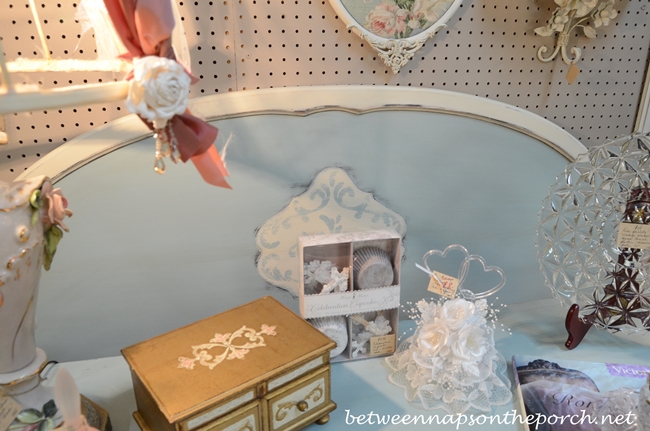 Pretty Lamp…I'd want to put a real shade on it though. I like the base a lot.
I loved the color of this wicker chair…so perfect for a screened porch or beach cottage: $29
Small beachy table, I just love blue and white together: $39
Pretty Cane Bed: $399
I love the look on the kitty's face in this picture. He has that, "someone just woke me up" look. $39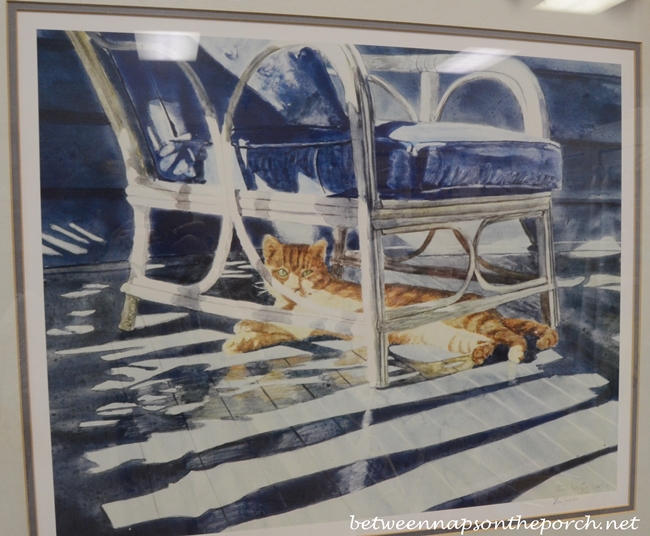 Chest painted "French Grey" $229
Vintage Galvanized Chicken Coop Nesting Boxes with Pull Down Roosts: $129 each
What would you do with these? I'm sure they could be made into something clever.
Potato Bin: $59.95
Painted Chest: $289
Potting bench made with a screen door $249
Rustic Garden Wreath…didn't get the price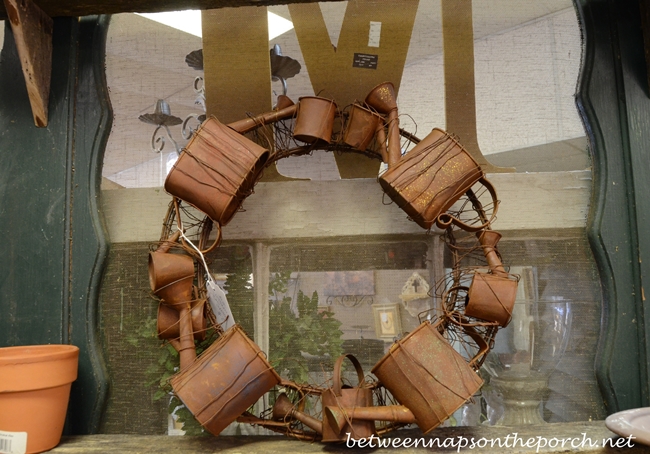 Mary Engelbreit "Meadow" Tea Pot: $28
4-Poster Rice-Carved Bed: $295
Highboy: $229.95
Cute Tulips Sign: $39
Rustic Bird House: $79
Vintage Fan: $28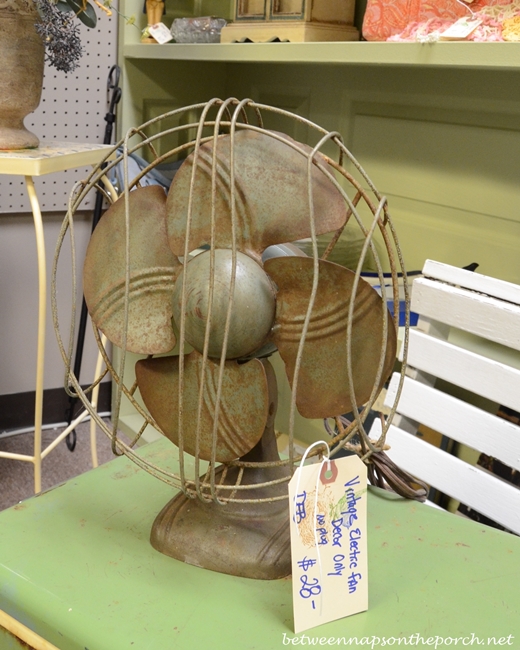 Floor Standing Terrarium: $59
So, did I buy anything? I did, I bought two things. I couldn't resist this massive book. It's 1,023 pages long and 3 inches thick. I flipped through it and it has some great pictures and lots of tutorials for just about everything you can imagine. It was $9.95.
And remember Mr. Teapot? Once I got home and started putting this post together, I was seriously regretting not getting him. He was only $8.50 and I started thinking about how cute he would look in a future Alice in Wonderland tablescape.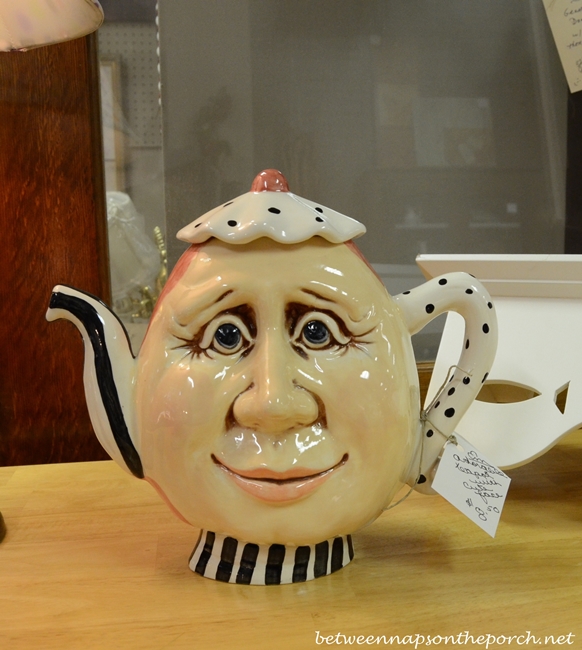 Plus, I kept envisioning him surround by books here in my office. So guess what I did?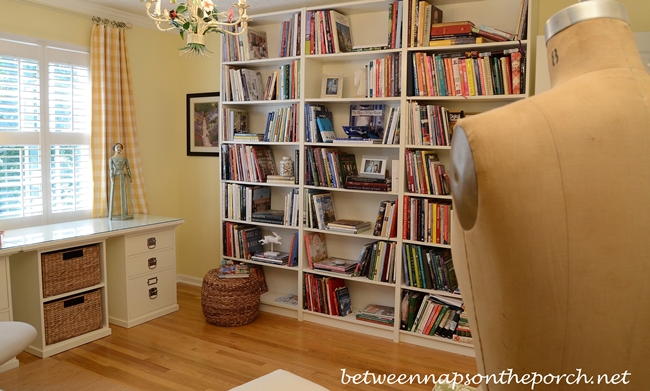 Yep, I went back for him! 🙂
I will no longer be working alone in the office now. I have a smiling friend nearby. Would you think it odd if I started talking to him while I work? 😉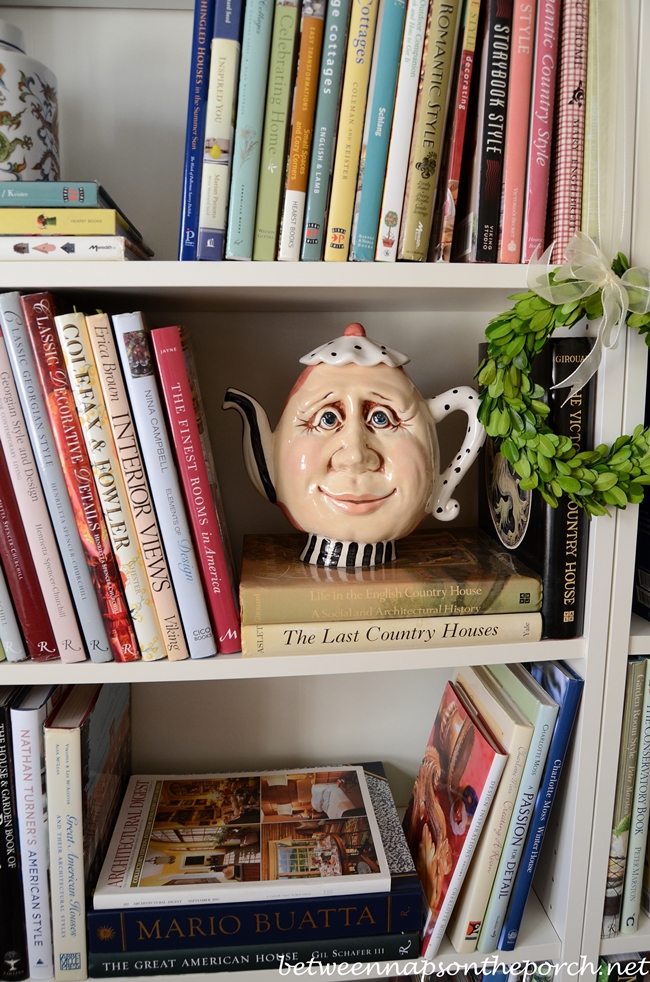 You may want to start worrying if I mention in a post that he's talking back! 😉
Thanks for going antiquing with me today. Hope you had as much fun as I did!
*If a post is sponsored or a product was provided at no charge, it will be stated in post. Some links may be affiliate links and as an Amazon Associate, I may earn from qualifying purchases. *