Welcome to the 277th Metamorphosis Monday!
Recently my friend, Bonnie, who lives in the beautiful state of Oregon, shared a few pics with me via e-mail of the wonderful view from her deck. I don't have any "Before" winter pics to share but the "After" is stunning!
Is this not gorgeous?! Spring has sprung in the state of Oregon and it's absolutely beautiful! The wisteria running along the fence in Bonnie's back yard is in full bloom!
And look who's perched atop the wisteria…do you see him?
It's the harbinger of spring, a big, happy robin showing off his pretty rust-colored belly.
Doesn't this look like something right out of a magazine?
Lewis's Woodpecker
This guy has been visiting Bonnie's back yard, too. Do you recognize him? I didn't, I've never seen a bird like this, ever
Bonnie looked him up and found out he's a Lewis's Woodpecker. Do you have these where you live? We definitely don't have them here in Georgia.
The Lewis's Woodpecker was named for Meriweather Lewis who first spotted him back in 1805. I read they used to be widespread in Oregon but are now mostly found in "the white oak-ponderosa pine belt east of Mt. Hood." I love how it looks like he's wearing a fluffy shawl across his shoulders and back.
Rose-breasted Grosbeak
While we're talking birds, I had my first ever sighting of a Rose-Breasted Grosbeak at my feeder this spring. I've only seen them in my bird identification books up until now.
Isn't he just beautiful?!
Here's how the markings look on their back.
Rose-breasted Grosbeaks have the prettiest snowy white belly and that showy rose-colored breast…a gorgeous bird! He looks kind of fierce here with his beak open but it's open because he was crunching on sunflower seeds. 🙂
This has been an exciting spring! Remember this guy…the Pileated Woodpecker who visited my suet feeder. He comes back almost every day now. I purchased a much longer suet feeder (not shown) so he has some place to rest his tail when he visits…Pileated Woodpeckers need that since they are such large birds.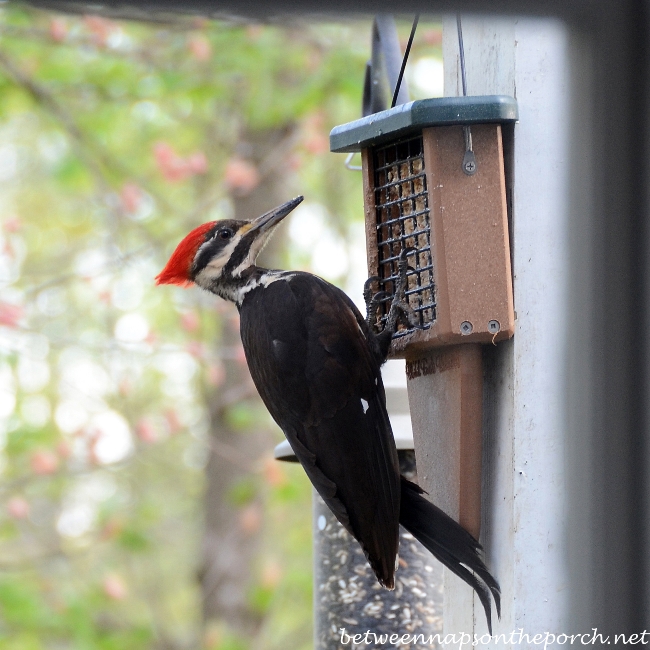 Have you had any first-time bird sightings in your area? Do you get as excited as I do the first time you see a bird you've only seen in books before? 🙂
Looking forward to all the Before and Afters linked for this Met Monday!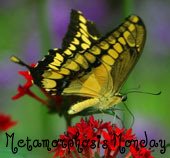 If you are participating in Metamorphosis Monday, you will need to link up the "permalink" to your MM post and not your general blog address. To get your permalink, click on your post name, then just copy and paste the address that shows up in the address bar at the top of your blog, into the "url" box for InLinkz.
In order to link up, you'll need to include a link in your MM post back to the party so the other participants will have an opportunity to receive visits from your wonderful blog readers.
Please observe these few rules:
Only link up Before and After posts that are home, gardening, crafting, painting, sewing, cooking, DIY related.
Do not link up if you're doing so to promote a website or product.
Do not link up a post that was just linked last week since a lot of readers will have already seen that post.


*If a post is sponsored or a product was provided at no charge, it will be stated in post. Some links may be affiliate links and as an Amazon Associate, I may earn from qualifying purchases. *