Just popping in this Sunday afternoon with a quick post…a couple of random things that are going on right now that I thought you might enjoy. You may remember last year I purchased a Limelight Hydrangea to go in front when I was landscaping the front yard with boxwood shrubs. I already had one of these tree form hydrangeas but decided I wanted one on each side of the front porch.
This photo is from last year right after I had placed it in a large planter in front.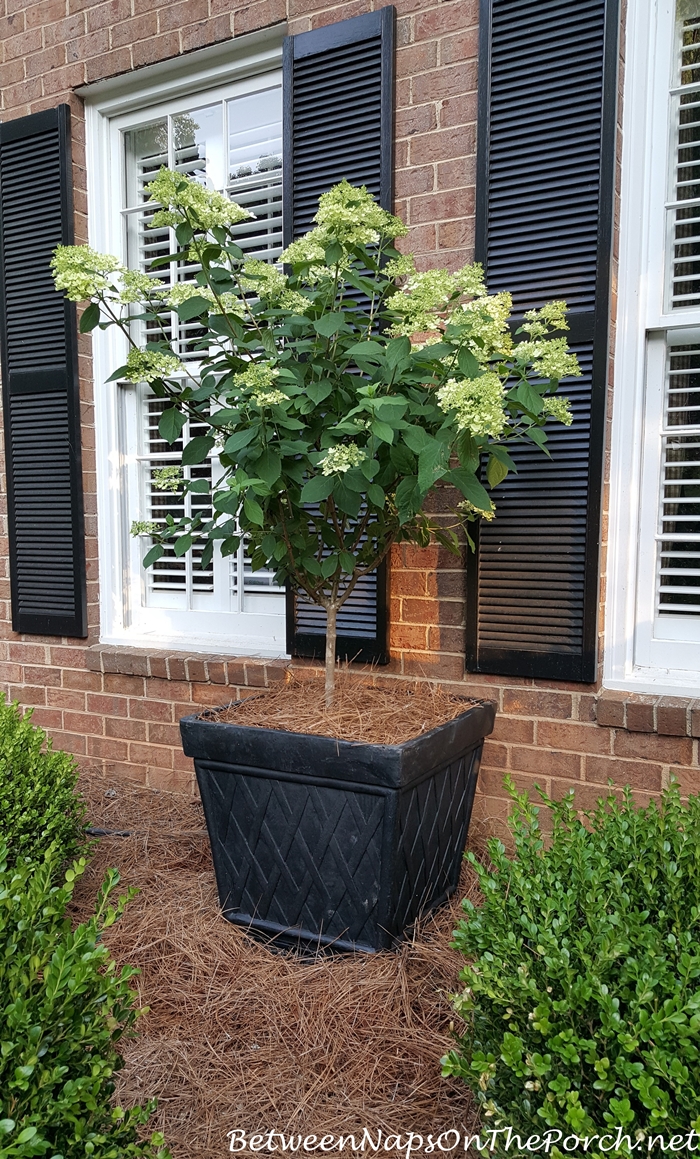 I really need to do a full post and show you how much the boxwood shrubs have grown! They put on so much new growth this spring!
Both of the Limelight Hydrangeas are visible in this photo from last year shortly after I planted them in large planters out front. Notice how the newly purchased Limelight Hydrangea on the left is blooming while the one I purchased the year before hadn't started yet. They were totally out of sync last year.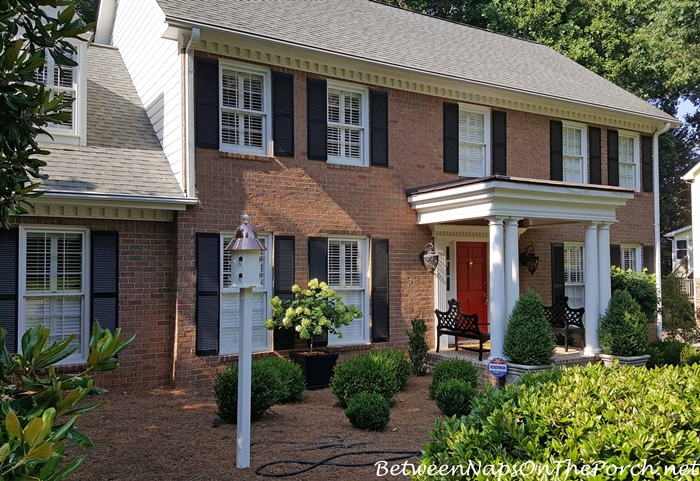 This year they are both blooming at the same time. Yay! I do love how they look in front between the windows. They add height and break up the same/same that's going on with the height of the boxwood shrubs. I like that they don't block out any light coming into the living and dining rooms and I love seeing their big, fluffy blossoms from inside those two rooms.
The Savannah Holly that's on the right corner (not visible in the photo) is doing very well, also. We've had such a great spring/summer with lots of wonderful rain!
A little close-up of the one on the left side of the house…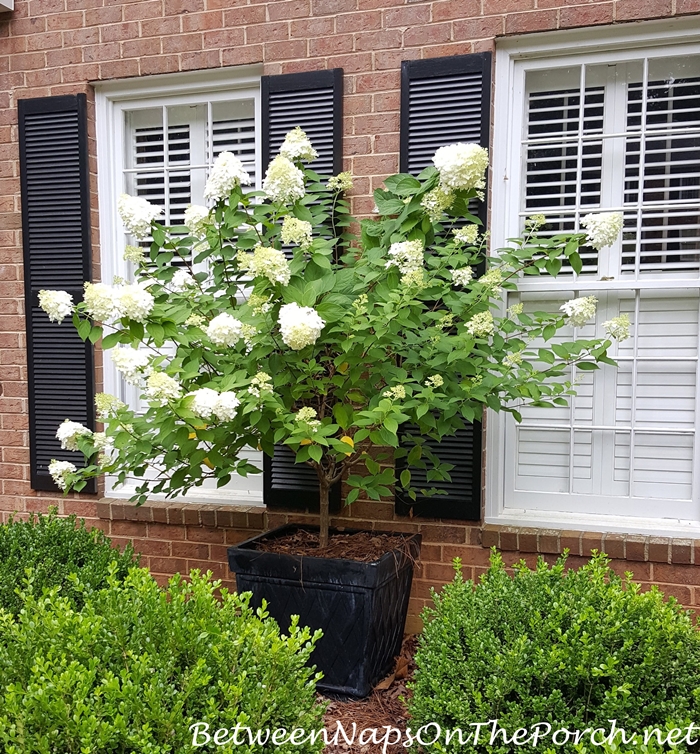 See that blue arrow on the left in the photo below? It's pointing to a little Eastern Phoebe bird that's perched atop the dovecote.
A wren has been nesting in one of the little openings/niches in the dovecote, despite the fact two Phoebe birds are taking turns sitting atop the finial of the dovecote every single day. Somehow they all get along. That's one of the Phoebe's in this photo below.
I've been putting out meal worms in a bowl and Mrs. Wren has been feeding them to her babies, despite having a Phoebe perched a few inches overhead. I think the wren babies may have fledged this morning, though.
So, why have two Phoebes been taking turns sitting atop the dovecote for the last few weeks?
Because this is going on under the roof of my front porch a few feet away. (I took this with a zoom lens, standing in my front door way.)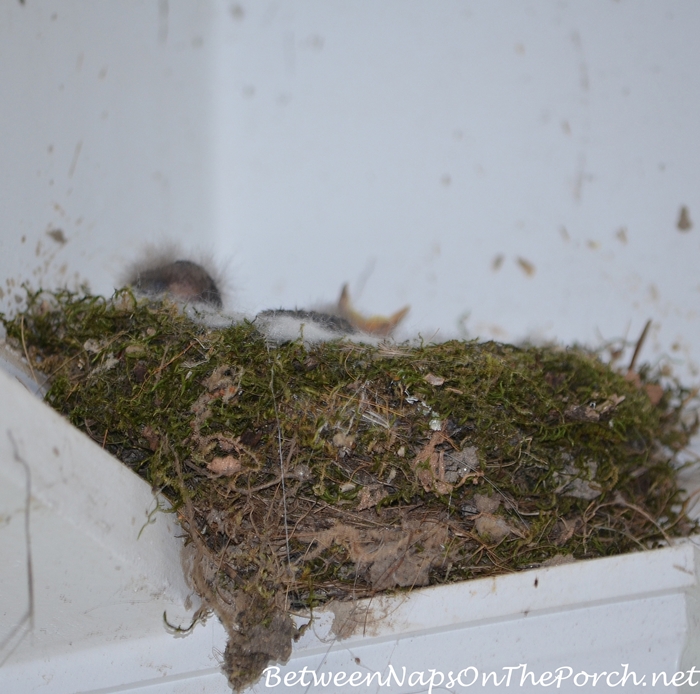 I think there are three babies in the nest, I've seen three heads popping up regularly. Update: I think I saw 4 little heads after I put this post up. That's a lot of mouths to feed!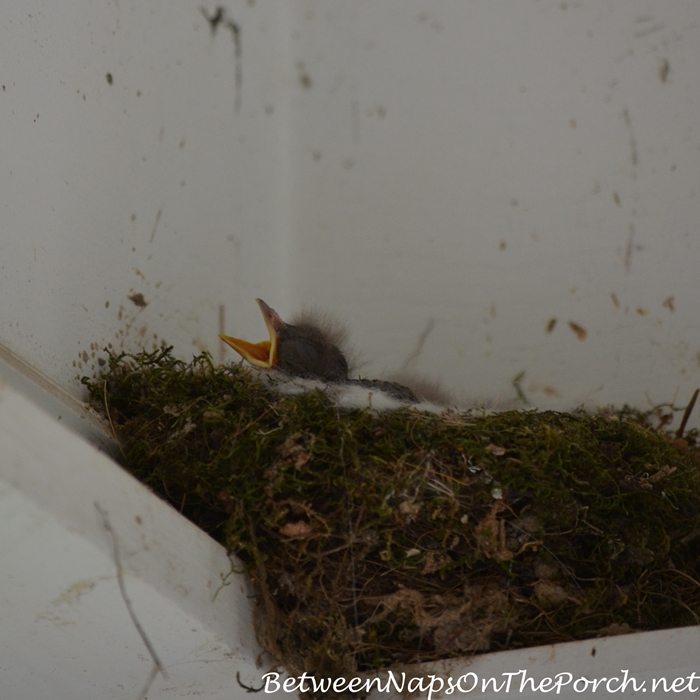 I can't tell which is Mom and which is Dad, but one Phoebe is almost always sitting atop the dovecote while the other is usually perched on the top of one of the two benches on the porch. I've read that both mom and dad feed the babies.
The Eastern Phoebe is a "fly-catcher," so as you might guess, they eat insects. I've been placing mealworms in a bowl for them a couple of times a day, too. Today I saw either Mom or Dad feeding the mealworms to the babies. I've read that it really helps birds to offer mealworms during the nesting season because the further the parents have to fly away from the nest to find food, the bigger the chance they will fall prey to something like a cat or a hawk or a car, etc…
I try to make mealworms available this time of year when so many birds are nesting. I've also had bluebirds coming every day to eat mealworms in the backyard. Earlier today a Dad brought two babies who literally got inside the bowl with the worms to eat. It was hilarious to see!
Unfortunately, I couldn't get a picture since it would have scared them off to open back the shutters to take a photo, but you can see a little slide show I filmed a few years back of bluebirds dining on mealworms in my backyard here: Bluebirds Dining on Mealworms.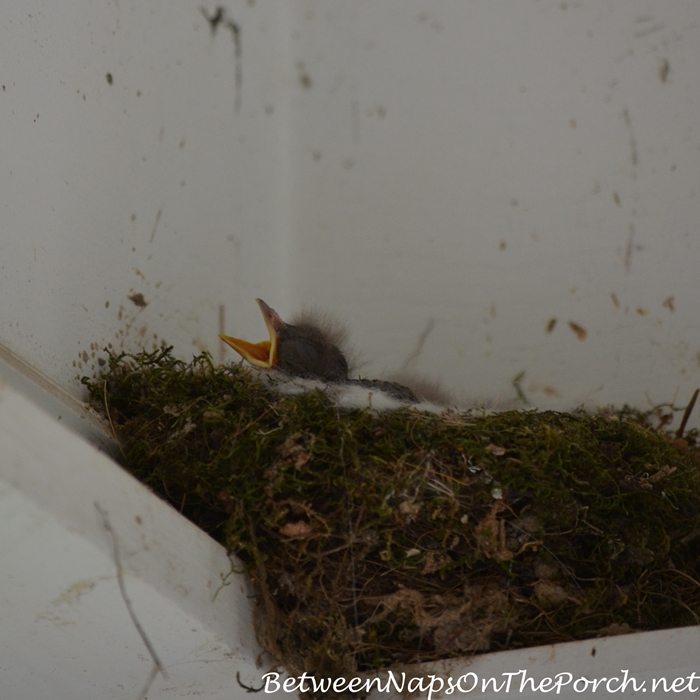 If interested, you'll find more information about the Eastern Phoebe here: Eastern Phoebe.
Pssst: I post almost daily to Instagram. Follow Between Naps on the Porch on Instagram here: Between Naps On The Porch.
*If a post is sponsored or a product was provided at no charge, it will be stated in post. Some links may be affiliate links and as an Amazon Associate, I may earn from qualifying purchases. *