Ever since I saw the movie, Waking Ned Divine, I've wanted to visit Ireland. Have you seen that movie? If you love comedies with endearing, quirky characters similar to those in Doc Martin, great scenery, beautiful Irish music and happy endings, you'll love it! It's one of my most favorite movies.
After seeing Waking Ned Divine, Ireland immediately went on the bucket list. I spent much of this past weekend scoping out all the available tours to Ireland. I also ordered this book: Ireland Travel Guide. If you're ever looking for a great travel guide, I can definitely recommend the DK Eyewitness Travel Guides. They are loaded with wonderful photos and tons of information. They are my favorite travel guide.
What I discovered during my research of Ireland tours is that there are a lot of very basic tours out there, tours where the accommodations are nice and the tour itself is good, but overall there was nothing that really stood out. The real deal-breaker for me is always the group size. The tours I found were usually large groups of 40-45 travelers. If you opted for a smaller group, the price of the tour always increased dramatically!
I loved my trip to Morocco in March, the group size was great (less than 16) and the places where we stayed were wonderful, but I'm ready for a completely different experience. This time I'd like something a bit more luxurious, something more like the dream trip I took to Kenya in Fall, 2015.
What Did I Find?
In my research this weekend, I came across a tour that checked all my boxes. It was luxury-oriented, reasonably priced and had that special something that made it stand out above all the rest.
Imagine touring beautiful historic sites during the day and returning in the evening to dine and sleep in a place as fascinating and historic as the sites you've been touring. Imagine spending each night sleeping in a beautiful castle or manor home, strolling the gardens, and enjoying a nightcap in front of the fire.
The tour I chose for my next trip is the Deluxe Irish Castle Tour by My Ireland Tours. There's no doubt in my mind that this trip was designed for hopeless romantics like me. This is the description for the tour.
These are the places this luxury tour of Ireland visits.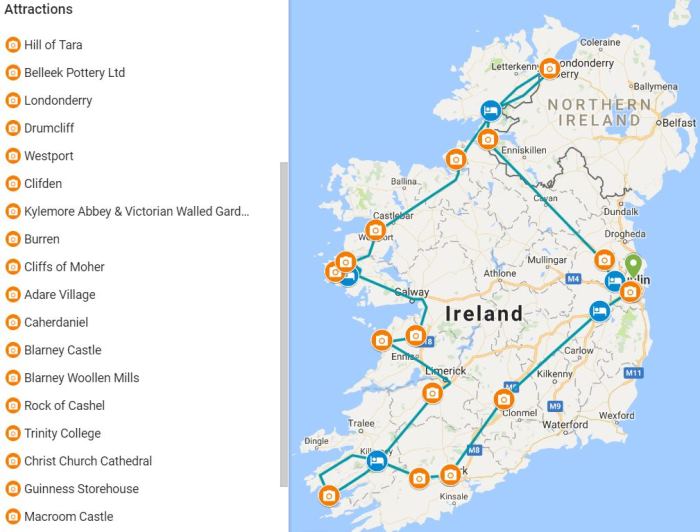 Now about those special accommodations, the first night after arriving in Dublin, we'll be staying in Dunboyne Castle Hotel.
On Monday and Tuesday evening, we'll be bunking down in the five-star Lough Eske Castle Hotel pictured below. It looks like something right out of a storybook, doesn't it?!
Wednesday and Thursday evening will be spent in Ballynahinch Castle. Be still my heart! You can't see it in this photo but there are majestic mountains behind the castle. I can't wait to walk through the gardens surrounding this enchanting place!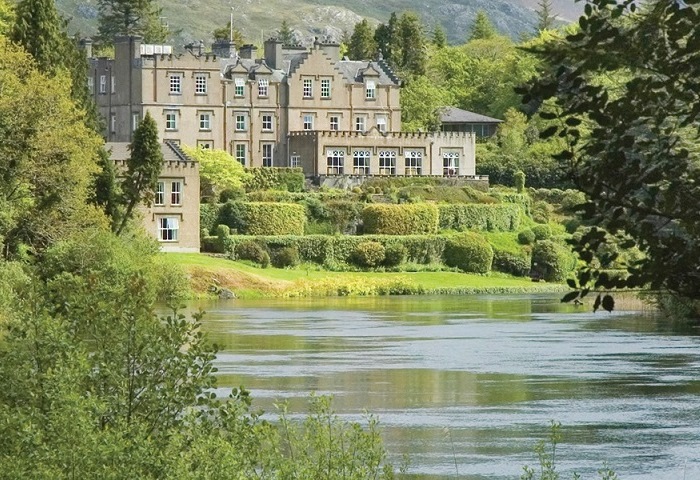 This is one of the gorgeous bedrooms in Ballynahinch Castle, so beautiful!
I hope it gets chilly enough for a drink in front of the fire in the library one night.
I'm not a fan of cold weather but I almost wish I was going to be staying at Ballynahinch at Christmastime. Such a lovely entrance!
Friday and Saturday night we'll be staying in the Lake Hotel on the lake of Lough Lein.
Sunday and Monday we'll be staying in the Killashee House Hotel. From a visit to their webpage, I know it has beautiful gardens, too. I hope some things are still in bloom when I'm there. Either way, I know they'll be lush and green.
How much do you think a 10-day luxury tour of Ireland with a group size no larger than 26, staying in beautiful castles and manors houses along the way, would run? I was surprised when I saw the cost, much less than I had expected! You'll find pricing for this tour (which varies according to when you go) and the open available tour dates here: My Ireland Tour, Deluxe Castle Tour. Breakfast and dinner are included each day, as is a "Pub Lunch" on one day.
I've booked my trip for the end of August, August 20 through the 29th. I want to see Ireland during the summer while it's at its most vibrant, although from what I've read it stays quite green all year since it rains a lot. They don't call it the Emerald Isle for nothing!
This is not a sponsored post, just sharing this castle tour with you in case you've been thinking of traveling to Ireland and are a hopeless romantic, too.
See the full itinerary for this trip here: Deluxe Irish Castle Tour.
Read reviews about this trip and others offered by My Ireland Tour here: Reviews. There are reviews on Trip Adviser, so check those out, too.
Pssst: I post almost daily to Instagram. Follow Between Naps on the Porch on Instagram here: Between Naps On The Porch.
*If a post is sponsored or a product was provided at no charge, it will be stated in post. Some links may be affiliate links and as an Amazon Associate, I may earn from qualifying purchases. *