Back in December, I went on a holiday tour of homes in Madison Georgia. I had planned to share these photos before now but I've been unable to download them from my phone. Does anyone have a Samsung Galaxy III? Got an easy method for downloading pics to your computer?
In the past, with all the other phones I've ever owned, I just connected them to my computer via a USB cable and my computer automatically recognized the phone and let me download the pics. For some reason my computer will not recognize that there are any photos on the Galaxy phone.
Several months ago, I downloaded an app to my phone that was created for this purpose. It worked great in the beginning but stopped working about a month ago. I've tried numerous times to get it to work over the past few weeks but I kept getting an error message. Today on a lark, I tried it again and it worked. I'm guessing there was an update to the phone or something that made the app no longer work and maybe they finally updated the app.
In any case, I finally got the photos off my phone today and onto my computer. It's been so long since I took the tour, I've forgotten a good bit, but I'll share what I can recall about these homes.
The next three houses were not on the tour but I snagged a photo just to share them. I love a little cottage style home with a porch. Of course, this house is probably a lot bigger than it looks. Many of the cottages that look small from the front go waaaay back once you're inside.
Love, love, love homes with dormer windows on all sides. I bet the upstairs/attic rooms are adorable in this home.
Another pretty home!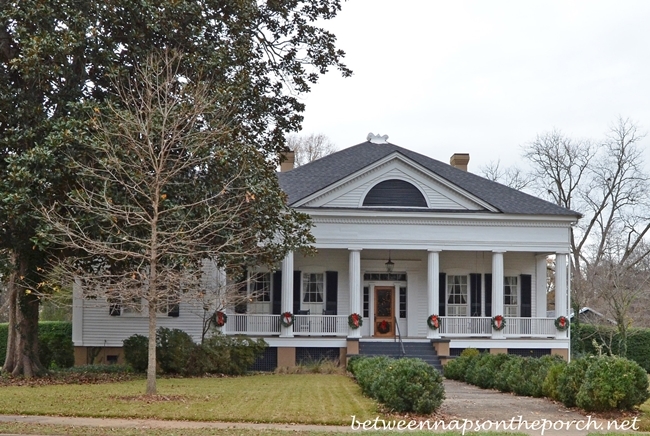 This Greek Revival home is called the "Honeymoon" home and it was built in 1850. We never got a clear answer on why it was called that. If I can find something online, I'll add it to this post.
I love how they decorated around the front door. I asked what type of vine it was and was told Smilax. That sounds like a euphemistic name for a laxative, doesn't it? Smilax normally has vicious thorns but there are a few varieties that don't. I guess that's what they used here since I don't see any ginormous thorns.
Once we were inside, the entire staircase was decorated with this vine, all the way up the stairs, along the landing, and up the next set of stairs. It was really pretty. Apparently, Smilax doesn't wilt fast and will last well throughout the holiday season. It was a very popular vine to decorate with back in the day for that reason. I honestly don't recall seeing it on any other Christmas home tour I've been on or maybe I did and just don't remember. Have you ever seen Smilax while on a holiday home tour?
Here's a photo from the site I linked to above showing the thorn-less Jackson variety of this plant. I love how it looks!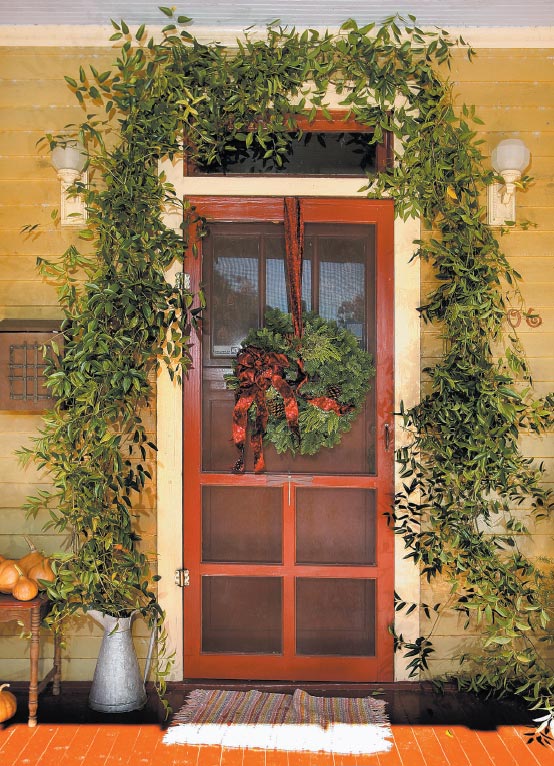 Okay, back to the Honeymoon house, there were beautiful lanterns on either side of the front door and they were decorated with magnolia leaves and ribbon. Magnolia leaves are another long-lasting greenery that's awesome for Christmas decorating. I wish my magnolia tree had the brown-back leaves like you see here. My Southern Magnolia Grandiflora has leaves with green backs, instead. The brown is such a beautiful contrast when you use the leaves to make garlands and wreaths.
I have this thing for hanging lanterns on front porches. When I had a front porch added to my home, that was one of the features I most wanted. It's a long, long way up to that lantern, isn't it?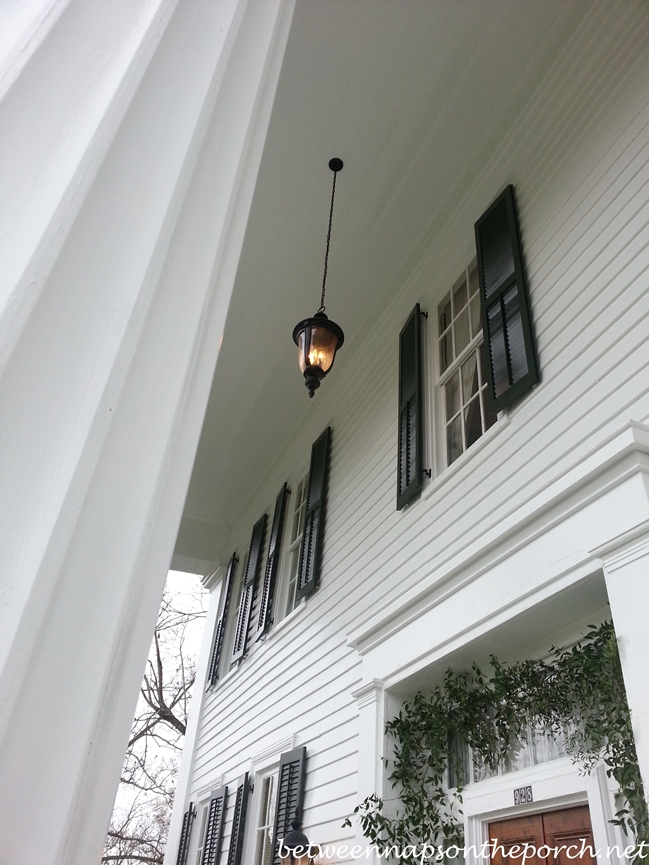 This home was one of my very favorites on the tour. They called it "Bookhaven" because it's owned by two librarians. Oh, how I wish I could have taken photos inside. If you love books as much as I do, you would have loved this home.
Each room of the home was filled to the brim with bookshelves and lots and lots of books. Each room had a theme and ALL the books in that room were of that theme. For example (hope I'm remembering this correctly) one room had a War theme and all the books in that room had to do with the history of various wars and the famous leaders/generals etc… who were involved.
Another room's theme was Sherlock Holmes and all the books in that room were Sherlock Holmes mysteries and lots of Sherlock Holmes memorabilia. I think there was a "Film" room with lots of film/movie star books and memorabilia. I could have spent a week in each room! Definitely one of my favorite homes on the tour!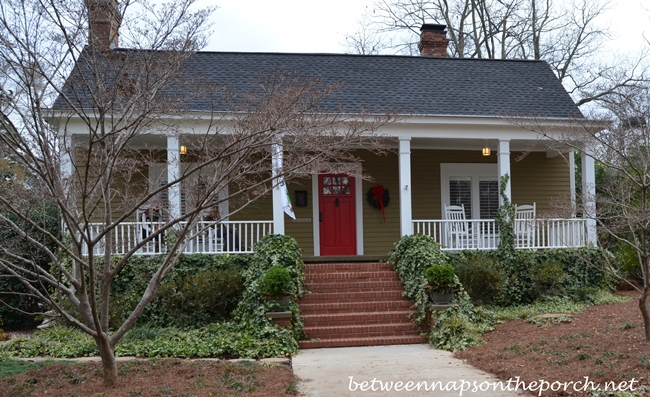 This home was named "Hilltop" and it was another favorite.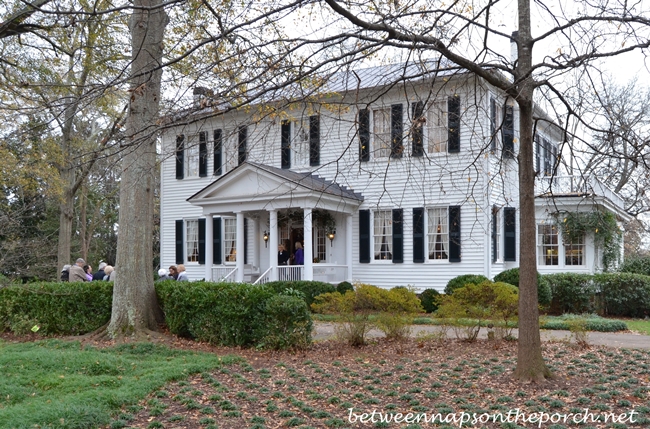 This home was Rogers House. It's one of the homes that's a museum home of sorts and can be toured anytime. I didn't take photos inside…bad blogger.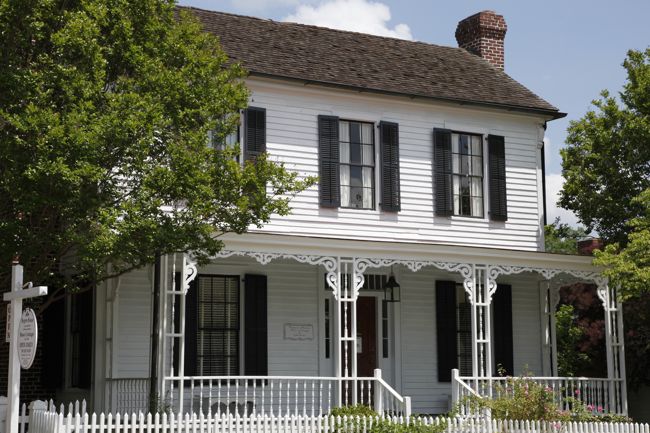 This was Rose Cottage, another public house open for tours throughout the year. It was modestly furnished and again I didn't take any photos, except one.
This painting stopped me dead in my tracks. I don't remember now if it was in Rose Cottage or Rogers House but it definitely caught my eye because the boy in it looked so mad. Maybe he resented having to sit for the painting. Wish I knew the history behind it.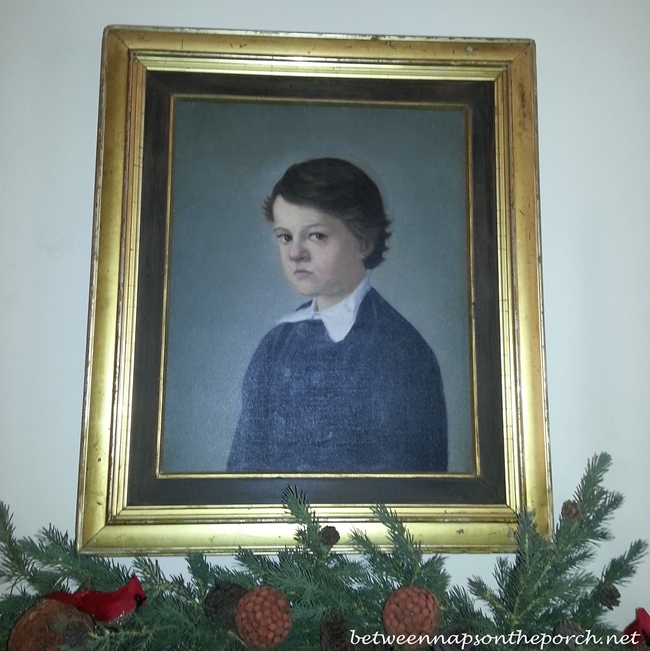 Behind either the Rogers House or Rose Cottage, I saw this tree. (Those two houses were side by side so I keep mixing them up in my memory.) I was trying my best to figure out what that was hanging on the tree–what kind of tree it was.
Then I looked down and saw this. Isn't that a Pomegranate? I looked online and amazingly, you can grow them in Georgia. I had no idea! According to Walter Reeves, a local gardening guru here in Georgia, if you find a Pomegranate tree at an abandoned home place, you can propagate it by hardwood cuttings. Wonder why more folks don't grow those now? I've never seen one until now. Interesting, huh?
Then I saw this tree…
I never did figure out what kind of tree it was. Do those look like pears? I really need to do some research on what we can grow here! Do I sound like a city girl or what?
It was pretty much impossible to take pics on the Candlelight tour with a cell phone, but I couldn't resist trying to get a photo of the house they were calling, "The Porch House." There was a huge screen on one wall and the owners show movies on the screen and invite neighbors to come watch. Doesn't that sound wonderful?! I want to live where neighbors do that! 🙂 You can just barely see the screen against the far wall on the left.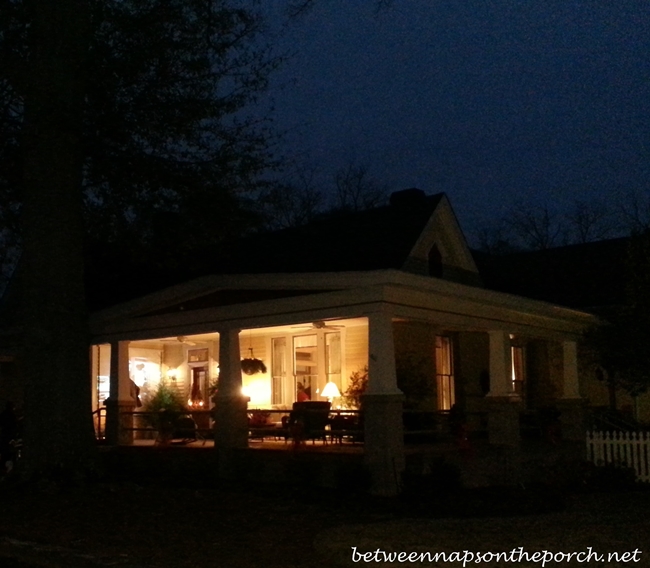 There was another home I saw during the daytime. I have several pics I want to share of it so I'll post those tomorrow since this post is getting so long. See you tomorrow with one more home tour from the Madison Holiday Tour of Homes.
*If a post is sponsored or a product was provided at no charge, it will be stated in post. Some links may be affiliate links and as an Amazon Associate, I may earn from qualifying purchases. *