Recently while shopping in Williams-Sonoma, I came across a Nordic Ware snowman cake pan. It was on sale, greatly reduced from $39.95 to $10.39 so I couldn't resist trying my hand at making this cute cake. Update: You can still find this pan here: Snowman Cake Pan
The cake ended up being a centerpiece for yesterday's winter table setting seen in this post: Winter Table Setting With Snowman Cake Centerpiece This cake would be cute at Christmastime but it really works as a dessert any time during the winter season.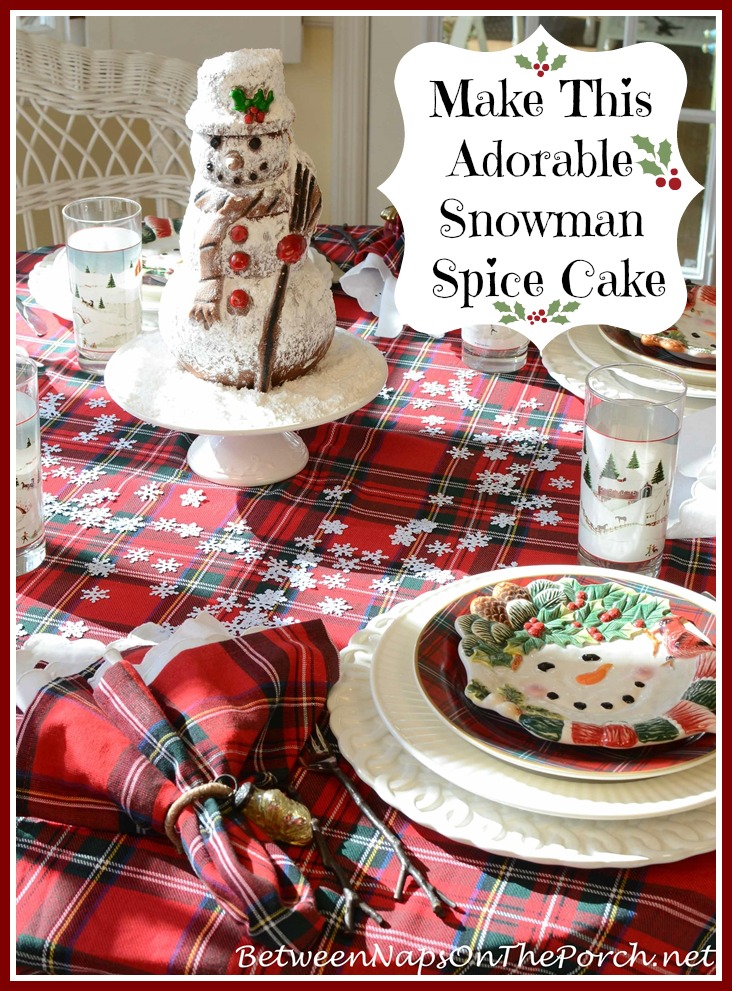 I gathered together my ingredients for the cake:
3 cups all-purpose flour
2 tsp. baking powder
2 tsp. ground cinnamon
3/4 tsp. ground ginger
1/8 tsp. ground cloves
1/2 tsp. freshly grated nutmeg
1 1/4 tsp. salt
1 1/4 cups milk
1 Tbs. vanilla extract
2 sticks unsalted butter
1 2/3 cups granulated sugar
3/4 cup firmly packed light brown sugar
4 eggs
Vegetable shortening (for greasing pan)
Wondra Flour (a fine flour for flouring pan)
Frosting of your choice for assembling and decorating
Powdered Sugar
The only thing I changed was I used ground nutmeg instead of fresh nutmeg because that's what I had on hand. You'll find a printable version of this recipe at the end of this post.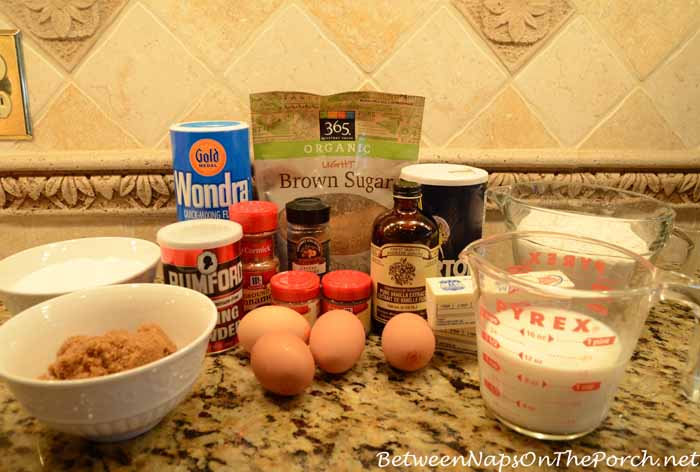 Preheat your oven to 325° F.
Grease your snowman pan with vegetable shortening. Be sure and work your shortening down into all the little grooves and indentations of your pan. I usually use Crisco (not shown in pic above) and always have a small can of this shortening in the refrigerator for this purpose.
Personally, I would not just spray the pan with some type of cooking spray. In the past when I've baked small heart-shaped cakes in a decorative pan like this, I've always used canned shortening and I've never had an issue with the cake(s) sticking. I simply would not trust the sprays. Since it's so important that the cake comes out of the pan in one piece, it's not worth the risk using something other than a good shortening.
Flour your pan using a fine flour like Wondra. I had never used this flour before but it was what was recommended in the recipe on the Williams-Sonoma website. I found it in a Walmart Neighborhood Market. I would imagine most grocery stores would have it, too. It comes in a small can so you don't have to buy a huge amount and it's not expensive. It's super fine and works well for getting down into all the teeny, tiny groves of the pan.
You'll quickly spot any places you've missed, like that spot I missed near the broom. So be sure and look for any missed spots and grease/flour those, too. This is one of the key components to a carefree release of the cake, once you're ready to turn it out.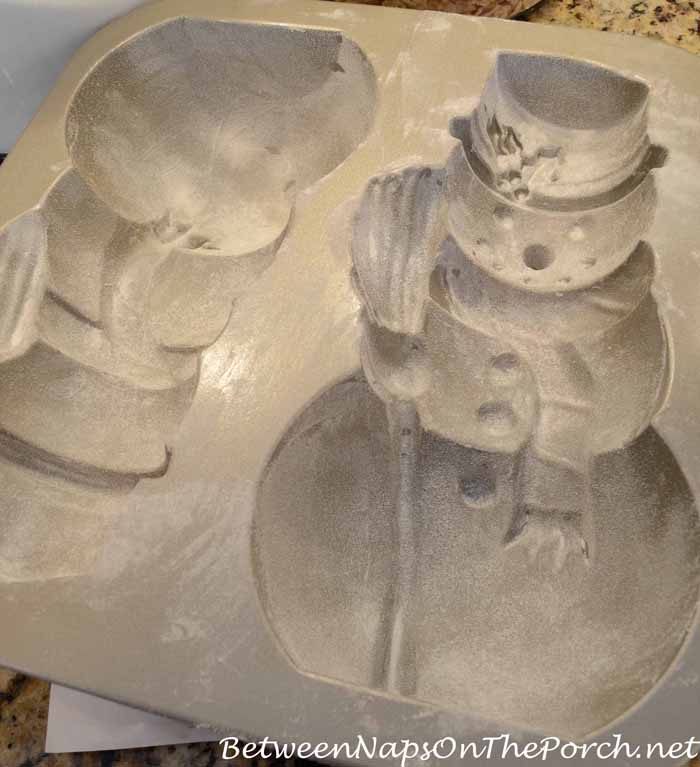 Over a large bowl, sift together the following: flour, baking powder, cinnamon, ginger, cloves, nutmeg and salt. If you prefer, you can do this over a medium size bowl with wax paper underneath to catch any spills.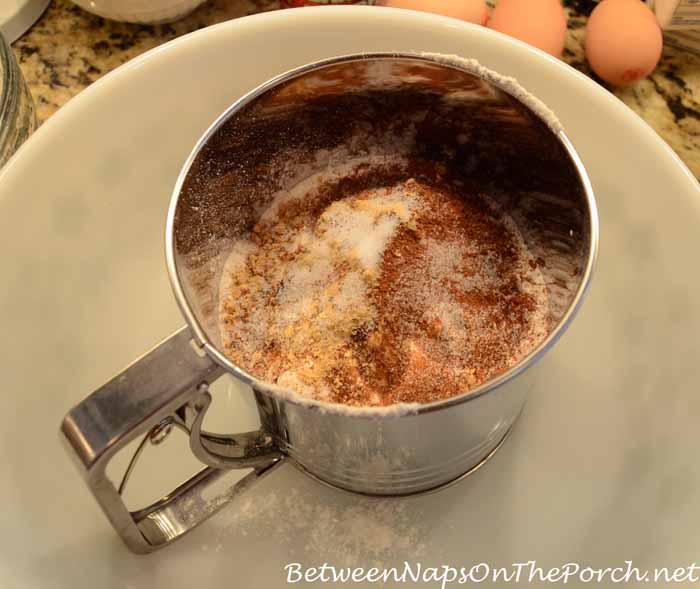 In a small bowl or measuring cup, combine the milk and vanilla extract.
Using a flat beater attachment, cream the butter for 1-2 minutes. I usually get my butter out a little early so it can reach room temperature…just makes beating it a little easier. Can you believe, this was the first time I've ever used this flat beater attachment. I never knew what it was for but the recipe called for it so I got it out and put it to work. I always thought it was a dough/bread-making attachment. Maybe it's good for that, too. I don't do a lot of baking, can you tell? 🙂
Next, add in your granulated and brown sugar.
Continue beating until light and fluffy. In the end, my cake didn't rise as much as I think it should have and I wonder if it's because I didn't beat the butter/sugar mixture long enough. Back story: When I first bought this mixer many years ago, I remember reading in the booklet that came with it (yep, I actually read the instructions) that a KitchenAid mixer beats more thoroughly and better than other mixers so the booklet said that you should be careful to not "overmix/overbeat" whatever you're mixing together.
Well, that stuck in my brain the day I read it and I think I tend to overcompensate by sometimes not beating mixtures as long as I should. Any experienced bakers out there who can share some tips on how to know when those eggs and sugar are really light and fluffy? 🙂
Or, maybe my baking powder may have been a little too old, more on that in a sec.
Next, add in the eggs one at the time, beating well after each one.
Now it's time to add in your flour mixture and milk/vanilla mixture. Reduce the speed of your mixer so the flour doesn't go flying all over the place…trust me on that! 😉
Alternate adding in the flour and milk mixtures, beginning and ending with the flour mixture.
Using a large spoon, spoon the cake mixture into your pan. Here's one place I think I kinda goofed. The recipe said to spread a little extra into the head area. I wasn't sure how that would work and thought it would just spread right back out. I was also worried about the head being too big. I think I should have followed those directions, though. You'll see what I mean in just a minute.
Also, once your pan is filled with cake mixture, tap it a time or two on a work surface to help fill in all the little indentations with cake and to help burst any little air bubbles that may have formed in the cake mixture. You'll see why that's important in just a minute.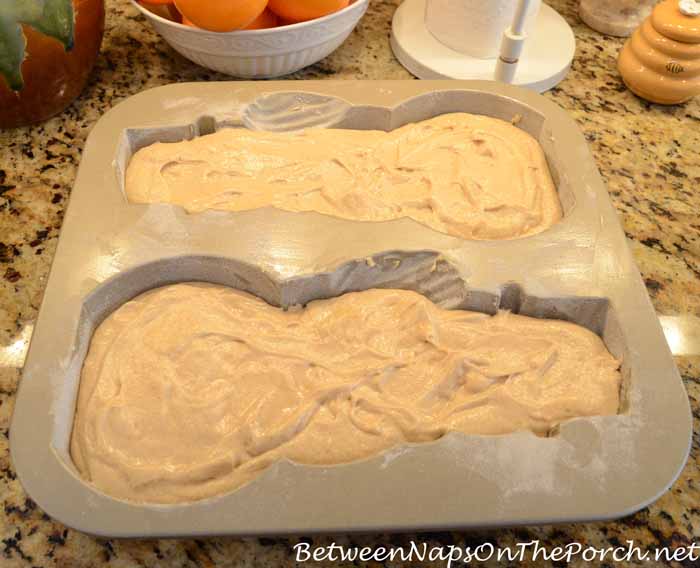 The directions say to cook the cake for 55-60 minutes until a toothpick inserted into the cake comes out clean. After 55 minutes, a toothpick stuck into the fattest part came out gooey so I stuck it back in the oven for another 5 minutes. It still came out gooey, so I stuck it back in for about 5-10 more minutes. That did the trick and it was done.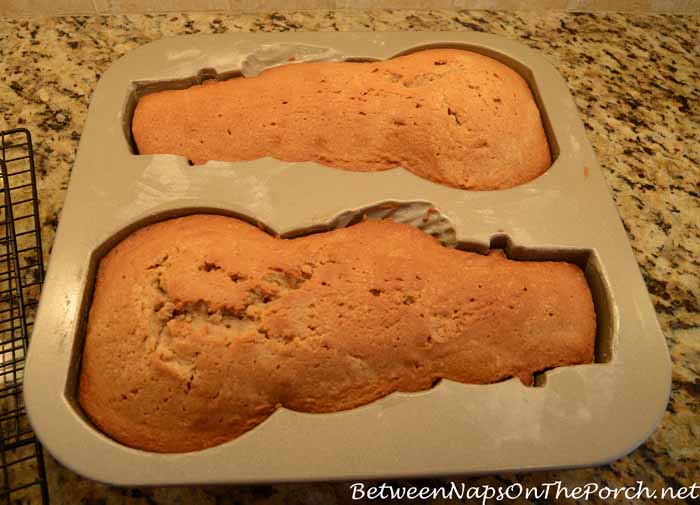 Once your cake is done, let it cool in the pan for 15 minutes. Then tap your pan on a work surface/counter 2-3 times to loosen the cake in the pan. I could actually see mine loosen from the sides when I did that.
Then place a large wire cooling rack over the pan and turn the pan upside down letting the cake come out onto the rack. Let your cake cool for 3-4 hours until completely cool. I placed mine in the fridge because I was in a bit of a rush to get it decorated for my tablescape post.
I'm not sure why but I had little holes in my snowman's mouth and in a few other spots. I didn't think to tap the pan on the counter after initially filling it with the cake mixture, so maybe cake didn't get all the way down into the little mouth indentations or maybe there was an air bubble blocking it.
In any case, tap that pan a time or two after filling it with the cake mixture and hopefully, you'll have a hole-less snowman in the end. Fortunately, I knew I was going to use a little icing to define my snowman's features so I didn't worry too much about it.
Now, here's a tricky point to consider. I'll give you the choices I found online and on the cardboard thingy that came with the cake pan and then you can decide how you wish to handle this. 🙂
Once the cake has been baked, the cardboard thingy that came with my cake pan said to, "trim excess cake with a serrated knife while the snowman is still in the pan to create two flat sides." Then it says to cool the cake in the pan for 10 minutes before removing it from the pan.
BUT…
Another place online said to remove the cake from the pan to cool it, then place it back into the pan to cut it to create the flat sides.
I didn't do either because there really wasn't any cake sticking up to trim off. 🙁 Ummm, that's why I'm thinking my cake must not have risen as high as it should have. I'm blaming it on either not beating the eggs and sugar enough in the beginning or perhaps my baking powder was too old. Just sharing these things to help you avoid them, if possible.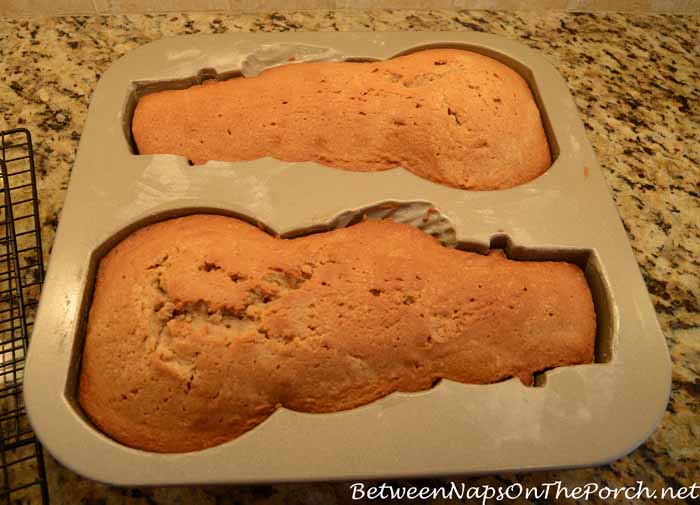 So here's what I ended up doing. The back of my cake was very rounded so I needed to cut off part of it. I stood it up and using a large serrated knife, sliced away. Looks pretty flat, right? Looks can be deceiving. That curving head gave me some issues. I'm not sure if adding more batter into the head would have helped because the head kind of curled forward a little while baking. Next time I make this cake, I will add more batter into the head area, though…just in case it does help.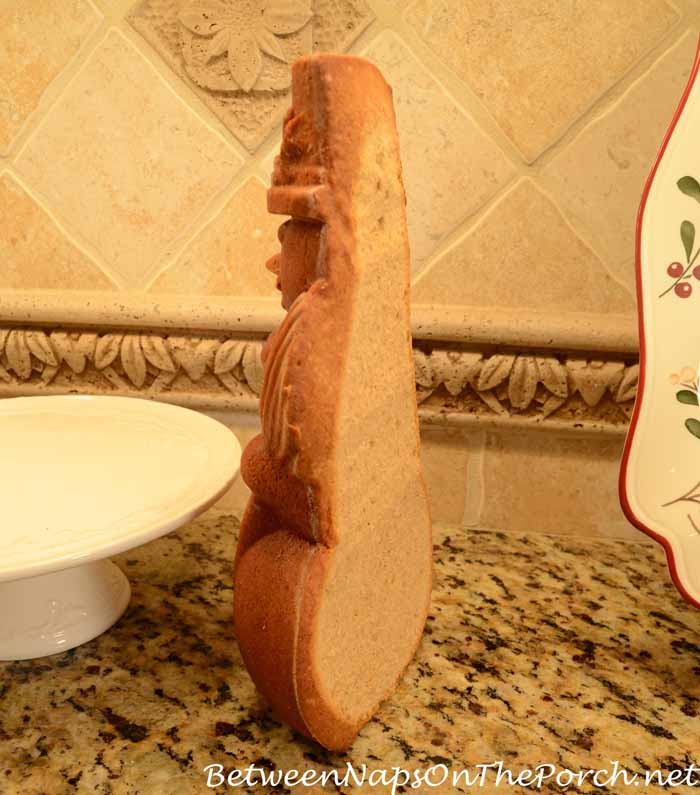 You'll be using frosting to hold the two halves of your snowman together. I always make my frosting from scratch when baking a cake because I really don't like the taste of ready-made frosting. But since the only frosting needed for this cake is the amount needed to hold the two halves together, I decided to go with canned frosting to save time.
The recipe calls for vanilla cream frosting, but I picked out a lemon frosting because I thought the lemon would taste yummy with all the spices in the cake. If you want to use a Vanilla Buttercream frosting, you'll find the one recommended by William-Sonoma here: Vanilla Buttercream
I wanted to darken my frosting a bit to help it blend in better with the cake, so I added some brown and orange food coloring.
It was taking a lot of brown food-coloring so I didn't darken it as much as I could have. It was getting dark outside and I needed to get this baby done and on the table!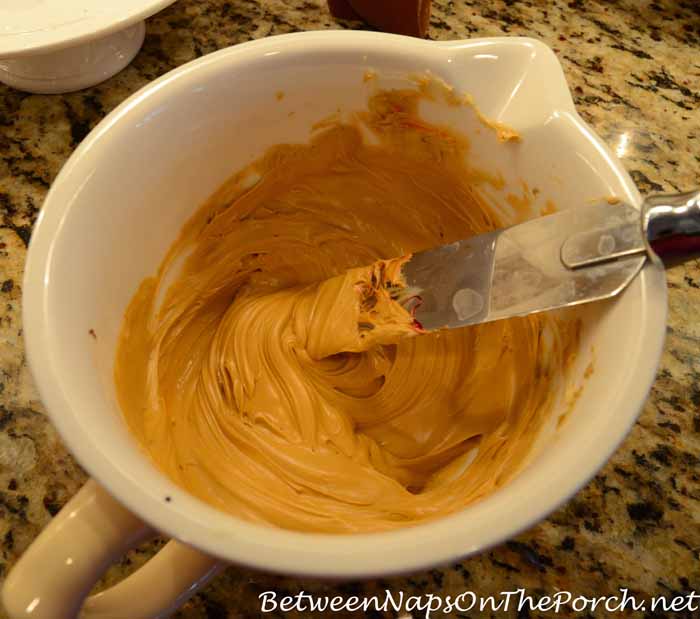 Next, I spread some of the frosting onto the inside of the back of the snowman. It's easy to rest the back down since you don't have to worry about the nose being crushed as you would if you lay the front down to spread the icing.
Then I squished them together. See that big ole gap at the top of the head. Think of your frosting as caulk. 🙂 I just slathered a bunch more in, figuring the powdered sugar would help hide the gap a bit.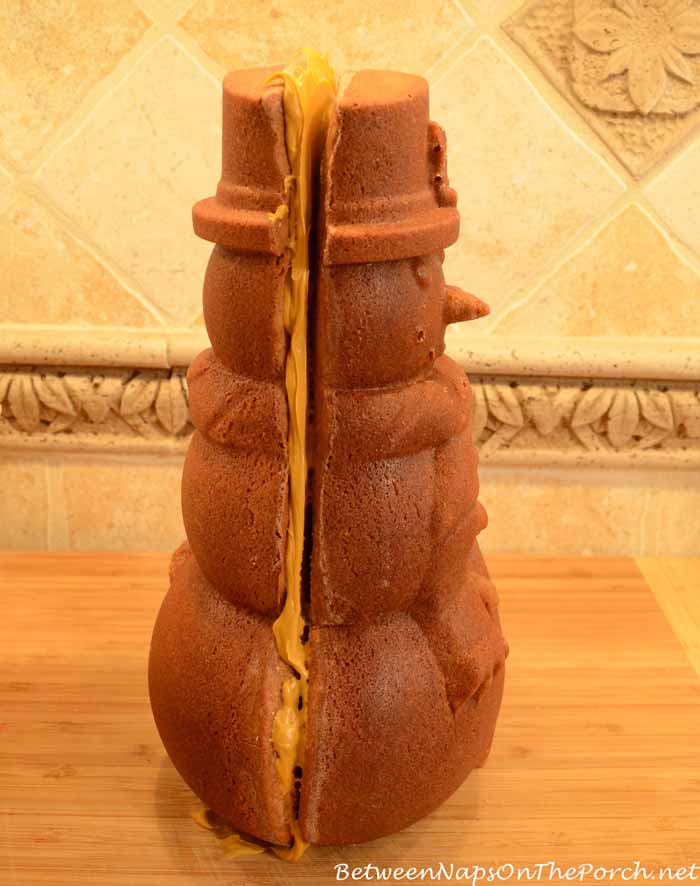 Here he is put together. He stood really well due to his flat bottom. There was no danger of him tipping over.
Here's a side view where if you look closely, you can see a gap at the top. Don't sweat it if that happens because you can fill in the gap with your frosting. Plus, powdered sugar hides a multitude of sins! 😉 Also, if you spoon a bit more batter into the head area when filling your cake pan AND your cake rises better than mine did, you may not have as big a gap as I did.
May I point out, you'll notice in every single picture of this cake on the Nordic Ware website and on the Williams-Sonoma website, they NEVER, EVER show you a side view. Yeahhh…
It was getting dark outside and I was rushing to get him decorated so I could take pics of the tablescape, so I didn't take pictures of the decorating. To decorate him, I put some powdered sugar in a sifter, then I sprinkled Mr. Snowman with the sifted powder sugar. Be sure and do this first before decorating him with icing.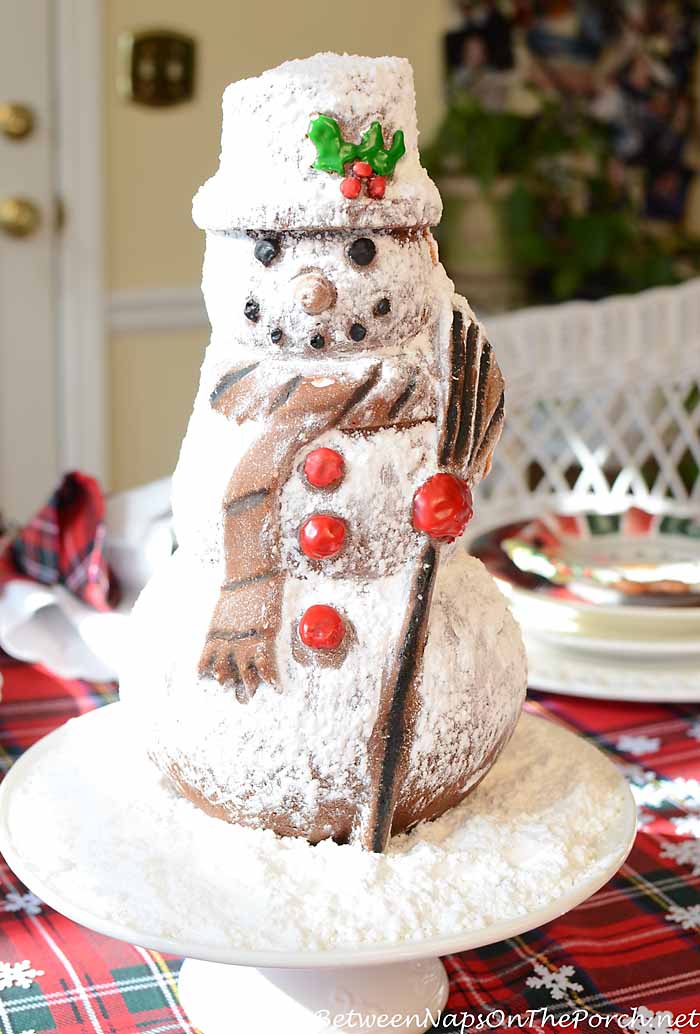 Using the same recipe I always use to make Powdered Sugar/Confectioners Icing, I mixed up a very small amount of red icing and black icing in separate bowls. (The next day I mixed up the green for his holly.) You'll find a printable version of that recipe here: Powdered Sugar Icing.
It's the same icing I used to ice these shamrock cookies for a St. Patrick's Day centerpiece in this post: St. Patrick's Day Table Setting With Shamrock Cookie Tree Centerpiece. If you like, you can just buy the little tubes of colored icing at the grocery store and other places that sell those. That would probably work, too. I used confectioners icing since I knew it would harden.
Using a small, watercolor paintbrush I already had, I painted Mr. Snowman's eyes, mouth, buttons, mitten and broom with the icing. I added a few highlights on the scarf. The next day when I had more time, I mixed up some green icing for the holly on his hat. I didn't mean to make the highlights on his broom quite so dark…got a little heavy-handed with the paintbrush.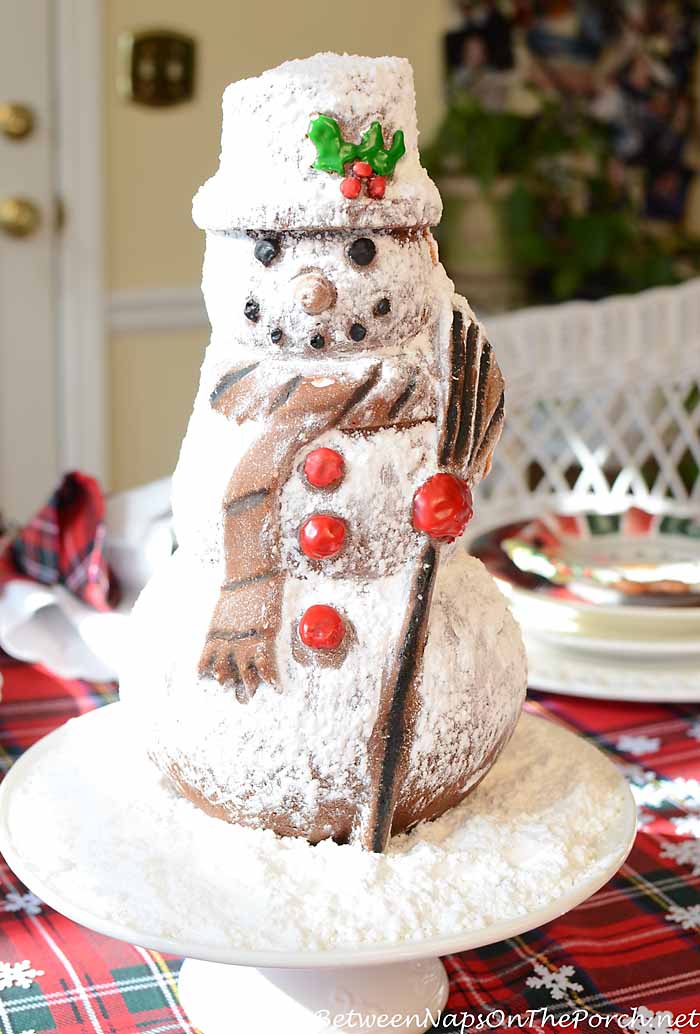 Again, this cake stands very well. I had no problems at all getting him to stand. When you move him around, be sure to move him holding onto the base since he's a little bottom heavy.
The things I would watch for or do differently the next time are:
I'd make sure to beat the butter and sugar a little longer, just in case that's why my cake didn't rise as much
I would double-check that my baking powder is really fresh, again in case that's why my cake didn't rise as much
After spooning the cake mixture into the snowman cake pan, I would tap the pan a few times on the counter/work surface to release any air bubbles and to get the batter really down into all the little grooves, like the mouth and nose. That would help prevent the teeny holes on the mouth, I think.
I would add a little extra cake batter to the head area of the pan, as the recipe suggests. That would help with the gap near the head when assembling the two halves.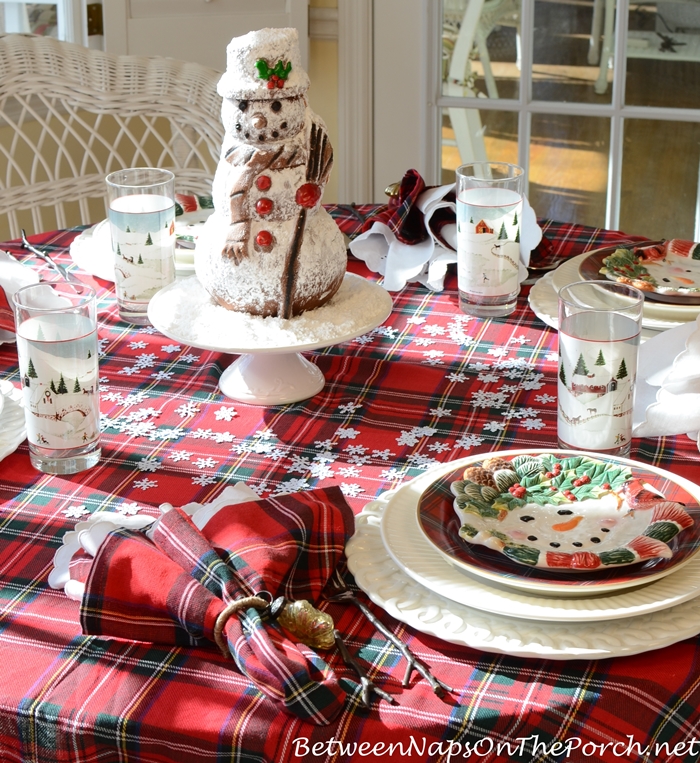 Here's a printable version of the recipe. Don't let this cake intimidate you, it truly is easy to make. And it's fun! With as little baking as I do, if I can make it, you definitely can! Update: Cake pan is no longer available at Williams Sonoma, but you can still find it here: Snowman Cake Pan
Print Recipe
Snowman Spice Cake
This cake is made using a Nordic Ware Snowman cake pan. I found mine at Williams-Sonoma.
Ingredients
3

Cups

all-purpose flour

2

tsp.

baking powder

2

tsp.

ground cinnamon

3/4

tsp.

ground ginger

1/8

tsp.

ground cloves

1/2

tsp.

freshly grated nutmeg

1 1/4

tsp.

salt

1 1/4

cups

milk

1

Tbs.

vanilla extract

2

sticks- unsalted butter

1 2/3

cups

granulated sugar

3/4

cup

firmly packed light brown sugar

4

eggs

Vegetable shortening for greasing pan

don't use butter or oil

Wondra Flour to flour the pan

Powdered Sugar
Instructions
Preheat oven to 325°F.

Grease and flour your snowman cake with a good vegetable shortening and a fine flour like Wondra. Tap out any excess flour.

Sift together the flour, baking powder, cinnamon, ginger, cloves, nutmeg and salt.

In a small bowl, combine the milk and vanilla.

Using a flat beater, in the bowl of an electric mixer fitted, beat the butter on medium speed until creamy and smooth, about 1 to 2 minutes. Add your granulated and brown sugar and continue beating until light and fluffy, about 5 minutes. Stop occasionally to scrape down the sides of the bowl.

Add the eggs one at a time, beating well after each addition.

Reduce the speed of your mixture to a lower setting, and add the flour and milk mixtures, alternating the two, beginning and ending with the flour.

As you're adding in the flour and milk, beat each addition just until it's mixed in, stopping as needed to scrape down the sides of the bowl.

Spoon the batter into your snowman pan, dividing it evenly between the two halves and spreading a little extra into the head area of the pan.

Tap the pan onto a work surface a few time to ensure the batter gets down into all the little indentions of the pan and to release any little air bubbles in the batter.

Bake until the center of the cake springs back when touched and a toothpick inserted into the center comes out clean, 55 to 60 minutes. Mine actually took around 65 minutes.

Transfer pan to a wire rack and let the cake cool upright in the pan for 15 minutes.

Tap the pan gently on a work surface to loosen the cake.

This would be a great time to slice off any cake sticking up above the pan with a serrated knife since the back of your snowman will need to be flat for assembling.

Set a cooling rack over the top of the cake and invert the pan onto the rack. Your cake should come out easily.

Let the cake cool completely, 3 to 4 hours, before assembling and decorating.
*If a post is sponsored or a product was provided at no charge, it will be stated in post. Some links may be affiliate links and as an Amazon Associate, I may earn from qualifying purchases. *