9Welcome to the 232nd Metamorphosis Monday!
How was your 4th of July weekend? I hope it was fabulous! We had a rainy one here in Georgia. The sun came out for a few minutes but unfortunately, it didn't last long.
If you've been reading BNOTP this past week, you know I pulled out some old, worn and out of style jeans from my closet and found another use for them.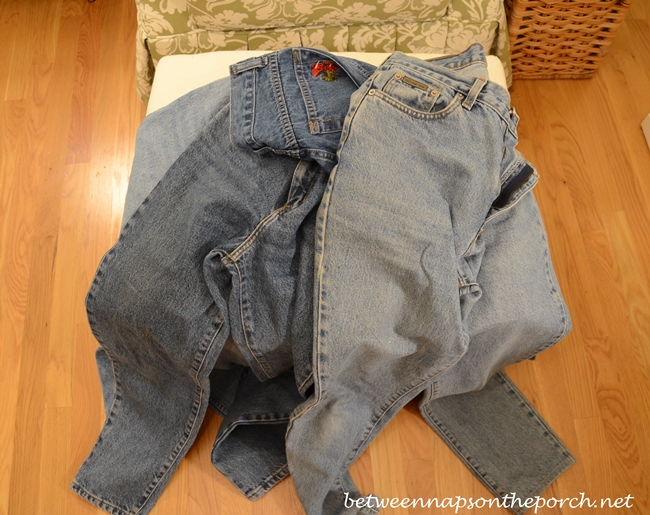 I recycled the back pockets to make flatware holders for this years 4th of July table setting. (If you missed that table, you'll find it here: Dining on the Porch for the 4th of July.
I still had a lot of denim fabric left over so the wheels started turning. What could I do with all that denim?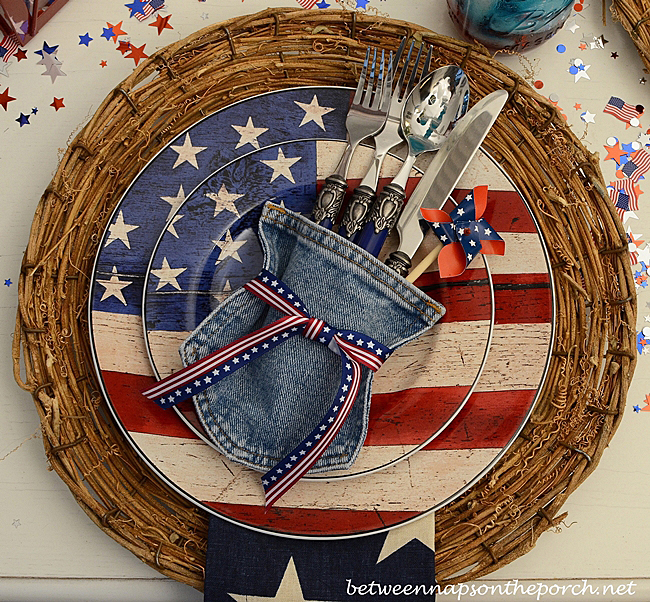 Inspired by this cute Pottery Barn patriotic party banner, I decided to use some of the fabric to make a patriotic banner for the porch. Though this tutorial is for a patriotic banner, you could use it to make other types of party banners, too.
I'm not sure how much the PB banner was because the ad is now showing it's no longer available. Update: I think it may have been around $22.00 originally. (Picture above and below from PB site, here.)
The only thing I purchased to make my banner was a special fabric glue I found at Michaels and a can of red spray paint. I used a 40% off coupon at Michaels so my total cost for the banner was around $8-9. Also, I have plenty of glue and paint left over for future projects.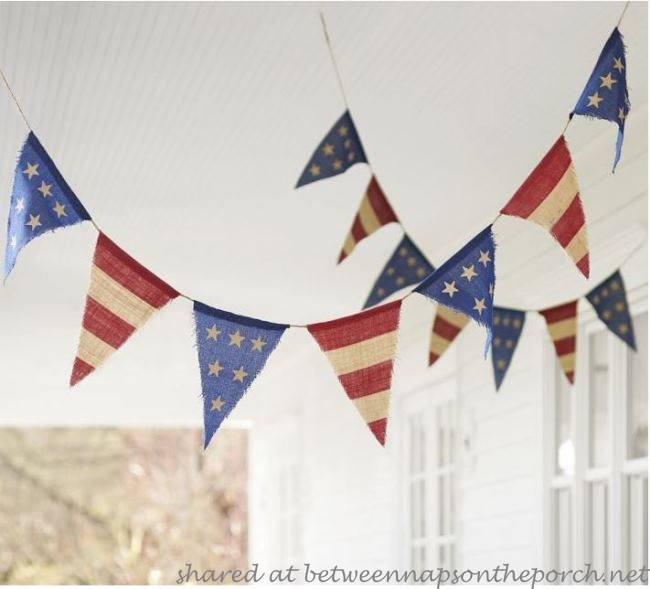 Make a Patriotic Party Banner: A Tutorial
To make my patriotic party banner, I cut a triangle shape from a cardboard box, just eye-balling the size. It turned out to be 9 inches wide at the top and 9 3/4 inches in height. Tip: If I were making this banner again, I'd make the template exactly 10 inches tall (instead of 9 3/4) because that would make measuring and marking the stripes a little bit easier since they would be spaced exactly 2 inches apart.
Using the cardboard as a template, I cut five denim flags from my old jeans. The edges of Pottery Barn flags are frayed (see above picture.) I wasn't really crazy about that look so I used pinking shears to cut the flags. I liked that look better for the edges.
For the star template, I googled "star" and found several online. I found one that looked about the size I needed but each time I printed it out, it came out a lot larger than I wanted. Then I did the craziest thing. I placed a piece of white copy paper over the computer monitor and lightly traced the shape. The shape was visible through the paper so it worked great!
I traced the star onto cardboard and cut that out to use as my template. Then I traced the star shape onto the five denim flags. I tried tracing the stars with a white paint marker and the jean fabric just kept absorbing the paint, making it impossible to see the lines. I wonder if they make white sharpie markers? If they do, I recommend using that. I ended up using a blue ink pen instead which worked okay, but a white marker would have been better, you'll see why in a sec.
If you wish, you could use white fabric and buy star-shaped stickers, then spray the white fabric, blue…then remove the stickers to get your white stars. That's the technique I used to make a Pottery Barn inspired wood flag in this post: Make a Pottery Barn Inspired Wood Flag
In this case, I really wanted to use the denim/jean fabric for my blue flags so I had to go a different route for the stars this time.
Using some white acrylic paint I already had, I painted in the stars. Fabric paint may be a better choice but I just went with what I already had on hand. Painting in the stars was the most time-consuming part of the project. Originally, I had planned to cut a star shape from a sponge and just sponge on the stars, but when I tested that on a scrap piece of denim, it looked awful. So that's why I ended up tracing, then painting the stars onto the flags. It went fairly quickly while I listened to a book on Audible.
I also cut off the seams of the old jeans.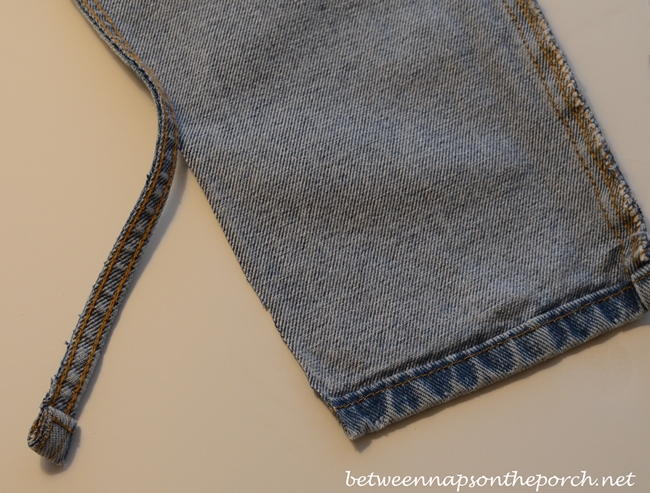 Can you guess how I used those?
I had some off-white fabric left over from a past sewing project so once again, using my cardboard template, I cut out four flags. Using painter's tape, I taped off the areas I wanted to remain white. The spacing ended up being just slightly less than two inches for each stripe since my flag length was 9 3/4.
Tip: Be sure to press really firmly along the edges of the tape to avoid getting paint up under the tape.
I chose Rust-Oleum "Colonial Red" paint for my stripes.
I sprayed the white flags and it took a couple of light coats to get the coverage I wanted. I didn't want the flags to be a solid red color, I was going for sort of splotchy look thinking that would better coordinate with the look of the denim jean fabric.
The paint dried very quickly. After about an hour, I peeled off the tape from two of the flags to see the results. The tape worked great…no bleeding!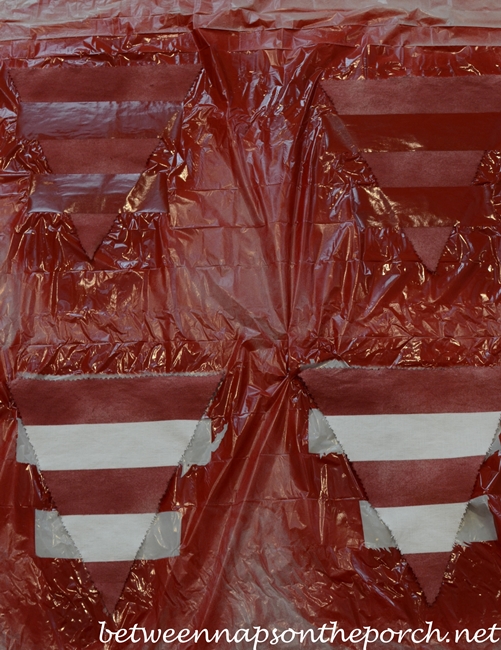 I placed plastic on the floor of my upstairs hallway and stretched out the denim seams I had cut from the jeans on top of the plastic. I placed the flags out along the seams/pieces, spacing the flags about 2 inches apart. I had noticed the Pottery Barn banner had the flags spaced slightly apart. I'm sure that helps with flexibility when hanging the banner, as opposed to having them all right up against each other. In the photo below, the flags were just laying on top of the denim seams.
Next, I glued the tops of the flags along the seams using Fabri-Tac
. It pretty awesome glue, it's nickname is "the glue gun in a bottle." It bonds with fabric, wood, leather, lace, tile and can be used to hem fabric. It was perfect for this project since it dries clear. That was important since I didn't want any glue showing through.
Note: If you're fabric is printed on both sides and you plan to hang your banner from a place where it can be seen from both sides, start your stars a little further down and make the first red stripe a bit wider. That way you can wrap the top of the flag over the yarn (or denim strips/seams in my case) for a more finished look on the back. You'll probably need to paint the back of the flags, too. Again this only applies to situations where a banner will be seen from both sides.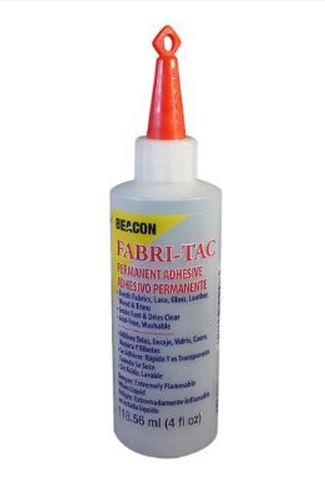 Remember I mentioned it would probably be better to use a white pen or white sharpie to trace your stars? My ink pen marks kept bleeding through my white paint. I knew it wouldn't be that noticeable once the banner was up, but if you can find a white pen to trace your stars, I'd go with that.
Fabri-Tac dries super fast so I was able to hang my flag about an hour later. It turned out a little longer than the Pottery Barn banner so if you decide to make one for next year or for an upcoming patriotic holiday, you can make your flag shorter or longer, whatever fits the area where you wish to hang it. I wanted to start and end with a denim "star" flag so my banner ended up being 9 flags long. (That blur at the top of the picture is a ceiling fan blade going round.)
Here's the PB banner again below for comparison. My stars turned out a bit bigger, I think I like that, though. 🙂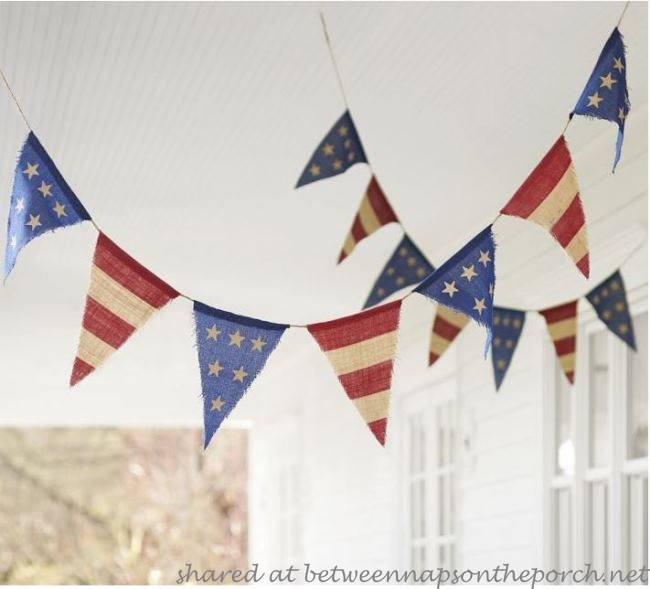 This banner would be great to display for Memorial Day, Veteran's Day, Flag Day, really any time of the year when you want to celebrate the red,white and blue!
It's still raining here so still kind of dark and gloomy out. Just noticed, I should have tied the right side up a bit better…always notice this stuff after the pictures are taken.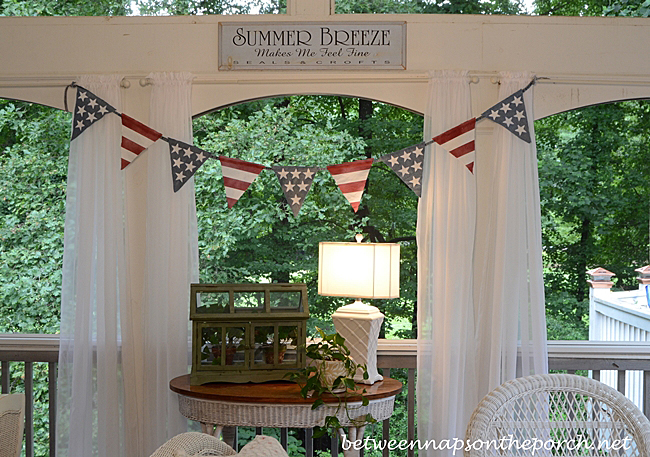 I like it beneath the "Summer Breeze" sign.
When I glued the flags to the denim seam pieces, I just placed the flags on top of the strips/seams, spreading them out so the individual seam pieces met behind a flag. That way it didn't matter how long the pieces were and I didn't need to sew them together. This is definitely a "no-sew project."
As I had hoped, the red stripe turned out a bit splotchy letting some of the white fabric show through in places. That was the look I was going for so it would coordinate with the uneven look of the jean fabric. If you want your banner to have an aged look, you can stain the fabric with tea like I did when I made the Pottery Barn knock-off clock plates here: Pottery Barn Clock Plates, Make Your Own
I also glued the first flag about a foot in so I would have a seam strip with which to tie my banner. If you don't want to recycle the old seams from your jeans, you could use jute yarn. I think that's what they used for the Pottery Barn banner.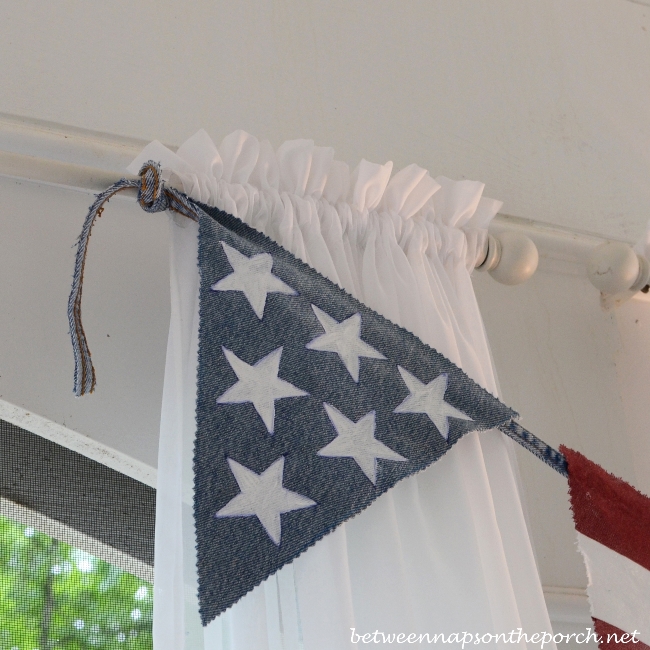 I know Independence Day has passed, but I think I may leave my banner up a few more days, at least until all this gloomy rain goes away.
Love crafting and sewing with repurposed denim? You'll find more denim projects at my other blog, Denim Do Over and many are No-Sew projects! You'll find Denim Do Over here: Denim Do Over
Pssst: I post almost daily to Instagram. Follow Between Naps on the Porch on Instagram here: Between Naps On The Porch.
Looking forward to the Before and Afters posted for this Metamorphosis Monday!
Metamorphosis Monday: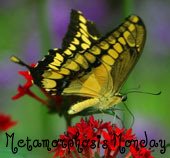 If you are participating in Metamorphosis Monday you will need to link up the "permalink" to your MM post and not your general blog address. To get your permalink, click on your post name, then just copy and paste the address that shows up in the address bar at the top of your blog, into the "url" box for InLinkz.
In order to link up, you'll need to include a link in your MM post back to the party so the other participants will have an opportunity to receive visits from your wonderful blog readers.
Please observe these few rules:
Only link up Before and After posts that are home, gardening, crafting, painting, sewing, cooking, DIY related.
Do not link up if you're doing so to promote a website or product.
Do not link up a post that was just linked last week since a lot of readers will have already seen that post.
Do not type in ALL CAPS. It spreads the links waaaay out.
Let's try something fun today! Please visit the person who linked before you and after you…that way everyone will get some visits.




Welcome! Thanks for coming to the party!
*If a post is sponsored or a product was provided at no charge, it will be stated in post. Some links may be affiliate links and as an Amazon Associate, I may earn from qualifying purchases. *