Welcome to the 217th Metamorphosis Monday!
This week for Met Monday, I'm sharing a crafty Before and After. I made a quick pass through Pottery Barn a few nights ago and spied some cute starfish napkin rings. It's kind of hard to see in this pic I snagged from the PB site here, but the ring part of the napkin ring is covered in jute yarn. I couldn't tell what the yarn was wrapped around while in the store. Upon returning home, I read online at the PB site, it's wrapped around a metal ring. A little idea sparked and I thought, "I can make that."
I wasn't crazy about the red color for the starfish so I made mine in blue, aqua and white.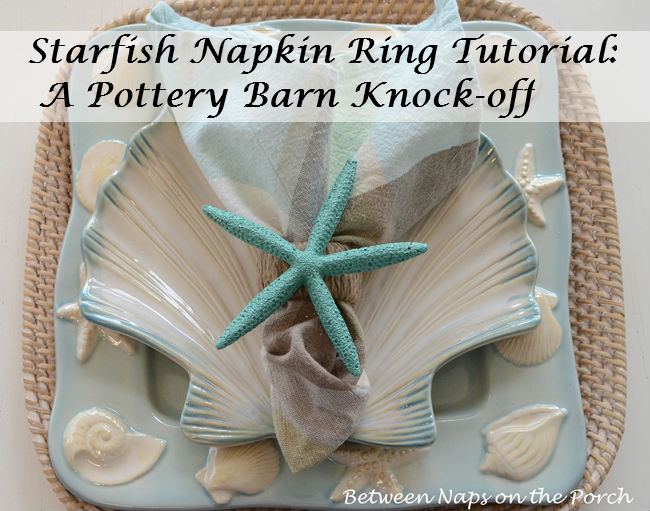 If you wish to make some of these for your summer dining, here's what you'll need.
Supplies Needed:
Jute Yarn (95-120 inches of yarn per napkin ring, depending on how wide you cut the ring)
2-3 empty bathroom tissue rolls (The ones I used were 1 7/8 inches in diameter. Paper towel roll may work, also.)
Starfish (The least expensive place to find starfish is in Dollar Tree and Big Lots. If you don't have those stores near you or they are out of them, check Marshall's or TJ Max)
Glue gun or Fabri-Tac
Scissors
I didn't buy anything for this project since I already had everything I needed. Since I wasn't crazy about the red color of the starfish on the PB napkin rings, I decided to use the pretty blue, green and white starfish I already had. The blue and green starfish are resin and are from Big Lots last year. I bought the white starfish years ago on eBay.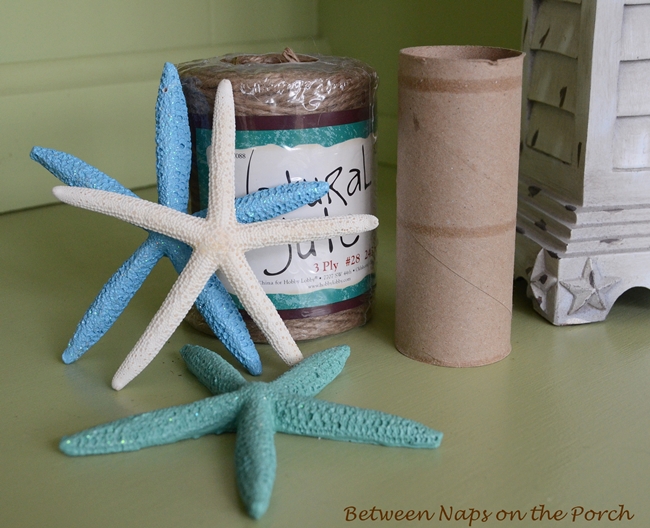 Step 1: Cut your tissue rolls the width you wish to make your napkin rings. I just eyeballed mine and they ended up being approximately 1 1/4 inches wide. The PB napkin rings are skinnier, but I like a fatter napkin ring so I cut mine a bit wider.
I thought all tissue rolls were probably the same diameter, but they aren't. I had two kinds of bath tissue in the house and I noticed the tissue I bought a while back was on a bigger roll. If I had used those rolls, the hole part of the napkin ring would have been bigger than I wanted for my napkin rings. So, I used rolls from the tissue I purchased the last time I was in the grocery store since they were smaller.
I can't remember the brand now since I always take the tissue out of the packaging and store it in the bathroom cabinet. I measured a roll and it was 1 7/8 inches in diameter, from outer edge to outer edge. Hopefully the size you have will work fine for this project. Paper towel rolls would probably work fine, too…so if you have some of those laying around, you may want to try using those.
To clarify, the rolls I used were 1 7/8 inches in diameter and I cut the napkin rings approximately 1 1/4 inches wide.
I cut my tissue rolls using a sharp, serrated bread knife. If your cuts end up being a bit off, you can trim up the edges with scissors to make them more even. I was able to get three napkin rings out of each roll but it's probably safer to just cut two from each roll. If you cut three, you have very little to hold onto as you make the cut for the third napkin ring. So I recommend only cutting two from each roll. Be careful to not cut yourself. If you don't feel comfortable cutting the roll with a knife, use scissors instead.
Step 2: Once I had all the rings cut, I began by putting a drop of hot glue inside a ring. I pressed the end of the jute yarn into the glue. It dries quickly so you can get busy wrapping/making your napkin ring right away.
7-11-13 Update: I just discovered a glue called Fabri-Tac
that's known as "the glue gun in a bottle." If you don't want to fiddle with a hot glue gun, this glue is amazing. When you use it, it dries very quickly so it should be great for making these starfish napkin rings.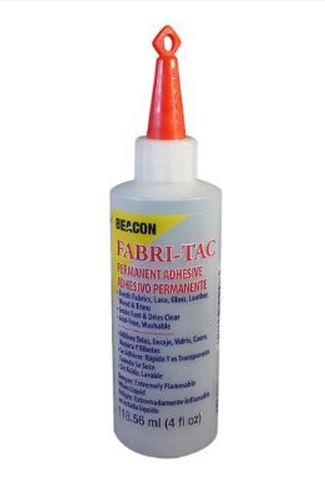 Step 3: Start wrapping the jute yarn around and around your ring, squishing each loop against the last loop so there won't be any big gaps where the cardboard ring will end up showing through.
Tip: Since the yarn was sooo long (120 inches) I cut it in half and wrapped the first half of yarn around the ring, glued the end down, then repeated this for the other half of the yarn. You are doing all of your gluing inside the ring where it won't show. I didn't use big drops of hot glue, since I didn't want the napkin to get hung up on a bulge created by a big drop of glue inside the ring. It just takes a tiny bit of glue to do the job.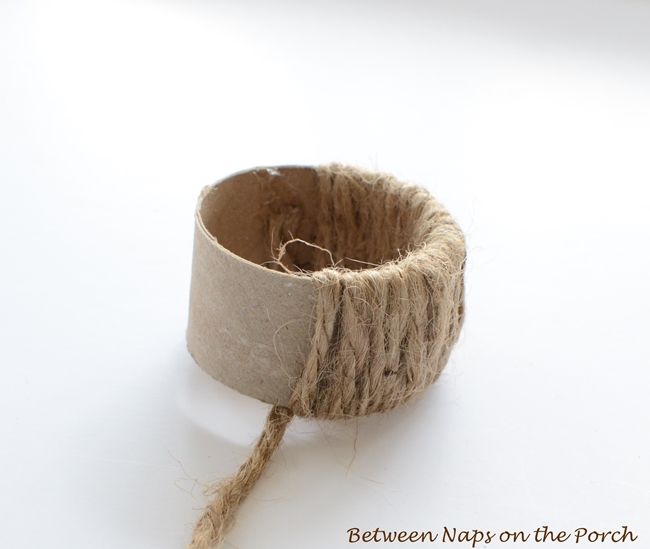 When I made the first ring I guessed how much yarn to use and ran out. So close and yet, so far. You should do fine if you cut your yarn around 120 inches long and your napkin rings are around the same size as mine. You'll probably have some yarn left over each time if you cut the yarn 120 inches, but better to have some left over than run out so close to the end.
Here's how it looked all wrapped up. If you have any little jute threads sticking out, just trim those off. Be careful that you don't cut your wrapped yarn.
Step 4: Hotglue the starfish (or a shell, if you prefer) to the jute ring. Here's how mine looked with a white starfish.
Here's the look with a blue starfish.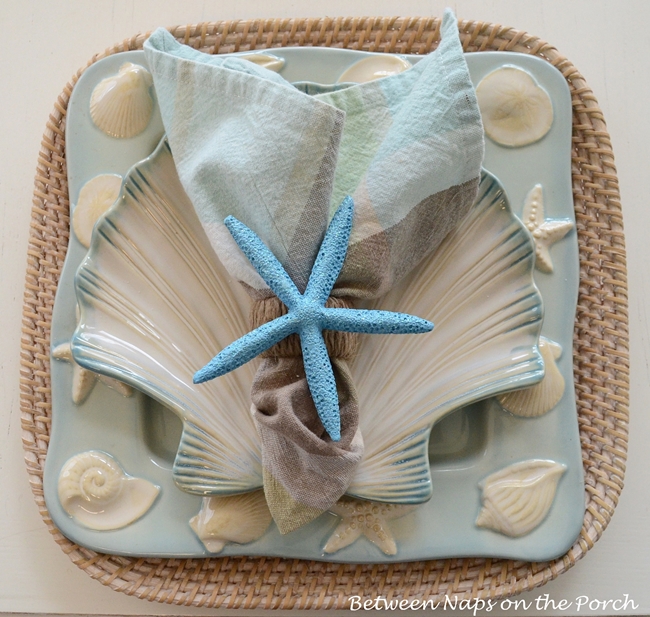 And here's how it looks with an aqua-colored starfish. I'm not sure which color I like best; I really like them all. If you prefer the look of the Pottery Barn napkin ring with the red starfish, you could spray paint your starfish red or any color you like.
These napkin rings are super easy to make and you can completely change the design for any themed table setting by just changing up the item you choose to glue on top of the ring. Wrap the ring in red ribbon and glue on hearts for Valentine's Day. Wrap in pastel-colored yarn or ribbon and attach bunnies or little eggs for Easter. The possibilities are truly endless!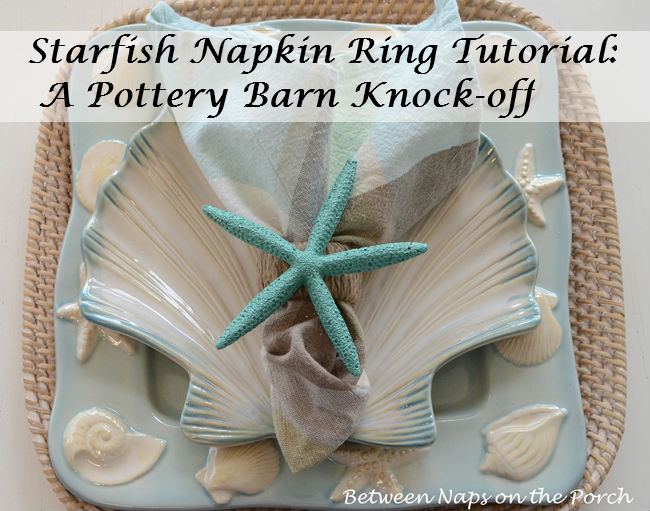 To view another DIY beach-themed napkin ring, check out this beachy table setting: A Beach Escape Table Setting
Looking forward to the Before and Afters linked for this Metamorphosis Monday!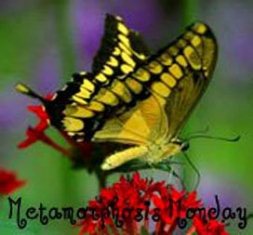 Metamorphosis Monday:
If you are participating in Metamorphosis Monday you will need to link up the "permalink" to your MM post and not your general blog address. To get your permalink, click on your post name, then just copy and paste the address that shows up in the address bar at the top of your blog, into the "url" box for InLinkz.
In order to link up, you'll need to include a link in your MM post back to the party so the other participants will have an opportunity to receive visits from your wonderful blog readers.
Please observe these few rules:
Only link up Before and After posts that are home, gardening, crafting, painting, sewing, cooking, DIY related.
Do not link up if you're doing so to promote a website or product.
Do not link up a post that was just linked last week since a lot of readers will have already seen that post.
Do not type in ALL CAPS. It spreads the links waaaay out.
Let's try something fun today! Please visit the person who linked before you and after you…that way everyone will get some visits.


*If a post is sponsored or a product was provided at no charge, it will be stated in post. Some links may be affiliate links and as an Amazon Associate, I may earn from qualifying purchases. *