Welcome to the 625th Metamorphosis Monday, a blog party sharing fabulous Before and Afters!
Over the past month, I've been getting regular emails from Pottery Barn reminding me that I have a $25 credit that's soon to expire. There's nothing that I particularly need right now but after about the 3rd time that email arrived, I decided to click over and check out their spring goodies.
The first thing I saw was this image. Doesn't this make you long for spring?! It looks so fresh and summery! It makes me want to move to the beach and decorate my whole house in soft blues and white.
As I was dreaming about a beach move, I started chuckling a little. Who makes their bed this way–with all the pillows perfectly placed while the rest of the bed looks like WrestleMania just took place with the dogs and the kids.
That got me thinking, what if I made my bed this way? Ummm…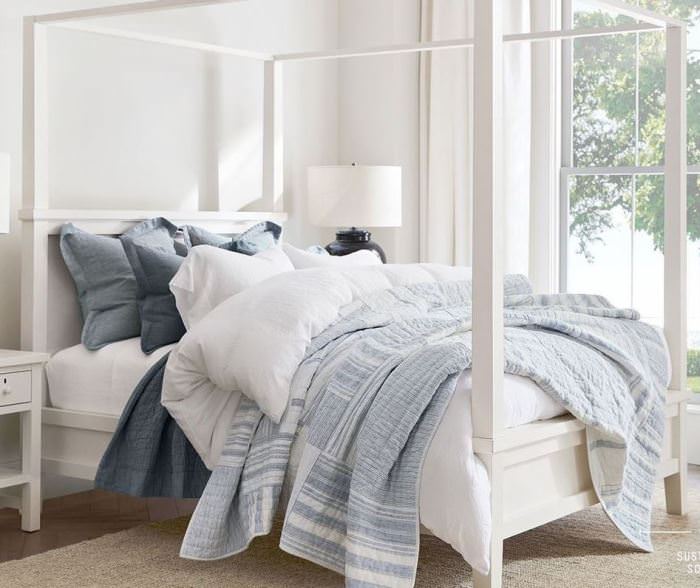 Here's how my bed looks when it's fully made.
I've shared a semi-messy version of my bed a couple of times in the past when I was sharing a new L.L. Bean Woodland sheet set for fall/winter.
But how would it look if I actually made my bed like a Pottery Barn ad? Would it look this inviting? Only one way to find out!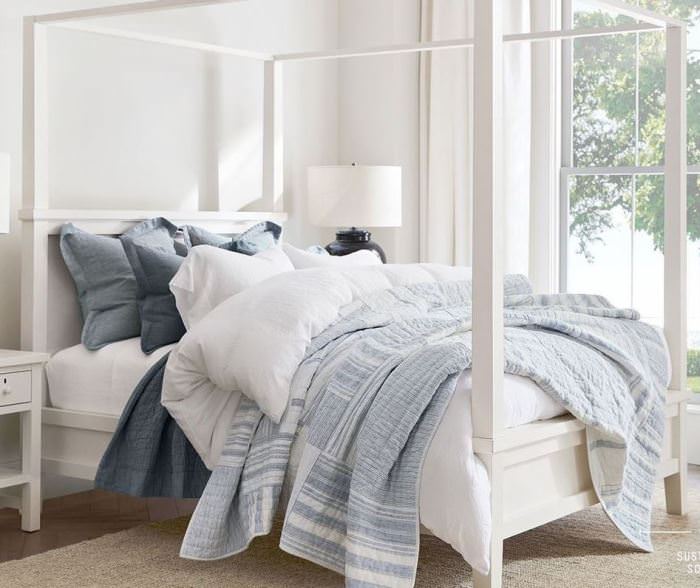 My winter version of the PB Bed–pillows are all perfectly in place while the rest of the bed says, "I just woke up!"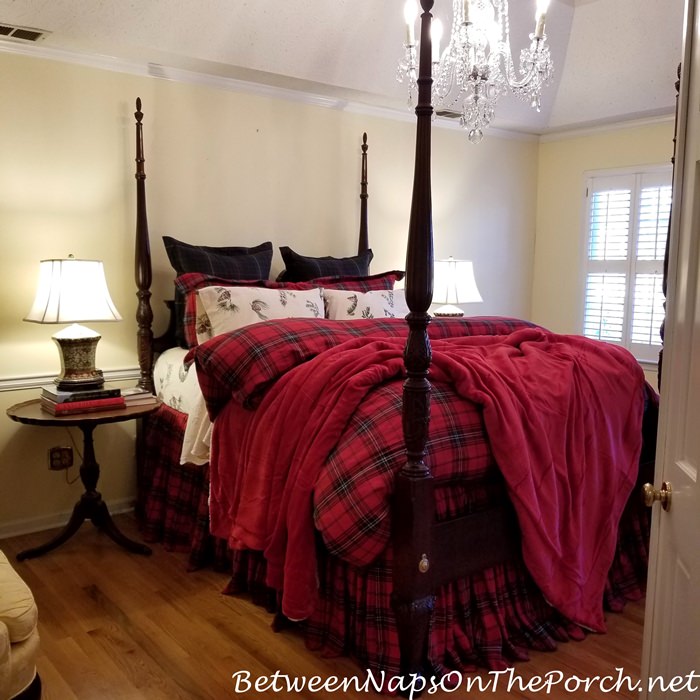 For this fun makeover, I borrowed the scrumptious, red blanket I purchased this past winter when family was here for Thanksgiving. My son and daughter-in-law always prefer sleeping on the queen-size sofa sleeper in my upstairs family/bonus room instead of the full-size bed in the guest room, but the bonus room can get a bit chilly during the night when the door is closed since that room is out over the garage. This blanket kept them toasty warm all night long.
After seeing this blanket here on my bed, I may just keep it here all winter. I love how it looks, especially displayed Pottery Barn style. lol (Red Sherpa Blanket is available here: Red Blanket.)
In the PB ad, they had the blanket strewn casually over the bed and hanging haphazardly off of the end.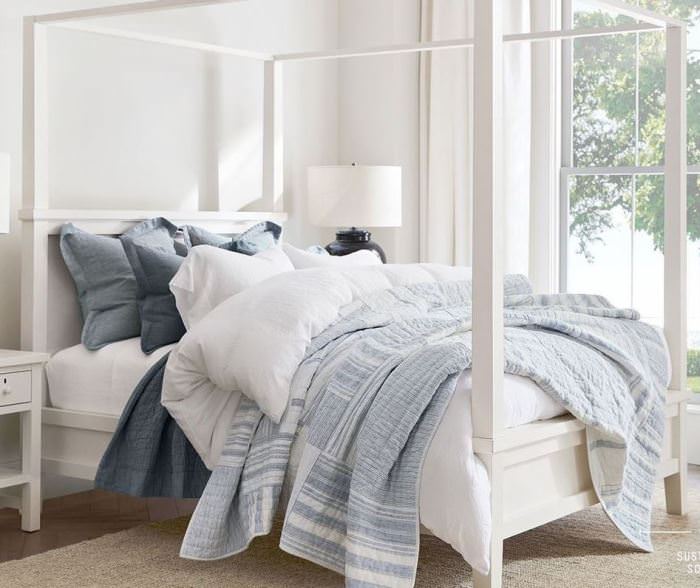 My version…I think I should have slanted it sideways and let it drag on the floor a bit more. Ha! (Tartan bedding is still available and on sale here: Tartan Bedding.)
The Pottery Barn Partially-Made Messy Bed…
By the way, if you love this linen, it's all on sale right now. In fact, I think all their linen is currently 20% off. You'll find the sale here: Spring Linen Sale. In all seriousness, I'm sure they display their beds this way to make them look extra cozy and fluffy, while also trying to share the various shams/pillow covers available for the bedding.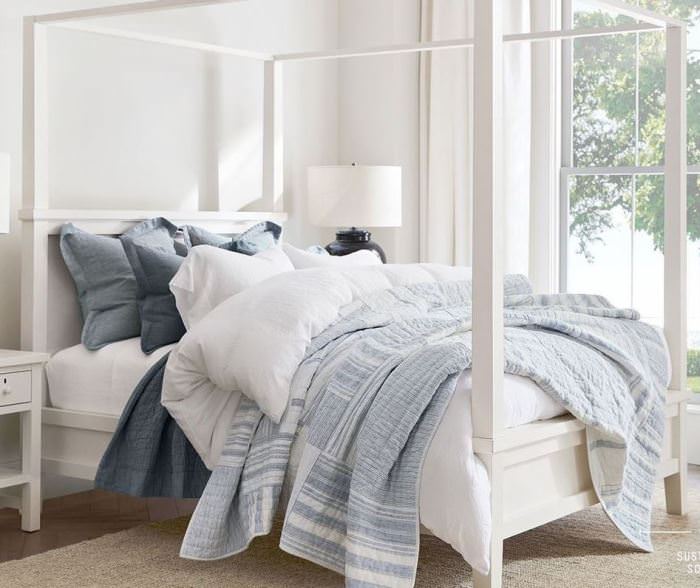 My winter version…
Making My Bed Like a Pottery Barn Bed
How about a fun challenge? Let's call it the, Making My Bed Like a Pottery Barn Bed, challenge. 🙂 If you have a blog, I'm challenging you to make your bed in PB style: Half Made-Up & Half Saturday Morning Wrestling with the Dogs and Kids.
If you take the challenge, please come back and leave a comment with a link to your post. I would love to see it!
Looking forward to all the wonderful Before and Afters linked for this week's Met Monday!
Pssst: Did you know Between Naps On The Porch is on Instagram? You'll find me on Instagram here: Between Naps On The Porch.
Like to know when a new blog post is up and available to read? Subscribe for email updates, it's free and your email will never be shared.
Subscribe for free post updates via email here: Subscribe.
Metamorphosis Monday
Metamorphosis Monday is a party that's all about Before and Afters. Please link up your Before and After projects like DIY projects, room makeovers, craft projects even recipes. Any Before and After is great! Please do not link up Table Settings, save those for our Tablescape Thursday party on Thursday.
If you are participating in Met Monday, please link up using the "permalink" to your MM post and not your general blog address. To get your permalink, click on your post name, then just copy and paste the address that shows up in the address bar at the top of your blog, into the "url" box for InLinkz when prompted.
In order to link up, you'll need to include a link in your MM post back to the party so the other participants will have an opportunity to receive visits from your wonderful blog readers.
This party has ended, click button below for the links to all who participated.
*If a post is sponsored or a product was provided at no charge, it will be stated in post. Some links may be affiliate links and as an Amazon Associate, I may earn from qualifying purchases. *