Are you as big a Mary Carol Garrity fan as I am? If so, I have some really big news. You may have already heard but Mary Carol Garrity has moved! Yep, she has moved from her beautiful, Atchison, Kansas home featured so often in her books, the same home she has graciously opened up for tours over the years. Mary Carol and her husband, Dan, have decided it's the perfect time in their life to downsize to a more casual lifestyle.
I'm sure this wasn't an easy decision, nor a hasty one. Downsizing can be so hard to do, especially when a home holds so many special memories. I've often heard owners of historic homes say that they don't really consider themselves the owners of an old home, but instead feel more like stewards who are protecting and saving the home for future generations to enjoy as much as they have. Mary Carol certainly has done that for her historic home.
So where did Mary Carol move?
She and her husband, Dan, have moved into an absolutely adorable lake cottage that they just finished renovating. The location of the cottage played a big role in their decision since Mary Carol wanted to shorten her daily commute to her Nell Hill's store in Briarcliff.
I loved everything about how Mary Carol decorated her Atchison home so I couldn't wait to see how she designed her lake home. It does not disappoint! From her description, it sounds like they removed an interior wall or two, as well as opened up the ceiling to create this beautiful living room. I love the ceiling with its exposed beams. Notice all the little cubby holes for books above the windows! This house has so much personality! I wonder if she's leaving the doors natural or if they will be painted, too?
Look at that wonderful rock/stone fireplace! As we tour this beautiful cottage, you'll notice lots and lots of bookshelves. One of Dan's requests during the renovation process was plenty of built-in bookshelves to house his beloved books. I can so identify with that. When the day comes that I downsize and move, I won't be able to part with my books. Or, my dishes. 🙂
Do you recognize the furniture? Mary Carol used her existing furniture for this lake home and had it recovered in a more casual, ticking fabric. It feels right at home in this cozy cottage.
Downsizing is both terrifying and exhilarating. It's so hard to go through the treasures we've accumulated over the years and make the tough decisions what we'll keep and what we'll let go, but it can be so exciting to begin a new chapter and create a home that better suits the way you want to live today.
In Mary Carol's post about her new home, she mentioned she wanted to go with a casual, less formal look for her lake home. Mary Carol said, "My goal for this cozy cocoon was for it to feel relaxed and casual, like an 80-year-old family home that had been cherished by multiple generations, the scene of lots of love and memories."
Mary Carol went with lighter-stained wood floors and brass picture lights (used as books lights in this case) above the bookshelves. She managed to sneak in a touch of plaid via the footstool. Every room needs just a little bit of plaid. Or, maybe a lot.
Mary Carol has an amazing eye for scale and balance. Looking at the beautiful chest in this room, notice how the wine holder on the left balances so nicely with the height of the lamp on the right. That "vignette" would not look right if those objects were the exact same height or if she had chosen a really low piece for the left side. Mary Carol knows just how to strike the perfect balance that's so pleasing to the eye.
We get a better view of the bookcase lighting in this photo. What a great floor lamp! Makes me so happy to see designers embracing brass again, especially in their own homes. Notice how Mary Carol uses both silver and brass in her rooms, so much more interesting than if she had stuck to only one metal/finish.
As you know, I've been thinking a lot about downsizing myself. I blogged about my dream cottage in this post: My Dream Home. I was so amazed as I was reading Mary Carol's philosophy and ideas about downsizing because they aligned so closely to the thoughts I've been having over the last few years.
As I was emptying the dishwasher the other day, I was thinking about some of the reasons it's so hard for me to get serious about moving. One thing that's hard is leaving behind some of the features I love about my current home, like the "library" feel of the living room with it's warm, judge's paneling or the dormer windows and window seats in my upstairs living room/bonus room. Living in a smaller home doesn't scare me; I welcome that. What does scare me is living in a home lacking personality.
I would love a cottage with hardwood floors, deep moldings, solid wood doors, lots of built-in bookshelves, bedrooms with dormer windows and window seats, slanted ceilings and hopefully original, true divided-light windows. One of the joys and advantages of downsizing is when a home is smaller, you can really make it special and include or add features you love without breaking the bank.
Mary Carol included so many special features in her lake home when she renovated it, like these wonderful built-ins and sweet window seat overlooking the lake.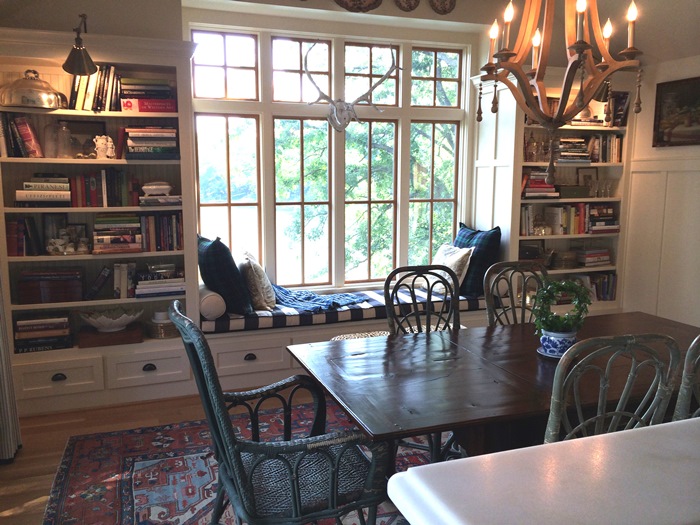 Notice the built-in storage underneath. Mary Carol made sure to use all available space for extra storage.
So many things to love in her new kitchen: lighting, subway tile, glass-front cabinets, white knobs that disappear/blend in with the cabinets, wood countertops, hidden refrigerator and the mix of white cabinetry with stained. I wonder if that's marble on the stained cabinet/island…I bet it is. You can get every single thing you want in the way of surfaces and features in a smaller kitchen, there's just less of it. Less to keep up and less to clean!
I notice Mary Carol held onto to her silver dome lids. I'm so glad…I love those!
The kitchen even has a little bar area for entertaining. This would also make a great coffee/hot chocolate station, wouldn't it?
If I ever get up the nerve to downsize (insert cackling chicken sounds here) Mary Carol's kitchen will definitely be an inspiration for my cottage kitchen. The only thing I would do differently is I think I'd prefer white grout between the subway tiles instead of the darker grout. I like it both ways but think I'd prefer less contrast between the tile and the grout. I reserve the right to change my mind on that. 🙂
If I ever make the move and go for that cottage home, I have a feeling I will need to buy a fixer-upper and make it my own with a similar renovation. Would you follow along on that adventure? I might need a little hand-holding along the way! 😉
See more of Mary Carol's wonderful cottage lake home and read her 5 tips for downsizing in style at her blog here where these pictures were found: Style At Home
*If a post is sponsored or a product was provided at no charge, it will be stated in post. Some links may be affiliate links. *