I love to go on home tours at Christmastime. Years ago when I attended a tour in my home town, one home we visited had pretty lanterns hanging from hooks. They were lining the walkway to the home. I loved how it looked and have always wanted to try my hand at making some for my walkway.
I finally got around to doing it this year and guess what? It's easy! I've made two so far and I love how they turned out. I've created a little tutorial sharing how I made them in case you would like to make some for an upcoming holiday gathering at your home.
The supplies you'll need for this project are:
1/2 Gallon Ball Wide-Mouth Mason Jars
Garland (about 3 feet for each lantern)
Sturdy Wire Cutters
Pillar candles
Cranberries
Shepherd's Hook (if you wish to hang them)
For the glass part of my lanterns, I used 1/2 gallon Ball, Wide-Mouth Mason Jars, available in the store and online at True Value. A set of six (6) would give you three lanterns down either side of a walkway. If you want to really make your walkway festive, buy two 6-packs of the jars and you'll have enough for six lanterns down either side.
You'll find the jars are available online here: Ball Wide-Mouth 1/2 Gallon Jars
One thing I wanted to change about the lanterns I had seen on the home tour was the handle. The lanterns on the tour had been hanging by a bare wire handle. I had a little improvement in mind for those.
I started my lantern project by making the handle. Using old garland I've had for years, I started wrapping the little individual "branches" of the garland around the wire base of the garland itself. My garland was pretty sparse so it was perfect for this project.
I only wanted to use enough of the little branches to completely cover the wire base of the garland, so every few inches or so, using sturdy wire cutters, I snipped off the branches I didn't need, otherwise my handle would have turn out thicker than I wanted it to be. In this photo below you can see the pieces I had snipped off in the background.
In the photo below, the section on the right was finished while the section on the left was yet to be done. Your fingers can get a little sore wrapping those branches around the center wire, so you may want to wear a pair of gloves as you work.
Once I had all of the garland wire covered with the little branches, I wrapped my garland-covered wire around the top of my mason jar. Garland will often have a little piece of wire sticking out the end (see arrow). Mine did and I curved that upward and hooked it around the other side of the garland to create a tight loop of garland around the neck of the jar.
Here's how it looked once I tightened down that little loop of wire, completing the circle of garland around the neck of the jar. Be sure it's nice and tight. If not, undo it and pull it tighter, otherwise your garland handle may let go of the lantern.
Next I curved my long garland strand up to make a handle. I found that 24 inches of garland is just about right for the handle. Once I knew how tall I wanted the handle to be, I snipped off the excess garland to use for my other lanterns.
I stuck the loose end of the garland down between the jar and the garland I had wrapped around the neck of the jar. Then, I bent the end of that piece upward wrapping it around the piece of garland that was around the rim of the jar.
Yay, no bare-wire handle! Now my lantern was ready for a candle.
Note: Some pillar candles are just barely too big to fit through the opening of a wide-mouth jar, so be sure and measure the opening of your jar before shopping for candles.
Once I had my candle inside my jar, I added a few cranberries around the base for a festive Christmas holiday look. Don't have cranberries on hand? You could use nuts, marbles, decorative pebbles, even kitty litter or sand.
So far, I've just made two. Here's how they looked on either side of the steps leading to the porch.
These would look great running down both sides of a walkway.
I hung my lanterns from shepherd's hooks. You'll find similar shepherd's hooks available online at True Value here: 48″ Black Shepherd's Hook
I love how these turned out! Here's a little close-up of the one on the left…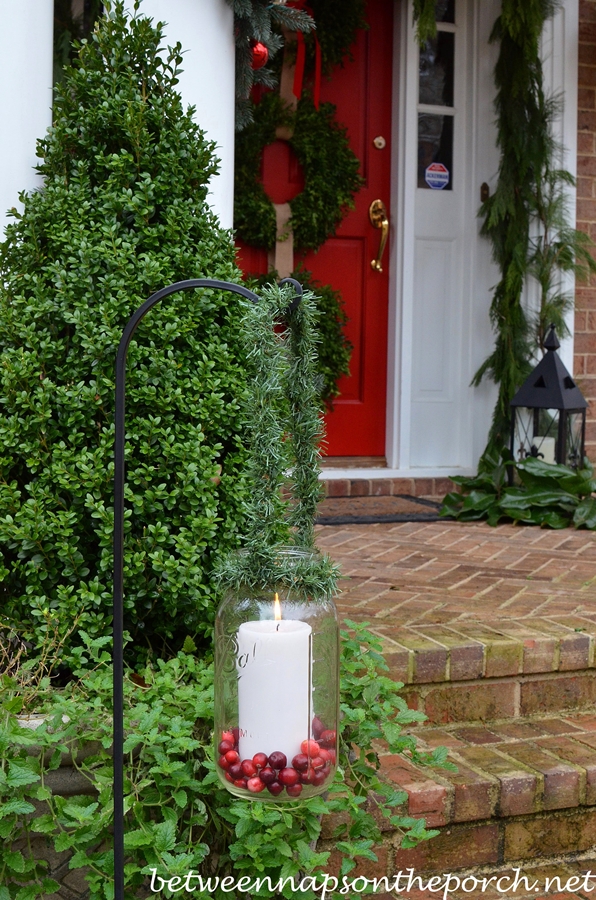 And here's the one on the right.
If you don't want to hang your lanterns, you could line the edges of your walkway with them, instead. These could also be used for Halloween by covering the green garland with some of the black and orange garland available in the stores at that time of year. Instead of cranberries, candy corn would be really cute around the base for Halloween.
Hope you enjoyed this fun holiday project! Let me know if you have any questions…happy to answer those, as always.
Pssst: See the front porch reveal here: Decorating the Front Porch for Christmas
Working on any holiday projects around your house right now? Check out True Value's Facebook and Pinterest pages for more inspiration.
I was one of the bloggers selected by True Value to work on the DIY Squad. I have been compensated for my time commitment to the program as well as writing about my experience. I have also been compensated for the materials needed for my DIY project. However, my opinions are entirely my own and I have not been paid to publish positive comments.
*If a post is sponsored or a product was provided at no charge, it will be stated in post. Some links may be affiliate links and as an Amazon Associate, I may earn from qualifying purchases. *