Welcome to the 278th Metamorphosis Monday!
It's 4:00 on a Sunday afternoon. Three friends will be arriving for a cookout in one hour. Everything is ready. Somehow the party faeries have all conspired in my favor and I'm actually running ahead of schedule. There may even be time for a few minutes on the porch alone before the guests arrive.
I open the refrigerator to pour myself a cold drink and OMG, I can't believe my eyes. The tall beverage server that was filled and chilling just minutes ago, is now virtually empty, having poured its entire contents out into the refrigerator. The party starts in 1 hour and there's no refreshing beverage to serve my guests when they arrive. Instead, I have a refrigerator with sticky, sweet liquid dripping down the front, filling up all the drawers underneath. I open drawers and find packages of cheese, lettuce, bacon, lemons and other assorted things all floating in inches of sweet beverage.
Shock!
Disbelief!
A few curse words thrown to the air and it's, GO TIME!
I don't have pictures for you, picture-taking wasn't exactly on my mind right then, but after some very fast refrigerator cleaning, a mad dash to Publix for more ingredients ensued. By some miracle I was back home with the beverage mixed up and back in the refrigerator (AGAIN!) by the time guests arrived.
So much for it "marinating" for a few hours to get all the fruit flavors through the drink. HA! It made a great story to tell at the party. My friends have come to expect things like this. I'll have to share the story of the "ant" cake one day. 🙂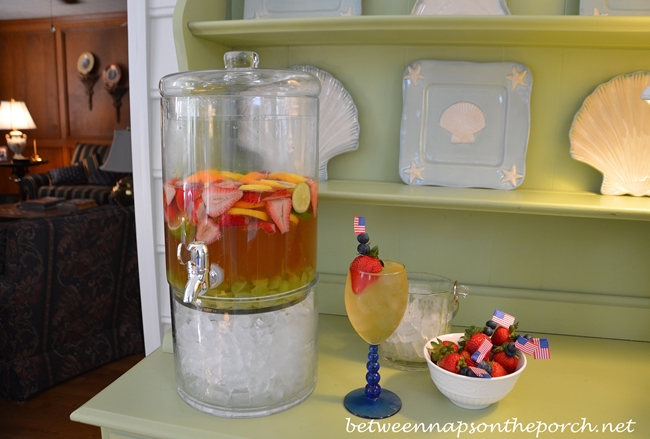 You know what the really scary part was? After the mess was cleaned up and the new beverage made and back in the refrigerator, I still hadn't figured out what caused it. I thought maybe I had somehow accidentally bumped the handle on the front because it was in the open position when I found the mess. It's a miracle it didn't happen the second time I mixed it all up and stuck it back in the fridge!
Guess when I figured it out? After the party! Around 11:30 that night, after everyone had left, I placed the left overs back in the fridge. As I was cleaning up a little before heading up to bed, I opened the refrigerator and found it all leaking out again!!!
Fortunately, I caught it early this time so there was not near as much to clean up. That's when it dawned on me, depending on how far back in the refrigerator the server was sitting, when I closed the door, the shelves in the refrigerator door turned the handle and started the server flowing! I never felt the door bumping it so had no idea that was happening.
So, learn from this! Beverage servers can not be trusted to behave themselves when you close the refrigerator door and the lights go out. They get really rowdy and do unmentionable things in your refrigerator while you go about your business unaware! Check on them. Often!
Pssst: A printable recipe for this delicious Sangria can be found in this post: Refreshing Sangria, Perfect Beverage For A Summer Party
Ever have a disaster happen 1 hour before guests were due to arrive? How did it all turn out? I bet you guys have some good stories!
I'm having breakfast this morning as I type this…you can't celebrate the first cookout of the season without deviled eggs!
For the party I brought down all the cushions to decorate the porch in a similar way to how it was decorated a few years ago for a 4th of July, shown below.
At the last-minute, I changed my mind. I was in the mood for the soothing, calm greens that are normally on the porch, and I didn't want to undo the beach/summer porch feel I had going on with the hutch from this post: The Summer Porch: Beach Cottage Decor.
So, I opted for just adding a few patriotic touches like the large star on the wall and a flag pillow for the swing. I tucked a large flag into the Kimberly Queen Fern in the corner and used my fave patriotic centerpiece for our table. Tutorial can be found here: Make a Patriotic Centerpiece for a Party. It's also great for a 4th of July gathering.
The kitchen this morning is actually in pretty good shape.
I didn't take time to wash up the dishes last night so as soon as this post goes up, I'll head down to the kitchen to get that done. These dishes are dishwasher and microwave safe but I love the rich colors so much, I'd rather wash them by hand than risk fading them in the washer. (See a table setting with this Warren Kimble dishware here: Dining on the Porch for the 4th of July)
As sick as this sounds, I actually enjoy this part after a party. Cleaning up and putting everything back where it belongs is relaxing and gives me time to relive the fun moments from the party. Do you like that part, too or are you thinking, there's a medication for that! 😉
I did wash the flatware last night before turning in since it's never good to leave flatware with a decorative handle soaking in water. It can sometimes loosen the handles or damage them.
I've been meaning to use these funny rooster glasses in a table setting for Tablescape Thursday but just haven't gotten around to it. My guests really liked them last night…lots of compliments on these. They came from Tuesday Morning a few months back.
So that's a bit of a "Before" Party, "Middle" Party and "After" Party. 🙂
Update: Recipe for this delicious Sangria can be found in this post: Refreshing Sangria, Perfect Beverage For A Summer Party
Looking forward to all the Before and Afters linked for this Met Monday!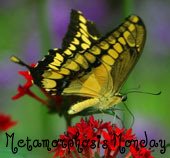 If you are participating in Metamorphosis Monday, you will need to link up the "permalink" to your MM post and not your general blog address. To get your permalink, click on your post name, then just copy and paste the address that shows up in the address bar at the top of your blog, into the "url" box for InLinkz.
In order to link up, you'll need to include a link in your MM post back to the party so the other participants will have an opportunity to receive visits from your wonderful blog readers.
Please observe these few rules:
Only link up Before and After posts that are home, gardening, crafting, painting, sewing, cooking, DIY related.
Do not link up if you're doing so to promote a website or product.
Do not link up a post that was just linked last week since a lot of readers will have already seen that post.


*If a post is sponsored or a product was provided at no charge, it will be stated in post. Some links may be affiliate links and as an Amazon Associate, I may earn from qualifying purchases. *