Welcome to the 390th Metamorphosis Monday!
I was away this weekend visiting family so don't have a Before and After to share from home, but I do have an interesting discovery to share. During my visit I stopped by one of my favorite grocery stores in the area, Dorothy Lane Market. While shopping in Dorothy Lane, I overheard one of the product vendors talking with another customer about a milk they have for folks who are lactose intolerant or can't tolerate the casein proteins in regular milk. My ears perked up since that's definitely something I struggle with. I love milk but it doesn't love me.
This was the milk they were discussing. It's by Snowville Creamery and what makes it special is it's from cows that have been tested and only have the A2 gene for beta-casein, not the A1 gene. Per Wikipedia, A2 milk is "cow's milk that contains only the A2 type of beta-casein protein rather than the more common A1 protein found in regular milk." From the little bit of research I've been able to do online, I learned that the A1 gene is a mutated gene and the milk we find and buy in grocery stores today is normally from cows with this mutated gene.
Yesterday while shopping at Dorothy Lane, I purchased a typical "gourmet" style yogurt I thought my son, grandson and DIL would enjoy. It was in a bottle and was a pourable yogurt. The flavor was Banana Mango and it looked like a rich milkshake.
I had a small amount once home and it was delicious, but I paid the price about an hour later with an upset stomach and stomach cramps. It almost kept me from going on a walk we had planned to the park that afternoon, but fortunately the "attack" didn't last too long.
Later that evening after our trip to the park, I had a glass of Snowville milk from cows that have been tested and do not have the A1 gene. The result? No upset stomach at all. It was wonderful!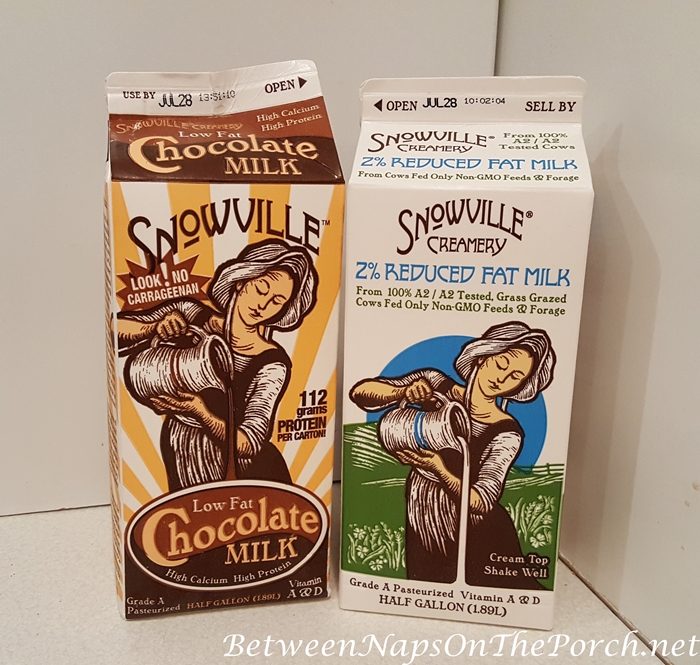 Feeling brave, I decided to try some of the Snowville yogurt I had purchased that is also made from cows without the A1 gene. Again, no tummy upset at all. Unfortunately, Snowville milk products are not available in Georgia where I live. I hope I can find someone in my area who sells milk products that come from A2 tested cows. I love milk and would love to enjoy it again, pain free.
Here's a blurb from Wikipedia explaining a bit more about the A1 vs A2 gene and the cows that carry these genes.
A1 and A2 beta-casein are genetic variants of the beta-casein milk protein that differ by one amino acid. The A1 beta-casein type is the most common type found in cow's milk in Europe (excluding France), the USA, Australia and New Zealand. A genetic test, developed by the A2 Milk Company, determines whether a cow produces the A2 or A1 type protein in its milk. The test allows the A2 Milk Company to license milk producers once proven their cows produce only A2 beta-casein protein in their milk, to the exclusion of the A1 beta-casein protein type.
You can read more about the differences in A1 and A2 beta-casein milk proteins and the cows that carry these gene variants here: A2 Milk
Have you had an opportunity to try any milk products from A2 gene cows? If so, did you have any digestive upset afterwards? I wonder if Whole Foods or Trader Joe's store carries A2 milk. Anyone know?
Metamorphosis Monday
Metamorphosis Monday is a party that's all about Before and Afters. If you are participating in Met Monday, please link up using the "permalink" to your MM post and not your general blog address.
To get your permalink, click on your post name, then just copy and paste the address that shows up in the address bar at the top of your blog, into the "url" box for InLinkz.
In order to link up, you'll need to include a link in your MM post back to the party so the other participants will have an opportunity to receive visits from your wonderful blog readers.
Please observe these few rules:
Only link up Before and After posts that are home, gardening, crafting, painting, sewing, cooking or DIY related.
Do not link up to the party if you're doing so to promote a website or sell a product.
Do not link up a post that was just linked up last week since readers would have already seen that post.
Please do not link up more than 3 posts per week.
*If a post is sponsored or a product was provided at no charge, it will be stated in post. Some links may be affiliate links and as an Amazon Associate, I may earn from qualifying purchases. *