A couple of weeks ago a friend and I were chatting on the phone about her Ancestry DNA results. Her test results had just arrived and though some results were as she expected, others were quite surprising.
During the conversation, she mentioned that the results showed her relatives had all settled in the Georgia-Florida area. Umm, that's interesting! When I had my DNA tested back in April 2016, it didn't give me any results regarding which state or states my relatives had settled in. I just figured Ancestry was now providing more information than they had been back when I submitted my DNA.
Lo and behold, I got an email today from Ancestry DNA stating the info you see below. I clicked the button stating, "See your results" expecting there would be a few tweaks here and there, but no big changes. Boy, was I in for a big surprise!
First Ancestry toyed around with me a bit. Instead of giving me the newly updated results right away, they asked me to "rate" how I felt about the past test results I had been given. They listed all the results/regions/ethnicities they had assigned to my DNA in the past and using a slider bar, I was asked to rate how "Surprised" or "Not Suprised" I had been by the previous results. (See previous results in the screenshot below.)
I played along and moved the little slider in the direction that showed I had not been surprised with the previous results indicated I was mostly Irish/Scottish–my maiden name is a popular Scottish/Irish name.
For the Scandinavia and Iberian Peninsula results, I slid the little button the other direction indicating I had been very surprised by those results. Who knew my second highest ethnicity would be Scandinavia! That had definitely been quite the surprise.
I left the slider in the middle for the Great Britain results since that had not really surprised me either way.
The New Results
Finally, after completing the relatively short survey rating how I had felt about the accuracy of my past results, Ancestry DNA was now ready to reveal the new, improved updated results!
Below you'll see the previous results of my DNA test on the left with the new, updated results on the right. To say I was surprised is an understatement, this was such a big change!
Turns out, my ancestors are mostly from Great Britain…almost 80%. Ireland/Scotland/Wales went from 27% to 17% and Scandinavia has now been precisely narrowed down to the country of Sweden and reduced to just 4%. It had been my second highest before.
All the other ethnicities that were listed in small percentages in the previous test results (Iberian Peninsula, Europe South, Europe East, Finland, Caucasus) have been completely removed and deemed no longer valid. Interesting, huh?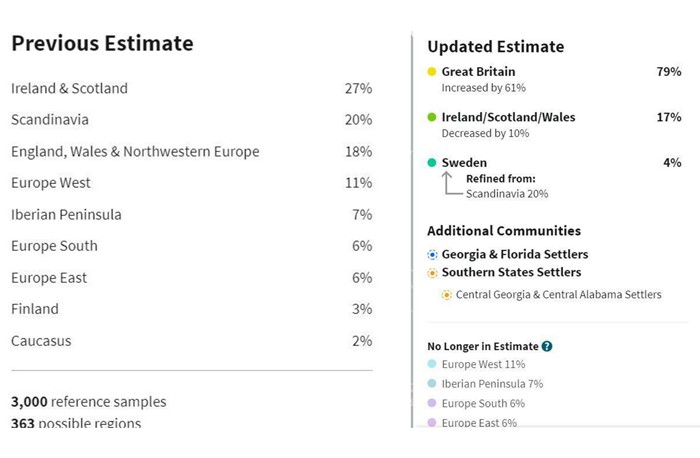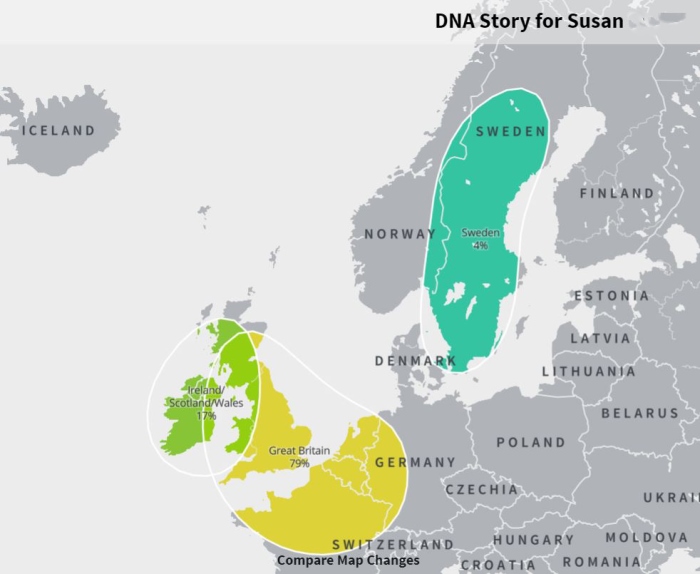 I did some research trying to figure out why the numbers had all changed so much and this is what I found at the Ancestry DNA website.
I'm curious, if you have previously submitted your DNA to Ancestry DNA, did you receive an email with an update recently? If so, did your results change this much?
Apparently, the science behind DNA testing is getting better and better and will continue in that direction as genetic scientist learn more and more people are tested. I find it all truly fascinating!
If you're interested in having your DNA tested to learn more about your heritage, you'll find a previous post where I detailed the process and how you submit your DNA here: Testing with Ancestry DNA.
You can purchase a kit to have your own DNA tested with Ancestry DNA here: Test Kit. It's completely painless, just involves spitting into a small tube and mailing it away for testing.
*If a post is sponsored or a product was provided at no charge, it will be stated in post. Some links may be affiliate links and as an Amazon Associate, I may earn from qualifying purchases. *