Good Saturday Afternoon! I hope your weekend is going awesome! Today I thought I'd create a quick catch-up post. I have a little folder on my computer that I occasionally drop pictures into when there's something I'd love to share with you that I think you'll find helpful or interesting but perhaps isn't worthy of a full post. Periodically that folder gets a little fat and I know it's time to pull those topics/tips all together into one post.
Before I share those fun tidbits, just wanted to let you know, I have decided to not go through with adding the bookcases to this wall in the upstairs family room–at least not at this time. Actually, I think I came to that decision during the midst of getting the estimate. As the estimator and I were standing here talking, it hit me how off-balance the bookcases were going to look because there's much more wall space on the left side of the window than there is on the right. The estimator never mentioned that issue, it's just something that I suddenly realized since you guys had kinda convinced me I should not take the bookcases on down the back staircase.
If we continued the bookcases down the staircase, I think that would have helped the symmetry/balance issue that was bugging me, but the estimator and I measured some of the books I have, and the shelves in that area would really have needed to be around 8 inches deep to hold a lot of the books I wanted to store there. Currently, there's only about 6 inches to work with, so 8-inch deep shelves would have taken another 2 inches from the width of the staircase.
I wasn't sure how I would feel about that once the shelves were there since I carry a lot of things up and down that back staircase. I just wasn't sure I wanted to give up two inches of width/space.
Another little niggling issue that was bothering me is the estimator said that he has had a lot of trouble finding/employing good craftsman/installers over the past year. He mentioned that he's had to go back on several jobs to fix things that weren't done quite right during the install. Right now, coming off the year that we've had, it just seems like this may not be the best time to jump into a big project, not that bookcases are that big of a project, but you know what I mean. If I had hired him for this job, he wasn't even going to be able to start my bookcases until August.
The estimate for the bookshelves and a new window seat came to $6,457. With 2 bathrooms that could use full renovations, I think I would do better to spend that money on those. You usually recoup a significant amount back on bath and kitchen renovations when you sell your home. Built-in bookshelves, though beautiful and great for us book lovers, don't usually add $$$ to a home when you decide to move.
So, in the end, I decided to not go forward with the bookshelf idea, at least not for now. I still think it would be pretty cool to see that whole wall (including the stairs) covered with fabulous bookshelves and books, but the bathrooms really need to come first!
Remember the stamped spoons I ordered a while back. I've been meaning to share them and keep forgetting. I love the designs and I'm looking forward to using these in a table setting this summer. Sooo cute! (Spoons are available where I purchased mine here: Stamped Spoons.)
So you know how I love doing puzzles, especially on my puzzle board here in the office. (Puzzle Board is available here: Puzzle Board.)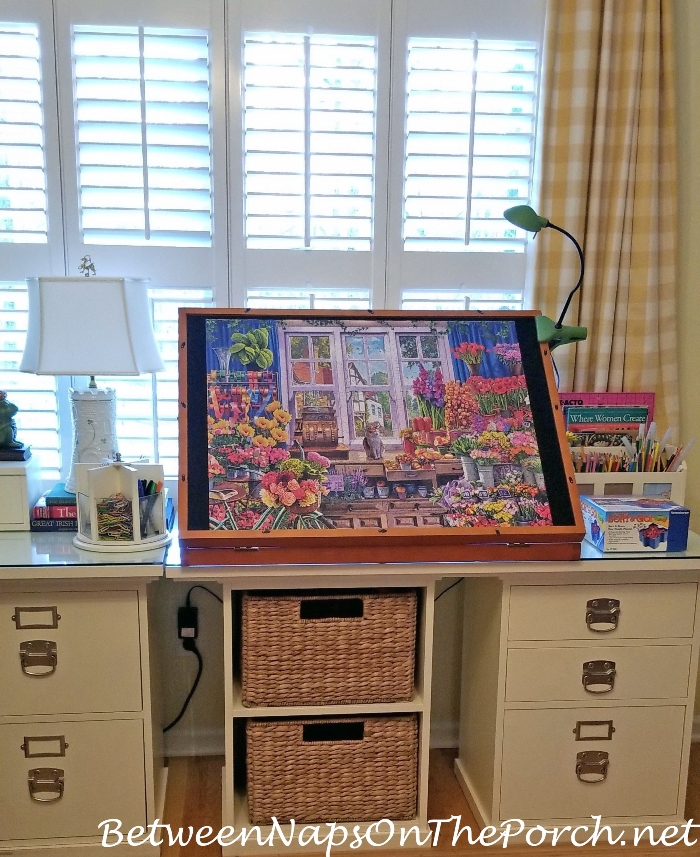 After doing a lot of puzzles, sometimes the board ends up covered in what puzzle aficionados call "puzzle dust." You can literally see the outline of where I've done puzzles in the past. Do you see that sprinkling haze of puzzle dust across the surface of the board?
Here's how it looked about 1 minute later. How did I clean all the puzzle dust away so quickly?
I did it with this little device that I've shared before. I LOVE this thing–so much so, I purchased a second when I was staying/visiting family so much this past year in Ohio. It's a mini-vacuum that I use to periodically clean my keyboard and the large mousepad I use with my laser mouse. Laser mouses (mice?) don't work as well as they should on a mousepad that has bits of lint or dust on it, and this little vacuum keeps my mousepad nice and clean. I also run it across my keyboard about once a month to help keep it dust-free.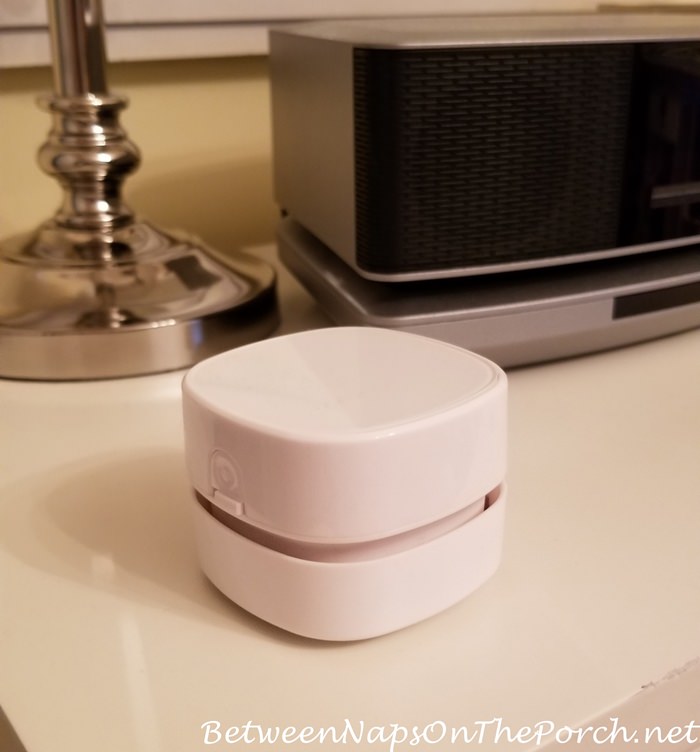 When I purchased it, I never thought of using it on a puzzle board but it works great for that. After vacuuming the puzzle board, here's what the little vacuum picked up. Amazing! (Mini-desk-vacuum is available here: Mini-Vacuum.)
I also like how it sort of brings the felt on the puzzle board back to life–makes it a tad fluffier for grabbing hold of those puzzle pieces so they don't slide down on the board.
I do so many puzzles, I can usually do a 1,000 piece puzzle in 2-3 days, depending on the complexity of the puzzle. I just finished a few new ones over the past few weeks that were so much fun! I have finally figured out the type of puzzles I enjoy doing the most and stick to ordering just those now. Below are three that I completed recently and loved doing. This "Bookstore" puzzle below is available here: Bookstore Puzzle.
If you love bookshop puzzles, here's another one that I loved doing a while back. It's available here: Bookstore Puzzle.
One more that I loved featuring a wonderful old book shop…it's available here: Beautiful Book Shop.
Is this not the cutest? It's a puzzle of a puzzle store! lol I recognized many of the puzzles in the shop window as being puzzles I've completed in the past. This Puzzle Store puzzle is available here: Puzzle Store Puzzle.
Here's one more that I completed recently. It's a lot more vivid and colorful in person than this photo shows. It was perfect for this time of year! For the bird lovers, you'll find this puzzle currently on sale here: Bird/Birdhouse Puzzle. There's also a coupon so don't forget to check the box to get the extra $$$ off! That's an awesome price for a 1,000-pc puzzle!
One last tip/idea to share…recently I mentioned in a post how I like to reuse candle containers once they are empty. I had repurposed this Ballynahinch Castle Candle jar…
…to hold spoons in my little beverage/drink station here in the office. (See that previous post here: Creating a Pretty Beverage Station for My Home Office.)
When the candle was almost gone, but not quite (sorry–didn't think to take a picture of that) the remaining part of the candle was all liquid since it was burning at the time. There was so little left, the thin, metal base part of the wick was literally sitting on the bottom of the Ballynahinch glass container in about 1/2 inch of liquid candle. I only have two of these candles, hauled them all the way back from Ireland in my carry-on bag. I wanted to keep and reuse the little jar, but I didn't want to waste a single drop of the candle since it smells wonderful. So I got an idea.
I took the candle downstairs and located a small votive holder I had stashed away in my laundry room. I blew out the Ballynahinch Castle candle and using needle-nose pliers, I reached in and removed the hot wick. I then poured the remaining candle/liquid wax into the votive holder and using my pliers, reinserted the little wick. The candle hardened up in a matter of minutes and I had myself a new, tiny candle to burn. lol
Just wanted to share this tip in case you have a larger candle that's almost all gone but there's still a small bit of candle left that you don't want to just toss out. Find a small votive holder and just transfer the melted, liquid wax (and wick) over to a small votive holder to finish it off.
Oh, one more…if you use Gmail, did you know there are different themes (all free) that you can use as the wallpaper/background of your Gmail Inbox? There are a bunch to choose from under the Settings/Theme part of Gmail and all are very scenic and pretty! I just discovered this feature in Gmail a few weeks back and this is the one I'm using for spring. So much better than the glaring, harsh, white background that's the normal view in Gmail.
Hope you found some of these ideas helpful! Have a wonderful weekend!
*If a post is sponsored or a product was provided at no charge, it will be stated in post. Some links may be affiliate links and as an Amazon Associate, I may earn from qualifying purchases. *