I've never enjoyed going to a hair salon, I find it a huge anxiety-producing experience, mostly because I rarely walk out with a haircut that I like. Many years ago I had a stylist who did cut my hair just as I liked, but the salon went out of business and I have no idea where she went or if she just retired. She was consistent and always cut my hair the same way without me having to do a full rundown of what I wanted. It's one of the few periods in my life when I didn't dread getting my hair cut the way you dread getting a root canal.
One of the issues I always have is due to having thick hair. That seems to annoy and create a problem for a lot of stylists. A few years back while looking for a stylist in my area, I saw great reviews online for a stylist who cut/styled hair from her home salon. She lived very close to my home so I decided to give her a try, romanticizing that it would be like the good old days when hairdressers built a close relationship with each of their customers, the kind of relationship my Aunt Aretta had with the stylist who permed and cut her hair every month in her Beauty Shop when I was growing up.
It was a terrible experience, she didn't seem to understand at all what I wanted when I said I didn't want my hair to curl under and cup/hug my face, but preferred it flip outward and back away from my face. She complained about how much hair I had the entire time she was cutting it. In the end, as she was ringing up my ticket, she irritatingly informed me that she should charge me extra because it took so long to cut and dry my hair. She made it clear that she was doing me a favor by not charging more than her published fee. Needless to say, I never went back.
Frustrated by so many negative experiences, often at high prices, I've many times resorted to just letting my hair grow long and getting it cut one length at one of the local discount chain salons. It's hard to screw up a completely straight cut and at least if the cut I get isn't the greatest, I've only paid around $30 after a generous tip, as opposed to $65 + tip.
Every couple of years, I get up the nerve to try again. Last summer, I searched the online reviews of the salons near me and found one that looked promising. While on an errand one day, I stopped by and booked an appointment with a stylist who they promised was experienced. The big day arrived and with the usual trepidation, I entered the salon. Here's how the conversation went.
After introductions to the stylist, I share with her a photo of what I would like–the photo below. I tell her I like all the movement I see in that hairstyle, the way it's cut. I mention that I have thick hair but I don't want my hair thinned out, just layered a bit in mostly long layers, the way it looks in the photo. I say that I like for my hair to kinda flip out and away, back from my face. It's more flattering that way on my roundish face.
I explain how I don't have to wash my hair that often (every 4-5 days since it's never oily) and when I style it with my Calista Tool, it holds that shape until the next time it's washed. I finish by saying that I don't like my hair blow-dried really smooth/flat (a popular look these days) that I prefer a lot of body and movement. I mention that since my hair is so thick, it can take a long time to blow-dry.
The whole time I'm talking, the stylist is just staring at me. She pulls my hair out from the back and sides, checking it out for herself. She says nothing but I can tell from the look on her face she doesn't really get what I'm saying. We head to the shampoo area.
Stylist While Washing My Hair: Wow, you have a lot of hair! Your hair is really thick!
Stylist Still Washing My Hair: You have sooo much hair and it really holds the water!
Me: Yeah, I know. ~~sigh~~
Stylist Beginning to Cut My Hair: Your hair is really too thick. We need to thin it out. (Knew that was coming.)
Me: Again, I say that I don't want it thinned out, just layered similar to the way it's layered in the photo. I tell her that with a really good cut, it will be fine and I'll be able to recreate the look. I definitely do not want it thinned out.
(I'm speaking from past experience, whenever I get a great cut, I can do anything I want with my hair. The cut is everything!)
Stylist: Looks annoyed and keeps trying to convince me why I need to let her thin out my hair and how it's the preferred way to deal with thick hair. She does a mock demonstration on my hair with her thinning shears, showing me how she plans to thin it out.
Me: No, I really don't want it thinned out. I reiterate everything I've said before, becoming more anxious by the moment.
Stylish: Looking super annoyed, she literally rolls her eyes. She proceeds to tell me she went to school for X number of months and has her license and wouldn't recommend something if it wasn't the right thing to do.
Me: Trust waning, all I want to do is get up out of the chair and run! I spend the entire time she's cutting my hair tense and worried, wondering how long it will take me to grow my hair out this time. I glance up every once in a while to see if she's secretly thinning my hair. I actually ask at one point, half-jokingly, and she assures me she's not.
Again, the haircut below is what I had asked for, only I requested that it be a little shorter and that the ends flip slightly out, not under, a look that's never flattering around my face. I've found if I get a great cut that naturally lends itself to being turned out and away from my face, I can easily duplicate the look with my Calista Hair tool.
I also asked for some light, natural-looking highlights. The stylist recommended Balayage Highlights to achieve the natural-looking highlights I wanted. She described the process and how it looks and it sounded exactly like what I wanted.
This was the end result. It's pretty much exactly what I wanted with a bit of layering, balayage highlights and no thinning. I don't like tons of layers, especially short layers since it requires a lot more time/effort to style each day. I loved the end result but I was completely exhausted afterward. Anxiety will do that to you.
(I hadn't realized how much sun I had gotten on my shoulders last summer playing outdoors with my grandsons until I saw this photo.)
The stylist liked how it turned out so much, she asked if she could take photos for her Instagram page. I've been back to her 3-4 more times since I'm happy with how my hair turned out, but each time I dread the visit. I always show her the original photo for reference, along with the photos she took and mention that I don't want my hair thinned out. Each time she acts annoyed and talks to me in a condescending way like I'm an irksome child.
The third time I visited, I told her she didn't need to worry about blow-drying my hair. It takes sooo long and honestly it always feels so destructive, the pulling and dragging of each small section of hair through the brush. She was obviously thrilled with that suggestion because the next time I went back she eagerly asked if I wanted to forgo the blowing drying again.
By the way, the dress I'm wearing in the photos above is the pretty shift dress I purchased during the trip to Maui that you guys convinced me to take two summers ago. (Read more about that trip here: Maui, Hawaii. Click any picture link on that page to view a post.)
I love Tommy Bahama dresses! They have the cutest dresses every summer and I always add one or two more to my summer wardrobe when I catch a good sale. You can see this year's spring/summer offerings here: Summer Dresses.
This is the tool I use to give my hair body and a bit of curl. I loved it so much, after I purchased the 1.5-inch barrel size, I later purchased the 1-inch size. You'll find it in both sizes here: Calista Hair Tool.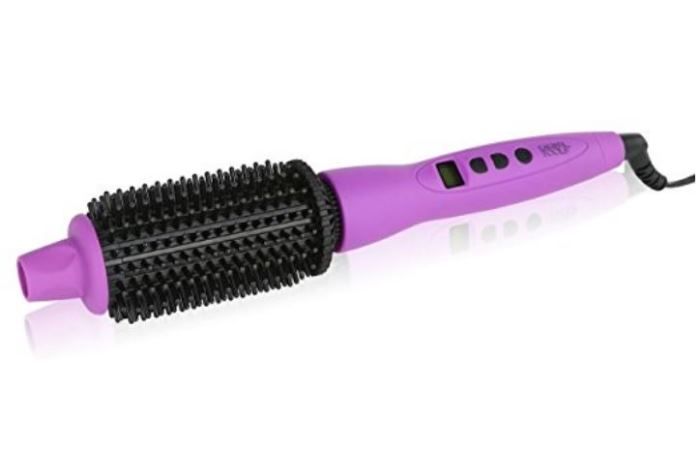 I came across this photo a few weeks ago in an ad on Instagram and it's very similar to the cut I've been getting. So now I have an additional photo on my phone of the cut I like.
I had an appointment booked for the 17th for a cut and highlights since it's been well over 6 months since I last got highlights. Unfortunately, with all that's going on right now and the school closings, I had to cancel the appointment and head to Ohio earlier than anticipated.
My hair is so long now, longer than I like. When I get back, I'll go for another cut and more of the balayage highlights. Love how natural they look!
Just wondering, anyone else out there hate visits to the hair salon as much as I do?
*If a post is sponsored or a product was provided at no charge, it will be stated in post. Some links may be affiliate links and as an Amazon Associate, I may earn from qualifying purchases. *