I did a lot of shopping during the month of January, more than normal. Today I'm sharing the things I purchased that I've enjoyed, plus a few things I have purchased as gifts.
Click on the title of any item, to read more about that item.
Bose Wave SoundTouch System IV
I used several gift certificates I received for Christmas to purchase the Bose Wave Radio Soundtouch System after lusting after it for many years. LOVE this thing! I use my Amazon Echo Dot to operate it with my voice and it's added so much to my life. You can read more about it in this previous post: A Music System So Hot, The Remote Caught Fire!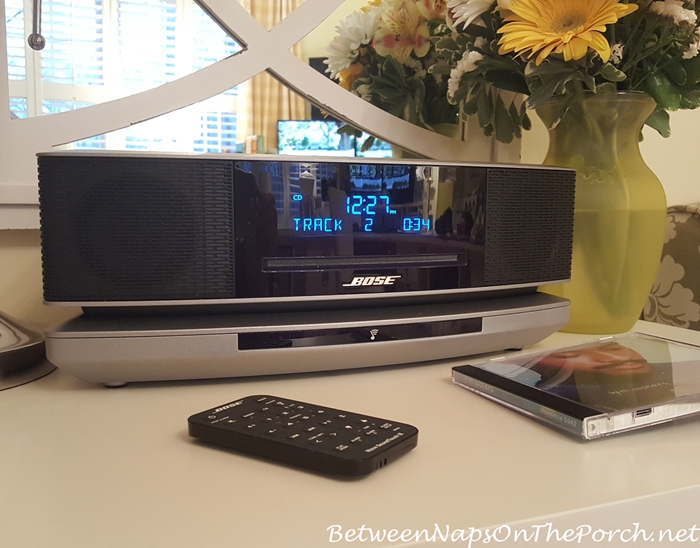 Large Mouse Mat for Office Desk
Purchased one of these large mouse pads/mats for my office desk and it's perfect for what I needed. I was so tired of mouse pads that were too small or wouldn't stay in place. This one is awesome because it's huge, not very thick and very soft. It is so comfortable under my arms when typing and using the mouse, and I never run the mouse off of it. My laser mouse works great on it, but it's perfect for any style mouse.
I purchased a "map" one HERE  for my office and a a Van Gogh Starry Night one, HERE, for the dressing room where I use my laptop.
I kinda wish I had gotten this one for the dressing room…so cute! You'll find it here: Mouse Mat
I saw these umbrellas recently and just loved them. I love how the pretty part is on the inside where you can look up and see it. It's also visible when being carried.
I ordered this one for my daughter-in-law today. It's a surprise, she doesn't know it yet unless she happens to read this. lol One of the things I love about these umbrellas is that they can be carried hands-free. That's really helpful when you have little ones with you.
I ordered this one for me. Love the travel theme! You can see how the handle works in this picture. You'll find the two I ordered and many more with beautiful scenes and floral patterns here: Umbrella
Update: Umbrella came today and I love it. So cute and works great!

The TV in my kitchen died recently, it was many years old so I'm surprised it lasted as long as it did. I replaced the kitchen TV with the small TV I had here in the office. You can see it there just above the monitors.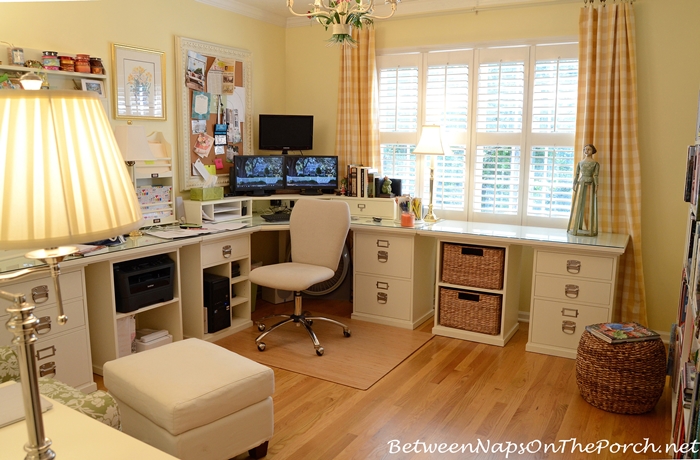 I've finally entered into the world of Smart TVs! I replaced the Office TV with a 28 inch Smart TV. It's picture quality is so much better than the little one I had here, but the thing I love the most is when I'm sorting through photos for a post, or doing other work here in the office, I can stream a movie from Netflix or watch a YouTube video while I work.
I used to do that on one of the computer monitors, but unfortunately that meant I couldn't use the monitor for work. I love having two monitors while working, makes the work go so much faster! Now I do my streaming on the TV and finally have my second monitor back! This 28 inch size is perfect for the office and was very affordable. Amazing how inexpensive TVs are these days. Absolutely love having it here! You'll find the one I purchased, HERE.
Ordered this after a reader recommended it for keeping deer from eating my pansies. So far, it's worked great and it's eco-friendly and not harmful to deer or rabbit.
I subscribe to a birding blog and one of the other subscribers/readers recommended this coffee saying it is bird friendly. I was curious and ordered a bag. It's delicious! I only drink iced coffee but I'm guessing it would be good hot, as well.

Epica Electric Coffee and Spice Grinder
When my bird coffee came, I was surprised to find that it was whole beans. So I ordered this coffee grinder that had great reviews and it's excellent!  So easy to use, works great and cleans up easily. Highly recommend it!
Love these snuggly slipper socks. I purchased two pairs and they are sooo warm! Great to pull on when you're curling up to read a book or watch TV. They come in a lot of cute styles.
I use these Hagetry Silverware bags to store the silverplate flatware you so often see me use in table settings. It keeps them virtually tarnish free so when I'm ready to set the table, I don't have to stop to polish the silver.
I just ordered one more for the silverplate twig flatware I used in Thursday's table. Definitely recommend them for easy silverware storage.
Update: I've had a few questions about storing silver flatware. If you will be using your flatware a lot and taking it in and out a fair amount, the bag shown below would be better for that. You'll find the flatware storage bags below here: Silver Flatware Storage.
I use the bag shown above because I'm not taking the flatware out on a regular basis. I keep it in the bag and store the bag inside a plastic bin. Then I just reach into the bag and take out what I need when creating a table setting. But I wouldn't do that for expensive sterling flatware or expensive silverplate flatware.
For more expensive silver or silverplate sets, this bag below is better. It's a bit more expensive, but it's better for long term storage of sterling or silverplate flatware.
For my sterling flatware, I use an actual silver chest that I purchased 30+ years ago and it keeps my silver tarnish free. If you buy a silver chest, make sure it has the special lining inside that will keep silver from tarnishing. Not all silver chests are made that way. The bag shown above is a less-expensive alternative to a silver chest and perhaps a bit easier to store since it's smaller.
Maybelline Brow Drama in Light and Dark Brown
If you're looking for a way to enhance the color of your eyebrows and color the gray, you have to check this out. I've tried several products and none of them worked very well but this Mabelline Brow Drama is excellent!
It comes in both light and dark brown. I've been using the light brown but just ordered the dark brown to see how it looks. I really like the light brown so I'll probably stick with that color, but I just wanted to see how the dark brown looked, too.
Update: Dark brown color came and I think I like it best. They both work great, though.
Ever struggle with getting a cork out of a wine bottle. It always ends up hurting my hands. I ordered this electric wine bottle opener after seeing a YouTuber use one in a vlog. It works great! I think I'm going to order several of these to give as Christmas gifts this coming Christmas.
Update:
Forgot to include, I also added a small beverage cooler to my exercise space this month. You can read more about that here: A Small Beverage Cooler for the Upstairs
Have a wonderful weekend! See you on Monday for Met Monday!
*If a post is sponsored or a product was provided at no charge, it will be stated in post. Some links may be affiliate links. *