I love perfume and wear it almost every day. It's amazing how a little spritz of your favorite scent can completely change your mood. If you're allergic to perfume or don't enjoy wearing it, you'll probably want to skip this post. I know some folks can't or don't wear perfume, but if you do love it and wear it, please continue reading and be sure to leave me a comment sharing your favorite scent. I love discovering and trying new scents!
A few years back I purchased a few Chanel fragrances that were available in small, purse-size atomizers. During that time I also purchased a pink, leather-covered, Hermes perfume atomizer I came across on eBay. In the photo below, it's the pale pink atomizer, third one from the left. That purchase started a collection of Hermes atomizers that continues through today.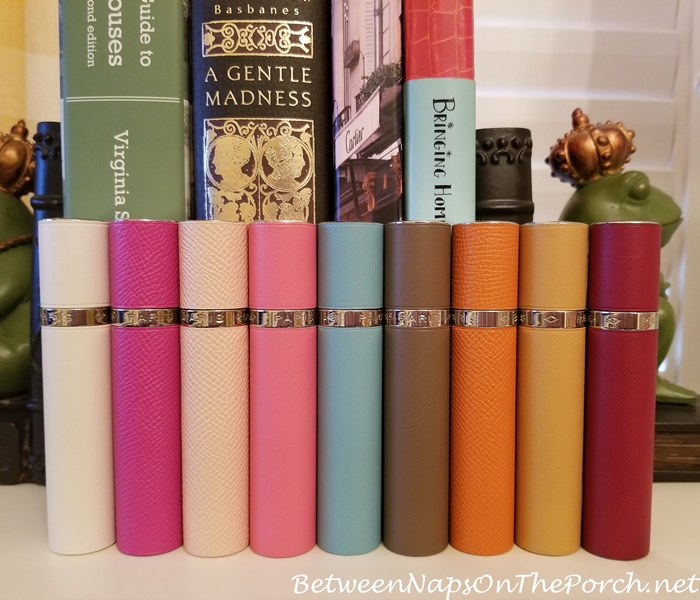 Most of the atomizers I've collected over the last few years have been purchased via eBay because I had not realized Hermes was still making them. I only recently discovered while talking to a Hermes Sales Associate that Hermes does still make them, they just aren't available to purchase online. The little refill bottles are available online in some of their fragrances, just not the atomizers.
I've never seen the atomizers out on display when I've stopped by the Atlanta boutique to browse their scarves and bracelets, so I guess you just need to ask if they have any in stock when shopping in the boutique. When I discovered they were still available a couple of months back, I purchased the atomizer in the pretty rose-pink color known as Rose Azalee (4th from the left) directly from the boutique.
The atomizers have been a lot of fun to collect since Hermes "rests" certain colors each year while introducing new colors or bringing back old ones. I think the colors made available each year may be the same colors available in their handbags for that year, but I'm not positive of that since I just discovered they are still making the atomizers.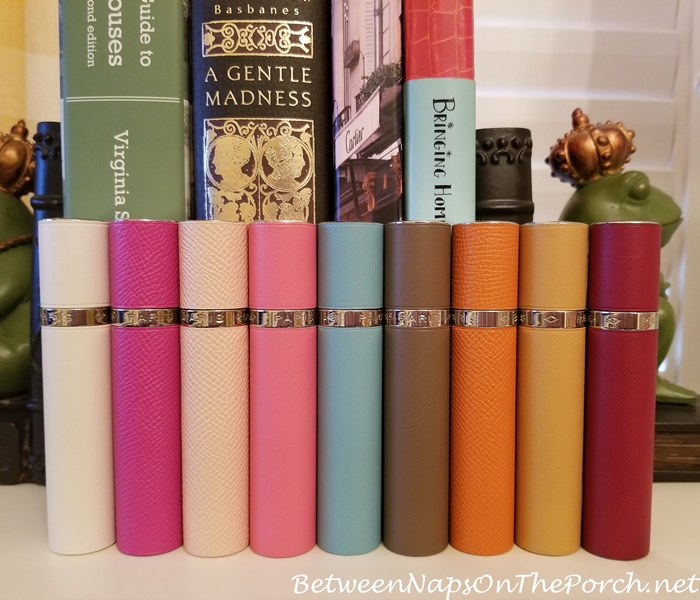 Unless you just love collecting all the beautiful colors like me, you actually only need one atomizer since the little glass vial inside each atomizer can easily be removed and replaced with a vial containing another scent. The vials are easy to fill because each atomizer comes with a tiny, little funnel (not pictured) for filling.
Even if the perfume you wish to use can't be poured from its container, that's not a problem. It's easy to just spray the perfume directly into the funnel and it will drain down into the vial. I actually find that much easier and less wasteful than trying to pour the perfume from a bottle into the funnel or vial.
These are the perfumes from my perfume collection with which I've chosen to fill each of my atomizers. I had so much fun deciding which one suited which color atomizer. I'm sick that way! 😉
Starting on the top row on the left, Creed's Love in White had to go in the white atomizer. I chose Chanel's Chance, Eau Tendre for the pale pink Eglantine color atomizer since Chance, Eau Tendre is soft pink in color.
What perfume do you think I chose for the pretty aqua blue atomizer that's a dead ringer for the color Tiffany Blue? Yup, it had to be my Tiffany & Co. scent, Tiffany Eau de Parfum. I purchased that perfume from my local Tiffany & Co. boutique during the launch of that fragrance a few years back. I noticed today that Tiffany has just introduced a new scent called Tiffany Sheer. It sounds light and perfect for summer.
The final atomizer on the top row in the gorgeous pink color called Rose Azalee is filled with Victor & Rolf's iconic perfume, Flower Bomb. Flower Bomb is a wonderful, floral scent and as you can see through the bottle, it's a beautiful rose-pink color.
On the bottom row (starting again on the left) I filled the deep red atomizer with Cartier Carat, a fragrance I just purchased last year. That color was perfect for that fragrance since red is the signature color of Cartier.
Chanel Coco, (not to be confused with Coco Mademoiselle) is one of my favorite fragrances. It's not for everyone, but I love it! It fills the taupe brown atomizer in the Hermes color, Etoupe. I have a bag in that color, so was glad I could add that atomizer to my collection.
Hermes's signature color is orange, so the orange atomizer contains another favorite Hermes perfume, 24 Faubourg. 24 Faubourg is named after the actual address of the Hermes flagship store in Paris which is 24 Rue du Faubourg Saint-Honore. I hope to one day have the opportunity to visit during a trip to Paris. Can you believe, I've never been to Paris?! It's definitely on the bucket list!
The camel-colored atomizer is filled with Burberry's My Burberry fragrance.
That color just seemed to suit a Burberry fragrance since their classic scarf in the "House Check" print contains lots of that beautiful camel-brown color.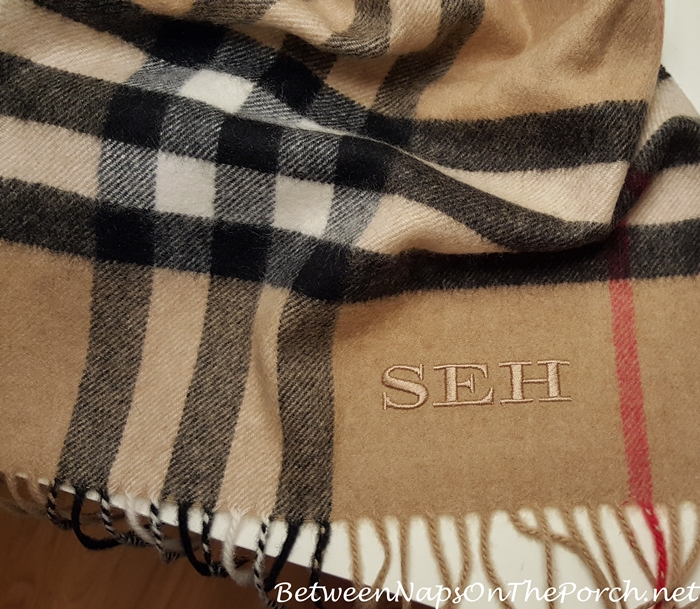 Tip: If you have plans to purchase a Burberry scarf in the future, you'll find a detailed description regarding how to tell a real Burberry scarf from a fake one in this previous post: Burberry Scarf, Fake vs Real and How to Avoid Getting Scammed. I would love to add this pink one to my scarf collection this year: Pink Burberry Scarf.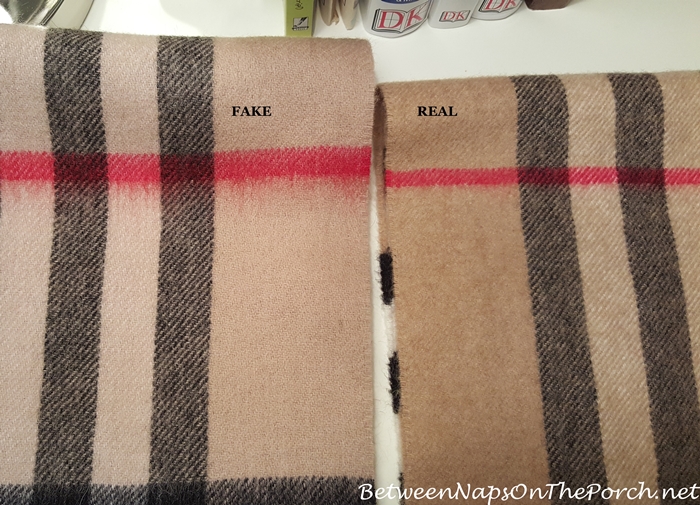 The final atomizer below in the pretty purple/pink color (possibly the color, Rose Pourpre) contains another Hermes fragrance I love called, Un Jardin Sur Le Toit. I believe that translates to, The Garden on the Roof.
Why does Hermes have a fragrance by that name?
Their flagship store at 24 Rue du Faubourg Saint Honore in Paris has an actual garden on its roof! Is that not amazing?! You often see it depicted in their scarves.
I'm not sure if I'll collect any more atomizers since I have atomizers in most of the colors I would want. I wouldn't mind finding one in a beautiful Augusta green or perhaps a sunshine yellow. Yellow would be the perfect color to hold one of the lemony scents I purchased in Carthusia during a trip to the Isle of Capri.
If you are interested in purchasing a Hermes atomizer but do not live near a Hermes boutique, I noticed this evening there are some currently available online where I've purchased a few of mine, here: Hermes Atomizers.
Tip: I've only purchased atomizers that were listed as being "Brand New," so be sure and read the descriptions carefully if you decide to purchase one that's listed as, pre-owned.
*If a post is sponsored or a product was provided at no charge, it will be stated in post. Some links may be affiliate links and as an Amazon Associate, I may earn from qualifying purchases. *