Have you tried Uber Eats, yet? I thought I'd pop in and just share my experience in case you're interested. This isn't a Sponsored post, Uber Eats does not know me, just sharing because I've had excellent experiences and have really enjoyed it.
This past summer, I went from having never used Uber to lately using it a lot. The first time I used Uber was when I was in Maui for a week this past summer. I used it then to get to a car rental place, back to the hotel after I turned my car in toward the end of the trip and to get to the airport when it was time to leave. All were very good experiences and much faster/more affordable than the old days of taking a taxi.
I now use it here at home almost every time I need to go to the airport. I've also used it when visiting family in Ohio during the trips where I've flown to Ohio instead of driving. The drivers have always been on time, super courteous, fun to chat with and all around great people. I've had no bad experiences to report, so far.
About a month ago I discovered Uber Eats and added the app to my phone. I had never used it before, but the driver for the company I used returning home from the airport after my Thankgiving trip mentioned Uber Eats during the drive home. I decided then to give it a try.
Note: I usually use Uber to go to the airport because it's so inexpensive and they drop me right off at the curb/door. When returning home I prefer to use a limo/car service because the Uber pickup lot is a long, long, long way from the Atlanta airport. It's just too far to drag a big, 48 lb suitcase while pulling a carry-on bag, too…especially when it's super cold or hot out.
Uber Eats
About a week ago I decided to give Uber Eats a try. They were incredibly fast and it was sooo much faster than ordering pizza or food from a local restaurant that delivers. And the fee for the service is only $2.99! It would probably cost me that much in gas to go pick up the food myself.
I used it again today and WOW, can't get over how fast it is! This time around I tried a restaurant I had never heard of called, Willie Jewell's Old School Bar-B-Q. OMGosh, it was soo good–just like the barbeque I grew up eating in all the best BBQ restaurants here in the south! You can't see it, but there were 4 big pieces of brisket. Tons of food, this will be three meals for me. I will definitely be dining with them again!
In the photo below, I forgot to include the toasted bread that came with the meal. I also ordered their banana pudding. The pudding was okay but didn't taste as "southern/homemade" as I like. But the beef brisket and pulled pork were excellent, as were the collard greens and cole slaw. (Please ignore the greenery, I'm working on a little project right now and it's all across the kitchen counter. Arggg.)
Both times that I've ordered via the Uber Eats app on my phone, it was super easy, only taking me about 3-5 minutes (if that long) to choose my items and place my order. Both times, the food was at my door in about 25 minutes, I was astounded that it could be made and delivered that quickly. Uber Eats must have a hotline to the restaurants and the restaurants must really pay attention when those orders come in because the food is ready super fast and on its way to your home before you can turn around.
When the food is ready and en route, you get a notice on your phone that it's on the way. You can even track the meal right to your door, very much like when you call for an Uber ride. The Uber Eats driver delivers the food right to your door, unlike the regular Uber service where you have to keep watch because the driver doesn't come to the door when they pick you up.
Uber Eats always suggests in their app a tip amount that I feel is too low, so I always end up selecting the option to choose my own amount and tip generously for great service. I just really appreciate great service when it happens!
Hope this little review helps in case you've been thinking about trying Uber Eats. I've been very pleased so far and will definitely continue to use the service.
Ring Doorbell Update
I hope to share tomorrow how my Ring Doorbell installation went for Metamorphosis Monday. There have been a few hiccups but I think there's a solution, so will be working on that over the next few days. In the meantime, the Ring Doorbell appears to be doing its job thwarting any package stealing, attempted break-ins and robberies–not that I've ever had any. (That comment will make sense in a minute. lol) I purchased my Ring Doorbell Pro here: Ring Doorbell.
Remember the treats I had put together for the wonderful folks who deliver our packages during the busy holiday season? (See that post here: A Thank-you for Our Delivery Folks During the Holiday Season.) It's been raining the last couple of days so I moved the treat boxes from the bench to the floor of the porch to keep them from getting wet.
You can just barely see the treats there in the lower, right-hand side of this screenshot from the Ring video taken this morning when I received an alert from the Ring app on my phone saying movement had been detected on the front porch. Do you see the would-be-thief coming up the front steps? 🙂
Ahh, there's a better shot of him to give the police so they can run a comparison through their criminal database looking for a match. I bet this isn't his first attempted robbery!
Apparently, this guy is familiar with the Ring Security doorbell. He hightailed it off the porch the minute he saw it–deciding a can of soda and a pack of crackers just wasn't worth the jail time. Ha!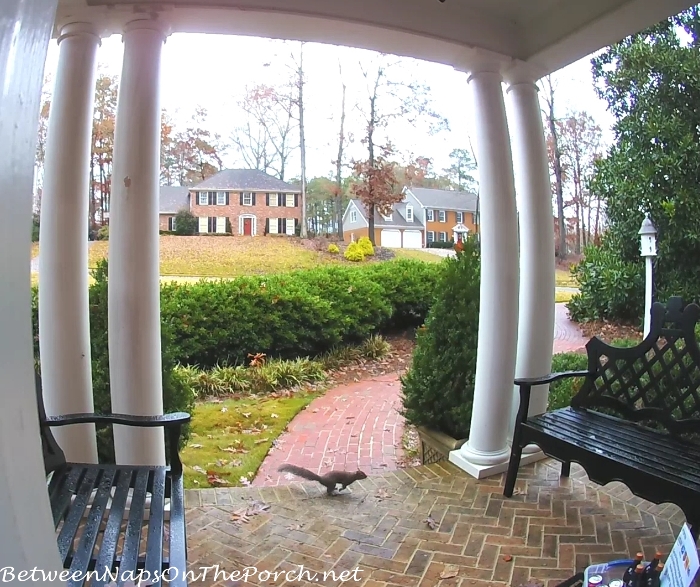 The treats are back up on the benches now that the sun has come back out. Hopefully, that will make them a little less tempting to the furry neighbors who inhabit my yard.
Today, I realized I need to add the logo/words, "Uber Eats" to the sign.
After my food was delivered today, later I played the visit back in the Ring app because I'm still experimenting with it to see how it works. In the video, I noticed the delivery courier looked over at the treat bins and I heard her say aloud, "Nice!" Unfortunately, she didn't take anything from the bin. No worries, though– I made up for it with a really nice tip. 'Tis the season! Love this time of year!
Merry Christmas and Happy Holidays to you, dear friend! See you tomorrow for Metamorphosis Monday!
*If a post is sponsored or a product was provided at no charge, it will be stated in post. Some links may be affiliate links and as an Amazon Associate, I may earn from qualifying purchases. *